Words by Jeff Schmuck
Photos by Julie Weinberger & John Vandervalk
Although the on again, off again weather was unfortunately off again today as this morning's ski slopestyle contest was plagued by high winds and falling snow, the contingency of men and women that make up skiing's best were on point and made the most of their situation by killing it all day long at today's slopestyle finals at Dew Tour in Breckenridge, Colorado.
The morning began early and a tad rough for those who partied into the wee hours of the morning at last night's Electric party at Liquid Lounge, which was hosted by none other than the extremely generous and legendary Jimbo Morgan of Electric and Skullcandy (thanks again for the good times Jimbo!). Thursday's postponed slopestyle prelims had to be taken care first after bad weather forced the organizers to scrap the one run of two that was taken by the boys on Thursday. Due to the time constraints of the live TV schedule that was ever apparent at Dew Tour today, the riders also only had one run in prelims as opposed to the original two. Due to the nature of the situation, the guys showed their true professionalism this morning by giving it their all during their one crack at getting into finals.
35 skiers huddled into the tent at the top of the immaculate slopestyle course located in the Freeway terrain park at Breckenridge, and one by one they all around crushed the course, which was a sight to behold considering the bad weather they were forced to deal with. But despite the stellar skiing that was on full display today, a few major casualities ensued, with the first being Jacob Wester, who landed on the tails of his skis on the third jump and reportedly broke his right leg just above the boot. Get well soon buddy.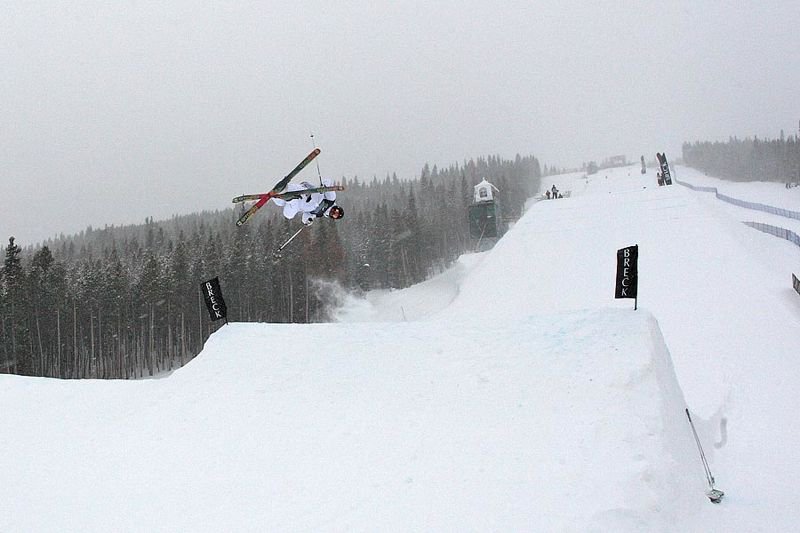 Jacob Wester just prior to the crash. photo: John Vandervalk
Flashing the horns while being carted off in the sled. Get well soon Jacob! photo: John Vandervalk
At the end of the prelims, emerging from the mist to go onto the two-run finals were 12 of the world's best, including (from twelfth to first) Sammy Carlson, JF Houle, Oscar Scherlin, Tucker Perkins, Matt Walker, Jossi Wells, Alexis Godbout, Simon Dumont, AJ Kemppainen, PK Hunder, Bobby Brown, and continuing his dominance of the slopestyle event this week after qualifying first, Henrik Harlaut.
Sammy kicked things off first but shortly after his run began a huge gust of wind picked up, causing him to case the first jump. He would have similar problems on his second run, which ultimately placed him at the bottom of the standings. Rest assured he'll be back with a vengeance at the next comp.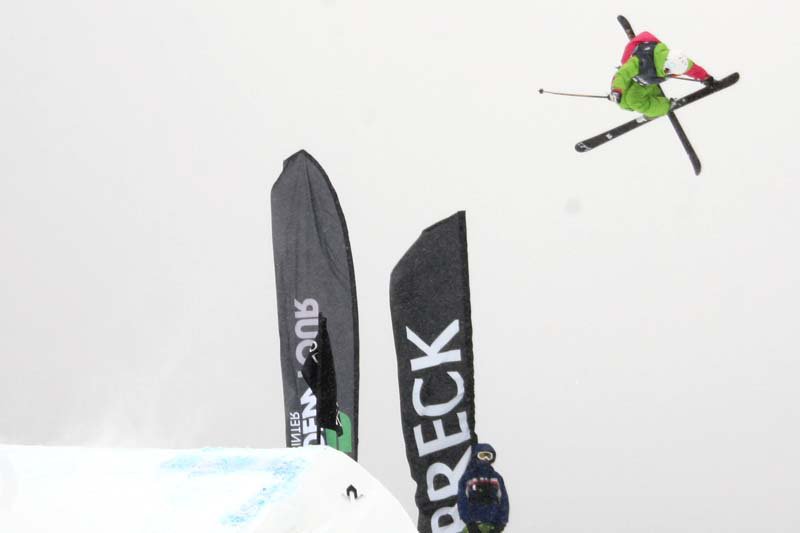 JF Houle. photo: Julie Weinberger
JF, Oscar and Tucker followed, each putting down solid runs and helping up the level of intense yet friendly competition that was hanging in the air. But it was Matt Walker who really got things started by putting down a flawless run with a gigantic air off the bottom kicker, landing him in first.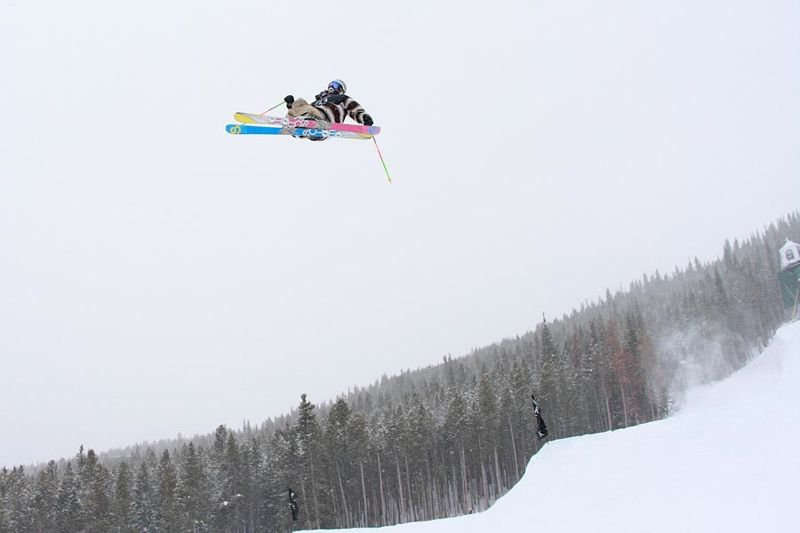 Matt Walker. photo: John Vandervalk
Jossi Wells then dropped in next and set the tone for the rest of the day with his switch 450 (and later switch 630) on to the box followed by switch left and right 10's that cemented him in the first place position until the 11th hour of competition. It was a great moment of relief for Jossi to stomp his run as he cased one of the jumps in practice and severely tweaked his knee, forcing him to ski injured for the rest of the day.
Jossi Wells. photo: John Vandervalk
A trio of Salomon riders then attempted to better Jossi's score, as Alexis Godbout, Simon Dumont and AJ Kemmpainen all laid down rock solid runs (especially Dumont, who continued to slay the course) but unfortunately it wasn't enough.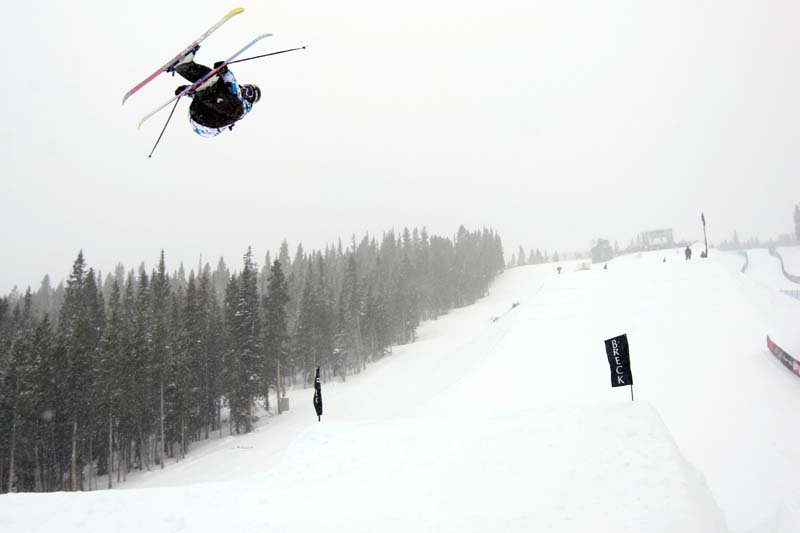 AJ Kempainnen. photo: Julie Weinberger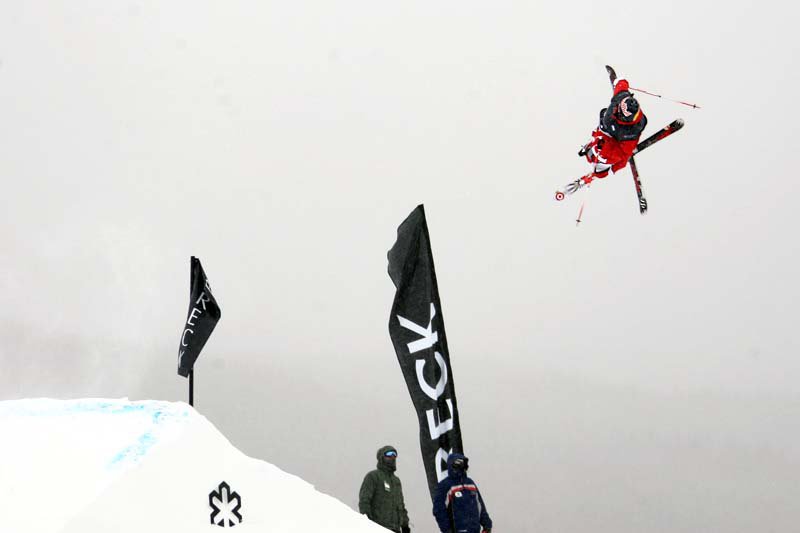 Simon Dumont. photo: Julie Weinberger
The top three from prelims then lined up: PK Hunder, Bobby Brown and Henrik Harlaut. PK stomped his first run cleanly, which was enough to knock Walker out of second place but not enough to dethrone Jossi. Bobby Brown then followed suit by knocking PK down to third, and Henrik then destroyed the course and took over second himself, making it Jossi in first, Henrik in second, PK in third and Walker in fourth.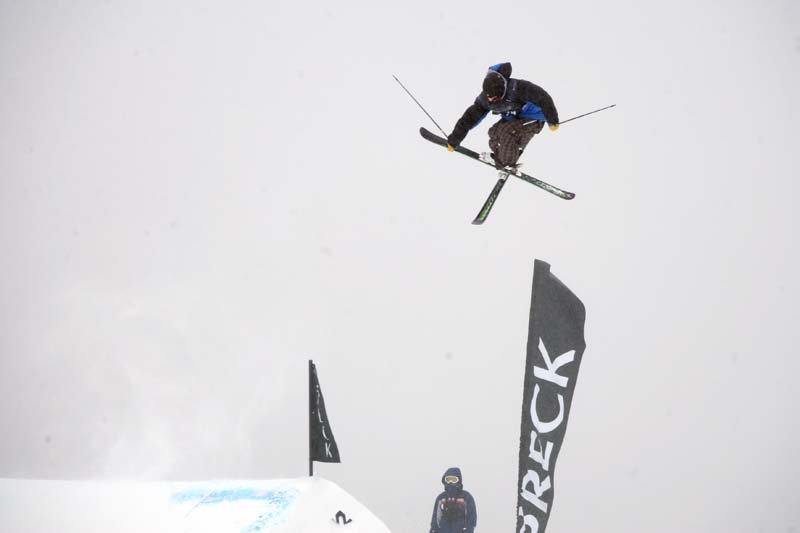 PK Hunder. photo: Julie Weinberger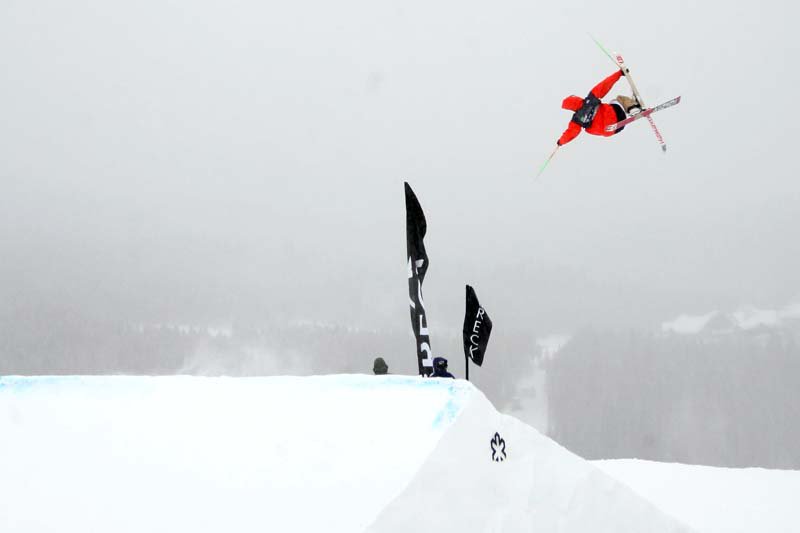 Bobby Brown. photo: Julie Weinberger
Henrik Harlaut. photo: John Vandervalk
The second run saw very few changes to the top four until the second to last competitor stepped up to the plate. Bobby Brown dropped into the course with a smile on his face and threw a switch left misty 9, to switch double cork to an absolutely stunning kangaroo flip, which he capped off with a rodeo off the rail at the bottom. His epic run knocked Jossi off the top spot and gave him the lead with only one competitor to go, Henrik Harlaut. With Bobby shaking in his boots Henrik dropped in and bobbled a bit on one of the features which caused some speed issues for him throughout the run but allowing him to maintain his third place standing.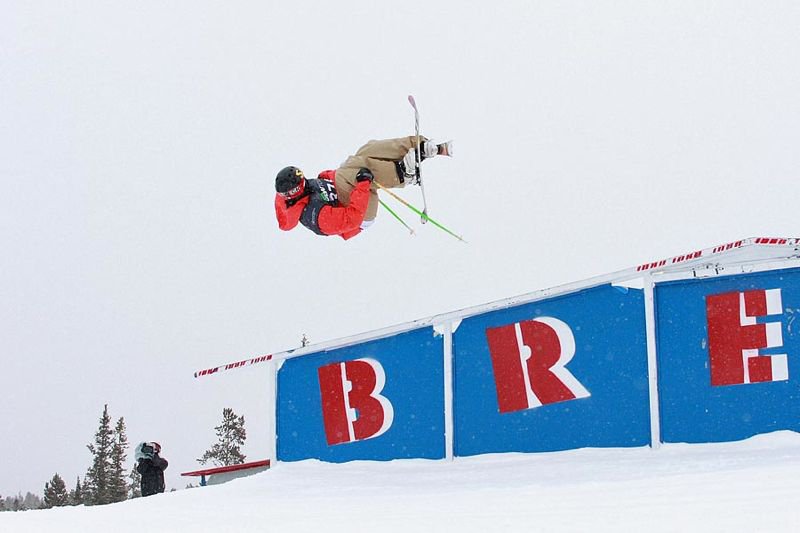 Bobby Brown. photo: John Vandervalk
A uber-stoked Bobby Brown then began celebrating, as he is the winner of the first Dew Tour slopestyle, with Jossi in second, Henrik in third, PK in fourth and Walker in fifth.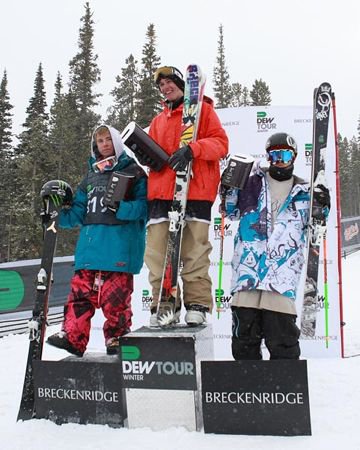 Men's Results
1) Bobby Brown - 90
2) Jossi Wells - 89
3) Herik Harlaut - 85
4) PK Hunder - 83
5) Matt Walker - 79
6) JF Houle - 79
7) Simon Dumont - 79
8) Tucker Perkins - 71
9) Alexis Godbout - 69
10) AJ Kemppainen - 68
After the award presentation it was the five ladies' turn to go, and unfortunately the wind and snow that had created some mild speed issues for the guys made it extra tough on the women. In quite possibly the most upsetting moment of the week, early in practice Athena Brownson brutally cased the third jump and was taken down in a sled with what looks to be a blown knee. Get well soon Athena, we're thinking of you.
With Athena out of the competition it was up to Anna Segal, Keri Herman, Virginie Favre and Kaya Turski to put on a show. Anna threw down some 3's and her smooth lincoln loop throughout the day, while Keri showed why she is considered one of the most aggressive female skiers in the business.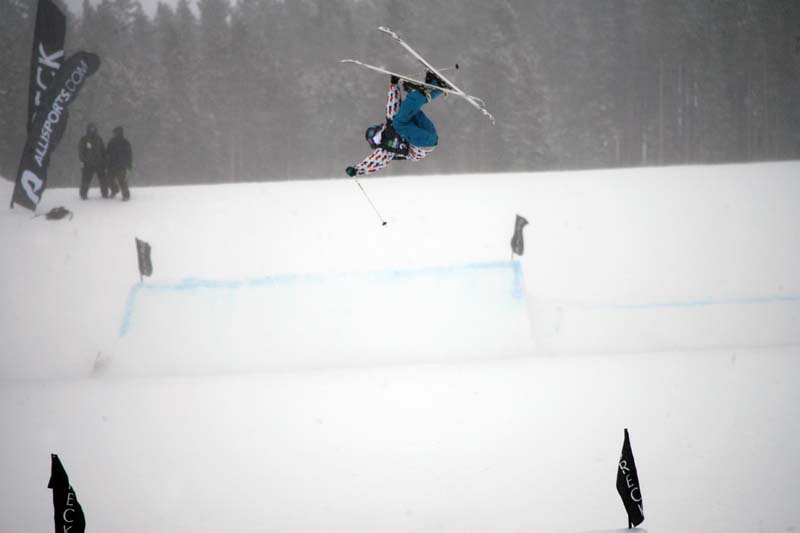 Anna Segal. photo: Julie Weinberger
Keri Herman. photo: Julie Weinberger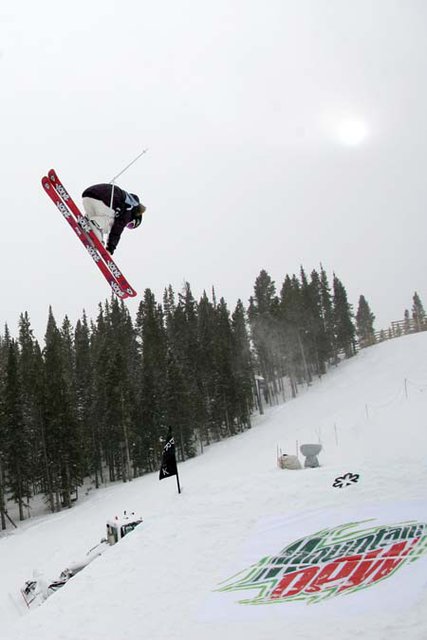 Virginie Faivre. photo: Julie Weinberger
Virginie also displayed her consistent style, throwing some silky smooth 3's and 5's, but today marked the return of Kaya Turksi, who's 3's, 5's, disaster 270 on the top rail and switch-up's on the bottom gave her the win, officially kicking off her long-awaited comeback season after she was forced to sit the last two seasons out with injuries. In a much-deserved second was Anna Segal and Keri Herman rounded out the top three.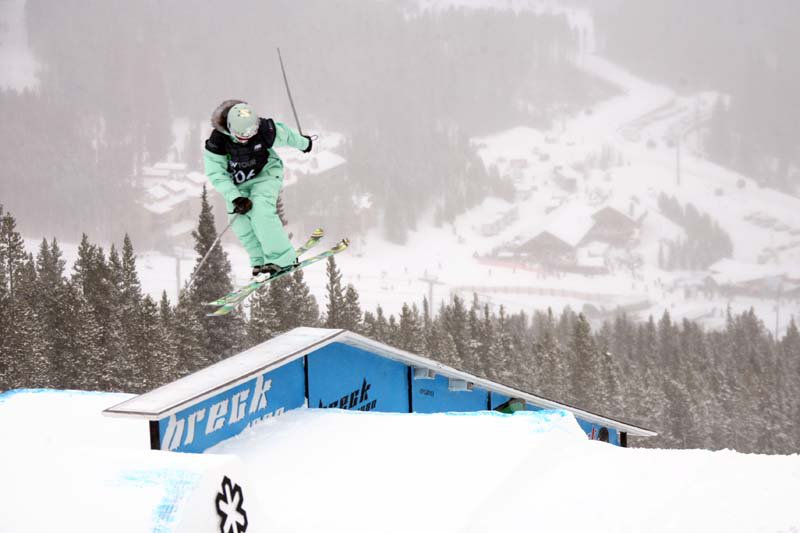 Kaya Turski. photo: Julie Weinberger
Women's Results
1) Kaya Turski - 69
2) Anna Segal - 64
3) Keri Herman - 60
4) Virginie Faivre - 42
So that does it for slopestyle here at the first of three Dew Tour stops. The men's superpipe contest is about to begin under the lights and be sure to check back in with us later as we plan on posting a brief update later tonight with the results which will be followed by a full report sometime tomorrow.