Hey hey hey… Shred just finished up SIA in Denver and are just so stoked on all the excitement on the new line. Sales reps from all over North America were eating the new goggles and helmets up, putting them on, testing them out, trying different color combos, etc… all the new gear is still in beta mode with possible tweaks still possible here and there, so we can't post them on the site yet. But once we get that down, we'll let you see it all.
Also, if you're looking for more Shred in more stores, it's coming! Countless new retailers in North America want in and are ordering product. So now, if you're in an area that hasn't had a shop carrying Shred, you'll be able to get it not only at our online store, but also at a retailers near you soon. You'll be able to try 'em on, scope 'em out and find your perfect goggle-helmet combo.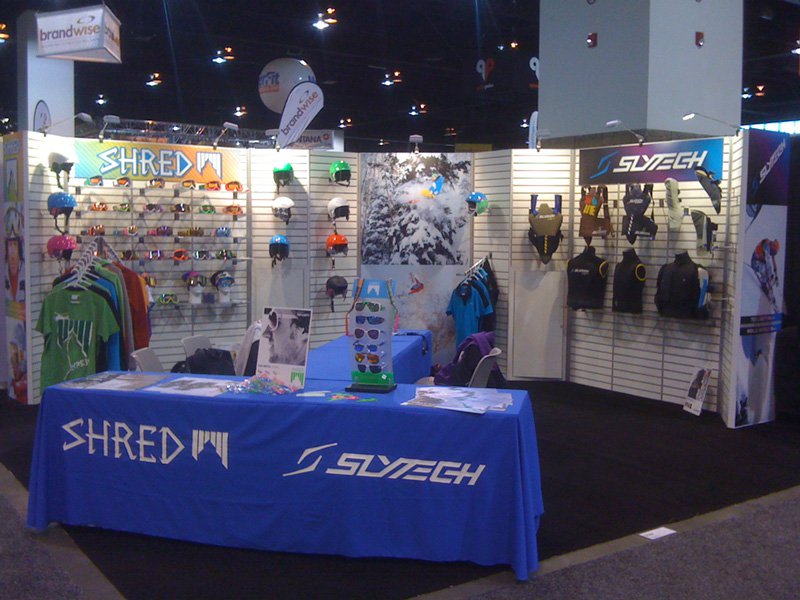 The Shred Booth at SIA Denver
And for all our Euro brothers and sisters: if you're around ISPO in Munich between February 6th and 9th, go stop on by booth #116 in Hall A1. Also be aware that Ted Ligety will be there signing autographs on the 7th at 11:00AM. Check it out!
Related posts:Shred Optics at ISPO in Munich 2011 For all our Euro-side shredders, check out the new Shred...
You're Invited to Join Shred at SIA in Denver A little birdie told me that Shred is now owned...
In a Heartbreaking Crash, Shredder Pat Deneen Finds Solace in a Ballsy Attempt Whistler BC — Just 2 weeks ago at SIA Shred...
Related posts brought to you by Yet Another Related Posts Plugin.