This time of year is special.  The sun is high in the sky.  And the smell of spring, grilling, sunscreen, and love is in the air.  
Tomorrow we will be in Breckenridge at Chair 5 Peak 8 base for the day demoing the Liberty line up consisting of a mixture of different skis.  Park setups, All mountain, Tele you name it, we probably have it up our sleeve! 
Come out tomorrow to check some Liberty Skis and enjoy another Thursday installment of 5 til 5: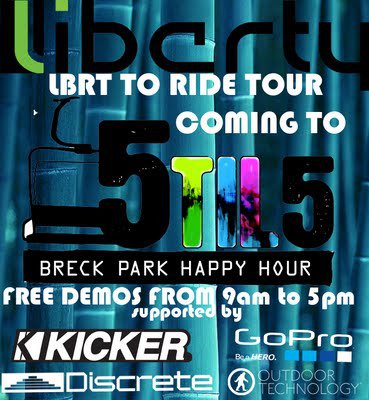 Chair 5 Open Until 5, every Thursday starting April 7
It's Spring Fever at Breckenridge. Time for hot laps in the park, chicks in bikinis, live concerts and warm sunny days. To celebrate the season, Breck has announced "5 til 5" park happy hours every Thursday in April starting on the 7th. Chair 5 will be open until 5 PM giving everyone an extra hour to shred. Breck will also provide free food, swag giveaways, rail jams and on-snow DJs each "5 til 5" happy hour.
Breck 5 Til 5 Video Contest - Freeskier from Breckenridge Ski Resort on Vimeo.