Words by Whistler Blackcomb
Photos by Nadia Samer
Whistler local and professional photographer Robin O'Neill added the "Queen of Storms" title her list of achievements this weekend, after winning the sixth annual ARC'TERYX Deep Winter Photo Challenge presented by GORE-TEX. Robin O'Neill is the first female to take this honor. Second place went to Jussi Grznar and third place, as well as the "Best in Show" photograph, went to Reuben Krabbe.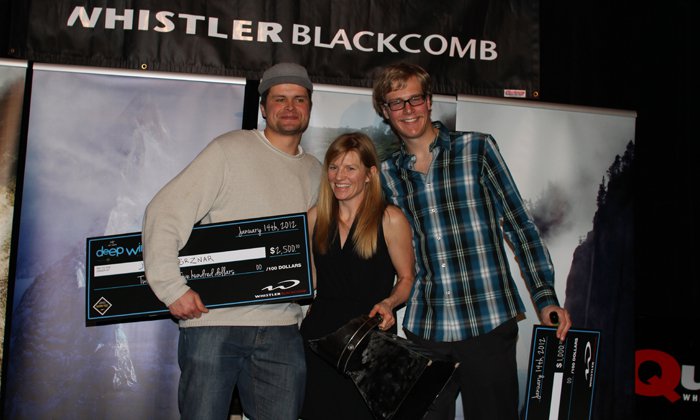 Jussi Grznar (3rd), Robin O'Neill (1st), Reuben Krabbe (3rd). Photo courtesy of Whistler Blackcomb
 
New to the competition this year was "The People's Choice Award." Each photographer submitted three photographs and the public has the chance to vote online for their favorite photographer. Voting will be open until midnight January 31st at http://www.whistlerblackcomb/deepwinter. Social Media played an ever-growing role in the competition with many of the Deep Winter athletes and photographers tweeting live throughout the competition. To find unique behind-the-scenes video and photos, and other interesting commentary, search #deepwinter on Twitter.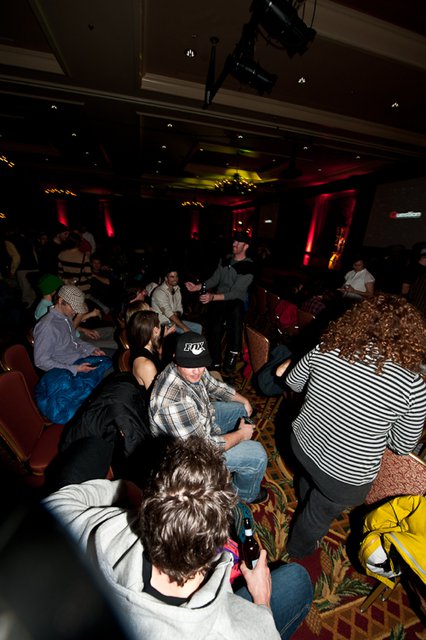 Steve Lloyd's team getting ready to watch their three days of hard work on the big screen. Nadia Samer was one of Steve Lloyd's athletes, along with Dana Flahr, Ian McIntosh and Colter Hinchcliffe. Here are some of the behind the scenes photos she captured during their three busy days of shooting...
 
"It was wonderful to be part of the event this year and it proved to be an even bigger challenge than I imagined," says Reuben Krabbe. "Overall it was a great success and everyone on my team was incredibly happy with our final slideshow."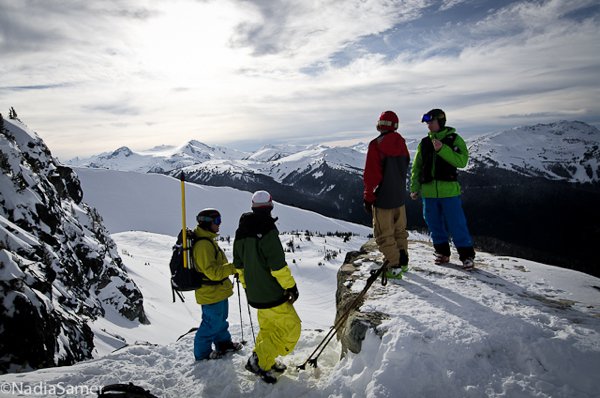 Steve Lloyd's team at the end of a long day of shooting
 
Robin O'Neill took home the $5,000 grand prize and will have her name added to the King/Queen of Storms trophy, while Jussi Grznar took home $2,500 for second and Reuben Krabbe took home $1,000 for third place and another $500 for Best in Show. The six photographers had three days to shoot in-bounds at Whistler Blackcomb with their athlete teams. In addition to the photographers named above Mark Gribbon, Steve Lloyd and Mason Mashon joined the quest for 'King/Queen of Storms.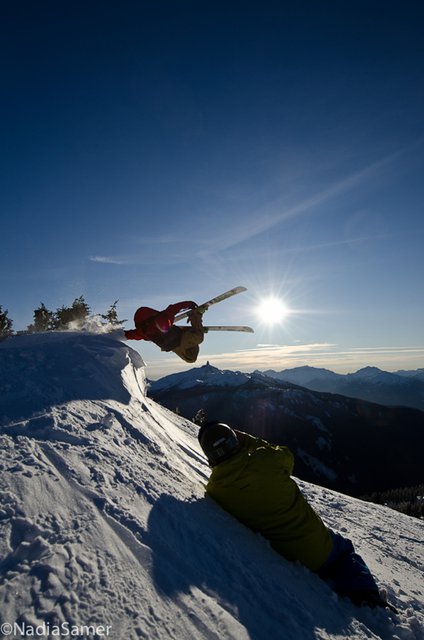 Colter Hinchcliffe handragging for Steve Lloyd's camera on the backside of Whistler.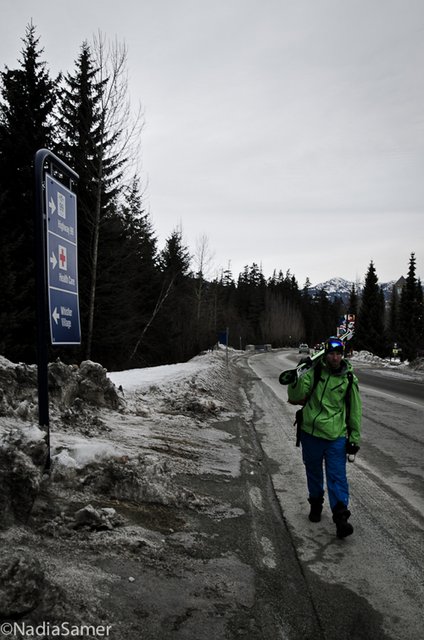 Ian McIntosh strutting his stuff.
 
The final slideshows were played in front of a sold-out audience of 1,100 spectators and five judges at the Fairmont Chateau Whistler. The judging panel included: Senior Photographer for Skier Magazine, Dan Carr; Kootenay Mountain Culture Photographer, Peter Robinson; veteran photographer, Eric Berger; freelance photographer, Bonny Mackarewicz; and first ever King of Storms, Paul Morrison.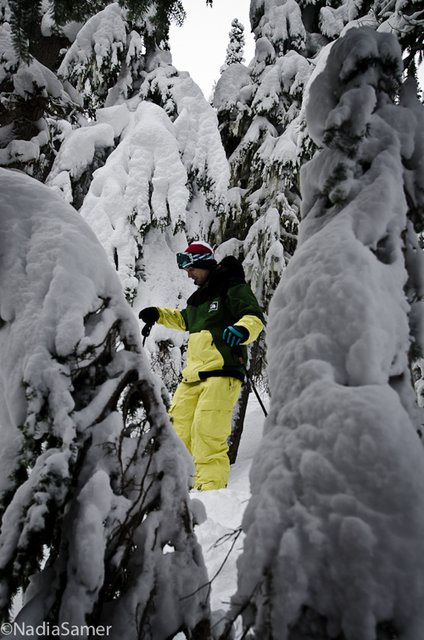 Dana Flahr prepping for a pillow shot in the trees.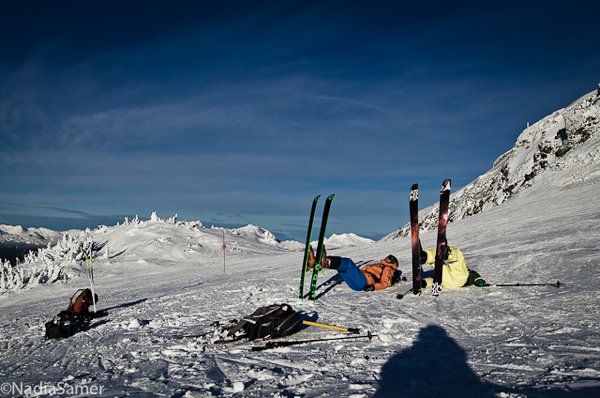 Dana and Ian resting in between shots, it's a rough life! Nadia would also like to give a big shout-out to Steve for having her on his team, as she's one of the first females to have been included in the Deep Winter Photo Challenge as an athlete.
 
Robin O'Neill's slideshow featured photographs of top professional skiers and influential long time Whistler residents who have dedicated their lives to living and breathing the mountain lifestyle. Her team consisted of skiing's top professionals Eric Hjorleifson and James Heim as well as Whistler residents Karl Ricker and Peter Morin.
Robin O'Neill's winning slideshow
 
The ARC'TERYX Deep Winter Photo Challenge Presented by GORE-TEX has come to end but Whistler Blackcomb hosts a number of events throughout the entire season. With the 72 hour sale on now through January 19th, there is no better time to book a Whistler Blackcomb vacation. Book lodging by midnight on Thursday January 19th at http://www.whistlerblackcomb.com/lodging and save up to 50 per cent. For a full listing of Whistler Blackcomb events and competitions visit http://www.whistlerblackcomb/events.