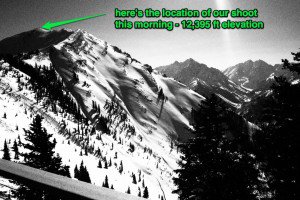 Here's the peak where today's first light morning shoot went down. Tasty.Yesterday's scout was epic. After waking at 3:55am Seattle time, flying Seattle >> Denver >> Aspen we arrived and hiked our asses up to 12,395 feet of elevation. Sea level to 12 grand in a few hours. Good for the heart and mind – hard on the lungs.
Our scout + the weather report (scheduled for perfect sunshine) yielded information that we must shoot our epic heli shot first thing in the morning. That was this morning. So day 2 — originally our scouting day — has now transformed into not just a shooting day, but another EPIC shooting day, complete with two ad shots, helicopters, world class athletes, first light and…a 3:30am wakeup time. Here was our schedule…
3:30am wakeup call
4:00am call time
weather is epic.
5:00am crew unit 1 (production team + athletes) takes snowcat to ski area summit – crew hikes
6:00am crew unit 2 (photog + camera support + creative director) at heli-port
7:00 the two crews unite to photograph athletes for advert #1 atop the peek from the heli
8:30 – 11:00 shoot athletes from the snow surface for backup of advert #1
11-1pm lunch (I had a burger with lettuce bun, tuna steak, small bowl of chili)
1-4pm united crew shoots ad #2
4-6pm download cards, get a beer and plan for tomorrow
6-8pm dinner with crew
Quick summary: all of the shooting today went aces – volume was up at 11. We greased the helicopter shoot right off the bat, and then worked numerous hours in the chowdery snow in Highland bowl for backup to ad #1. It was warm by the time we got to ad #2 and the snow was setting up, but we managed to find some fresh, sticky snow remaining on northwest facing slopes that completely salvaged the shot. Turned out far better than we'd thought – surprise and delight all around. We have a killer crew. Click thru the tabs at the top of this page for BTS snapshots from scout day and first thing this morning… Obviously more to come.
Oh…and on deck for tomorrow?? Remote control helicopter flying cine and still cameras overhead! Whammo.
Possible drama: weather looks to be turning to crap.
Thanks for tuning in and riding shotgun on this stuff. Good times. Follow along on Twitter, Facebook and G+. Icons on the upper right of this page.