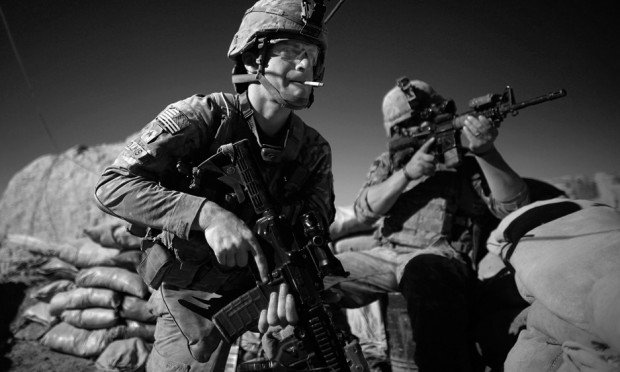 All images courtesy of David Gilkey and the WHNPA. Cpl. Andrew Collins springs into action seconds after a rocket is fired at the outpost in Charkh, Afghanistan on April 19, 2011. Combat Outpost Charkh sees as much action as anywhere in Afghanistan, but it's in Logar province, not far from the capital, Kabul.
I've posted about war photography in the past and I still believe it to be one of the single most powerful aspects of humanity that photojournalists can capture..and capture creatively. War is not beautiful–clearly, it isn't–but is to say that there can be mastery of skill, no matter what you're shooting. Which is creepy, but…true.
NPR's David Gilkey recently won the White House News Photographer's Association's First Place prize in the Eyes of History 2012 photography contest for best picture series in the international/news division. You can see a few of these stunning images by clicking through the photo tabs above. How does this feel different than the other photos of war? Do they tell more of a story, or are they just so stylized, that we feel more OK judging them as art?
His subjects were The Men from Bravo Company, 1st Battalion, 5th Marine Regiment, from Camp Pendleton California. You can listen to his interview about his experience photographing them here.
____________
Catch more of this work at the WHNPA's website.