In the first 40 minutes of the trip, everything was going nicely, the Subaru Forester was sagging in the rear end from hundreds of pounds of ski equipment and luggage,  the bridge personnel on PEI had already shaken us down and we were merrily on our way through New Brunswick, ahead of the storm system that was brewing just a bit to the west. Suddenly, the front, left hand tire began to make wierd noises. After a quick look-over in the parking lot of Lake's General Store in Murray Corner, NB and a call to the Subaru dealer in Moncton, it was determined that the wheel bearing was loose. After some discussion, we decided the best option would be to go back to PEI and get the other car, a Subaru Legacy sedan, not equipped with roof racks, I might add. After an hour of driving back home( more slowly this time, due to the loose wheel) and loading everything into the other car, with my youngest brother sitting on top of the skis, which protruded through the middle of the back seat, we were on our way again, with some grumbling and dissatisfaction. (The highlight of the day was the Bridge attendant not charging us again for going back through 2.5 hours after going across the first time.) The storm came around Saint John, NB, and the rest of the way was treacherous.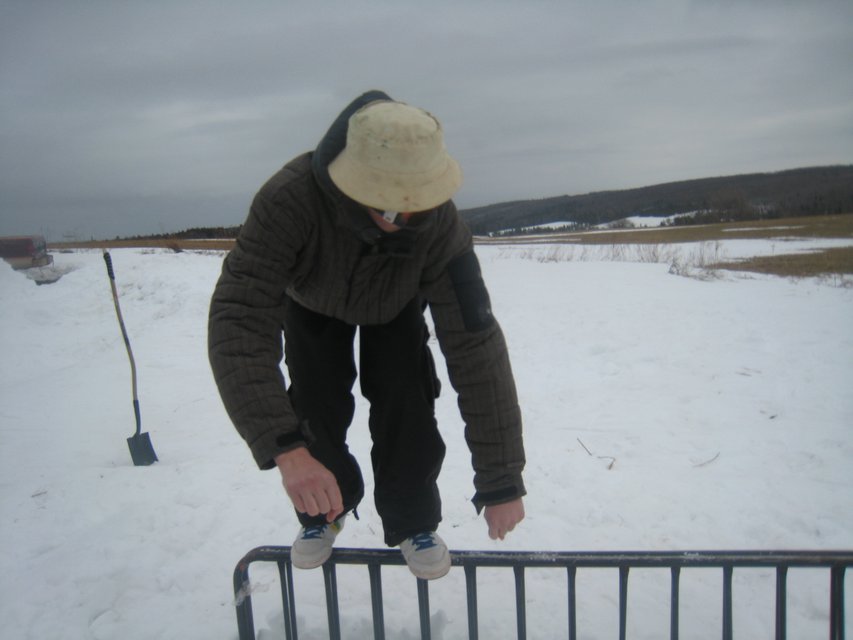 Non-ski jibbing immediately prior to departure.
BlueHill, Maine;it was obvious there would eb no resort skiing that day, as family visiting was in order. For the afternoon, my brothers and I and a small cousin decided to go to the Blue Hill Country Club on Parker Point Road to build a jump. We were not prepared, however, for the untapped treasure trove of glade and mini-golf skiing directly adjacent to the golf course.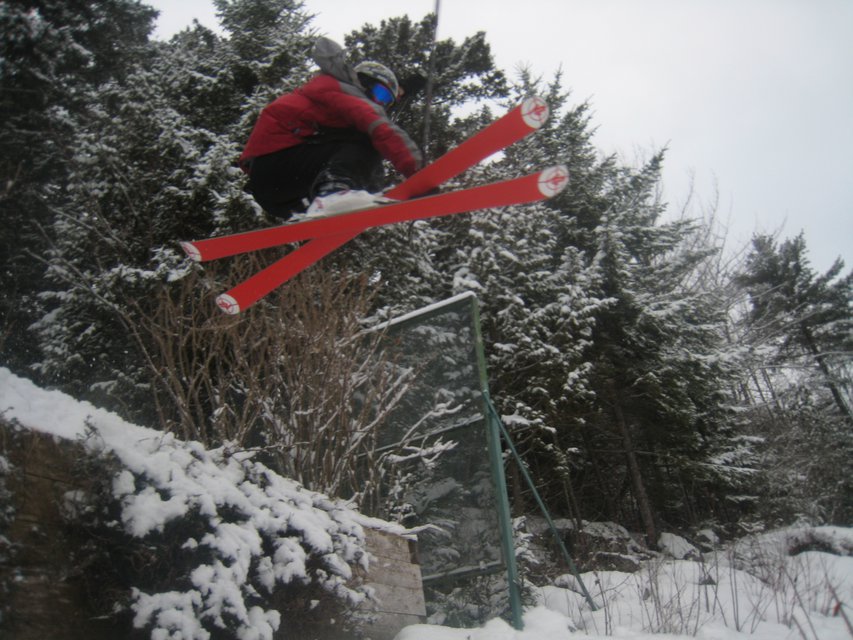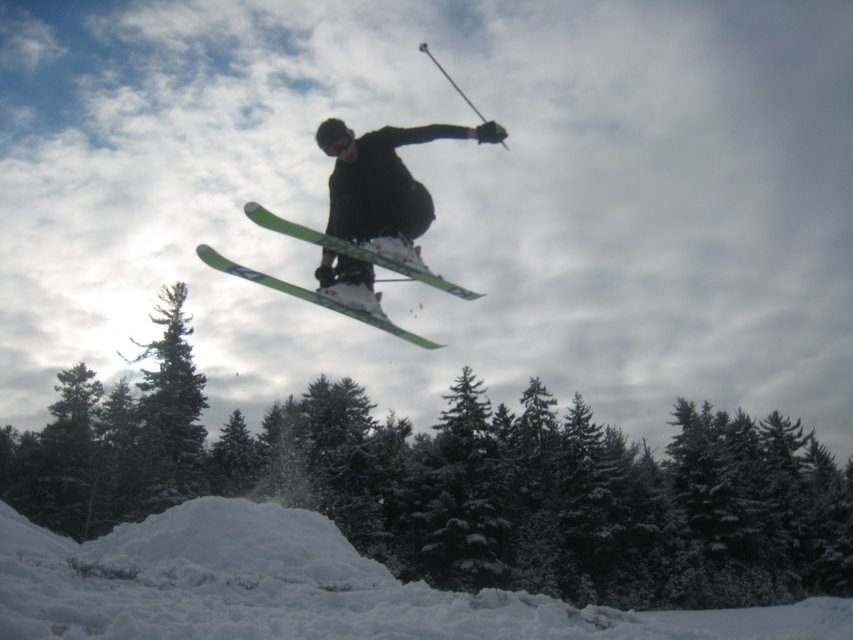 http://media.nscdn.com/uploads/member/videos/1199891408Picture_460.avi
Mini Golf: L-R;Me, Mute Grab over golf cart track; Edwin Baker high over a very small jump. The video is Nat Baker attempting a 540 off of the tiny jump.
The next day it was snowing and the roads were terrible. We were on our way to Portland, but wanted to ski, so we went to Mount Abram, which, if not en route, is definitely a lot closer to Portland than Blue Hill. About 40 minutes after a bungled intersection resulting in being stuck in someone's driveway (no pics, sorry), we made it to Mount Abram, which was the best skiing of the season up to that point, due to very few, other people on the hill, powder (heavy and wet, but nevertheless there), a small jump line and some boxes and barrel bonks in teh jib park. (again, sory for lack of pictures).
The day after Abram, it was time to go to Shawnee Peak, where the hill was packed, with 15 minute lift lines, 95% of the runs scraped to ice, but there was a few jibs in the park, a spine and jump transition that would have been contenders for an ice sculpting contest as well as some gnarly rails that I was too afraid to hit and a few boxes.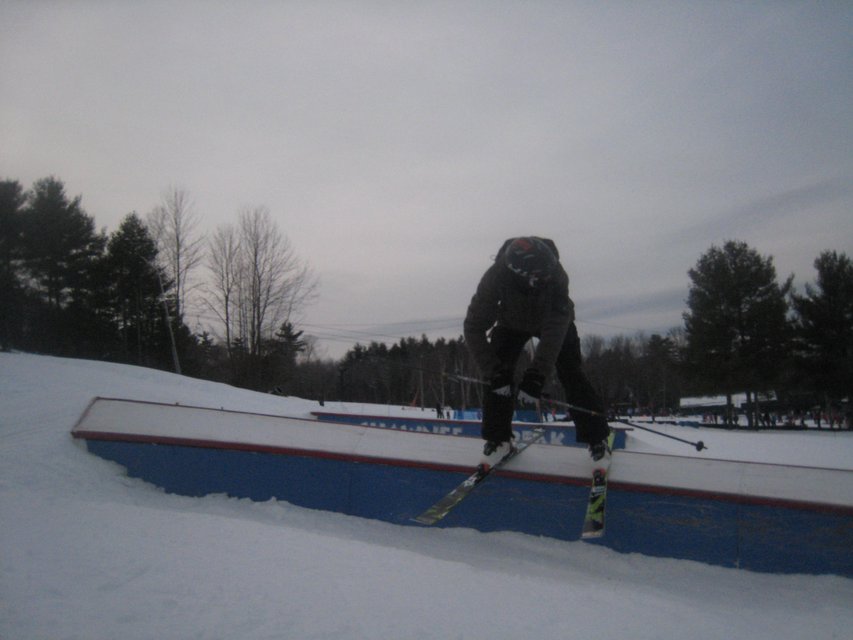 http://media.nscdn.com/uploads/member/videos/1199892982Picture_498.avi
Edwin at Shawnee Peak, and Video of me on c-box.
The next day it snowed pretty hard in the morning in West Falmouth, where we were staying with my aunt, uncle and cousin. Because of the snow, my parents refused to drive us to Sunday River, and wouldn't let me take the car, so we made the best of it by building a jump on the small hill behind the house, and proceeded to have a productive day, with me learning leftside 360s, which unfortunately were not captured on video, because they are probably pretty funny.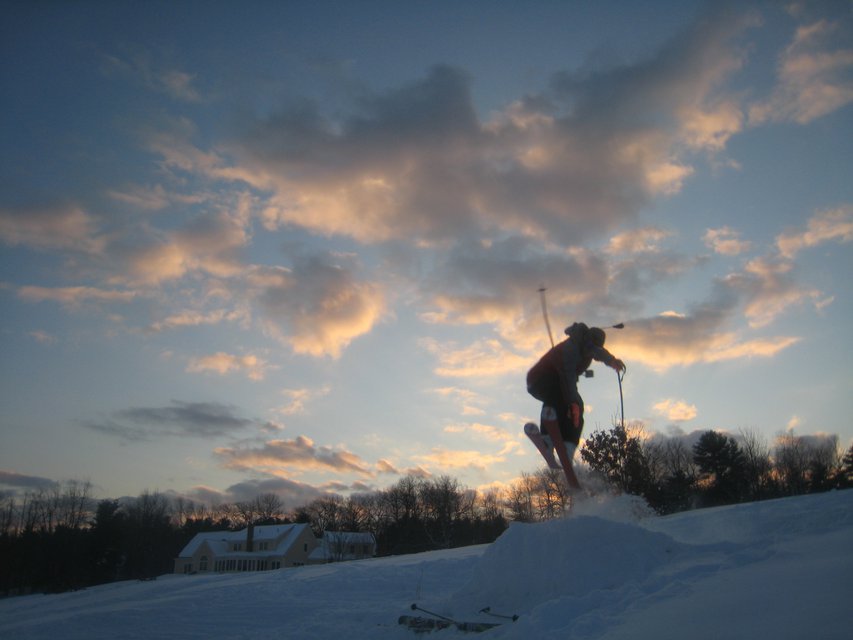 Jump in W. Falmouth (house in background is not the one we were in)
The last day in Southern Maine we spent at Sunday River, where it was snowing hard and we had teh hill mroe or less to ourselves. by the end of the day we were skiing 4+ Fresh inches of powder, and the SRJP and Rocking chair were deserted. Here are some clips from the SRJP.
Ah Shucks, it didn't work, well I'll try to get those up later. Thanks for reading, hope you enjoyed my mediocre thread. Have fun skiing.