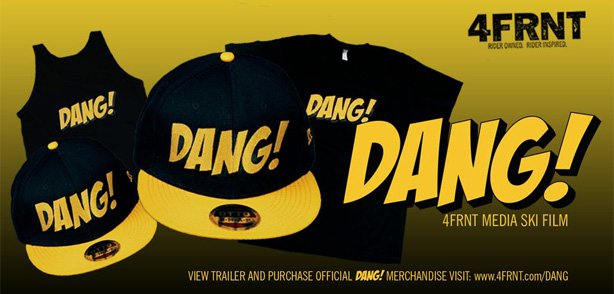 4FRNT Media is back with another film, DANG!.
DANG! chronicles the year of the 4FRNT team as they battle low snow, long flights and lots of shredding.
Featuring:
Eric Hjorleifson, Wiley Miller, Cody Barnhill, David Wise, Laurent Favre, Andy Partridge, Finn Anderson, Will Berman, Mack Jones, Nick Miles, Matt Sterbenz, Thayne Rich, Brock Paddock, and more….
Locations:
Salt Lake City, UT; Pitztal, Austria; Alta, UT; Jackson Hole, WY; Snowbasin, UT; Whistler, BC; and more….
TO GET YOUR OFFICIAL DANG! MERCHANDISE, GO TO http://WWW.4FRNT.COM/DANG
More Ski Videos
Related posts:While We Can – Official Trailer A rider list that has Henrik Harlaut, Phil Casbon, Sig...
'AZADI: Freedom' Official Trailer Open the email and this trailer pops up. And what...
Airtime productions: "På Vei." – official trailer Join Anders Thomassen and the rest of the featured skiers...