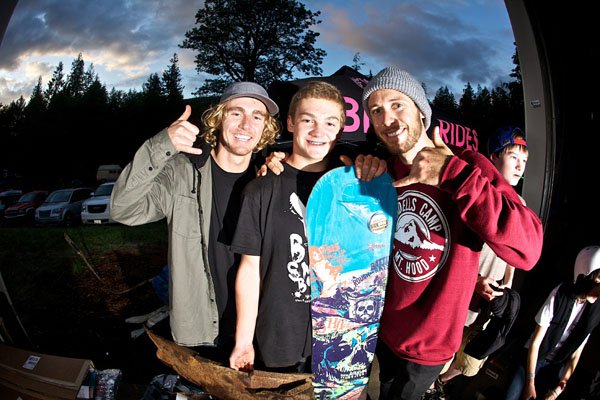 Curtis and Arbor teammate, Nick Visconti, gave out an Arbor snowboard to the camper that helped clean up campus by picking up the most trash. Shredding green!
Curtis Woodman hosted a session at Windells for the first time last year and it was only a matter of days before he was a full-fledged member of the Windells family. This backcountry-powder-riding-maniac navigated the summer snow with ease, bringing his unique snowboarding style to whatever he rode, whether he was throwing down on the big jump, or finding unique transitions all over the park.
Curtis took over camp last summer Session 4 and he's coming back in 2012 for The Reunion: all the bears are back for the same session and the same crew as last year. For his Team Takover Session, Curtis will be joined by Stevie Bell, Nick Visconti, and Jason Robinson, for one of the most energy-packed and exciting weeks of camp all summer. These four guys have the energy of 100 campers each–they never slow down! They ride all day, then play awesome games of bump, dodgeball, and SKATE all night. We can't wait for Curtis to come back this summer, so we thought we would get a sneak peak into some of his favorite parts about Session 4 last year. Check it out and if you want to come to The Reunion, too, there's still time to register!
Name: Curtis Woodman
Sponsors: Arbor, Commune, Sabre, Nike, Boards ?n Motion
Where are you from: born in Sacramento, raised in Garden Valley, CA
Where do you live now: Truckee, CA
Home mountain: Tahoe backcountry
When was the first time you came to Windells?
I was 18. So that was a while ago, seven years ago. I came up here with Santa Cruz Snowboards.
When were you at Windells last summer?
July 7-14th, Session 4. Team Takeover Session with Nick Visconti, Jason Robinson and Stevie Bell.
What was your favorite part about the park on hill?
About the park? I?d have to say the rope tow to the jump. The jump was really fun.
What is your favorite thing about Windells campus? The concrete skatepark foe sure. All the mini trannies that are all around, all the blender trannies.
Tell me about your event on hill.
That was pretty cool, [we] helped little Sam try to learn how to do backflips for the first time ever. Just hit this little nub of snow and did a bunch of backflps and taught him the basics of how to do a backflip and hung out with a bunch of campers that were doing a bunch of wild flips. It was fun to watch the kids progress on the little jump.
What was a memorable moment on hill during your session?
Getting weird with Nick Visconti on some of the not so rideable features. We gapped past the Windells sign to blender tranny on the side of the jump, and gapped over to tap the tube on the baby jump. Nick did handplants in between the Windells on the blender tranny.
What was a memorable moment off hill?
Skating the outdoor park with JRob, Nick and Stevie, and hanging with all the campers and doing all the activities. Dodgeball was really memorable. Being a supernatural hero with Stevie, that was pretty wild, my arm is still sore. I haven?t thrown a ball that much in a don?t know how long. That was pretty fun.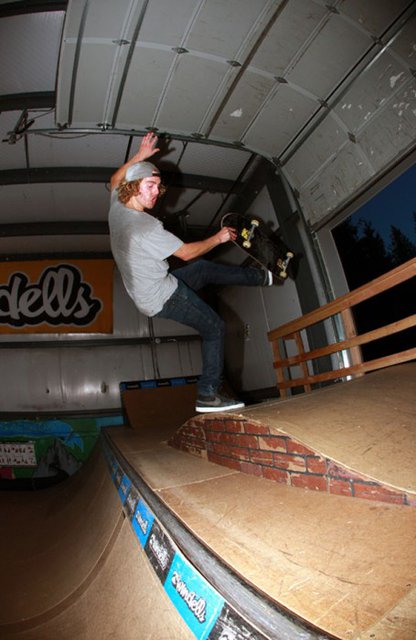 Who was the crew you hosted session 1 with? And why was that an awesome crew to host with?
I think it has a really diverse group of riders that are just really positive and really like to have fun, on hill and off hill. [We] like to be involved with the kids and the activities on and off hill. We?re freaking awesome, because we can teach you, from rails to powder, from the streets to the pow, we got it covered.