The third annual Coors Light Saint-Sauveur Challenge went down this past weekend at Mont Saint-Sauveur, Quebec, where teams of two had three days to create the best three minute ski or snowboard video. The goal of the Challenge was to promote the talent of young, local filmmakers and riders. Supported by Coors Light, K2 and GoPro, the third edition of the contest featured $10,000 in cash prizes + GoPro cameras.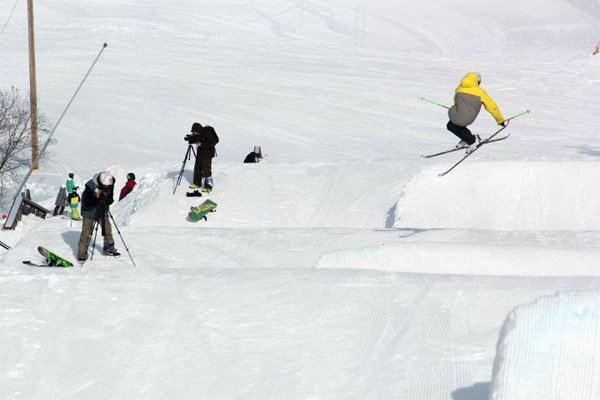 The Coors Light Saint-Sauveur Challenge presented by K2 ran super smoothly with three days of mixed weather. Mont Avila's park allowed for creative riding while filmmakers and riders were also able to explore the mountain's possibilities. The rules were clear; they had to stay within the boundaries of Mont Saint-Sauveur and Mont Avila, but beyond that, anything goes.
Laurent-O Martin & JF Lefebvre
More than 25 teams registered for the event and 21 were able to finalize their edit on time and submit their videos.
Will Gignac & Thomas Aubry
While judges Seb Gagnon and former pro skier Frank Raymond focused on the riding aspect, snowboarder Charles Boileau, a well-known filmmaker formerly of Pléhouse films, evaluated the specifics of each movie and was impressed by the quality of some of the films. "In only three days, some teams were able to put together some great technical edits and were able to respect their storyboard," said Boileau.
Antoine Senay-Latendresse & Thomas Fontaine
The premiere and award ceremony, the Coors Light Cold Party, took place at the Bar of Mont Avila, where 400 people came out to witness the creativity and originality of the teams.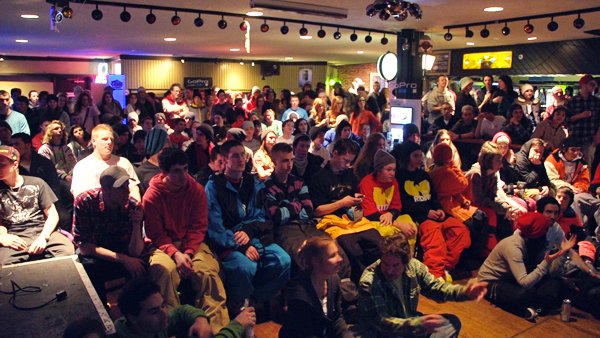 "Every year I keep getting more impressed by the talent of athletes and filmmakers!" said JF DuRocher, co-founder of Bite Size Entertainment and Coors Light Saint-Sauveur Challenge organizer. "Every submission had a different flavor and taste, from crazy creative editing to innovative maneuvers. So needless to say, the judges were more than pleased to witness such diversity, originality and creativity, and it became a difficult task to evaluate the top contenders."
Xavier Mayrand & Vincent Provost – 3rd place
With a great storyboard and impressive skiing, freeskier Vincent Provost and filmmaker Xavier Mayrand took third place and were awarded $1,000 and a GoPro camera, while local snowboard hero Zach Aller and Jermy Boisvert took second and banked $2,000 and a GoPro camera. The duo put together a smart film featuring the journey of Zach against ski patrol, a parody of the classic Hollywood ski film Ski School. Have we found our new Dave Marshak?
Jeremie Bouchard & Zach Aller – 2nd place
Finally, first place went to snowboarder Didier Godbout and filmmaker Justin Loiselle with their Tron-inspired edit complete with the film's look and feel. Didier and Justin proved that hard work pays off as they were awarded first place and pocketed $4,000 and a GoPro camera.
 Justin Loiselle & Didier Godbout – 1st place
Honorable mentions go out to...
Best POV presented by GoPro – Antoine Truchon and Marc-André Sauvageau
Best Soundtrack presented by Cushe shoes – Robert Quinn & Seb Chatrand
Best Jibber – Tommy Belanger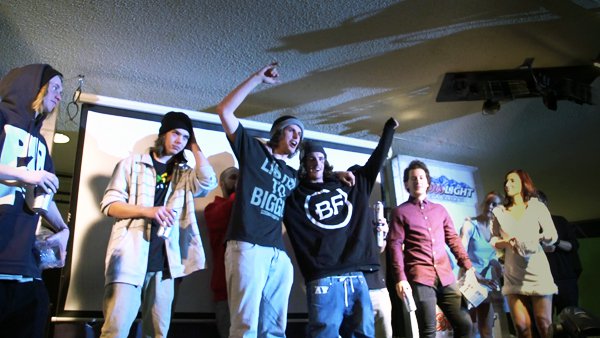 A big thanks to all of the teams who competed in The Coors Light Saint-Sauveur Challenge, along with Coors Light, K2, GoPro, Axis shop, Mont Saint-Sauveur and Mont Avila for making the event a real success. To watch all of the videos, check out http://www.themountainchallenge.com.