Bite Size Entertainment, The Coors Light Brewing company and Mont Saint-Sauveur are proud to announce the second edition of Mont Saint-Sauveur's Winter Break Week, the Coors Light Exhibition.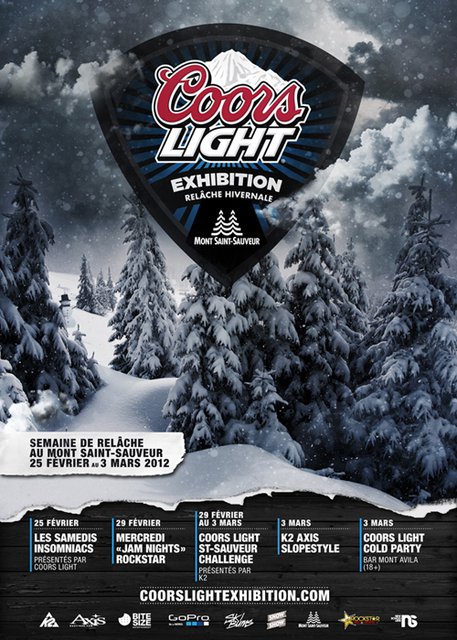 The exciting week starts on February 25th with Le Samedi Insomniac, where you can ski at Mont Saint-Sauveur until Midnight, and for the 18+ crowd, enjoy the celebration at the new T-Bar 70. Then on February 29th, skiers and snowboarders are invited to the Mercredi Jam Night presented by Rockstar, a friendly competition with many prizes to be given out.
From February 29th to March 3rd, Mont Saint-Sauveur and Mont Avila will host the third edition of the Coors Light Saint-Sauveur Challenge presented by K2, an on-mountain film competition. The Coors Light Saint-Sauveur Challenge will feature teams of two people, one rider and one filmmaker, utilizing any terrain on Mont St-Sauveur and Mont Avila over the course of three days in order to create the most unique and original three-minute video. Filmmakers' videos will be uploaded to http://www.themountainchallenge.com for pro judges and public viewers to access and vote. The winning duo will be awarded $4,000 as part of a total cash prize of $10,000 that will be given out on Saturday night during the Coors Light Cold Party at Mont Avila's bar.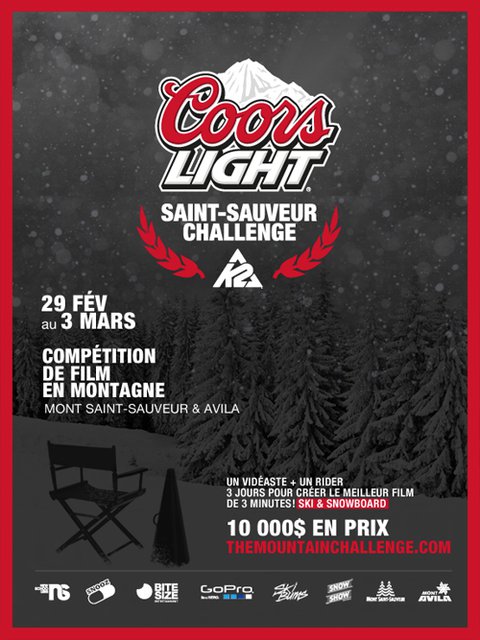 The Coors Light and Mont Saint-Sauveur Challenge is an open contest and teams of two can sign up at http://www.themountainchallenge.com. Judged by industry leaders, the teams will also have the opportunity to fight for  the "most views award," which will reward the teams who get the most hits on YouTube.
Dale Talkington & Connor Scofield's 2011 Mont Saint-Sauveur Challenge entry
Also on March 3rd, Axis will be presenting the 9th installment of the K2 Axis Slopestyle, one of the biggest ski and snowboard competitions in Quebec. Open to juniors, men and women, the K2 Axis Slopestyle is the ultimate opportunity to get recognition. The event is taking place in Mont Avila's Rockstar Snow Park and offers $10,000 in cash and prizes!
For more information on the Coors Light Exhibition, check out http://www.coorslightexhibition.com, and for information concerning Mont Saint-Sauveur, please visit http://www.mssi.ca. The Coors Light Exhibition is presented by Mont Saint-Sauveur, Mont Avila, Coors Light, Axis Boardshop, K2 skis and K2 Snowboards, GoPro, Newschoolers.com, SkiBums.Tv, Snow-Show.ca and is a Bite Size Entertainment initiative.