Words by: Darryl Hunt
Pictures by: Darryl Hunt (and Steve Shannon when specified)
Confessions of a Ski Bum
Part 1: Finding meaning at Sol Mountain Lodge and coming to terms with growing up.
If you are reading this, it means you are really into skiing. Why else would you take time out of your day to read the opinions of some ski bum? If you are a fellow 'ski bum', maybe you can find solace in what I say. If you are aspiring to be one, young and curious about the future, or always wondered what life of a ski bum would have been like - this is for you.
My life has had a fairly directional path since an early age. Growing up in Ontario as a skier from a young age I naturally jumped on the park movement from the beginning in the late 90's. Looking back on my life there are the days before park skiing, and the days after. From a teenage park rat, to moving to BC and slowly shifting more towards powder over the years, to where I find myself now - almost exclusively backcountry powder skiing. Looking back at my teenage park years I knew skiing was going to be a big thing in my life, but didn't fully know this is where I would end up. For the most part, the evolution of my skiing came very naturally, albeit, with many ups and downs. This summer I found myself in a very interesting spot in life where I was able to take a step back and look at the big picture, put things into perspective, and really figure out what is truly important to my mental health and overall happiness. During this time, I came to the realization that perhaps my ski bum days are nearing an end - not because I can't do it any more, not because I don't find joy in it still, but because there is a voice inside my head that keeps asking "could there be more?". Over the course of the winter I will be exploring within and come to terms with the fact that this may be my last winter of 'living the dream', and sharing with you the trials and tribulations of what it's like to live this life. The Good, Bad and the Ugly, if you will.
Late November.
Here I find myself at a touring lodge deep in the Monashee Mountains of British Columbia in late November for a week of ski touring and helping get the lodge ready for their commercial season. While I have worked this area for the past few years during my summer job [treeplanting], I have yet to spend time skiing here in the winter. Spending a week ski touring a zone I am very familiar with in the opposite season feels very comforting. With a mixed group of young, industry driven people, lodge owners truly living a dream, and older retired folk who are fully enjoying some very ripe fruit the vibe is very different from what I am used to in a group of ski partners. Combine that with an early season snow pack, 10 day high pressure system, and relatively mellow terrain, there has been many days full of chill skiing and introspective thought. As this is early in what I have told myself to be my last season of ski bumming my mind has been thinking about what lies ahead (both short term and long), and what I have learned and accomplished over my 12 years of ski bumming and the greater 25 years of my life as a skier.
It's funny how your perspective of what is important in life shifts as the years go by. When the candle was fresh and new, I couldn't imagine why anyone who loves skiing to 'quit' and pursue other things in life. When good skiing buddies would tell me that they were done with skiing, I didn't understand.
How could you walk away from something that you were so passionate for? I didn't look at it as moving on, I looked at it as giving up. We were young, park skiing was new, everything was exciting and the carrot that is a pro ski career was always there, dangling just out of reach. I felt like I was apart of
something special, and looking back on it today, still believe it was a very unique time in skiing history. The magic that was the late 90's and early '00's had a very powerful influence on who I became over the last decade. Even after I graduated high school, became a ski bum, moved out to BC, and started
learning about life and the world of adulthood and responsibility I still didn't understand the idea of 'quitting' skiing. I remember reading an interview with Jonovan Moore a few years ago after he stepped away from being a professional snowboarder. Even before I moved to the mountains and started skiing
outside the park I admired his skill and creativity when it came to big mountain riding. Reading the interview and hearing him talk about moving away from snowboarding and towards a life by the ocean on Vancouver Island, I thought it was a great loss to the sport and a shame for someone so good to lose their passion. I am just now starting to understand the mentality and reasons behind peoples decisions to 'leave' the sport.
I'd be lying if I said things were always happy and without hesitation about the life I chose to live. Waves of 'regression', season ending injuries, girl problems, social pressure, and frustration over periods of very low bank balances always made me question if it was/is all worth it. Ultimately though,
just one really good day, where everything seams to work, can make all doubt and despair go away in a flash. It wasn't until 5 months ago where things changed in my life and suddenly, I wanted something else. With trips planned, exploring to be done, and experiences to be had, I will make the most of this upcoming winter like it's my last, but in all reality I just gotta take it one turn at a time. As the winter goes on, I will be shedding some light on the different realities that is life of a ski bum, the partying, the misconceptions of being a dirt bag, and of course, the skiing. And for the record, I have no plans on actually quit skiing entirely (I don't even think that's a choice, is it?), just not having it as the #1 priority in life. Ok, I'll let the rest of my rant be accompanied by pictures. Are you people even still reading this shit? I stopped a paragraph ago.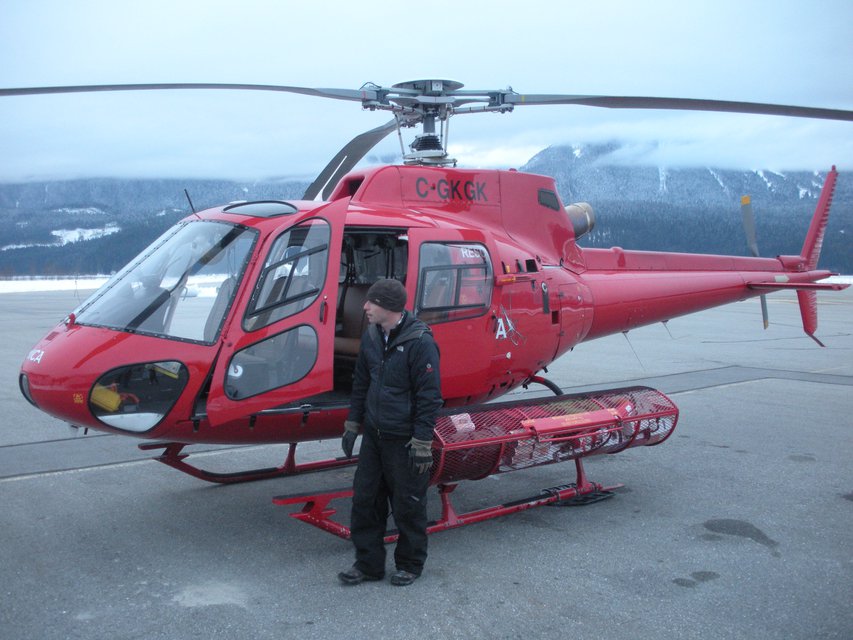 This is Darryl the helicopter pilot. I offered a fight to the death, but he didn't seam too keen. Maybe next time. *first time in a heli with ski boots on my feet - felt nice*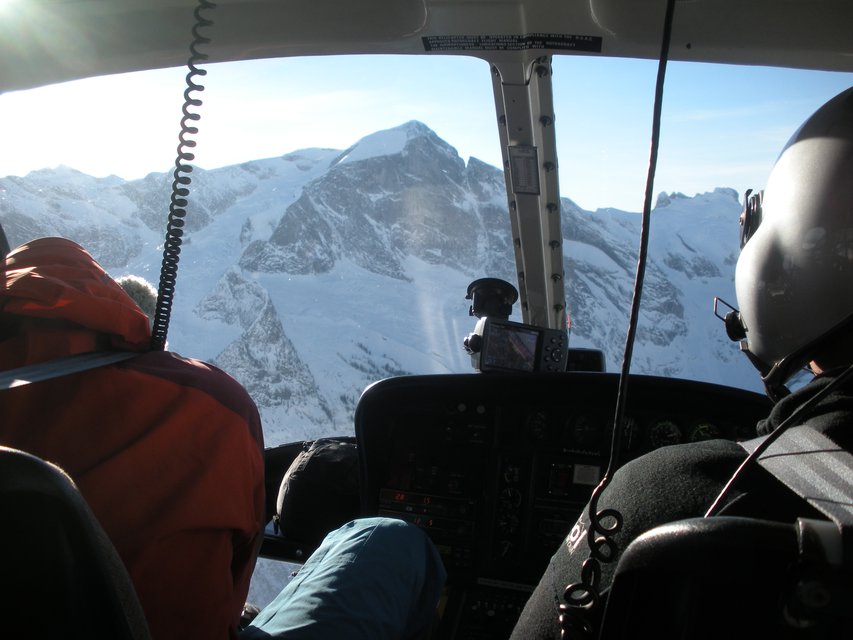 The flight in to Sol Mountain Lodge from Revelstoke has you flying right over the Gold Range when the weather allows (like it did on our way in). This range sees a lot of snow in the winter!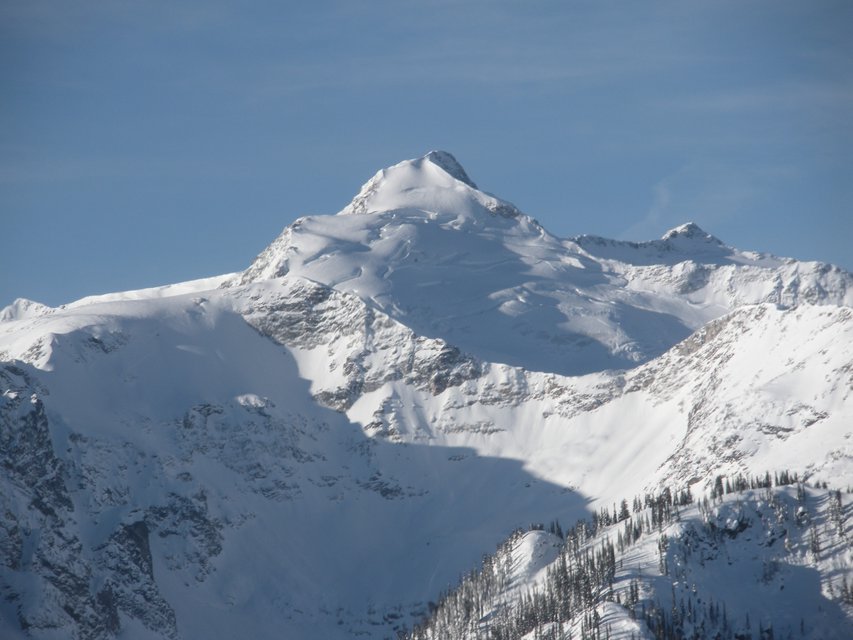 Cranberry Mountain (2872M) with it's accompanied glacier on the flight in. Scenery and shit.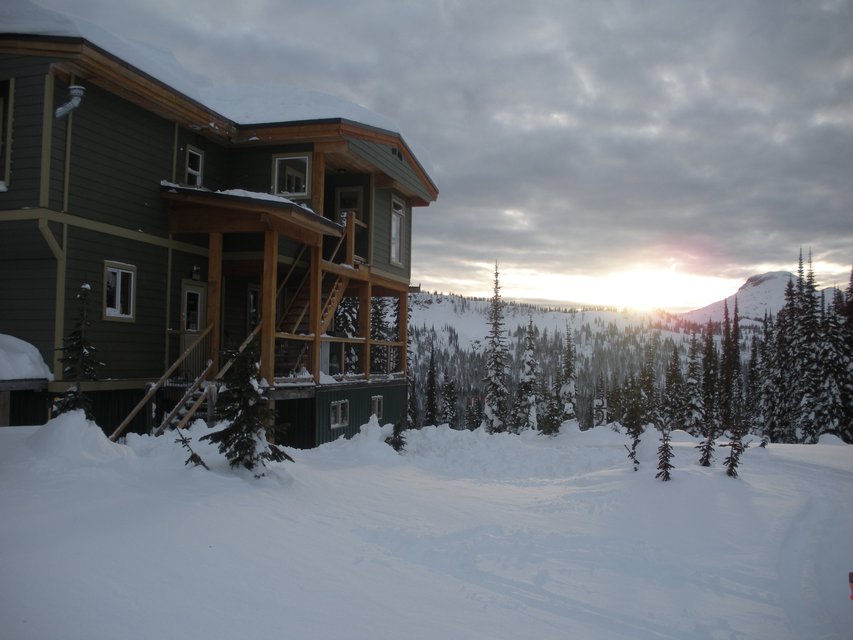 The lodge. For backcountry lodges, it doesn't get more pimp than this. Three floors, sauna, heat, power, running water (hot showers!!!), internet, the luxuries go on and on.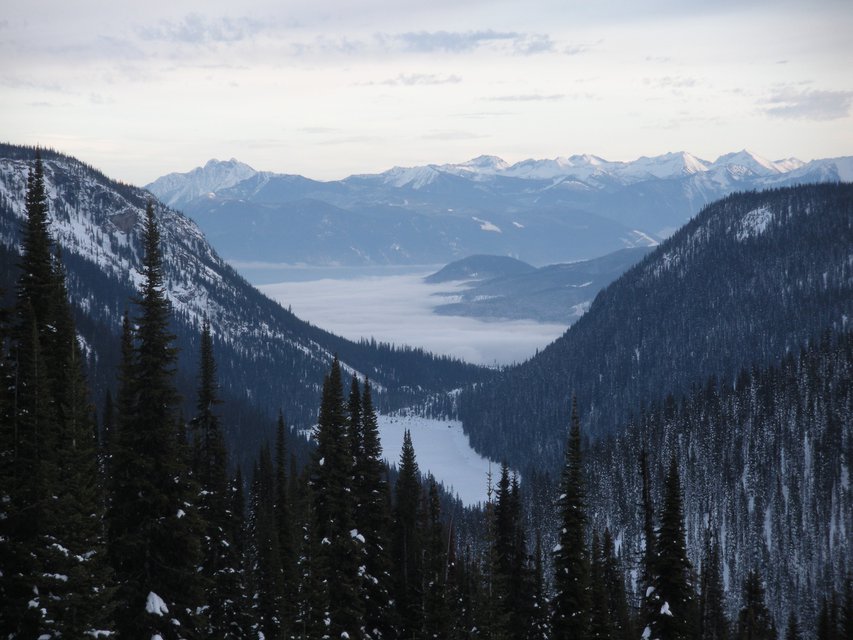 Taken near the lodge looking south into my 'office'. The lodge sits on a plateau at 1900M surrounded by mountain peaks in the 2300M to 2700M range, I have been treeplanting in the valleys around these mountains for the past 5 years. The feels I had to finally ski the mountains I've been staring at summer after summer were many.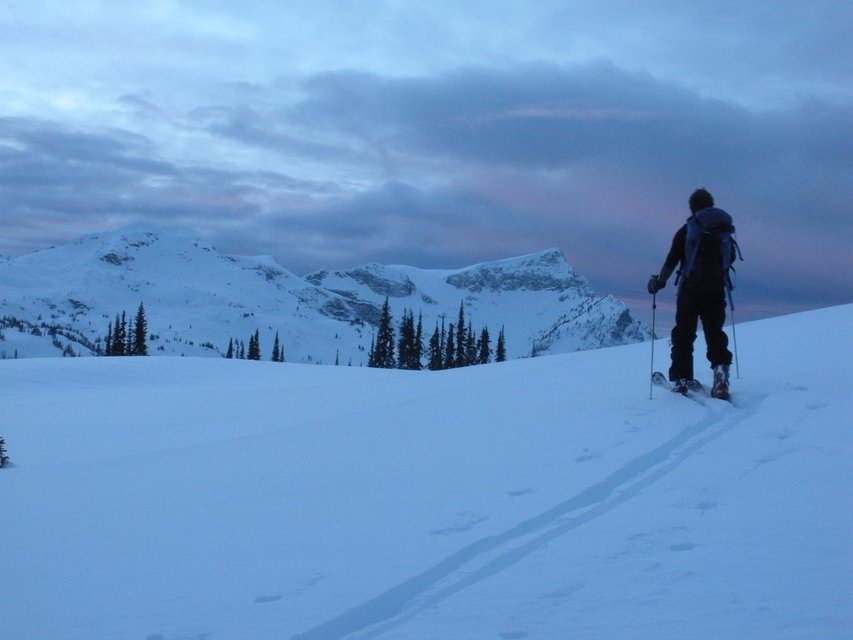 Rory looking out over the tenure at sunset of our first day there. Getting a feel for our home for the next week.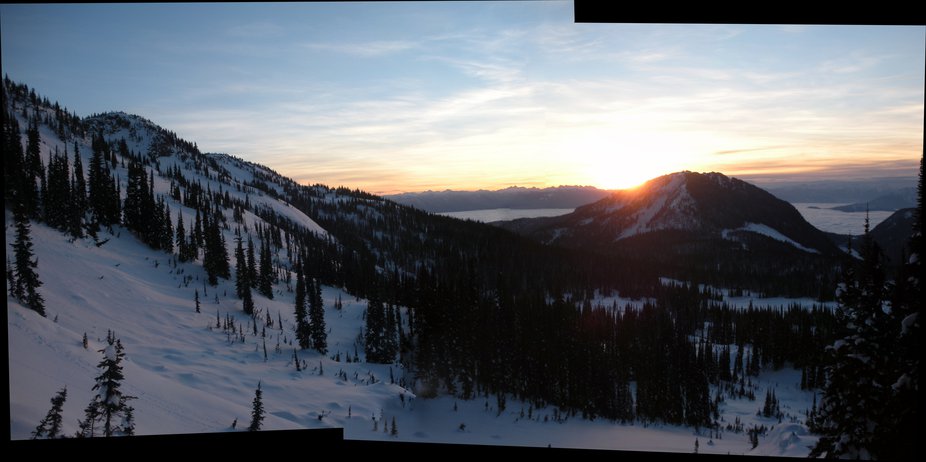 Waking up in the dark at treeline, having a nice breakfast and hitting the skin trail in the morning alpenglow has to be one of the best ways to get your emotions going while in the mountains. Something about being up in the mountains with skis on your feet watching the sun come up over the horizon, it's just magical.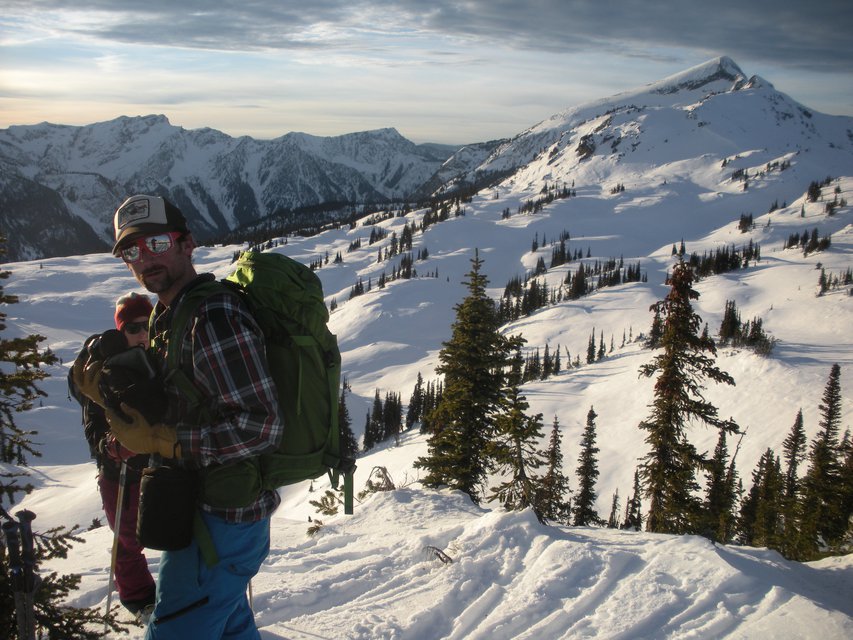 This is Steve Shannon. He's a good friend of mine, and a not to shabby photographer. He is credited for getting me on this trip as well holding the responsibility of taking pictures for the lodge to use for promotion and what not. Now, during my skiing life I have for the most part done a very good job at shying away from the industry side of the sport. There was no escape on this trip unfortunately. With the ongoing quest of 'getting the shot' there was a lot of hurry up and wait time. Luckily I WAS amongst friends, the weather was nice, and while waiting on top of something for way too long can suck, it always ends with you getting to ski what you are on top of, so it's not all bad. (Thanks for putting up with my angst Steve!)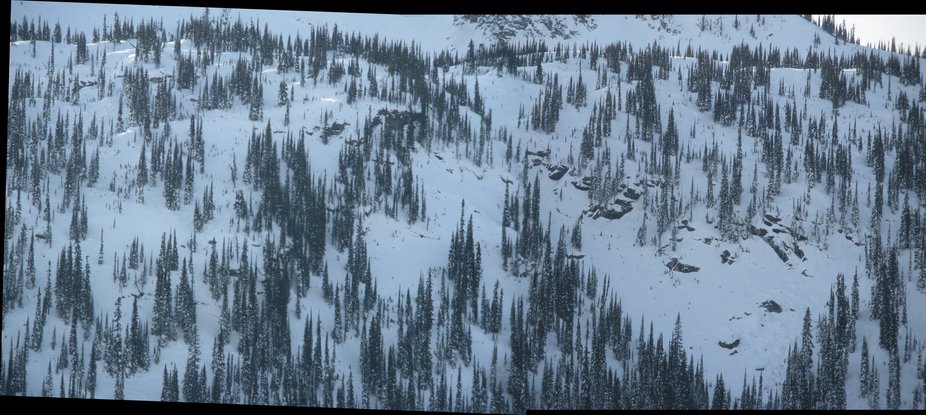 Baldur Zone. Across a shallow valley from the lodge, this is the go to skiing when alpine isn't good. Short, steep, easy to lap, and more pillows and cliffs than you can count. We had 9 people spend a whole day lapping this zone one day without running out of fresh snow. Not too shabby.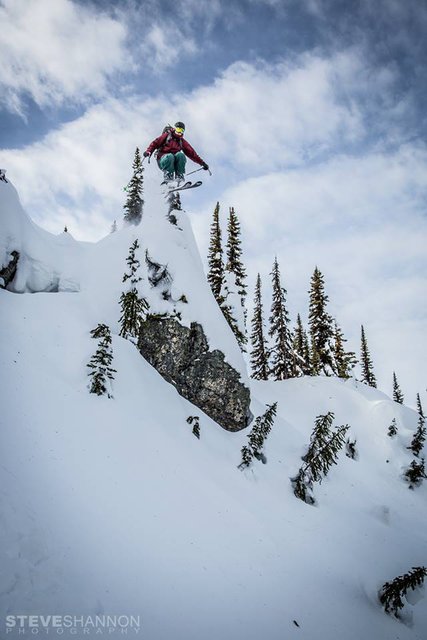 My first proper drop of the season.
Photo by: Steve Shannon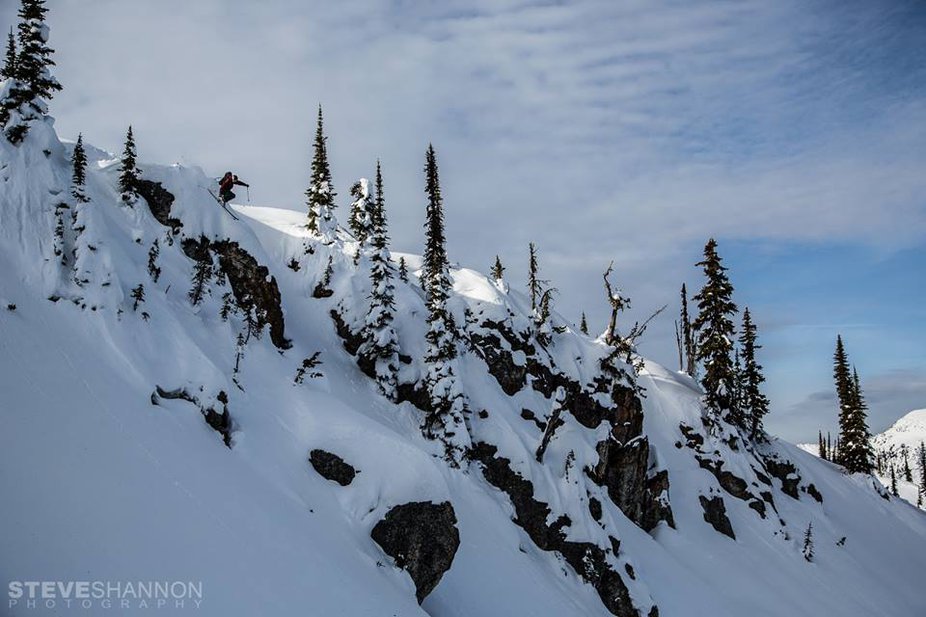 Followed shortly by my second proper drop of the season. hot lapping the ridge became a thing of ours for a day or two.
Photo by: Steve Shannon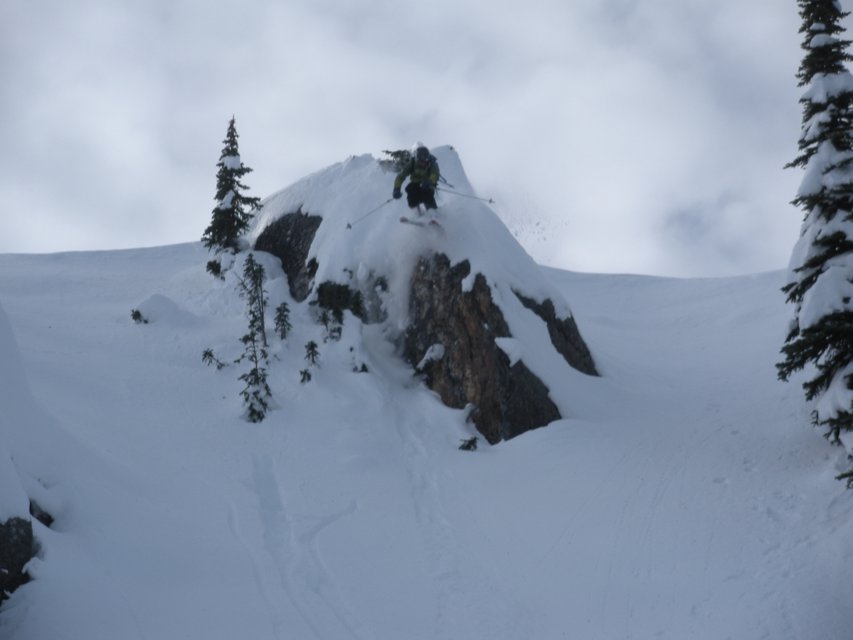 Rory on his silly tele skis getting some air for the camera.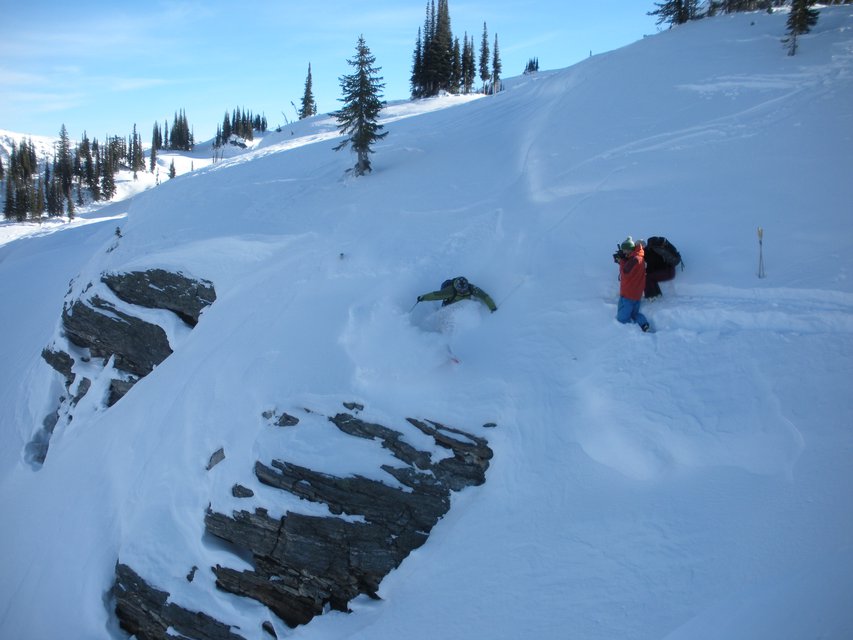 As explained earlier, Steve was on a photo taking mission all week. With that I didn't end up taking nearly as many action shots as I normally do. Getting bored of just standing around watching pictures being taken I decided to do a little behind the scenes style photos. Here is Rory slashing above a cliff with Steve getting the shot with our new friend Carly being the assistant holding the flash. Steve's picture turned out way better than mine!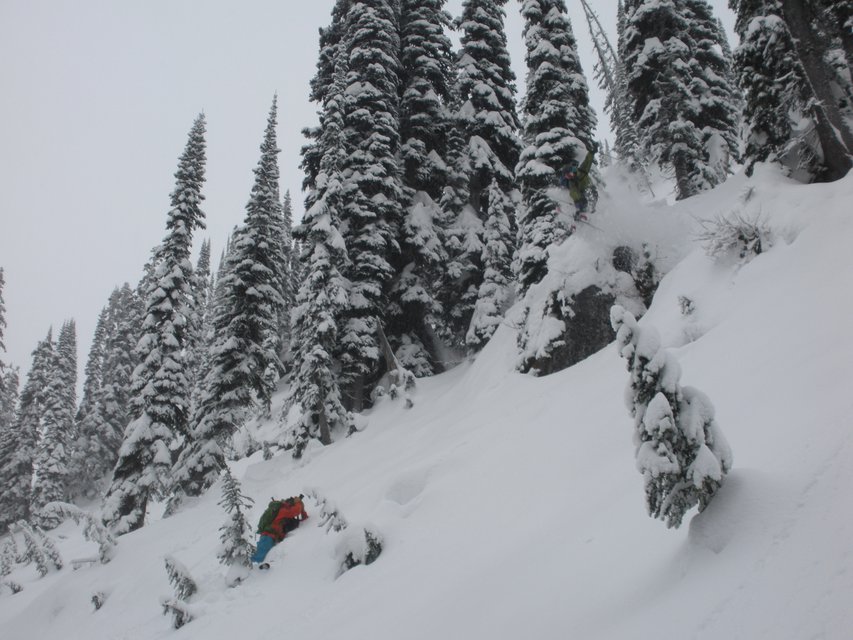 Steve getting the shot of Rory. Tele skiers, so hot right now.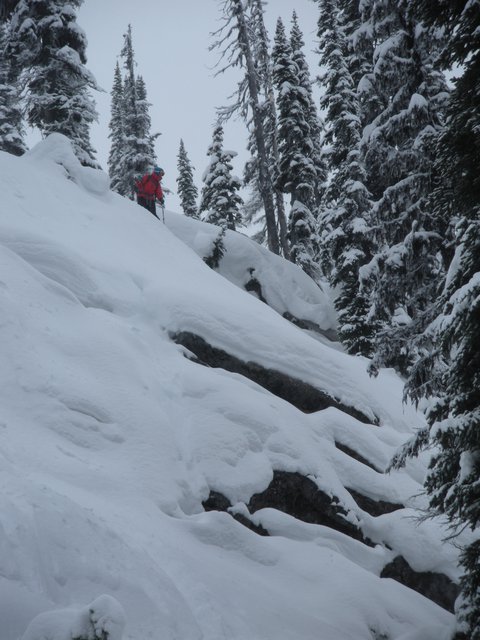 Holly Walker trying to find her way down a pillow section in Baldur Zone.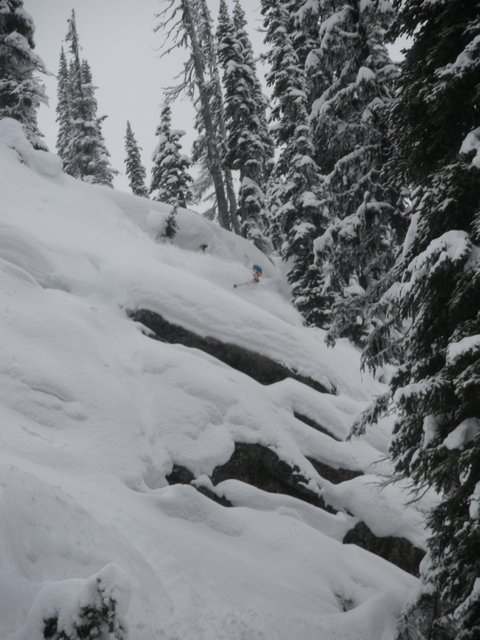 Holly making that ever crucial first turn before dropping into a stack of pillows.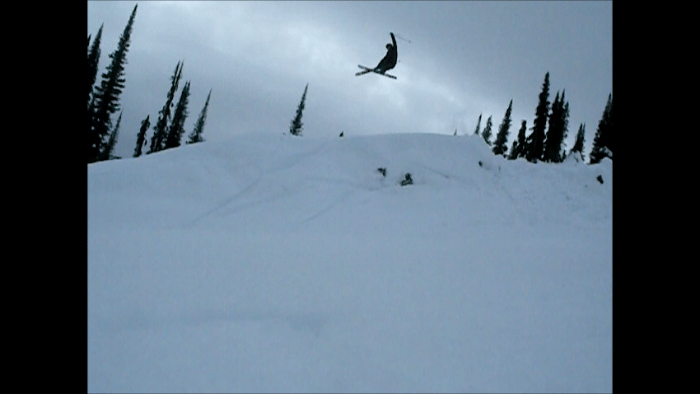 One of the days I was feeling a little tired and didn't want to put in a big day on the skin track but still felt like doing a bit of skiing. My solution - go and try to build a jump. I haven't built any feature in a few years so building this hip was very therapeutic for me. with all my soul searching during the trip it felt really good to get back to my park roots and build a jump. With a low early season snow pack, minimal hours of daylight, and being by myself I ended up building a pretty ghetto (even for my standards) hip jump just up from the lodge. I hit the thing three times (this is the third) but with flat light, snow squalls coming in and out and no one around in case I hurt myself nothing but straight airs were done. This self portrait comes straight out of '99 style wise and I love it. Hate it all you want, I had a blast that day.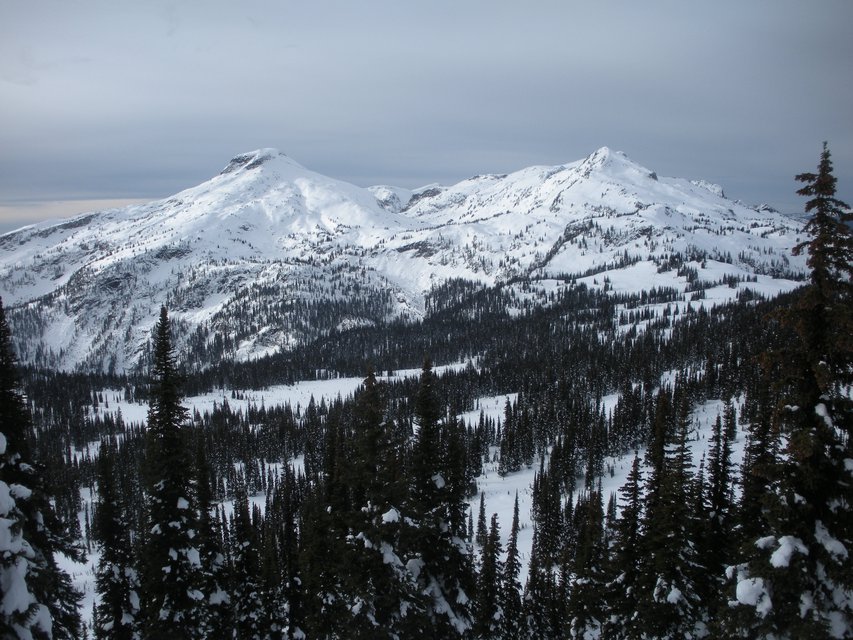 What touring trip is complete without bagging at least one peak? Steve had is birthday while up at Sol and wanted to get on top of Sol Mountain (namesake of the lodge, obvs). Sol Mountain is the peak on the right, this picture taken from the lodge.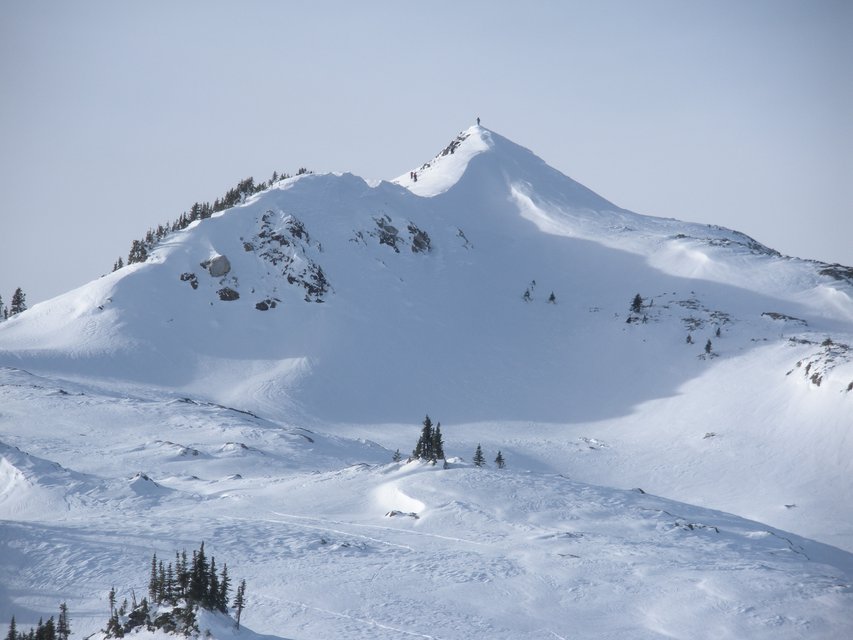 When we got to the final climb up to the peak I took one look at the snow and said fuck that. Hot sun, wind effected snow and a late start made the skiing in the bowl look pretty shitty, so while the rest of our group headed up to the peak I hung out on a nice rock outcrop in the sun drinking beer, listening to music and watching my friends climb up Sol Mountain and ski down. That's Steve standing on top, doing his birthday dance I can only assume.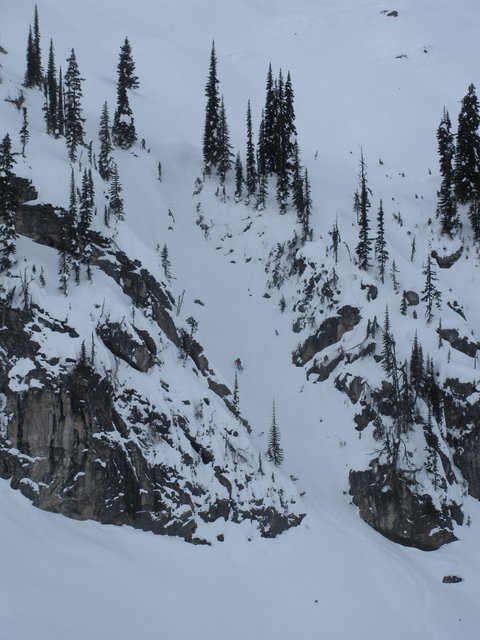 I found this nice little chute on our way back to the lodge from Sol Mountain and got this shot of Steve putting some turns down it. Not bad for a guy who just switched to skiing from snowboarding last year.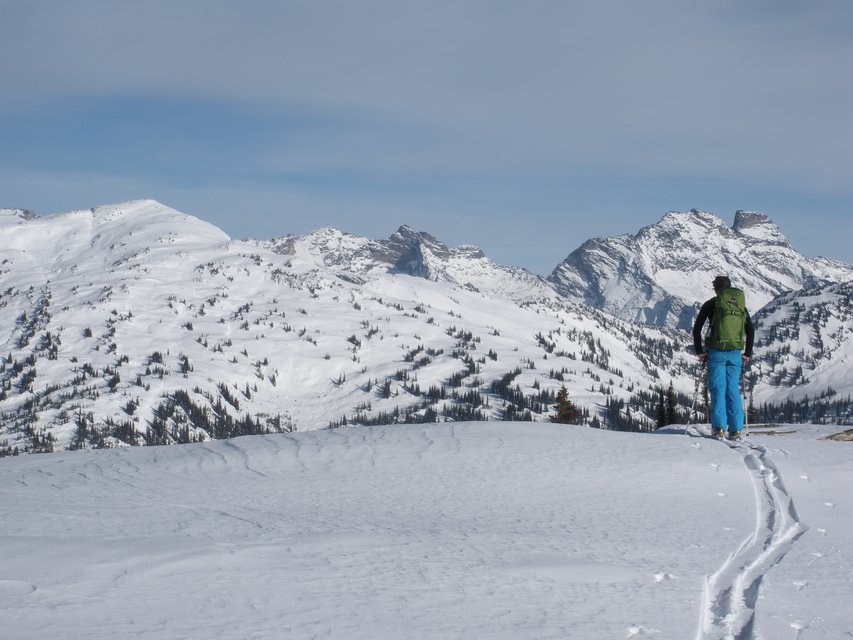 All in all, the trip was fun. The terrain around Sol is playful, but with short pitches, flat zones between the good skiing areas, and a lack of any real consequential terrain I can't exactly recommend it to anyone who is on a mission to get gnar. If you're looking for a good time out in the mountains with people of all abilities with a more than comfortable lodge in a friendly setting, this place could be right up your ally.
Did I gain any true spiritual insight into myself on this trip? I'd like to think so. Am I any better off now than before? Probably not. I realize that I did a lot of talking during this piece without giving any real information, advice, or anything that could be taken as enlightening. When I started writing, I didn't really know what I wanted to accomplish, so in a way, I never really failed at my task. Consider this an intro to the upcoming season where I will try as best as I can what I do, but more importantly, why I do it.
Steve Shannon Photograhy: https://www.facebook.com/SteveShannonPhotography
Sol Mountain Lodge: http://www.solmountain.com/winter/skiing-amp-terrain.html