Get your brain cells warmed up, it's time for the grand CoreUPT.com 'back to school' competition!!
The concept is simple: find a slogan which best reflects the new coreUPT.com strategy, as outlined below, and submit it to the CoreUPT.com team before October 15th.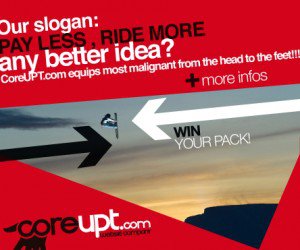 The CoreUPT.com jury will select the best slogan and will offer the winner a complete set of equipment; including one pair of freestyle skis + one pair of freeride or freestyle backcountry skis with DLD12 bindings, a one piece, a puffa-jacket, beanie, cap, underwear, tees, sweats, hoodies, polo, belt, gloves, travel bag, ski bag etc…worth a total value of over 3 000 $.
To submit your idea: http://www.coreupt.com/contest
Enjoy riding CoreUPT.com!