As the opening guitar chords of The Tallest Man on Earth's "Love is All" jar me awake I seriously question why I thought it would be a good idea to set out for the climb at 2 am. The rest of my body seems to be just as upset as my brain, with my arms and legs begging me not to leave the warmth and comfort of my bed. The fog that blankets my thoughts reminds me of the fantastic decision made last night to join my roommates in the typical weekend revelry. Despite the protests from my body and mind, I get myself out of bed and hobble over to the bathroom. A disheveled and bloodshot individual greets me in the mirror. As I stumble my way around the house, gathering gear and donning layers of wool and polyester, I have more time to contemplate why I am putting myself through this. The true irony of the situation hits as my climbing partner and I walk out the door just as my roommates are returning from the night out. We briefly exchange comments and I can't help but empathize with their serious confusion as to why on earth we are waking up at a time when the majority of the city is either asleep or attempting to put together a slurred conversation with the pizza delivery guy.
In spite of the many reasons to stay inside and drift back off to sleep, we get in the car and set off for the mountains. Too tired to make coffee, and with no shops open, we take our time in truly waking up and preparing for what's ahead. Henry, my climbing partner, long-time friend, and constant fueler-of-stoke, puts on some Beach House and we cruise quietly up highway 34 toward Rocky Mountain National Park. We do not pass a single car while the sharp bends of the Big Thompson Canyon help force us awake as we talk about the details of today's climb.
As we pull into the Bear Lake trailhead, we are joined by only 3 other cars whose passengers seem to be fast asleep. I crawl through the car, dragging my pack and boots across the seats and contorting my legs as I pull them on in a futile effort to remain inside the warm confines of Henry's Outback for as long as possible. I eventually run out of layers to zip up and gear to double check and am forced to step out into the cold. As we step into our snowshoes, we are finally no longer thinking about our beds, and set off on the trail.
The trail to the base of the climb today is very mild compared to the Longs Peak trail, one for which Henry and I have a very special hatred. If it weren't for the hard boot-packed snow covering the trail, there would have been no sign of any other human activity. The beams of our headlamps bob around, leading us up and through the forest, along a couple lakes, and eventually depositing us at the shore of Emerald Lake. While taking a break before heading up the snowfield at the base of the climb, we exchanged comments about how we may have actually woken up too early, with the sun still hiding behind the front range below us. However, as we began hauling ourselves up the slope, the orange hint of a sunrise begins to greet us, and navigation up the bowl becomes increasingly easier.

sunrise from the rest point
After a few hundred feet, we arrive at the base of the rock formation dividing our ascent route, The Dragon's Tooth, from our descent route, The Dragon's Tail. As we stash our snowshoes and poles and grab our crampons and ice tools, the vague introduction to the sunrise has become a vibrant show that demanded our attention. I found myself snapping pictures every minute, with the light becoming more beautiful with each moment. With our packs lightened, crampons fastened, and phones' storage space decreasing, we head up the steepening slope to the climb.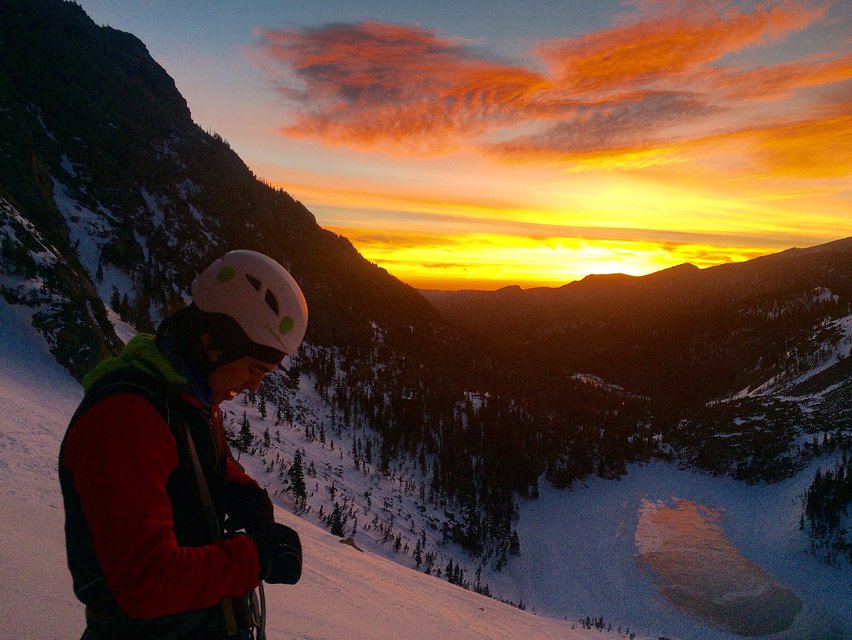 Henry gearing up before the climb
The Dragon's Tooth was described as a moderate snow climb with some mixed climbing, and was actually only supposed to be the introduction to a harder mixed climb that we would never find. I was extremely grateful that the snow had consolidated and my boots did not sink much past my ankle. I couldn't help but smile as we cruised up the couloir, thinking of the several hours we had spent postholing in chest-deep powder a few weeks back on Longs Peak. Despite snow climbing being a somewhat mundane and often negative aspect of alpine climbing, I could not have been happier. With each methodic kick step and plunge of an ice tool, I remain in awe of my current situation. I was surrounded by jagged rock peaks, climbing up a snow and ice filled couloir with the sun rising behind me. I was sure my high school self would never have imagined this being a possibility. Waking up at 2 was starting to become more and more reasonable.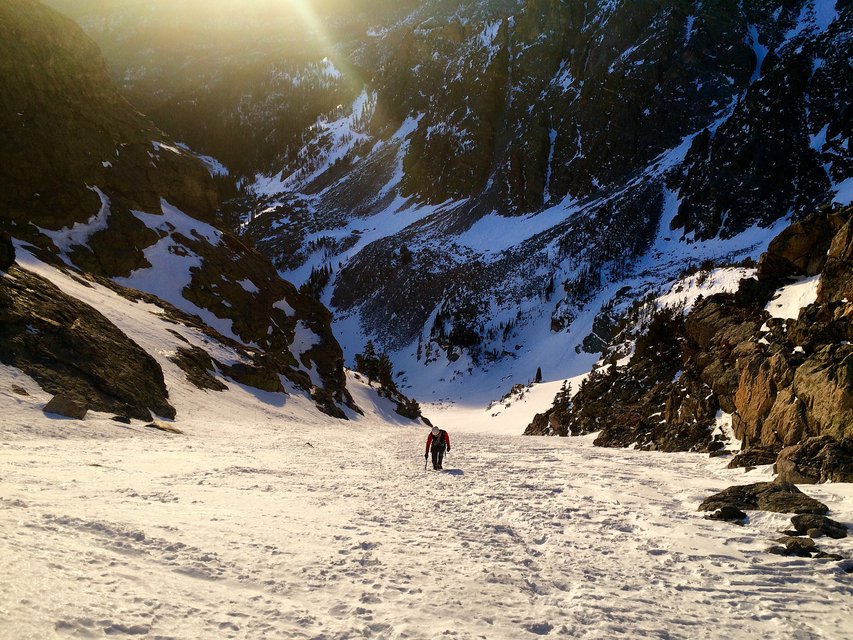 Henry making his way up the couloir
We soon arrive at the base of the crux section, and rope up. The guidebook stated that a mummified elk carcass blocked the easiest route up, which served as a somber reminder to me of the consequences up here. Henry leads the way, tactfully working his way up and around the large rock that blocked the couloir at the crux. I follow, much less delicately and much more slowly. I am slightly disappointed to find that the elk seems to be buried under the snow and not visible, because how badass would my snapchat story be if it was of me climbing over a dead elk right?? Despite their utmost importance, my preoccupations with my social media presence are soon replaced by thoughts of how to get over the boulder. After several minutes of grunting and anxiety caused by the deteriorating sugar snow beneath me, I hump my way over the boulder and we continue on. The route meanders over varied rock and snow, and we continue to wonder where on earth the other climb is supposed to be. Deciding that it must just be further up, we push up, but soon arrive at the summit ridge.

I guess it's called Flattop for a reason
At this point we are a bit puzzled, but still happy with the ascent. We also notice something that had been absent for the rest of the climb- wind. We are immediately made grateful that the couloir had shielded us from the wind as the gusts on the ridge attempt to blow us over. After scrambling to the true summit of Flatttop, we head down the ridge to the top of Dragon's Tail. The sun is now blasting this couloir, and we decide that we should be efficient in descending due to changing snow conditions. Even with the awkward stumbling and kicking that is downclimbing, I am still super stoked with our situation. 2 am continues to become a better decision.
On our descent, we pass a party of splitboarders, which further cements my decision to save up for a touring ski setup for next year. Skier's tracks taunt us as we slowly kick step our way down the snow. When the slope becomes more gradual, we drop on our butts and glissade down the snow as much as we can. Arriving at the base of the dividing formation, I dislodge the vast amount of snow that has accumulated under my jacket back during the slide. We swap crampons for snowshoes, and head down to the lake.
As we passed what seems like hundreds of hikers snapping pictures at the lake, I barely recognize the trail that we had come up at 4 in the morning. Walking past groups of people wearing uggs and sporting vineyard vines shirts, I can't help but feel pretty cool as I hike past them with two ice axes strapped to my back. I mean, even in Colorado where climbing is fairly common, how can you not feel cool when you're walking around with steel spikes attached to every extremity? Finally arriving at the car, I can't help but feel a little confused, or out of place. We had been up for 9 hours now, but it wasn't even noon. Also, unlike the majority of my other alpine climbing experiences, my body did not feel completely broken. In fact, I'd say that the type 1 fun actually outnumbered the type 2 for this experience. As we cruise back down to Fort Collins and dream about what giant meal we would consume when we arrive, I sit thinking about those opening chords of "Love is All", and could not be more grateful.