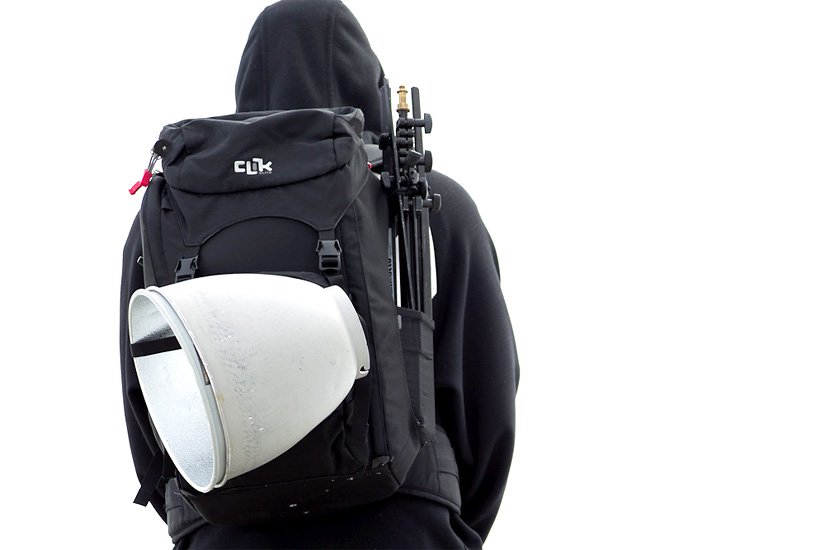 The Clik Elite Escape backpack is a mid-sized camera pack targeted more towards the consumer market than towards the pro market. That at least was before the pros got a hold of it. This pack carries like it's nothing on your back with a load of cameras and lenses but for me, this pack shines as my battery powered strobe pack. It's the perfect combination of space, ease of access but all in a compact well carrying package.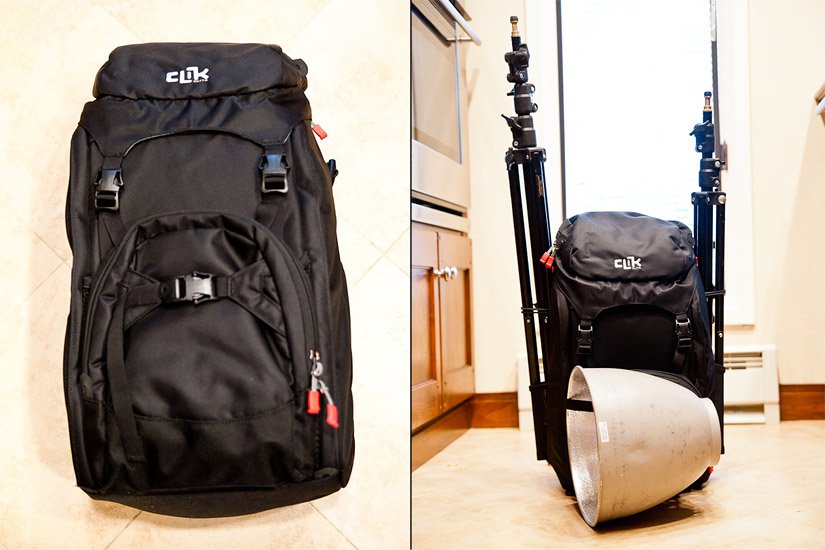 This pack is the absolute perfect size for the usage of battery powered studio strobe units. My two normal kits fit like a glove. For an Elinchrom Ranger RX AS Speed + A Head, it fits with very little room to spare. There's just enough for the pack and head in the main compartment with room in the top and front pockets for Pocket Wizard transceivers, sync cables and other accessories. The elastic mesh side pockets and bungee straps will carry (2) small or (1) medium sized light stand or something like a water bottle. The reflectors can be strapped on to the front side of the pack with the horizontal adjustable strap.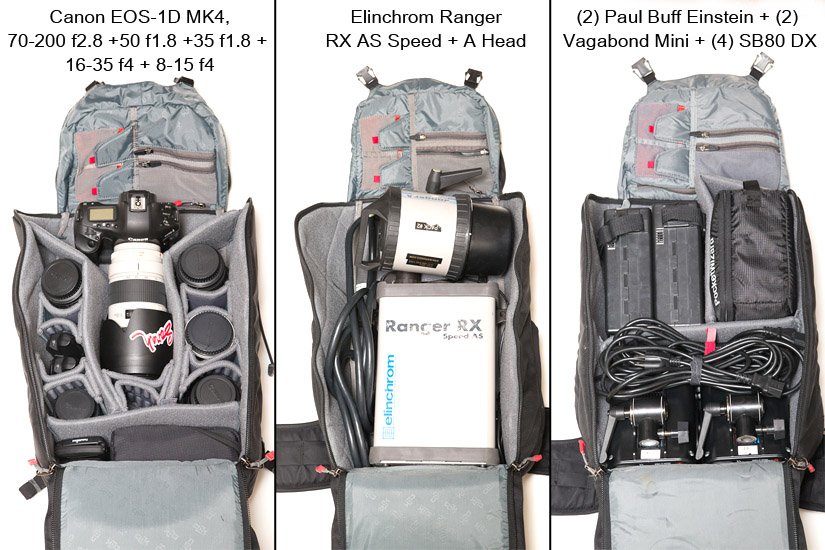 For the Alien Bees or Einstein's the Escape is a double barrel solution. (2) of these monolights plus (2) Vagabond Mini battery power packs, cables with room for about two more lenses, lunch or whatever you can come up with along with the exterior accessories mentioned above for the Elinchrom Ranger kit. I've also tested the Escape with a Profoto 7b kit and it is just as good of a fit and carries just as well.
The top of the Clik Elite Escape camera backpack with the top flap opened. Access to the main compartment is easy with the double zipper system. You undo the velcro handle closure and pull it open. You have access to all your gear in no time!
The top of the Clik Elite Escape camera backpack with the top and main flap opened revealing the main compartment. The double zipper access on the main flap makes for very quick access to your gear. You just pull up on the velcro handle and the whole pack opens up.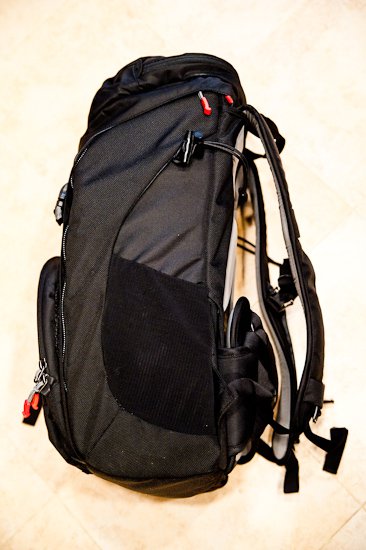 The Clik Elite Escape camera backpack side view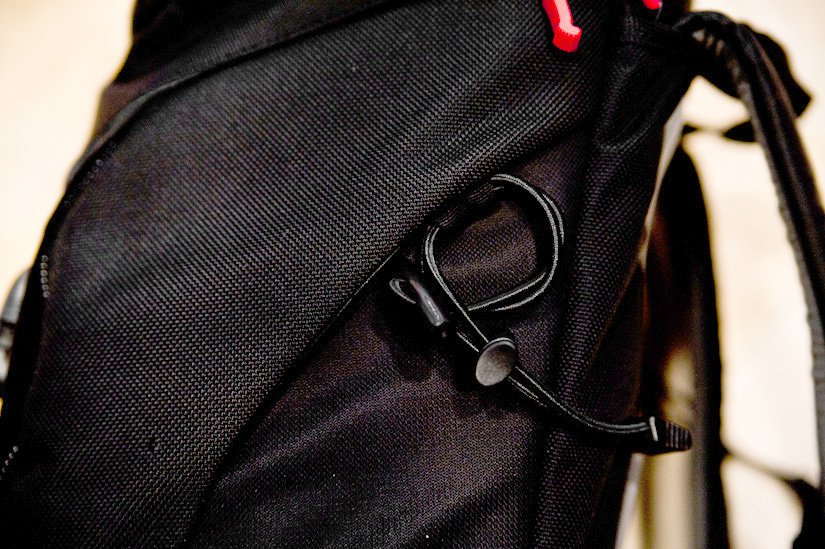 Detail view of side pocket elastic ties on the Clik Elite Escape camera backpack. Light stands stay in well on both side pockets tied in with these elastic ties.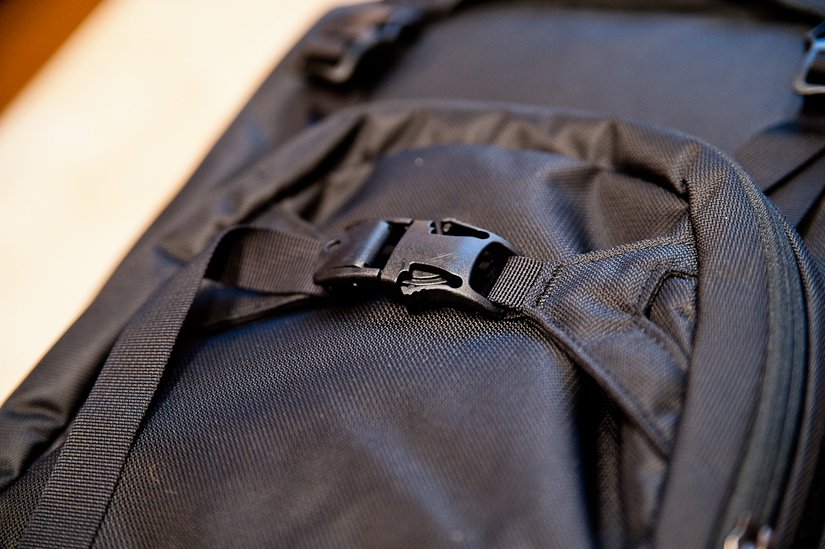 Detail view of the front pocket and strap on the Clik Elite Escape camera backpack. The strap expands enough to hold my Elinchrom Ranger 50 degree 13″ reflector on the pack.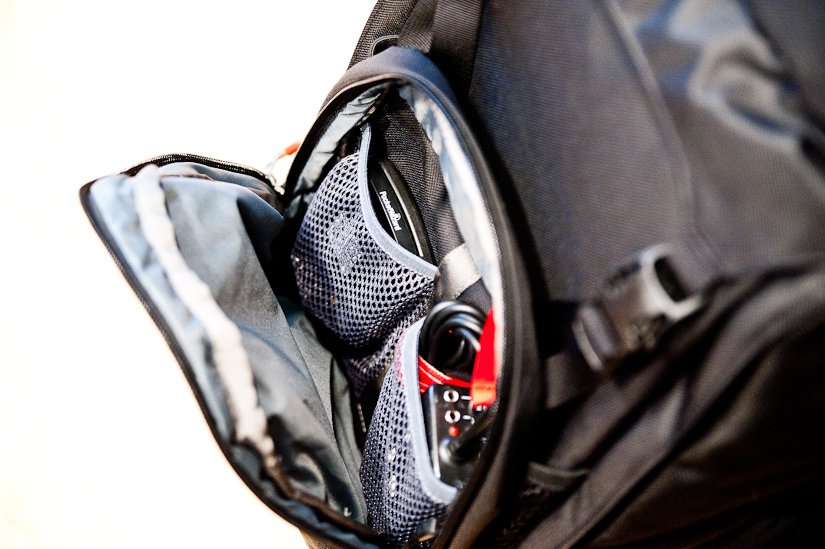 Detail view of the inside of the front pocket on the Clik Elite Escape camera backpack. Plenty of room for Pocket Wizards, cables and other smaller accessories.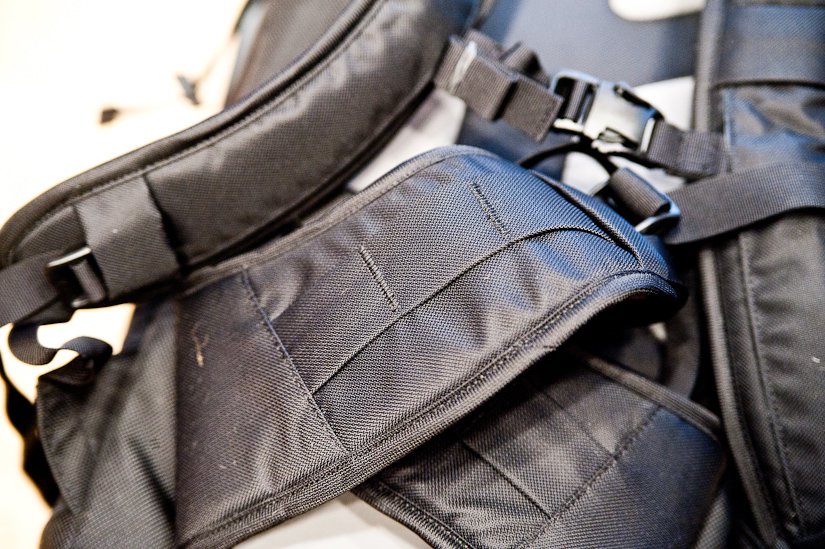 Detail view of the waist straps on the Clik Elite Escape camera backpack. Three loops in the webbing to attach various accessories.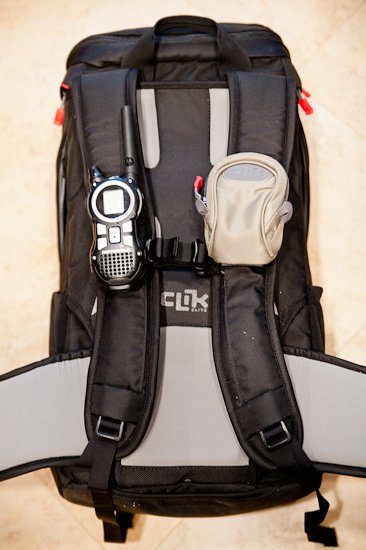 The harness system on the Clik Elite Escape camera backpack. The straps are a bit narrow and light, but it's not designed as a pro pack so this should work for most. Shown with a radio and a point and shoot camera pouch attached to the loops in the straps. This pack carries very well and is extremely comfortable in spite of the narrow straps. The harness works well. It's short, narrow, and just deep enough to carry what you need, but not too big so for me, skiing with this pack is very easy. It sticks to your back very well. The other part of this that works great, is it carries on my chest well. This matters when I have to haul everything myself. I can have my main camera backpack, the Clik Elite Contrejour 40 on my back with this on my chest loaded with lighting equipment and get around myself.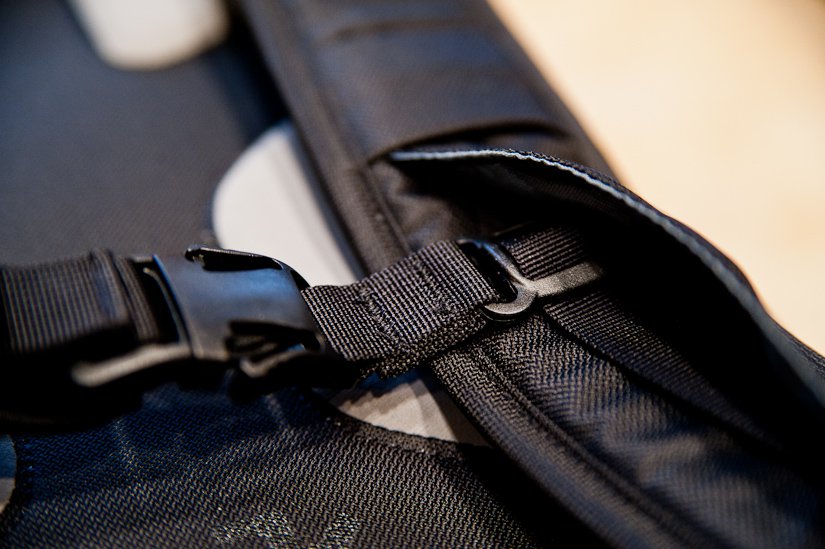 Detail view of the chest strap buckle and adjustment ladder. The Ladder only moves when you want it to.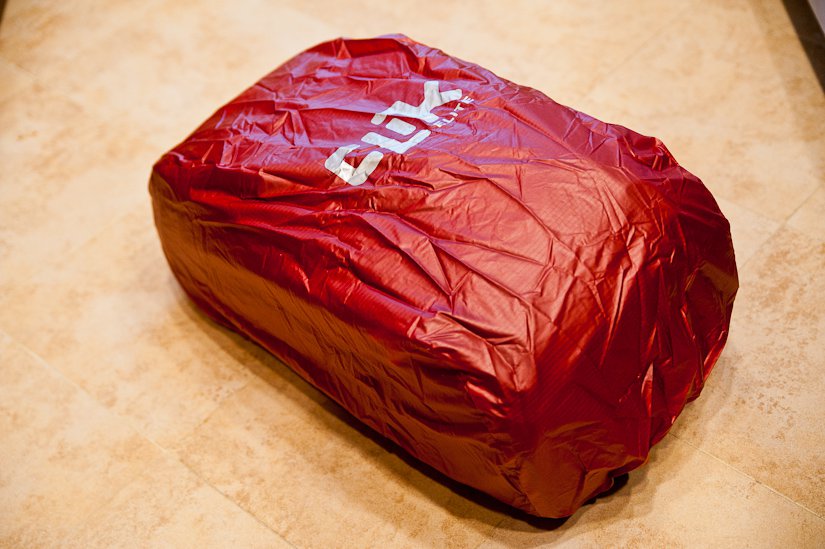 The Clik Elite Escape camera backpack with the included rain fly on. You won't be losing this anytime soon with this bright red rain fly.
Specs
Camera Size: Probody SLR
External Dimension: 21″H x 10.5″W x 8″D (53 x 27 x 20 cm)
Camera Compartment: 18.5″H x 10.3″W x 6.4″D (47 x 26 x 16 cm)
Internal Storage: 11″H x 9.1″W x 1.9″D (28 x 23 x 5 cm)
Volume: 1200 cu in. (19.66 L)
Weight: 3.43 lbs (1.56 kg)
Will hold iPad: YES
Hydration Sleeve: YES
Rain Fly: YES
Tripod Storage: YES
 
If you got anything out of this review, please click the links below if you decide to buy to help support the site.
Clik Elite Escape Camera Backpack at B&H Photo