It's time for the second installment of the season of Choices presented by evo, a member-inclusive series comprised of gear reviews by the Newschoolers community and staff.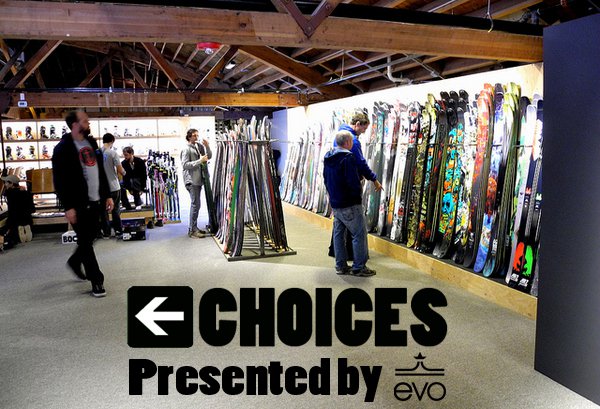 In case you didn't know, writing reviews on your gear and posting them right here on Newschoolers increases your Karma rating, which will greatly help your chances of becoming Member of the Month and winning a monthly prize from evo. So like everyone did below, be sure to get on it and tell the rest of the biggest and best online community in skiing how your gear is holding up this winter!

APO Sammy C Pro Model, reviewed by schmuck
Rating: 9 out of 10
At 87 under foot (in the 178, which is what I rock) with a not too straight or too shapely sidecut, the Sammy C Pro Model is the perfect width and shape for a park ski, as the fact that it's a touch wider than other park skis helps you stomp the biggest of landings, and also shreds the entire mountain like a boss. This was a big deal for me, as while I enjoy skiing park, I enjoy skiing the whole mountain more, and there's more than a few other park skis out there that I've found to be unstable and have caused me nervousness when I'm skiing through crud or on icy conditions. This isn't the case with this ski, as I've taken the time to push it to break neck speeds on less than desirable conditions, and was pleasantly surprised with how stable it was and the confidence it instilled in me as a result. Park-wise, this ski is one of the most playful ones I've ever tried, because man oh man does it pop! With a healthy amount of stiffness under foot and a springy tip and tail with an ultra light swing weight, it pops, butters, spins, flips and stomps with ease, and locks on rails like a bank vault, turning any and every day in the park into a smile-filled one no matter what the conditions are. After producing a ski this good (and fun!) for their first kick at the can in the ski world, the future is unquestionably bright for APO. As a result, I can't wait to see what they come up with next, and highly encourage all of you to try out the Sammy C Pro Model along with any of their other offerings. You won't be disappointed, and may just have the best ski day of your life.

Line Chronic, reviewed by frozenskier_
Rating: 9 out of 10
These skis perform really well. They have a nice, easy sidecut which can be ridiculously quick and sharp or easily lay down a large carve. I found the ski to struggle a little bit in thicker slush because of the lightweight design, but still manageable. Skiing switch on them is super easy, and they held up in pow as well. They have a bit of a strange flex pattern (which could be due to the thin tips), so it took some getting use to, but after a while I found the flex rather enjoyable, soft and playful. So far they've have held up well durability-wise, but the plastic laminate on the top sheet has been scratched away upon closer inspection. Overall, the Chronic is a great ski, and I would certainly recommend it to anyone.
Buy the Line Chronic at evo.com or shop for all Line gear.

Armada Magic J, reviewed by Newschool_Pope
Rating: 10 out of 10
The Armada Magic J is by FAR the best pow ski I've ridden so far. I rode it in pretty much any condition, and it far exceeded my expectations. In the deep untracked I thought I might have some tip dive problems due to the mellow rocker in comparison to the huge rocker of my Hell Bents, but far from it! They float like a dream and it's very easy to smear/pivot tight turns in the trees. I was also able to go very fast through chopped up and windblown powder with hard snow beneath and didn't really catch any edges. It's definitely a charger ski but on groomers I could really carve hard turns when really leaning into the turn. Being 6'1 I got the 190, which seemed a little short for my liking in the beginning but after a day of shredding in variable conditions I did not actually need a longer length. The fact that they are so light is awesome and definitely a major plus. Overall, the Magic J is an awesome ski, and if you want a ski that is very nimble in the trees, can handle chopped up stuff, and charge...look no further.
Buy the Armada Magic J at evo.com or shop for all Armada gear.

Salomon Rocker 2 108, reviewed by MacMahoooon
Rating: 9 out of 10
I'll start with saying this is probably one of the more fun and versatile skis I have used in the last few years. This is a ski that excels in almost every condition. The early rocker profile does a great job riding over the chunky stuff on a chopped up afternoon, and gives great lift when the snow is a little deeper. The 108mm underfoot (111mm in my 190cm model) gives the feel of a much larger ski when the snow is soft, yet the profile still rails turns on hardpack like a sub 100mm ski. Currently have them mounted with Salomon STH 16 bindings between "Center" and "Recommended" and finding this a pretty sweet spot for just about anything I throw at them. For someone who doesn't see much in variable days, I'd probably go a little further back though. As for how they ski, they really adapt well to all conditions. With the 190cm I don't feel like I am outskiing these at all. They have tons of ski ahead of the binding and really ride up ontop of whatever snow there is. For suck a big ski they are incredibly maneuverable, which makes them great to throw around in the trees where quick turns are essential. A little shift of the weight to the back can also shut them down very quickly, or simply fun tail slashes. Combining the soft tip and stiffness from the front contact point back, these skis are really fun to pop off everything, making tree runs and bumped up pow a blast to tear around. The underfoot stiffness does allow you to really lay these out and carry speed without things getting too scary when there is a groomer to be done between tree laps. Overall these skis are getting the most days on my feet this season so far because they are just so versatile and fun. Well done Salomon.
But the Salomon Rocker 2 108 at evo.com or shop for all Salomon gear.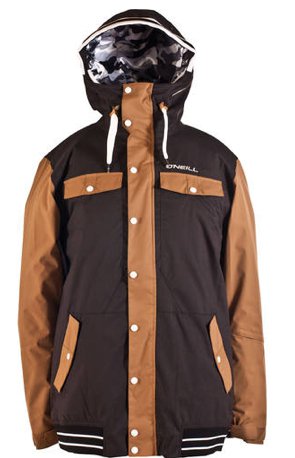 O'Neill Toots Jacket, reviewed by schmuck
Rating: 10 out of 10
O'Neill was kind enough to hook me up with two jackets this winter while I waited to receive a sample of our next year's collab jacket with them, and one of them was the Toots. Design-wise, it has a dark brown body with tobacco brown arms, and because I think the tobacco brown is such a dope looking color our next year's collab jacket with O'Neill will also feature the same color on the arms. I also love the black waistband at the bottom, along with the snow camo liner in the hood, as it gives the jacket some extra flair and makes it look and feel really unique. Fit-wise, it's somewhat on the taller side (but not too tall), and slim (as opposed to most tall jackets, which tend to be wide/baggy as well), and I love the fit of this jacket so much (more so than any jacket I've ever owned to be honest) that I suggested we use the same specs for next year's O'Neill/Newschoolers collab jacket, which is what exactly we're doing. Tech-wise, it boats a 10,000mm waterproof and breathability rating (which is great in pretty much every condition with the exception of torrential rain), along with critically taped seams, and a host of cool pockets to hold your goggles, iPod and other essential items while you're skiing. Definitely check out this and other jackets from O'Neill, and get stoked for our collab with them next year.
Shop for O'Neill gear at evo.com.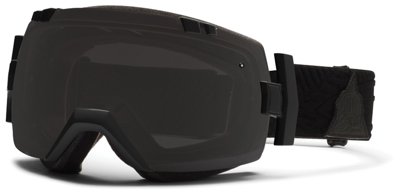 Smith I/OX, reviewed by MacMahoooon
Rating: 10 out of 10
I personally have always been a fan of Smith goggles, and after two years with their I/O models I really didn't think there was much to be improved on. They managed to prove me wrong though with the I/OX. While there is only so much to be said for goggles, these do everything very well. They expanded field of vision gives a huge amount of peripheral view, and you only see a small section of the frame at the nose piece. Everyone I've given these to to try are hugely impressed with just how much you can see. The lens swap has gotten a little more difficult since the I/O, but once you have the hang of it, change outs are a breeze, a huge plus on variable days. I used the Blackout lens as well as a lighter Ignitor lens for overcast and even nights. There really isnt much more than those 2 I feel I need. One thing I do hope they change is the goggle case with the extra lens storage area they sell, while it worked great for the I/O, the new I/O X lenses are just a little too big and arent fully protected in the case. The frame shape does a great job sealing with a variety of different helmets I've tried them with, though obviously the best seal is with the Smith helmets. All in all, I remain a huge fan of Smith and their goggles.
But the Smith I/OX at evo.com or shop for all Smith gear.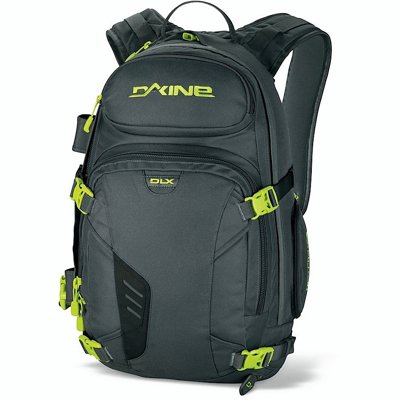 Dakine Heli Pro DLX, reviewed by cydwhit
Rating: 8 out of 10
The bag looks and feels very good, and performs very well, with straps and pockets that are very easy to use and helpful, the ski carry options are very handy. The grey color does not show dirt very well and is classy enough to look good at school and on the mountain. The only real issue I have with the design is the lack of inside pockets. There is only a hydration sleeve in the main pocket and no smaller pockets in the secondary compartment, which makes it hard to keep smaller gear organized. The bag is comfortable and spacious enough to carry a lot of stuff. Unfortunately the zipper pulls are not very durable either, two of them came off within the first few months of use, this is not really a big deal though since they are easily replaced with loops of large zip tie. All in all, I'm stoked on this bag, and it makes hiking with my planks so much easier.
Buy the Dakine Heli Pro DLX at evo.com or shop for all Dakine gear.
To see more product reviews or write one of your own, head on over to the Reviews section by clicking here.