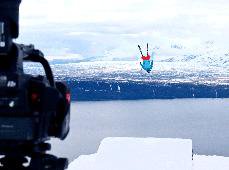 Chaoz Productions have built a huge booter in Narvik, where they have been shooting with a number of riders including, Faction team member, PC Fosse. Here is a report form the second day – courtesy of the Chaoz Production Blog on Downdays.eu, you can keep up with the rest of the happenings, on their blog on Downdays.
An Evening Snack – by Chaoz Productions
First off, I apologize for the lateness of this post. The person to blame is not myself, but rather Gaute Silseth whose sad sense of priority possessed him to hijack my computer for the sake of studying an LMFAO music video and satisfying his obsession with facebook.
Nonetheless, we have A LOT to catch up on, you and I! Things in Narvik have been going incredibly the past two days, but a rather uneventful down day yesterday means I will mash the two into one post. Leaving the luxuries of the hotel for a less-than glamorous replacement accommodation was a moment we all dreaded but dealt with optimistically when it was finally realized yesterday. Although we won?t be able to drown ourselves in smoothies every morning for the rest of the week, we are able to make due. Life is so tough for us, how do we survive? In all seriousness, the new location is incredible and absolutely one of the most scenic living arrangements I?ve ever encountered so I shouldn?t complain!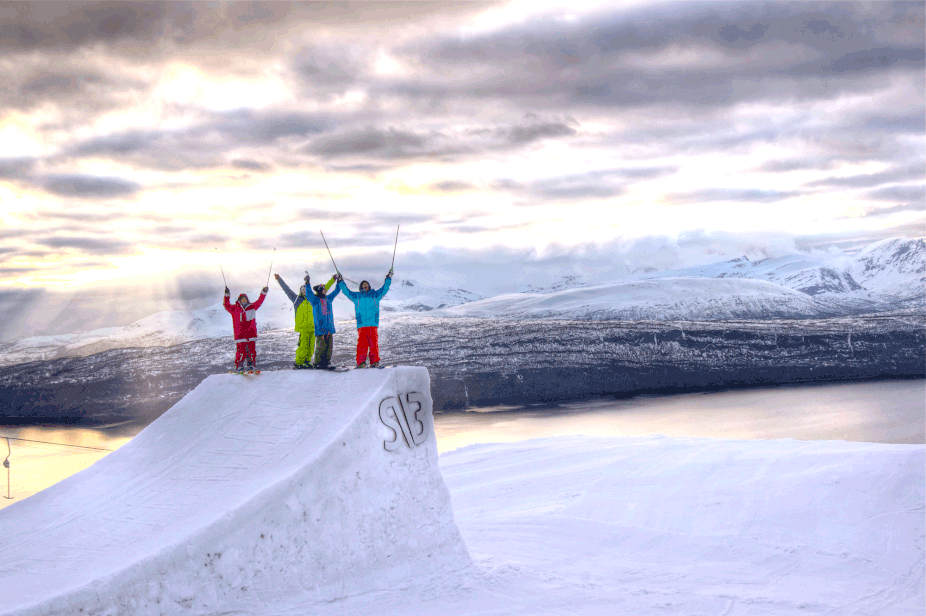 So, after a long day of biding our time with the royal wedding (if you happened to miss any of it, just ask and we can fill you guys in) and moving gear, we decided the weather wasn?t going to become nearly god enough to consider hitting the jump. Our solution was to watch movies, the royal wedding replays, celebrate very little with raucous outbursts of cheering and snapping and eat pizza at the expense of PC Fosse who had just arrived. After this day of rest, we called it a night and prepared ourselves for what was sure to be an immensely progressive and long day ahead of us.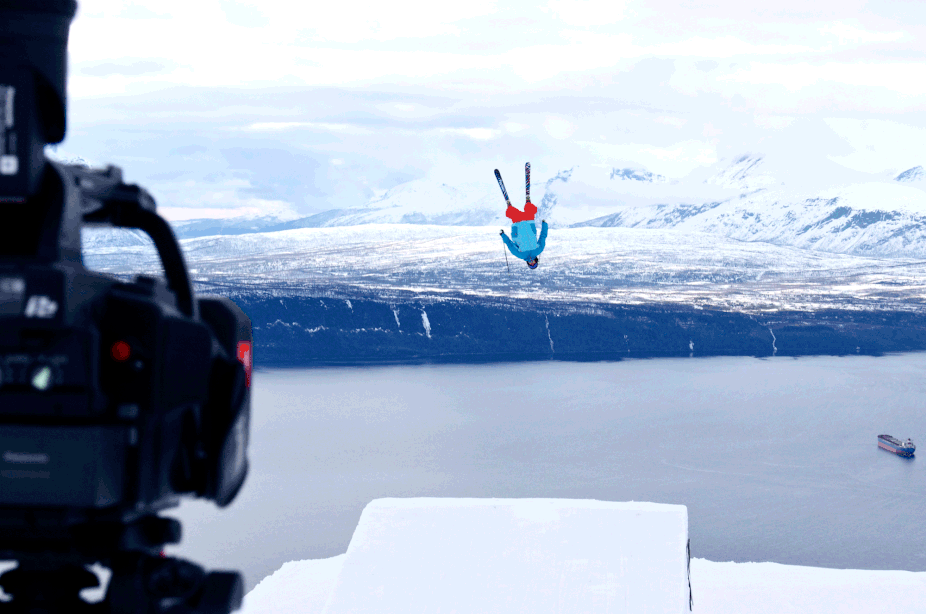 08:30 and alarms were buzzing soon to be replaced by Eivind?s tumultuous attempts to wake the rest of the riders in time to make the first shoot of the day. Two hours later and everyone else was just waking up? Thanks for that, Eivind. Nonetheless, we packed up the gear and headed to the mountain for what would be a very long day.
With patchy and dense cloud cover and unpredictable wind the first hits on the jump didn?t happen particularly quickly, but soon enough every rider was in the air at some point and confidence built into tricks. 360s and 720s warmed the riders up until cloud cover and rough snow conditions shut it all down once more. With only a few riders hitting the jump to keep tabs on speed and conditions of the run in and landing, shaping became the focus for a while. However, the cameras were out in full force and filming commenced with Eivind lining up numerous shots with what he exclaims to be more than satisfying results.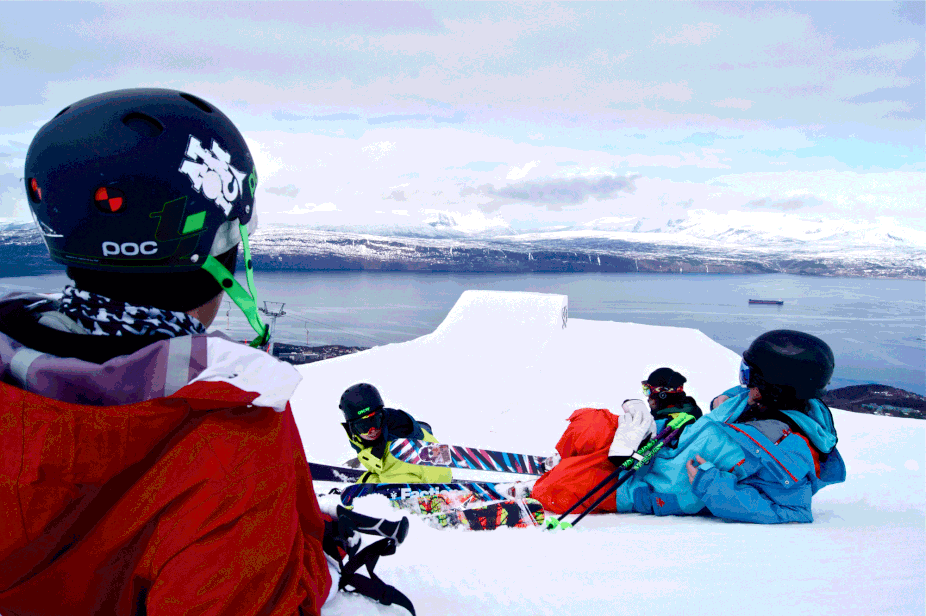 Eventually, most of the snowboarders we share the kicker with gave up and called it a day whilst the skiers stayed behind in hopes to catch a window of great light for a sunset shoot. We waited? and waited? and waited? and froze. The riders kept themselves busy with pole tricks, improvised comedy shows and musical performances (the best of which has to be PC Fosse?s rendition of R. Kelly?s ?I Believe I Can Fly?) until, finally, we saw a beacon of light on the horizon over the fjord warning us of great things to come. The riders rushed to step into their skis and the production crew quickly manned their battle stations. It was on.
Every rider brought something different to the table and it was a session beyond anything I have ever seen before. PC Fosse was celebrating his first day on the kicker with some of the most relaxed back flips I have ever seen. Shortly after, he was throwing double corks with the ease of a seasoned veteran with mute grabs that could make a wolverine purr. Lasse Nyhaugen was right there with him with flat spins and double corks that utilized more pop than anyone ever expected from the jump. Kim Boberg was redefining the 540 with a style unmatched by anyone I have ever seen and breaking ground on the jump with his switch hits. All the while, Gaute Silseth was absolutely slaying with double corks and complimenting tail grabs that couldn?t have been held longer.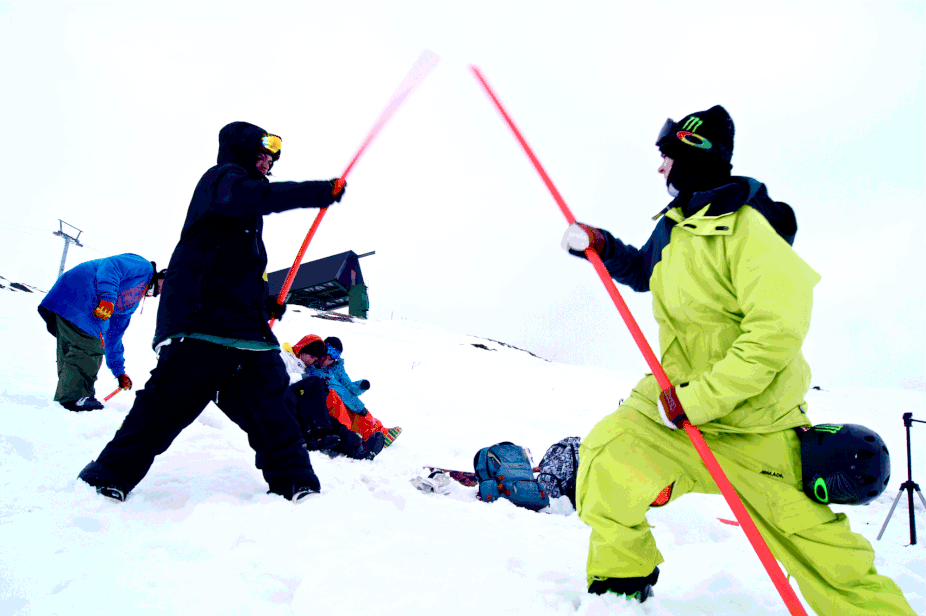 Each day up here seems to break a new milestone that I didn?t even expect to exist. Even though I am so privileged to witness all of this first-hand, I?m dying to see what Eivind does with all of this footage! Chaoz Productions is a force to be reckoned with and anyone who has ever invested in a pair of skis NEEDS to see what they come up with for their newest film. With the arrival of Thomas Dølplads and a heli shoot planned, tomorrow promises to be another one for the record books so keep following the sessions here!
Make sure to catch up on the rest of their, easy reading entertaining blogs – and also know that you can check out ALL IN, Chaoz Productions film from last year, at their website – for FREE, got to love a freebie.