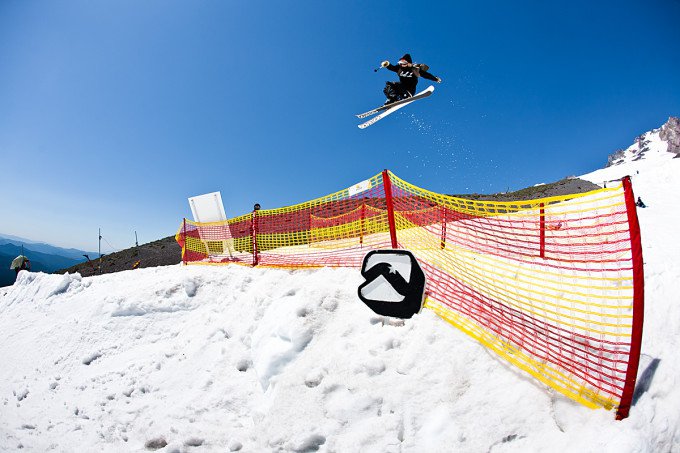 Banks takes an alternative approach to get into the Windells lane P: Erik Hoffman
Hailing from Idaho, and now a Breckenridge local, Banks Gilberti does it all; well. When he's not skiing, it's a pretty sure bet you can find him working on his motorcycle, skateboarding, fishing, and even snowboarding. Banks joined us this past week for Session 4 with Surface Skis, and we were lucky enough to be able to sit down with him and catch up on what he's been up lately.
Marga: How many summers have you been coming out to Windells? What's your favorite thing about camp?
Banks: I've been making my way up to Windells now for the past six summers, its unbelievable to think that its been that long but things only get better up there. Its hard to put my finger on a favorite thing, there are way too many. Its got to be a combination of the skiing, the skating, the rad campers, the awesome staff, Surface week, the activities... I could go all day!
M: You've been snowboarding for a while as well, and you rip – how did that happen?
B: I'm not quite sure "rip" is an appropriate term but thank you haha, I don't really know, it just seemed right to me. I've skated since I was pretty young and I've always skied, so when I tried snow boarding it kind of just made sense to me. I guess I could just articulate how to do certain tricks without falling as hard as possible and that's really what I base my snowboarding around, avoiding nasty falls.
Fakie crook in the concrete jungle P: Tyler Orton
M: This past year you spent some more time filming rather than hanging out in the contest circuit, what made you decide to want to step back from competing as much?
B: I definitely did. The whole competing thing was just getting really old to me. All the same guys were finishing top three and I was never moving out of the high end of the top ten so I decided to stop wasting my time and do something that actually matters, something that would make me happy and actually have some lasting value. Filming was the ticket.
M: I know you are always traveling, in the past year what were your 3 favorite spots? Ski related or not?
B: I'd have to say Sweden, McCall Idaho back country, and of course my home Sun Valley, Idaho.
M: What has been your favorite activity so far with the Surface Team Takeover week?
B: I'm a true sucker for the race day. We had the kids throw on skis a boots and run a full on relay race in the grass in the courtyard, everyone goes so hard and it's always a hoot to see anyone trying to run clicked into skis.