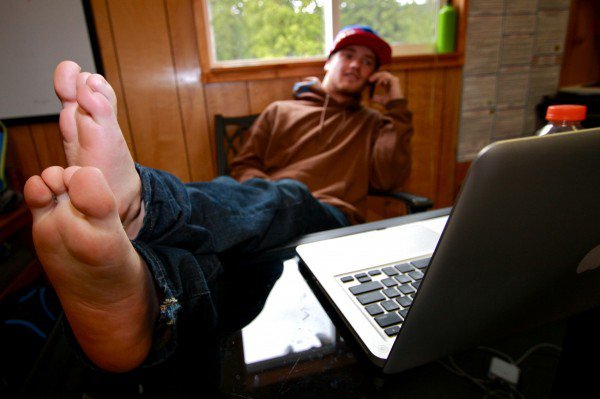 Ocho was a ski coach at camp last summer and returned this year as the new ski Head Coach. We caught up with him and his eight toes to ask him some burning questions and find out his plans for the summer.
Full Name: Luke ?OCHO? Allen follow me on Twitter! @lukeochoallen
To clear up the rumors, how did you get the nickname ?Ocho??
Well, my sophomore year of high school, my buddy Craig Coker started calling me "Quattro" because I have four toes on both feet. Then, he realized that I have eight total toes thus the nickname OCHO was born.
I know you worked here before, but how did you come about the ski head coach position?
Well, towards the end of this season my buddy and former Head Coach- Witt Foster gave me a call and said that he was not returning as the head coach at Windells for this upcoming summer and asked if I was interested in taking the job. I told him absolutely I was interested, and sure enough, a couple weeks later Tim hired me! We are all going miss Witt and I would like to wish him good luck finishing up college and on his future endeavors!
Windells is known for a great ski coaching staff, who should we expect to see on the roster for this summer?
I have brought back most of the staff from last season and have added some new guys as well.
Here is the roster: Collin Collins, Jason Arens, Andy Perry, Jeff Kiesel, Steve Stepp, Brady Perron, Tyler Barnes, Ben Moxham, Nicky Keefer, Christian Allen, John Kutcher, Karl Fostvedt, Tim McChesney, Luke Perin, Mike Hornbeck, John Spriggs, Austin Torvinen, Matt Walker, Parker White, Sean Jordan, Will Berman, Jack Borland, Ashley Battersby, Erica Durtschi, and Megan Gunning.
Poles or poleless? Poles for sure, without a question!
Ping pong, foosball or billiards? Billiards for sure! I?ve been known to tear up the felt from time to time.
How do you feel about rollerblading? Not a fan! But, skateboarding is one of my favorite sports to watch, though!
 
Windells - BMX. Skiing. Skateboarding. Snowboarding.