I've met some of the Hoodcrew on a couple different occasions, each time more wild and weird than the last. The first was a night at Mt. Hood; bummed by the lack of turning up at the West Coast Session Joey rolled over to Windells and picked me and the German girls up. Long story short, I slept on the floor using my shoe as a pillow and we had to hustle back to Windells in the morning before Ethan Stone (who runs WCS) freaked out too much about the then under-18 German skiers being at a Hoodcrew party.
Fast forward to this winter, within 8 hours of arriving at the SLC airport and staying at Freed's house I was questioning what the fuck I had just gotten myself into.
Bottom line, what you see is what you get. Hard skiing, hard partying, hard living.
Boil it all down though, and you get some of the most dedicated and hard working skiers out there. Some are working multiple jobs, others are going to school or already graduated, all while finding a way to ski and party way harder than you can even dream of.
This rowdy group of skiers is coming off their biggest movie project yet, Thirsty, and shows no plans of slowing down any time soon as long as the hard partying antics and urban heaters keep the fans pumped and the haters hating.
I got the guys together online, and checked in about Thirsty, and what might be next for The Hood Crew.
If you're interested in checking out the full film, head over and pick up a copy for only $2.99!
http://checkclothing.bigcartel.com/product/thirsty-the-hood-crew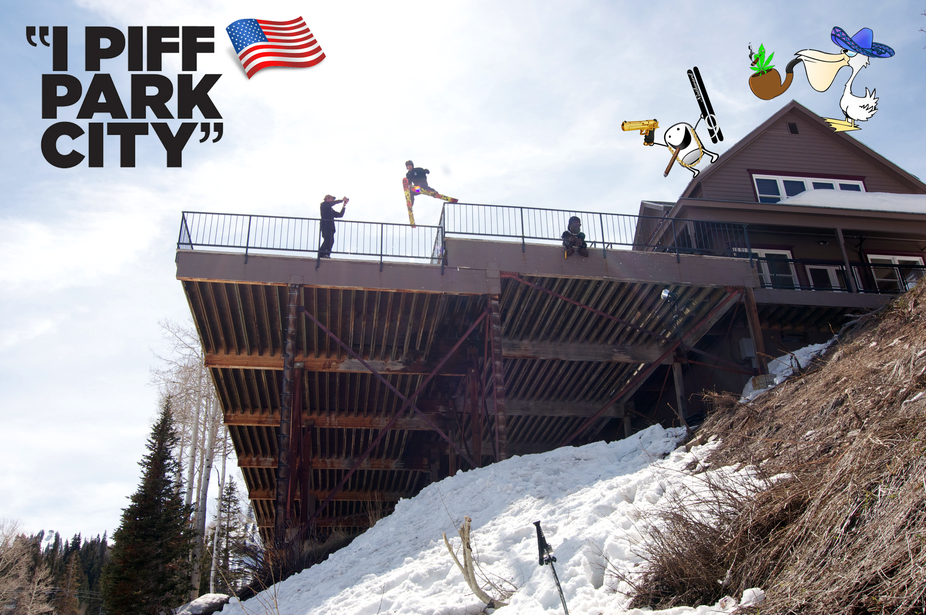 Sklar: Let's get a roll call. Who's checking in here? And what are you up to nowadays?
i.e. Matt Sklar: I'm in Washington for the year going to school.
Heff: I am finally done with school and I'm currently working full time over at backcountry.com as a gearhead, pretty optimal job to ski every day. I also just switched over to Kitten Factory skis, which I couldn't be more hyped to ride on this year! http://www.kittenfactoryskis.com
Meeks: This has been kinda a weird fall for me as I couldn't go out to California to work because I needed to get my ankle strong. Been kicking it in Utah, partying, piffin, working and getting up into the mountains when I can. No complaints.
Danny: I'm living in Portland, OR with my parents back like it's the high school days. Taking some classes at Portland State University and trying to figure out plans for the next few years. Took a trip to Eugene with Hudson this past weekend and it's impressive how many people recognize us and were super hyped on the free movies we were giving away.
Tanner Boudreau: Just been hanging out in Utah waiting for snow to fall. School, work, and partying to pass the time.
Patrick Moore: Hanging in Utah finishing up school to graduate in may and getting my shit together for this season!
Brian Tonetti: I will be graduating this Fall from the U. I am currently working at a local non-profit called the Jordan River Commission. Just waiting for some snow to fall in the mountains and the city!
A4: I've been getting yoked in the gym staring at thots. Also been working one of the all time stoniest jobs, major shouts to the weedy boys.
Brad: Got turnt, deleted all my snapchat friends, got a house with a stripper.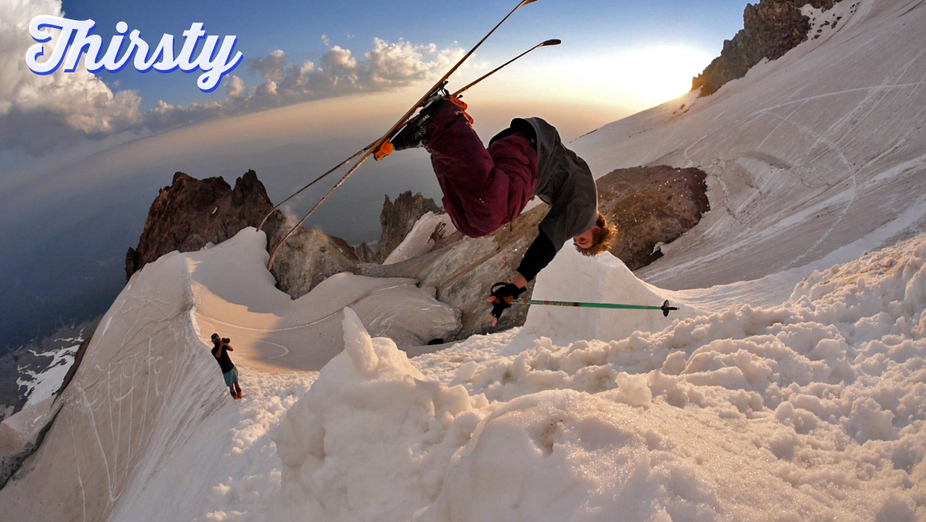 Sklar: First off, Thirsty. It was a big step for you guys this year, selling your movie for the first time and having it show at IF3. What are your thoughts looking back on it?
Danny: I was really hyped on including segments in this movie that you would never otherwise see in skiing. I feel like the IPPC part we made is great promotion for the resort but is not the type of thing any legitimate film company would use as a movie part. Normally, there would just be a bunch of sunset shots from a PC booter and private snowmobile laps. I was also glad I was able to give Johnny Boozan a segment because he was an integral part of the crew this season especially when he'd chase you down after you laced a banger in the Timberline slackcountry canyons.
A4: Honestly I was surprised by the amount of positive feedback the movie received. It was nominated for Amateur movie of the year. In my opinion "Thirsty" was the second best Amateur film of the year behind "Finesse", or damn close. Which is pretty cool to reflect on. But in all reality who gives a fuck about awards, what really got me stoked was what kids on NS were saying. Multiple hype threads, all praise no hate, kids saying things like, "I rewatch this movie all the time," "this movie gets me stoked to shred," "this movie was original, hilarious, scary, epic." Basically these are all the things Freed intended the movie to be and he executed them perfectly.
Heff: Really hyped on the feedback! Stoked everyone is loving it. We've showed the movie to everyone from non wintersports enthusiasts, to die hard skiers, and top tier snowboarders who respond with things like "I can actually watch this movie" "it's not another cliché ski movie" etc etc.and I couldn't agree more. Shoutoutz to Freed for putting in some long hours on this as well as everyone who made it happen.
Sklar: What part of the movie were you most hyped about?
Meeks: Anders and Heffy logged some epic shots and parts this year. All the homies killed it super hard and I think the Hood shots are my favorite. Between the hip, Windells clips and Crater rock jump it is hard not to be stoked.
A4: The last two club banger tracks and the shots of Rudolf skiing in the ocean.
Tanner: I was super stoked on Brads segment! Some people don't know that Brad had 2 injuries last season. His knee was messed up and he broke his collarbone mid way through the season and was still able to come back and stack some of the best shots in the movie!
Heff: Freed's stair, dirt, rock skiing was definitely the headliner of the movie… truly classic. Other notable parts are Johnny Boo, brad drunk at Windells, airplane shots… too many to name.
Sklar: How hard is it to organize the crew and get shit done?
Meeks: Depends on the crew, day and feature. Sometimes shit is really easy and everyone is motivated, but at points it can be tediously slow, Stoney and demoralizing. At the end of the day though, it is almost always an epic and hilarious time
Heff: Sometimes you find yourself building a setup solo and not getting to hit it or hiking a feature trying to get a shot while everyone else is fuckin around or turnin up, or the best mornings are when we meet up super early get way motivated and before you know it… 3 hours go by and we're still all sitting on the couch with our ski boots on haha.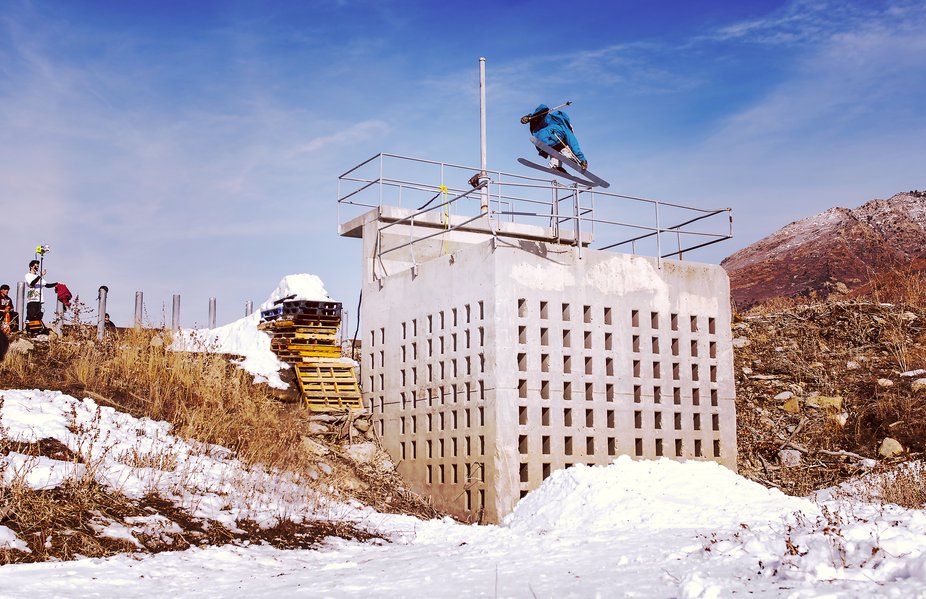 Sklar: This is the first time you haven't put the movie online for free. Talk us through that decision. How were sales? Where is the money going? Temporary tattoos and weed?
Patrick: There were many long unorganized talks about this, in the end freed decided that it would add credibility to the movie and our crew as a whole, which worked well. Freed is the only one that knows about the money but we used some to buy drinks for the SLC premier and I think we were discussing adopting a giraffe through WWF.
Danny: Sales worked out well. So far we've sold over 250 copies and I've been mailing out 2 DVD's per package for the last 100 orders. All the profits have been used to ship out free packages, cover sticker/ keyring costs, supply free jungle juice for the SLC premiere, purchase a waterproof DSLR case… After spending so much time skiing stairs, driving to Alta last October/ November to film an ambitious close-out, and editing the movie in general, I knew I had to commit to selling it. I really wanted to see tangible results from our year's worth of work. The movie was a struggle to put together and overall isn't as banger as Freed the Streets so that's where I had to get creative. Having one movie reflect an entire season is tricky because it makes you question what content really fits into a season movie vs. stuff that could be thrown into funny online edits. There isn't always an easy answer and it often comes down to personal opinion; moving forward, if we're going to keep making movies, it's just really important that the skiing is top notch so we can maintain credibility as a ski crew and not a bunch of dirty skerpers.
Meeks: mollywhopz? As far as I'm concerned there are positives and drawbacks to selling the movie and Freed should be the one to make decisions on how it gets out. He has put in endless amounts of hours into Hoodcrew projects.
A4: Like Meeks said, Freed put in an incredible amount of work this season from November till October. I think Freed deserves a large portion of the profits from this movie. Basically Freed is the president of the Hoodcrew and has been killing it at that for years, at the end of the day he makes the calls and should.
Heff: Hopefully Freed is just spoiling his gurl molly with all the profits.
Sklar: In a time where some companies are ready to call dvd sales dead, just like print media, it seems like you guys received some pretty good support from Newschoolers and beyond, what does that mean for the future of THC?
Danny: More tangible merchandise. Frisbees, stuffed animals, posters, board-games, sticker packs… Branching out of the ski industry and presenting the sport to a whole new audience based on all our cartoon characters and surreal comedic lifestyle.
Meeks: Hopefully Anders keeps killing it on the THC merchandise and we can move forward with that. I would like to put out more articles on NS and just keep flooding the site with content in general. Big thanks to the squidsquad out there.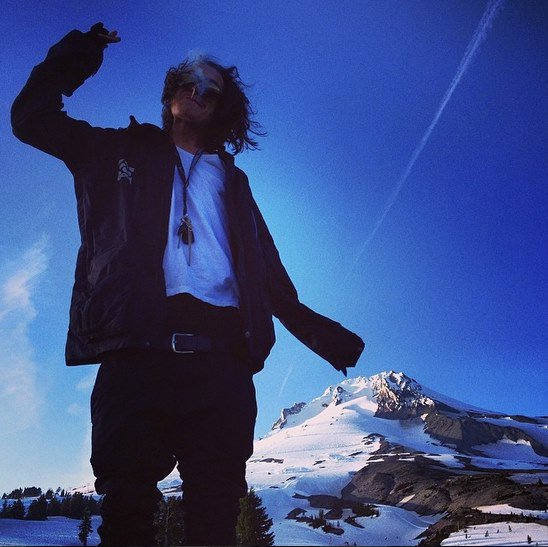 Sklar: It looks like the premiere in got pretty wild, care to share any stories?
Tanner: Hahaha yeah it got a little out of hand. Started out really mellow like the "calm before the storm" with just the crew kickin it, pre gaming, and watching old edits. Next thing you know, BOOM, 150 or so people are raging in Blatts back yard. We proceed to play Chuuch Crews movie "Church" and then move on to "Thirsty" around 10. Only problem is by the time we got to The Hood Crew movie everyone was so drunk or blacked that things started getting out of hand. People started jumping off the roof, Patrick fell into the pond, the screen became unstable, the jungle juice was gone, and the crowd was so loud you couldn't hear the speakers. About ¾ through our movie the cops showed up rolling 10 or so cars deep and shut everything down. Brad proceeded to backflip off a cop car and the crowd dispersed to multiple after parties. Big shout out to Blatt for hosting the premier and another shout out to Patrick Moore for putting it together.
Meeks: Well the whops kicked in as the movie started. I know a few of us were feeling reaaaallly fucking bomb. One of the most turnt up and satisfying events I have been to in SLC bummer those cops showed up when they did.
Patrick: Yeah that about covers it, Blatt got evicted the next day complete with the entire police report citing all of the invited we put on line, (yobeat shared his address etc) somehow saved the screen we rented and got blatt out of a ticket by being cooperative. Passed a ton of kids still walking to the premier while everyone else was dipping out. Basically it went exactly how we expected.
Brian: The police report was hella funny! I think Blatt has a picture of it somewhere. You should try and search for that shit! It talks about literally everything that went down. Invitations all over the internet, kids crowd surfing off of roofs, Brad backflipping the police car, and it even mentioned some drug capsule that was found in the backyard the next morning by the landlord.
Wibbity Wabs: Ask ur main girl and ur side girl… they was both there geekin.
Brad: My backflip was swagged out.
Blatt: Some kid told me he could hear the premiere 8 blocks away... I got evicted, but the premiere was tight! Shoutout to Pat and all of his roommates for letting me crash in their garage while I struggled to find a spot.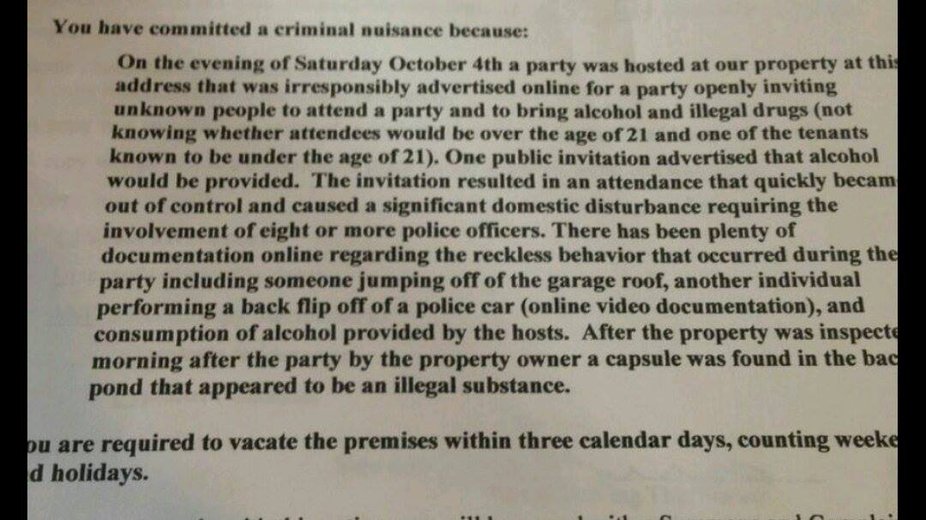 Sklar: Winter is fast approaching, and here already in some places, what's in store for this year?
Patrick: Pow jumps and more pow jumps hopefully. Last year felt like a transition year for a lot of us just learning how to go on pow missions and do it right. It is a lot harder than shooting urban in a whole crew, especially with equipment. I know Little Mike (Briggs) used snowshoes to get to half the jumps I hit with him.
Meeks: Personally I am really stoked to be living with some really motivated and awesome skiers this year. Between Anders, Briggs, the kid, Abner and myself I think our house is ready to get down to business in the streets and pow. Living with this crew should help solve some of the harder logistics behind getting shots.
Johnnyboo: Been eating a lot of bacon flavored kibble n bits lately really lookin forward to a new bag of imes salad flavor. Also want to make some new friends this year like maybe a giraffe or a pelican.
Sklar: Any specific plans or trips you're looking forward to?
Meeks: Looking forward to shredding everyday out here in Utah and maybe making a Colorado and/or Midwest trip to hit rails. Also trying to make it out to California for some skiing in late April, then drive up the highway 1 to Hood again- that shit is epic.
Heff: Definitely trying to hit some more rails this year but I also just registerd for 3 stops on the subaru freeski series along with Kilo and a bunch of the Kitten factory fellas so that should keep things fun.
Johnnyboo
Sklar: It seems like quite a few of you guys are about to graduate from college, what's next after that?
Tanner: As far as I'm concerned not too much is going to change after college except that I will have a degree in my pocket. Still trying to ski as much as possible and hopefully be kiteboarding in the off season in California and Oregon.
Meeks: Brad and Wabs will be graduating from the school of laa in a couple years here but hey who knows what the future will hold for these "higher" educated individuals.
Heff: I graduated this past spring and thought I was going to try and find a "real" job this fall. I interviewed for a loan processor job at a local bank downtown in SLC and surprisingly got the job... but I feel like that is an inevitable soul crusher so I turned it down and am staying at backcountry so I can ski as much as possible.
Brian: I will be splitting my time between a couple of different jobs and pursuits, a non-profit I work for and one that I am starting, and skiing. Luckily for me, winter coincides with the slow season for my jobs so I will still be able to still ski 4 or 5 times a week.
Sklar: Danny already told me that he's going to be back in Oregon for most of the year, how's it going to change things to have the crew a little bit more spread out? Can we still expect to see all the edits we've come to expect? How about another movie?
Patrick: Danny was actually out of Salt Lake for both Shinefest and Freed the streets and would only visit on trips. We are usually in a couple different groups when we film anyways so I am sure things will still go smoothly. Brad, Meeks, and myself all have cams and are usually on separate schedules, missions and spots throughout the year so other than missing Freed constantly bugging us to go get shots we should be good!
Meeks: I definitely miss having freed around out here in Utah, definitely one of my favorite people to ski, party and kick it with. As far as the crew goes I think it will work both ways. I know he can definitely get some really cool shit done up on Hood this winter with some of the loc's and Hudson that could add some unique shit to our movie that we haven't had in the past. But like other people were saying Freed is real motivated to get shit done in the winter and it helps to have him at the spot, turning up, sending crazy shit and motivating us but at the end of the day we made a few movies when he was in Colorado and I don't think our content or skiing will suffer. Also, he will be out here for a while this year and I think his presence for only a short period of time will keep us real on track and stoked to go hard on some handrails!
A4: Having Danny living in Oregon this year is a bummer, mainly because theres not too many homies left in Oregon most of us are out here in SLC. Freed will find a way out here plenty, but It's definitely not the same without him. Freed's the motivator, he's got a master vision that I don't think anyone realizes, or understands at times haha. Last year was plagued with injuries and the lack of snow in the city was difficult to work with. With any luck I believe this year will be our best yet. Everyone in the crew has been progressing at a speedy rate, not to mention mad homies logging 100 plus days on Hood. I got a weird feeling the crew as a whole is going to do some serious crushing this winter. I'm hoping Freed will put together another movie and continue making classics.
Brian: Freed is like the damn glue that holds us together. Whenever the inspiration is too low or the homies are all bummed out, leave it to Freed to do some sketch backflip over the whole set up or keep bugging you to get a shot that you are skeptical about. With that being said, we will always keep the kids stoked with content and, who knows, maybe another movie!
http://www.newschoolers.com/membervideo/720317.0/Thirsty----HoodCrew-Summer--14-Teaser----presented-by-Thizzler-com?s=11717
Sklar: Anything else you'd like to say? Shoutouts?
Always stick to what's fun and don't conform to any frat life bull shit. Skiing is meant to be free so keep it that way. Go out with your friends, keep the positive energy high, and be welcoming to anyone who is putting off positive vibes! Big shoutout to all the squids out there who are stoked on what we are doing and don't worry soon enough you will be in the shark tank. Another shout out to all the shorties out there keeping our beds warm in the winter. Without you we would probably freeze to death at night. Last but not least, HUGE shout out to Planks Clothing, Thizzler on the Roof, Pimp Hands, Newschoolers, and Stash for their continued support of the crew!
Showtowtz to Shawty Lo Backpack...w/o her. I'm not sure who Freed's inspiration would or may be.
...and yer main thot
I don't do it for the pretty bitches, I do it for the ratchets.