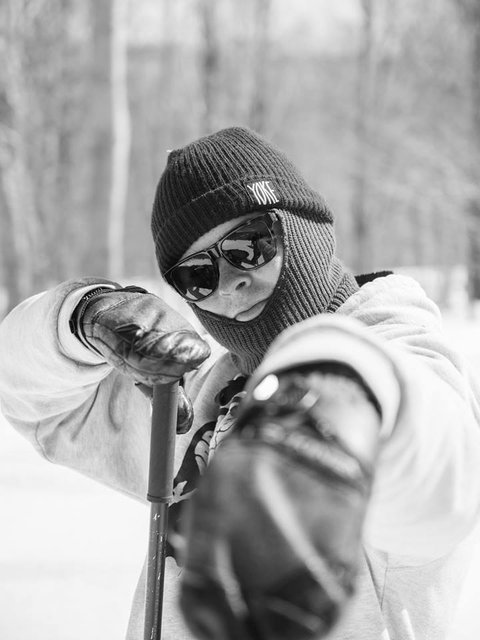 Photo: Sean Thomas
**[Robert Cummings begins the Q&A, it is noted where I (Erica) take over].
Lets start with the basics:
Favorite Color
Best Lodge Snack
Three Park Tunes to Bump
Three Pow Tunes to Bump
Favorite Lift Ride Pastime.
Black
Pizza
It's hard to say, I tend to just shuffle my recently added playlist, but some big ones are I Was Denied by Thee Oh Sees, Ghost by Ty Segall, and Maybe by Jurassic Shark.
I don't ski pow. Haha kidding, but probably the same.
Interacting with the people next to me, be it friends or strangers, or Instagram.
Gotta stay hip, of course. You mentioned the Yoke Spring Break Kill All Possums Tour last time we chatted. What should I know about this aside from the obvious marsupial murder it involves?
We left Salt Lake City with the intention to rid the world of possums, making our way across Utah, all the way to the Pacific Ocean, up California, and eventually back to Utah. It's mostly a hunting trip, really, skiing is secondary. But nonetheless, the plan is to have an edit out in the fall to show the world what happened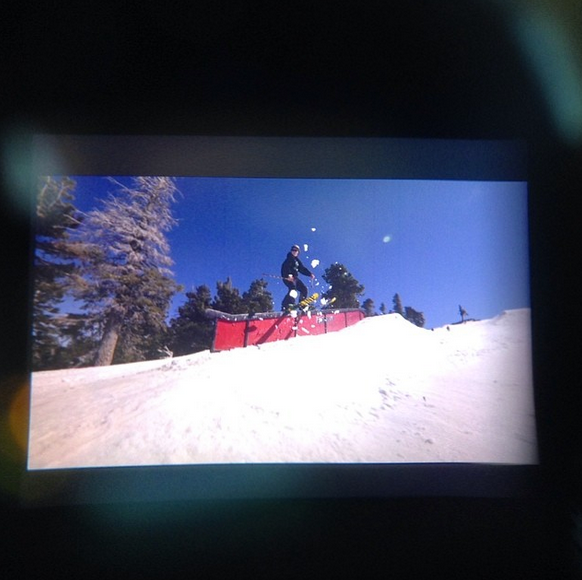 Photo: Yoke Collection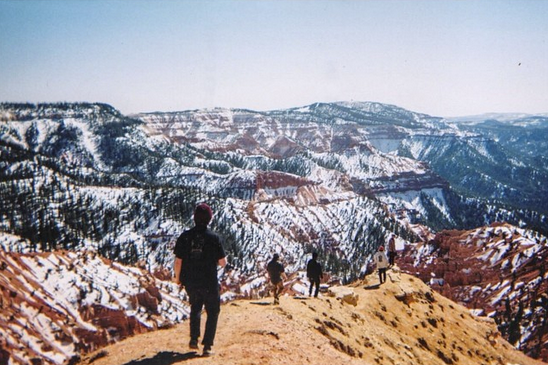 Photo: Yoke Collection
The only flaw I see with that plan is that, according to Wikipedia, more than half the population of Didelphis Virginiana lives on the east coast. I look forward to the edit, and expect it to filled with hunting, gypsydom, and creative skiing. Aside from the tour, what have you been doing skiing-wise this season?
I've been finishing up high school, primarily, but I'm able to ski almost every day so I've just been doing a lot of soul shredding and skiing with my friends. I didn't put too much focus on filming this winter, though I put out a few little montages with some friends from school and one self edit, but it has mostly been for my own pleasure.
Nice, I really enjoyed that edit. The line with the disaster on the C-down rail was sublime. I highly doubt I'm alone in thinking you have one of the most unique approaches to skiing I've seen. I know you skateboard and mountain bike; have either of those two pastimes influenced the way your style has developed?
I'm awful at skating, so it's not like I take my skills and apply them or anything, but I do like to try the things on skis that I wish I could so on a skateboard. I think mountain biking might help me out when I'm looking at gaps and lines through trees. But neither are the first thing on my mind when I'm skiing. I try to just let ideas come to me naturally.
That's interesting in regards to skateboarding; I feel as if people often make a reference to the "flowiness" of it when asked a similar question.
Yeah I mean I respect the lines that skaters do in parks and the street a lot and I definitely like to link tricks, so I guess that's kind of similar.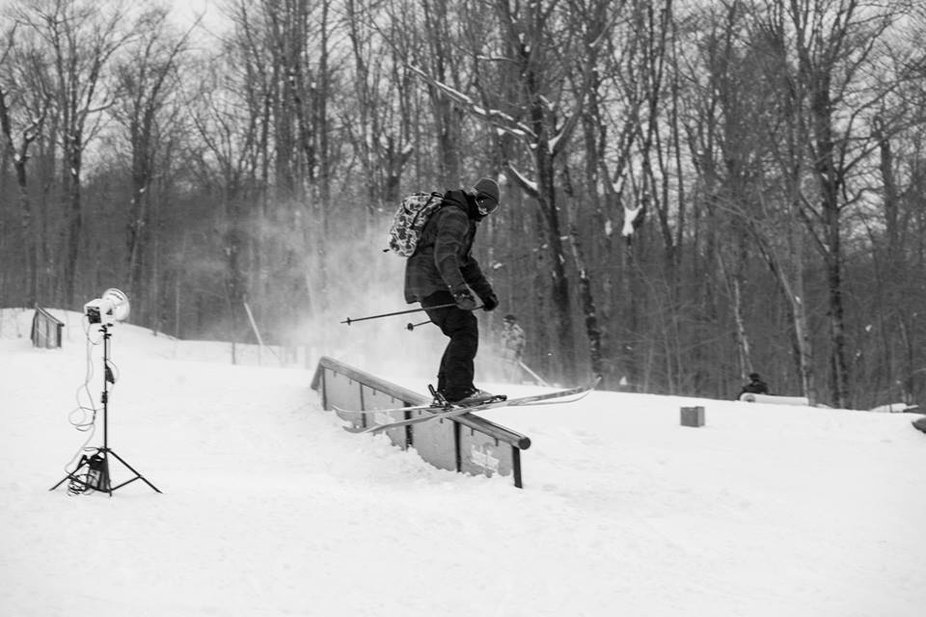 Photo: Sean Thomas // Sunday River
Lines are definitely one of the things I like seeing most in skiing. Continuing on the subject of your style, are there any skiers whose style you particularly admire or feel has influenced you?
The people whose skiing I really like are mostly people I know and ski with. There are some classic skiers who I have an enormous amount of respect for, but they don't influence me day to day nearly as much as whoever I am skiing with.
That makes sense, especially when you're skiing every day. I know you used to ski race, a trait many freeskiers share. How and why did you make the transition?
I was 14, starting my sixth year of racing, and things just weren't interesting for me anymore. I showed up to training late every day, didn't care, and I wasn't winning any races so I didn't really care anyway. I had hit the only little flat box at my mountain a few times and I decided that was what I wanted to do.
Did you just up and quit racing completely?
Yeah, one day I basically told my parents I had had enough with racing and what I wanted to do. They told me I was good to do whatever I wanted with skiing, as long as I made it clear to my coaches what I was doing. The next morning I was thanking my coaches for the time they had devoted to me and telling them I was moving on, and the weekend after that I was sliding rails.
Wow, that's rapid.
It was a long time coming though.
I know the feeling. You mentioned you'll be completing high school this spring; do you have any plans for spring and summer skiing following that?
Hopefully I'll be able to make it out to Mount Hood in June or July. I've been going for the past few years, but this summer could be a big adventure now that I'm too old to go to camp.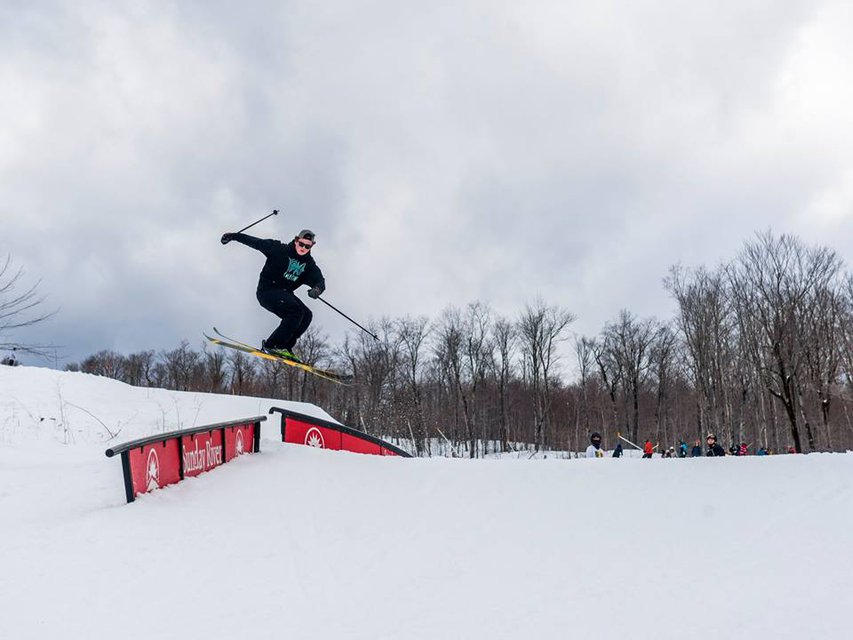 Photo: Sean Thomas // Sunday River, ME
**[At this point, I (Erica) take over for Robert to bring the interview out of the attic].
Any post-high school plans set yet?
My summer is going to be pretty busy with trying to make it out to Hood and ski and then taking a summer class or two at UVM. Then next fall I'll be going to school at Skidmore College and trying to ski Killington as much as possible. Anything else from there will probably just fall in wherever it fits.
You used to be a part of YMR, any chance of a reunion sometime soon?
There will almost definitely not be a YMR reunion. Dais, on the other hand, which is what a few of the guys reorganized themselves to be, is alive and well.
Care to elaborate on the reasons for this reorganization?
I wasn't that in on everything, but I think it was a lot about escaping some of the hype around "being that crew of stupid kids," as well as about bringing in some new people and just changing what everything is all about.
What is skiing all about for you, ultimately. As you move forward with the sport, what would you describe as your largest aspiration or goal?
I want to do a backflip one day! In all seriousness though, I'm not trying to go pro or film big name movie parts or anything; unless something huge changes, I probably won't ever get do either of those things anyway. I have made all of one dollar off of skiing and if I never make a second, that's fine with me. I really just enjoy going out and skiing, and I find filming and landing tricks incredibly rewarding for myself. If one of those things that I have done causes some kid across the country or on the other side of the Earth to know my name, that's really cool, but it's a side effect of what I really get out of skiing. That said, I want to grow as a skier and do as much as I can with it. And maybe someday I'll toss that backflip.
Any final words, shout-outs, advice, requests, pictures of animals, etc.?
Huge thanks to Mom and Dad, Yoke Collection, and Dan Villaire and everyone at Line Skis.
Check out an edit from Charlie:
https://www.newschoolers.com/videos/watch/685125/Recycle-
Filming credit: Ian Compton & Peter Hoops