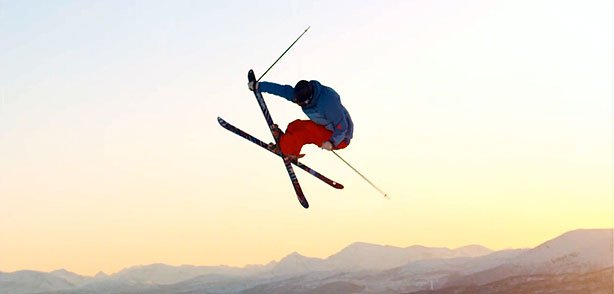 Breaking the mold that has dictated the ski movie industry since its birth, Chaoz Productions' is proud to present their fourth movie, "Broken Record". Shot entirely on HD and RED One cameras, we invite you to enjoy the best that Norway has to offer in skiing in uncompromising quality with annotation from the riders along the way to bring you closer than the usual third-person perspective. ?Broken Record? captures some of the greatest talent in the ski industry on their home turf with breath-taking scenery only found in Norway. Variation being the name of the game, ?Broken Record? sees the debut of many female riders, big mountain and other athletes as members of the Chaoz family. This cast of both new and returning faces has teamed up to create a truly unforgettable cinematic experience that speaks for itself.
To commemorate our passion for the sport, Chaoz Productions is continuing a tradition that has been around since the beginning; ?Broken Record? is absolutely Free! So, come celebrate our sport with the greatest talents skiing has to offer as we tour Norway in this 100% Norwegian, 100% free skiing experience!
The whole movie is shot in Norway, on locations such as Stranda, Narvik, Oksfjord, Sogndal, Oslo, Hamar, Hemsedal and more.
Featuring: Ane Enderud, Grete Eliassen, Gaute Silseth, Fridtjof Fredricsson, PC Fosse, Karina Hollekim, Phil Meier, Thomas Dolplads, Lasse Nyhaugen, Kim Boberg, Lars Haakon Hafsal, Dennis Risvoll, Viktor Asander, Oskar Pedersen and more.
Produced by: Eivind Aurstad
Edited by: Eivind Aurstad and Lasse Nyhaugen
Co-Producer: Gaute Næspe
In association with: SB Sportswear, Missing Link, Völkl, Fri Flyt, Newschoolers, Downdays and FHM.
chaoz.no
Related posts:Teaser for Nimbus Productions new film, Contrast The growing Nimbus crew show off a little of their...
Airtime productions: "På Vei." – official trailer Join Anders Thomassen and the rest of the featured skiers...
Toy Soldier Productions: Set Your Sights – Official Trailer New film from TSP looks like it'll be the film...