December 2nd, 2013
It was on december 2nd that Cedrik Dion-Poitras and William Biname decided to go on an urban mission. They went to hit a quad kink rail right here in Montreal, on the other side of the street from the hospital. They started hitting the rail around 2. It took Cedrik only a few times before he stomped the rail straight. Then he went back up to try the tricks he had in mind on the rail. After another few tries, he realized that he was going way too fast to do tricks. Then, Cedrik thought he should forget about tricks, and focus on getting a nice photo. On his last attempt, he got off early and the steepness of the slope mixed with the branches that were in his way made him unable to go between the rail and the metal post. This is why he had to fall on his side to try to slow down, but it was too late.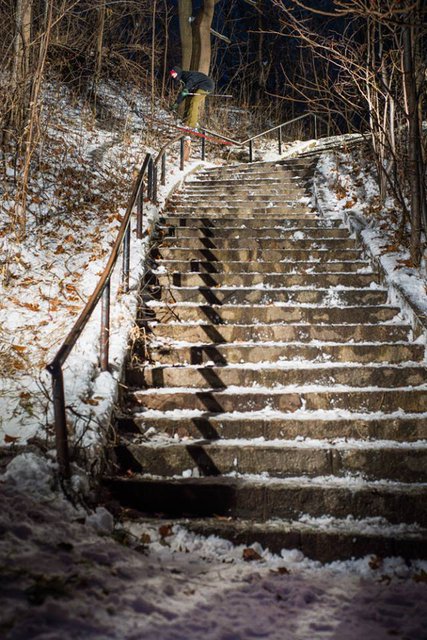 Photo: Simon Lebrun
The impact was right above his boot, where both bones of his tibia snapped. He ended up having one shot, one picture, two broken bones, 25 metal stitches, 2 nails, 1 metal plate, 1 metal bar, and a few screws now in his leg. It is alot of hardware.
Doctors have said that it will take him 5 weeks to put weight on his leg again, and about 3 months to step back on his skis. So we hope to let you see more of him during the spring, or else it will have to be next season in the streets. Words of wisdom from Cedrik : "I love morphine."
Here is the video of Cedrik's accident: