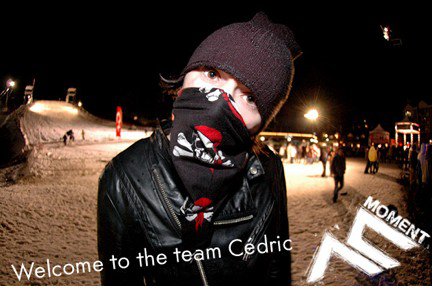 Photo Cr. JD Car
For Immediate Release:
Moment Skis is proud to announce the signing of Cedric Tremblay-Fournier to their Pro Team. The decision to sponsor Cedric took place over the weekend, "We are extremely happy to have Cedric become a part of the Moment family" Said Moment Skis Team Manager Jason Badgley "He is an excellent skier, and brings much to the table. Cedric is an experienced and talented athlete." Cedric, residing in Trois-rivières Québec has been filming with Rage when they were on a trip in Québec and is looking forward to film again with them. Ced also plans on entering several competitions during the 07/08 ski season including the WSI, part of the annual Telus World Ski and Snowboard Festival in Whistler, British Columbia.
"To say the least, I'm really excited to be with Moment and I'm expecting great things in the future for the company as they seems to care a lot about what the riders have to say and are pretty open minded about the way they design their skis." Said Cedric, when asked how he felt about joining Moment Skis. In addition to Moment, Cedric is riding for Bula, Spy optic, JIBIJ, and DNA outerwear during the 07/08 season.
Moment Skis is a Reno-based ski engineering and production company dedicated to generating a more fun approach to the business and production side of skiing. They are a group of passionate out-of-the-box- thinking skiers, engineers, one mason and contemporary artist committed to putting the fun back in the ski industry. The end result is a ski company serving 13 unique skis covered with eccentric art to change a traditional ski culture.