Catching up with Cassie Sharpe & Nikki Blackall
Words & Photos by Ilanna Barkusky
It seems as though (especially on this website) there are different opinions about the current state of women's skiing. I, for one, am excited to see what the future holds for the sport as it reaches new audiences and progresses every season. I caught up with two of the freshest additions to the Canadian national team, Cassie Sharpe (halfpipe) and Nikki Blackall (slopestyle), who were both on absolute competitive tears this season. Cassie strung together nine back-to-back podiums in both slopestyle and halfpipe that included five wins. Nikki also spent some serious time on the podium this season, and finished it with the win at the AFP World Championships. Both girls were a force to be reckoned with, and landed themselves spots on the National Team. It seems as though this only the beginning for these two as they carry their momentum forward. I caught up with them to get their opinion on the girl's sector of the industry, slopestyle courses, risks and the influence of Sarah Burke.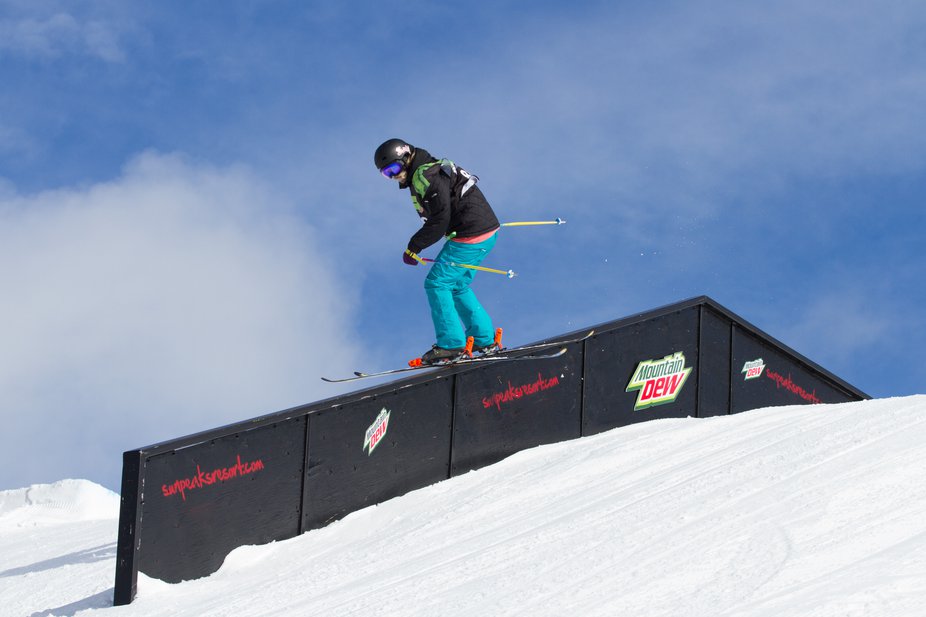 Cassie showing her off her talents outside the halfpipe at the Dew Tour Series
Q: How would you define your skiing style for those who haven't watched you ski?
Nikki: I like to make my skiing look smooth. When I learn a new trick, before I go and progress from it, I want to make sure it looks stylish and clean. I would describe my skiing as smooth and floaty.
Cassie: I'd like to think I flow, with every move being as deliberate as possible. I try to move effortlessly with the snow because if you're moving against the snow, you're not really getting anywhere.
Q: What is your current opinion on the girls sector of freeskiing right now? What do you think is the biggest challenge that it faces going forward?
Nikki: There are many girls killing it out there, really pushing the sport who are making their tricks look sweet. I think it's really going to a good place and I am stoked that I can be apart of such a tight community, filled with great girls! Like many sports, there is a big gap in skill level between the guys and the girls and one of the challenges is keeping up with that while staying healthy. Mainly, I think it's just important to stay strong, ski smart, and listen to your instincts. (But most importantly, have fun!)
Cassie: I think chicks SHRED. No matter what anyone else says, we are moving up. The criticism and negativity some people are pushing onto the girls is only putting a bigger fire in our belly to fight back and show the freeskiing world what we've got. We're only getting bigger and better. The only challenges we face are with ourselves. How hard we are willing to push ourselves to push the sport!?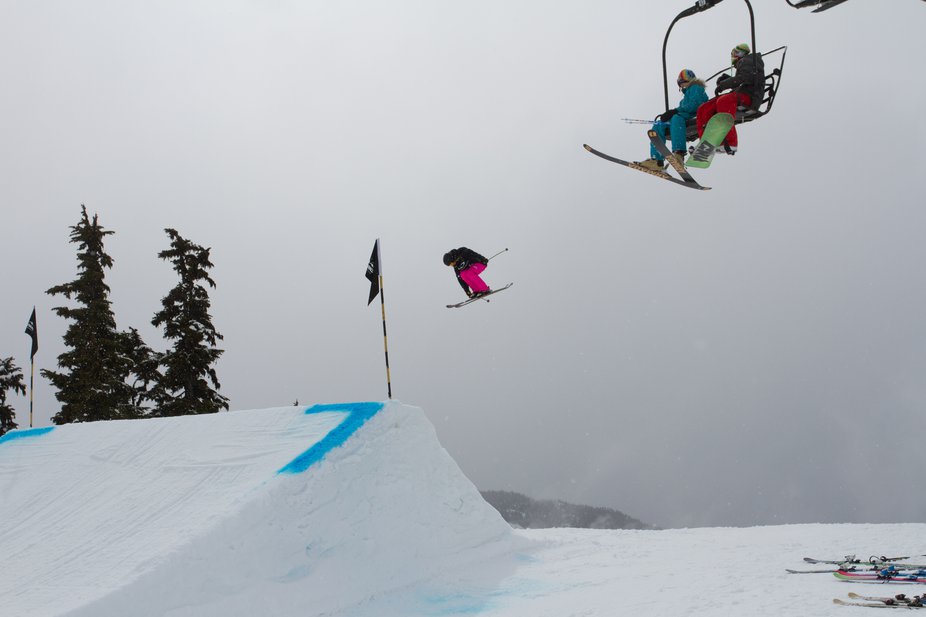 Nikki turning heads at AFP World Championships, where she grabbed first place
Q: Would you rather ride smaller sized progression oriented jumps in a contest, or hit the same jumps as the guys? What is your stance on guys and girls riding the same course?
Nikki: This topic is something that's been brought up many times and is a tough one to answer. There's nothing that feels cooler than flying off the last jump in the Aspen jump line. Hitting a nice well built jump is always super fun, but of course, I'd feel much more comfortable throwing my best tricks off of a 50 foot jump instead of off an 80 foot kicker. Also, big jumps are fun when they're built properly but you're not always going to have that at every competition. I feel most comfortable progressing tricks on a medium say 50-60 jump so in terms of progressing the sport, I think this might make a little more sense.
Cassie: I think the fact that we are hitting the same course as the guys is saying something. I'm stoked on it, I wouldn't want to hit a separate course! We are pushing ourselves to do these contests, and show that we can! If we down sized the jumps for girls it would be a step back not a step forward. We practice our new tricks on smaller jumps (pre-contest) to get the feeling for it and when we're ready we can take them to bigger jumps! After that, we can showcase them at contests.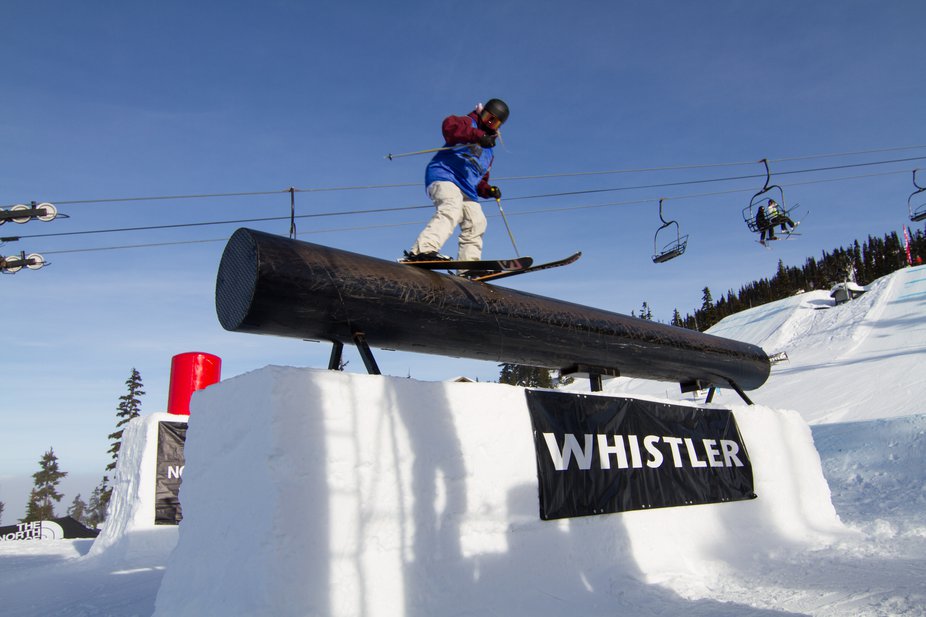 Nikki on route to a second place finish at the North Face Park and Pipe Open
Q: How has Sarah Burke influenced you?
Nikki: Sarah Burke has influenced me to always have a positive attitude towards skiing, whether you're having a tough time landing a trick, or if the weather is not co-operating for a contest, you just need to make the best of it and do your thing. She was always such a positive and determined skier, who always had a smile on her face. I feel like she really put everything she had into her skiing and I look up to her for that. Sarah had so much dedication to the sport, all of us girls have her to thank for making it happen and for her pushing for a girls category at competitions. She has always been my inspiration and I think she has not only influenced girls freeskiing, but the community as a whole.
Cassie: Sarah was and continues to be a beautiful soul and inspiration. She has so much influence in the ski world; (especially on the half pipe side of things, my main focus) and I see reminders of her daily. She is a reminder of how far women's competitive skiing has come and she continues to push us; on and off the hill. Much love.
Q: How has bouncing back from injury helped your competitive and overall mindset?
Nikki: In 2012, I tore my ACL. It was when I first starting competing at bigger comps and I couldn't have been more devastated. I knew I wasn't going to be back on skis for a really long time. It took 9 months after surgery before I could put a pair of skis on. It sucked. But I think bouncing back from that injury helped my overall mindset and made me get strong so that my knee could handle uneven landings and mistakes. It made me feel safe that I had rehabbed my knee for 9 months and knew it was stronger than it had ever been. As for my competitive mindset, I started out doing tricks that I was confident with and knew I could land 9/10 times so there was no need to stress when it came to competing them. This gave me the confidence to then learn new tricks. I definitely ski smarter now. They say that injuries can make or break you, and for me it made me stronger and more excited to get out there than ever before!
Cassie: Coming back from an injury is never easy, but it's part of the game we call skiing. Coming back to it after being off the snow for so long; it truly shows you how lucky we are to be doing what we're doing. I wouldn't change any of the injuries I've had; they've all had a lesson in them that've made me a stronger skier. Injuries come and go but the love I have for skiing never leaves!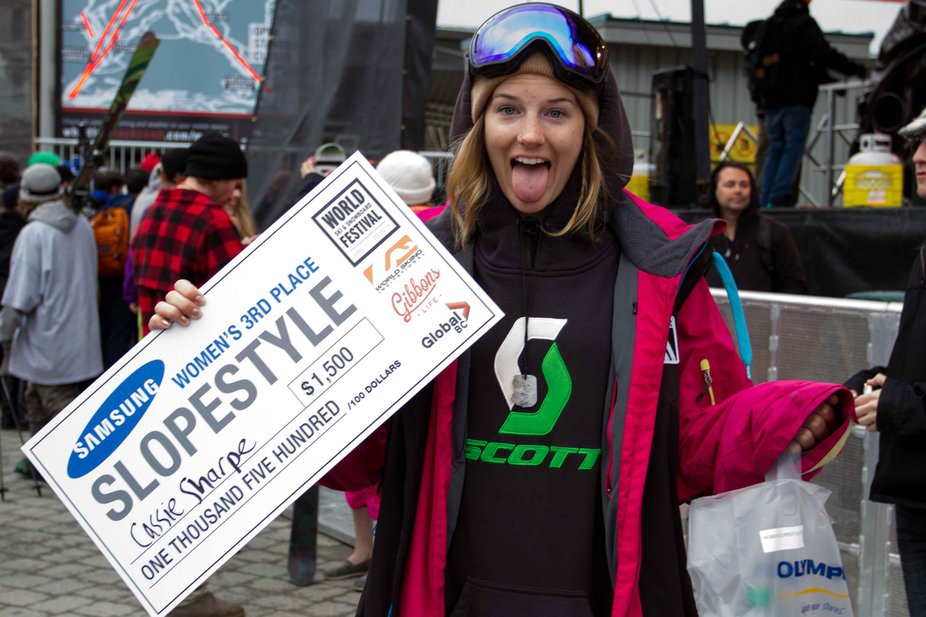 Cassie all smiles after her ninth straight podium!
Q: What is the biggest risk you have ever taken on skis? Did the risk equal the reward?
Nikki: I think one of the biggest risks I've taken, that could have affected how I did in a comp, was learning a trick the day of the contest and competing it in my run. It ended up working for me so I was super stoked because I knew eventually I would have to do the trick. To be able to land it and put it in my run was super rewarding!
Cassie: I'd say the biggest risk I've taken on my skis was staying on them and not following the mainstream flow. I didn't want to graduate high shool and have to get a 'real' job, go to college and sit in an office, living a life I didn't enjoy. The biggest risk was staying with it and pursuing my biggest dream. I'm following my lifetime goal and I wouldn't change it for the world. Hell yes, the risk did equal the reward!
Q: Moving forward, what are your goals?
Nikki: My goals in the near future are definitely X-Games, I think it would be such a cool experience to compete at that event with all of the top girls. I think it's every up and comers dream to go to X-Games. For the future, I'd love to represent Canada at the Olympics.
Cassie: I would love to be able to compete at Dew Tour and X-Games!
The girls sharing a podium!
Shout outs?
Nikki: I want to give huge shout outs to Salomon, I love their skis! As well as Eira, their ladies line is sooo sweet for next year and I can't wait to rock some more pink on the hill!! To Gates & Boards, you've helped me out since the beginning with mounting and fixing my skis! Of course to my parents: my Dad was a huge inspiration to me and his competitiveness and passion for skiing will live on in me forever. I have the best Mom ever because of all her love and support. I couldn't be here without them!
Cassie: Shout out to my instagram (haha), follow me - @cassiesharpe. Also to my great sponsors, Scott, Swany Gloves and Planks Clothing.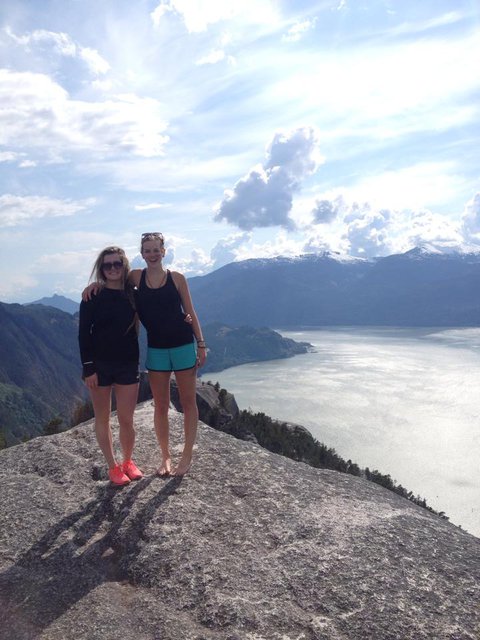 Cassie & Nikki atop the Chief in beautiful Squamish, BC - it will be exciting to see what the future holds for these two!
I am a proud friend to say the least!
http://www.newschoolers.com/watch/716850.0/NikkiB?c=1
Check out video evidence of Nikki gettin' it!