A daunting task for everyone no matter the background. Winter car camping is not for the faint of heart nor will it ever substitute the comforts of a hostel or B&B with a warm bunk and a hot shower. Let's not forget the often decent breakfast and piping hot coffee waiting before getting up to the hill. The ability to dry gear out overnight as many have boot and ski racks also makes these comforts very worthwhile to avoid cold wet gear. For this reason, I personally have decided to go for hostels when temperatures get to single digits sometimes but when it approaches zero and negatives it can definitely be worth the 45-60 dollars especially when you take into consideration all of the factors I listed above and how much energy it can take for your already tired body to keep itself warm. Making breakfast in the single digits can also be quite a task mentally especially if there's fresh snow.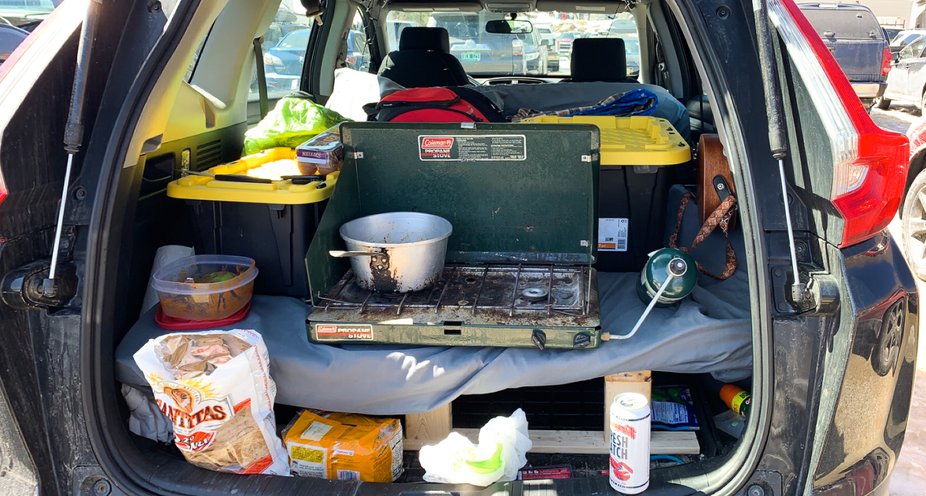 Making some lunch at the Bear Mountain lot during Killingtons Annual Bear Mountain Mogul Challenge.
-
Car camping is neither glorious or comfortable, but cheap and effective for sure. I would Like to start with the disclaimer that basically all my experience comes from the East Coast. I have done Mammoth and Palisades in late May where I stayed at a Sno-park and camped on the loop road in Mammoth for a week. Both were good experiences. However, for the purposes of this I'll focus on my home, which is back east mainly in central and southern Vermont. I would also like to state that I don't have a truck camper, fancy sprinter van or regular motor home like the cosplay ski bummers. This article is meant to detail the basics of winter camping for the brave and adventurous in the Northeast and specifically what kind of a setup I use and what many entry level people will likely start with.
Couple of things that are necessary up front, one of which is a proper vehicle. A bed whether it's a platform in the back of a mid-size SUV, truck or even flip down seats in a car. Any of those will work and even really tight spaces will be fine for a single person which will likely keep you warmer. I have a 2018 CRV base model with a platform I cut out that originally went in my 2005 CRV that I modified. Underneath There's storage for essentials where I keep a two-burner camp stove and propane bottles. A few other things include, Jumper cables, a welcome mat (for booting up at the car it makes it way easier), pots, pans and a large tarp good for so many things. Up front I use two cheap Anker/Jackery $25-35 rechargeable batteries which give me enough for roughly 12-16 phone charges. Also strung some led multi color lights around and they can run on USB power pack as mentioned above or 25+ hours on batteries which lasts about half a season. Insulated water bottles are a plus to avoid having to spoon you water at night temperature pending.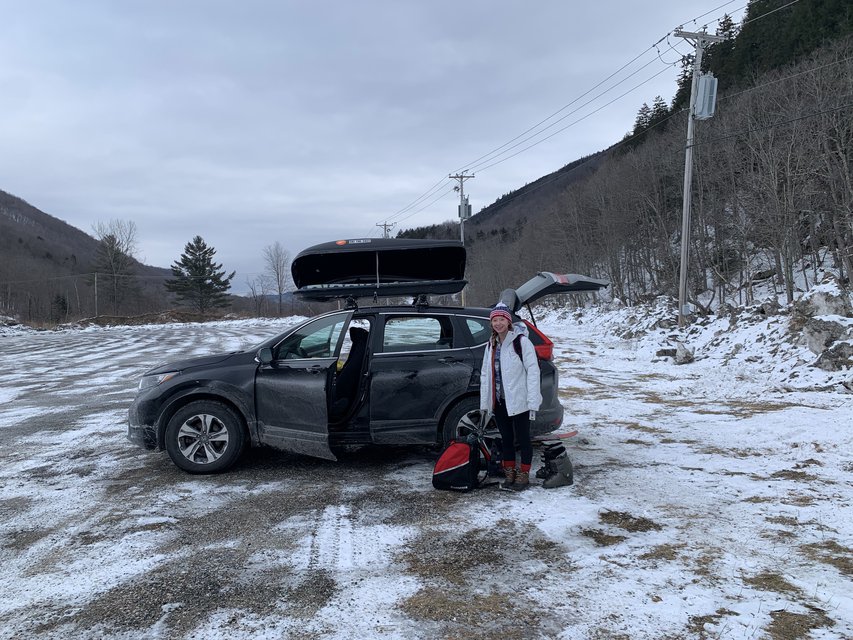 Cold night in the Skyship lot at Killington. Easy access to lodge across the street made all the difference.
-
Let's talk about maybe the most important part of the system which is sleeping and staying warm. I don't have a crazy sleeping bag at just 35 degrees but I add about 3-7 blankets one of which is really thick and it works. With a 0 degree bag you're looking at 1-3 blankets pending on warm nights and not zipping up. In late spring you can even just use blankets. For a bed I recommend a 2in memory foam mattress topper that sits on top of a thermarest inflatable camp mattress and a yoga mat which will do wonders to keep you insulated from below. This combo has served me well and I was able to do 43 nights straight on a road trip. It's as comfortable as any real mattress I've ever owned. Just the memory foam will leave you with stiff shoulders digging into the wood after an hour of compression. For the windows lots of people recommend using refletix which can add about 10-15 degrees of warmth although I have never tried I will soon and I can guarantee it's a worthy investment for the small price and time. Another easily overlooked thing is ventilation. On average humans' breath 0.5 pints of water per night which requires two windows to be 1-3in down to keep the car from accumulating condensation. More people is warmer but requires more ventilation. If it's snowing or precipitating at all bring a towel run the defroster in the morning and wipe down. This will really help although it may seem counterintuitive. Condensation varies depending on how dry you and surroundings are, fresh snow and where you are, but for the northeast I found this to work very well.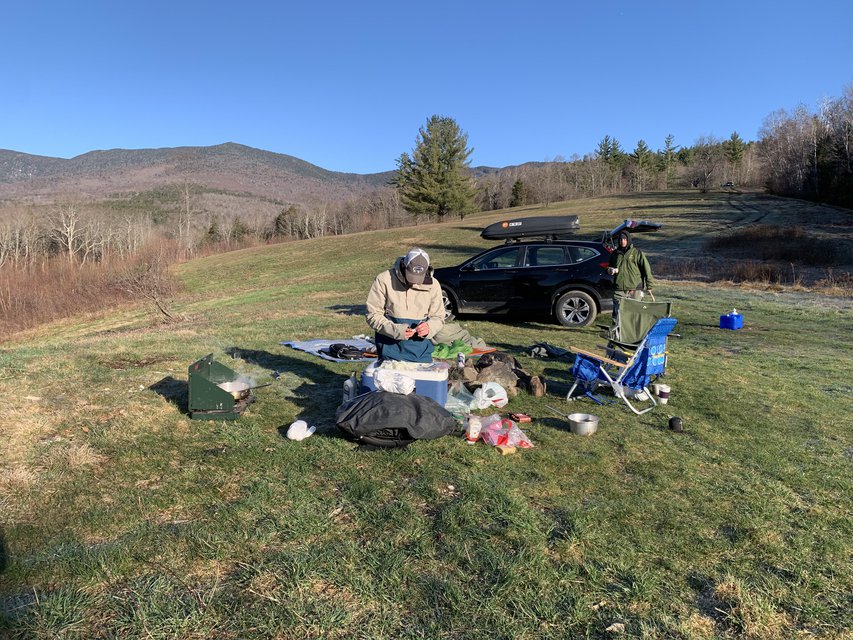 Making breakfast on some National Forest Service land in Vermont last spring.
-
Some of the other essentials from all of this I can't recommend enough are a quality sleeping bag, battery banks, lights, camp stove and a multi-layer mattress setup all of which are the critical comfort items to make this a better experience. Cold nights will require a hat and neck warmer and often a couple body layers with wool socks. In the end the cost is roughly 2-3 nights of hostels/bunkhouses and can be used for years. Not to mention its really fun. I have a few adhesive puck lights that go around my car and can be pushed to turn on. For a flip up trunk its extra useful to have one on there for camp light to cook and reorganize. For the same reason a head lamp is also your friend.
Bars are your crucial and even more so are hair dryers. I will dry cold wet gear out on cool or warm setting especially boots and socks or whatever it is specifically on powder days when everything gets damp. Drop stuff in the lodge and hit the bar have one or two drinks, tip well and retrieve your warm dry gear in an hour or two. Dry rest of with a hair dryer before tucking in for a long night. This step will also aid in keeping moisture out of the car when everything is dry. Next morning warm your boots up with the dryer to prevent cold feet, legs etc right from the start. No matter the season this will be extra useful but remember not to overheat and damage gear.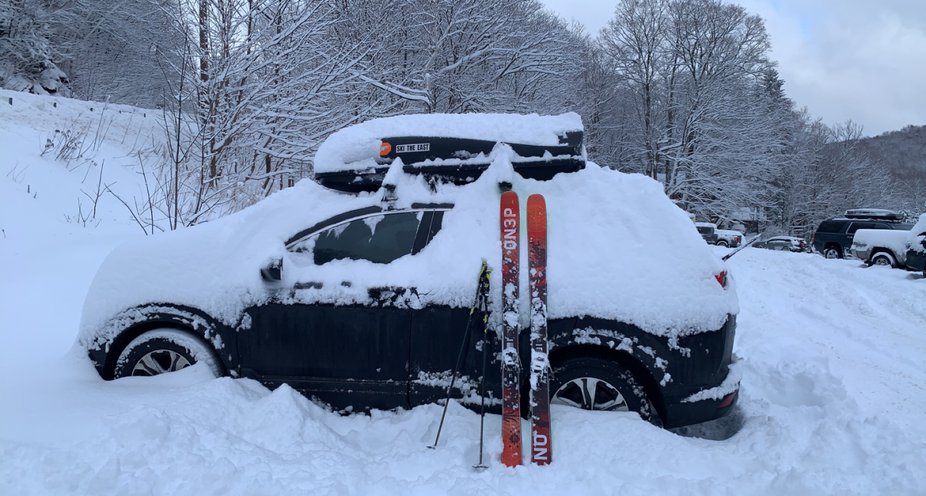 Cold late January night after a long powder day at Mad River Glen.
-
The last thing I have is an all-around tough box full of equipment that can be very useful in case. This has things like waterproof matches, lighters, bug spray, first aid kit, hatchet, rope, trash bags, screw drivers, ratchet set, hand warmers, extra gloves, scraper, Advil, tennis balls, massage gun, fire starters and a multi tool. Basically, useful and essential items that could always come in handy. Don't run the car all night, or use open flame propane heaters and propane in general as it produces wet heat. Know your limits and stay safe. There's often Facebook groups indicating where to stay and they have many pointers to help you along your journey to affordable car camping in winter.
This is a basic list of things to think about and testing this early or late season is the best. Below 0 to -5F I often get a hostel just because I believe the benefits outweigh the cold although it's really doable to -10 or more if you can really deal with the cold. Happy camping and drop your knowledge in the comments!