Two things I'll mention first – We are giving away a Capture and a thinkTankPhoto Pro Speed Belt to someone that pops a comment on how they would use Capture below and likes the Capture Facebook page and, we're also giving dPS readers a special link that *captures* then a $10 discount when they order via the link provided (Password at the end of the review!)… Hey, it's the least we can do – well, that and let you know what the device is like, right? – On with the review!
Capture Camera Clip System | Review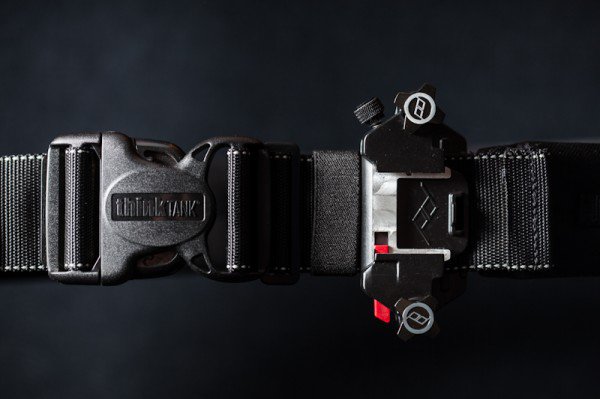 Capture and thinkTankPhoto Pro Speed Belt play very nicely together
I've had 'Capture' for a while now. Being blind sided by products that I'm allowed to use for two weeks, review and send back is not one of of my favourite things. So I've chosen a path of using the gear for a good while before putting pen to paper – I hope in the long run, that this saves you guys buying rubbish!
Get Your Capture Here with your dPS special discount (Password at the end of the review)
Peak Design are a company I came to hear about through one of my clients, thinkTankPhoto, both based in California, capture were doing some product testing after a successful KickStarter campaign, and got in touch to try out their little gizmo with the thinkTank range of bags.
What is Capture? Very simply, Capture is a way to attach your camera to your person, and grab it when you need it, on the fly, and not worry about it crashing to the ground and smashing into a million tiny very expensive pieces! (Though, if you're some sort of crazy camera gun slinger, and you've not practiced enough – nothing is going to save you from yourself!)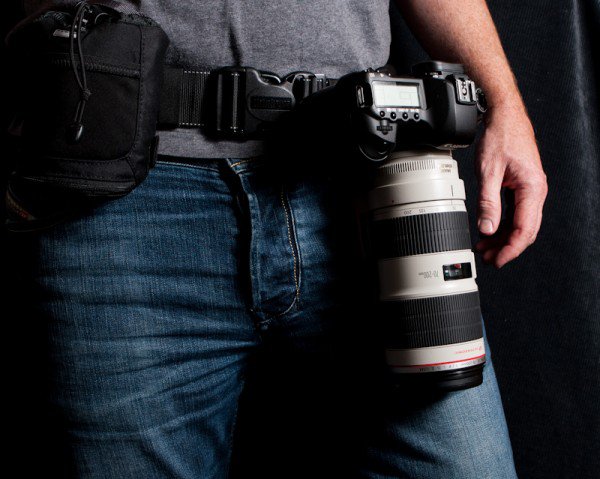 Would you like fries with that? Canon 5dMKII & 70-200 f/2.8IS on Capture
Capture is a sturdy as all hell, machined clip that screws onto your bag strap or belt with use of two large headed easy to turn screws and one large plate, then the included Arca compatible plate that you've attached to your camera (base plate also works well with my 3LeggedThing Brian) slips into the device, clipping firmly into place, and there's a twist lock for if you're not going to use your camera for a bit – you simply screw it shut and that camera ain't going any place fast.
As you can see above, Capture isn't simply for the smaller lenses and works fine with the mildly heavy Canon 70-200 f/2.8 IS L lens, Make sure it clicks in solidly – as it did for me every time, thankfully.
The baseplate also has hand strap attachment loops for those of you that do, and the whole thing comes with a lifetime guarantee.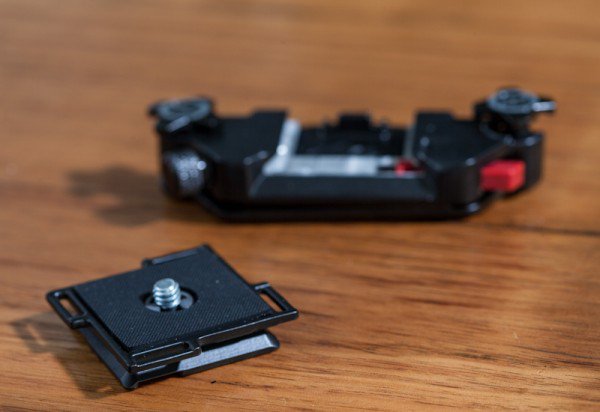 The baseplate with the strap loops visible...
I have to admit, I was initially a little skeptical, I have and use BlackRapid straps, and have never had a problem with them – I think Capture is a departure from straps for me, though. As soon as I screwed Capture down onto my camera belt system, and slotted the camera in – I thought to myself, I'll be using this from now on.
But why?
Why indeed No straps getting in the way of anything, ever, and the ability to use Capture to change lenses changed the way I shoot – I used to take two cameras on every shoot (music, live, mostly) and to avoid the quick awkward changing of a lens, I'd have two bodies with a 16-35 and a 70-200 onboard. What Capture has allowed me to do is to slot the camera in facing up, or sideways (for those of you that are extra super dust precious) and clip off my lens, stick it in a modular pouch on my belt and slot the other lens straight in. That's gold right there.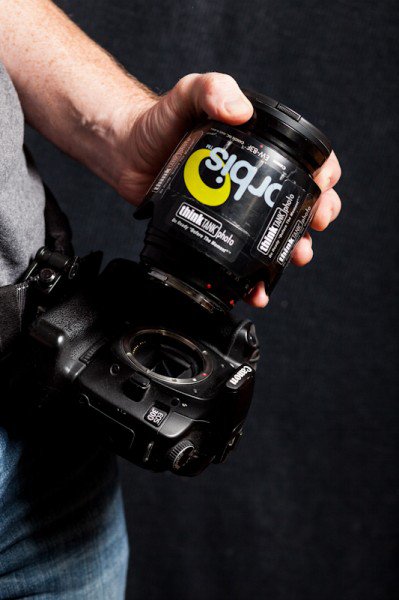 Changing lenses with the Capture is so awesome...
You might not change lenses every seventy four seconds, you may only have the one lens, and that's totally fine too! Putting the camera on my backpack strap in full reach, popping the camera off when I see a photo that I want to take – hands free awesome. If I'm not taking my backpack out, if I have my Retrospective shoulder bag – I can attach it to that strap and let me camera sling down to my side – it's just really versatile and a system that, over a few months, I've totally fallen in love with. Capture also happily worked with my second body which has a battery grip attached – it did pull down a little harder, with the extra angle, but gave no usage issues…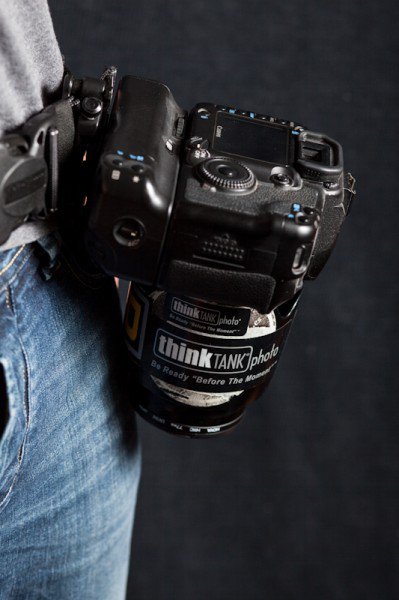 Canon 30D / 24-70L / Capture on the thinkTankPhoto Pro Speed Belt
In practice, I've not had any of those "argggghh!" moments, intact, I've only had "ahhh" moments with this thing – it really is very good.
Loves;
Solid CLICK tells you your camera is locked in.
Big screw downs for big fingers.
Fits every bag / belt I own (and that's a lot!)
Machined like a brick.. if a brick was made from sweet aluminium that is..
DisLoves;
Ummm? That's the sound of wind whistling through tumbleweeds….
A well thought out and brilliantly executed product – eleven stars (the Simon star rating system is out of eleven and based on quality, price, availability, ease of use and customer service)
–Sime
Oh, you want that password do you? Well – it's friendofdps ..isn't that sweet! Log in Here
Post originally from: Digital Photography Tips.
Check out our more Photography Tips at Photography Tips for Beginners, Portrait Photography Tips and Wedding Photography Tips.
Capture – Camera Clip System | Review