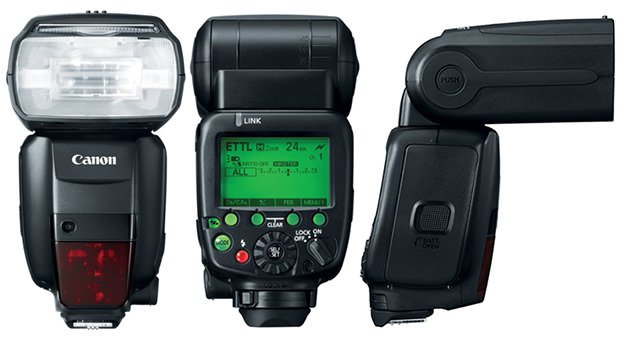 In addition to its big 5D Mark III announcement today, Canon also made some big updates to its high-end professional accessories, the biggest of which is the new Speedlite 600EX-RT. This new top-of-the-line flash unit replaces the 580EX II and uses a new radio-based wireless triggering system. Communicating on 2.4 GHz frequencies, the new flash avoids traditional directional limitations associated with optical transmitters and offers two-way wireless transmission of up to 98.4 feet. It also features a higher guide number, an expanded zoom range, and a tougher build. You'll be able to pick one up at the end of March for a cool $630.
Here's a hands-on review showing the flash in action:
There's also a new ST-E3-RT radio-based wireless transmitter that'll cost $470, a GP-E2 GPS receiver ($390), and a WFT-E7 wireless file transmitter ($850).
P.S. Canon reportedly isn't planning to put an end to 5D Mark II production, but will instead start selling it at a lower price point even as Canon 5D Mark IIIs arrive on store shelves.