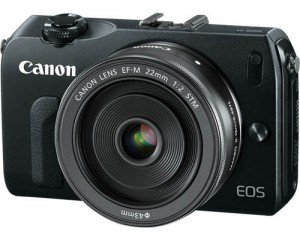 Canon's ship is typically a leaky one so we've had full specs and photos of this camera for a few days now. Today though Canon officially launched their EOS-M mirrorless camera platform with the new
Canon are last to the mirrorless market amongst the big players and on paper they have come out with an impressive package. Most noticeably, the camera is TINY. It is actually smaller than the Panasonic GF5 Mirco Fourthirds camera but critically it packs a full APS-C sized sensor and not a smaller M 4/3 one. An 18MP APS-C sensor no less.
The camera will begin shipping with either an 18-55 EF-M IS zoom or a 22mm f2.0 STM pancake style lens but expect to see many more lenses soon, probably a couple at Photokina in September. An EF lens adapter of course means that you can use any of your existing EF lenses in the meantime. On paper the EOS-M seems to share more than a couple of features with the recently announced Rebel 650D / T4i and I think it is fair to assume there is some tech crossover here in the 18MP sensor as well as a 3″ touchscreen. The recent Rebel was Canon's first DSLR with a touchscreen but by all accounts reviewers seem to like its application and function so I'm glad to see it implemented here as well. With few physical buttons on the camera it will have to be an intuitive touch system if this camera is going to work well.
Video looks to be decently well specified in the EOS-M line with full 1080p at 24/25/30 fps and AF during filming, designed to compliment the new STM style lenses. The EOS-M also has a microphone input.
 
Critical Specs
18mp APS-C
DIGIC V
ISO 100-12800 (25,600 Expansion)
3? Touchscreen 1.04million pixels
Phase & Contrast AF
Video Servo AF
1920×1080 Video 30p/25p/24p
1280×720 Video 60p/50p
MPEG-4, AVC/H.264
SD Card
Adaptor at launch for EF lenses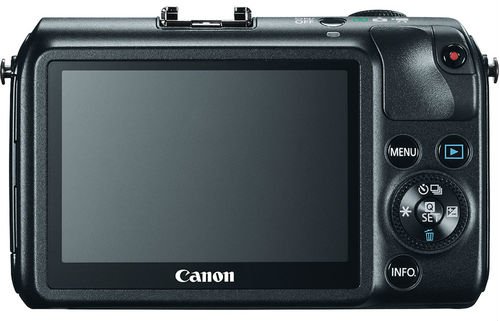 3" touchscreen from the Rebel T4i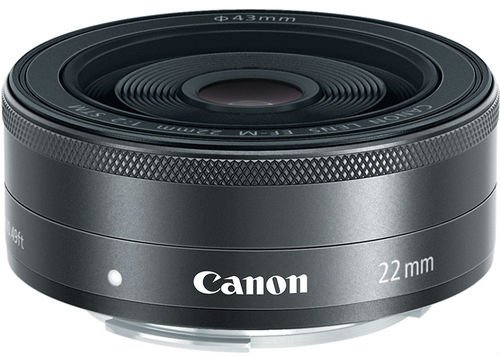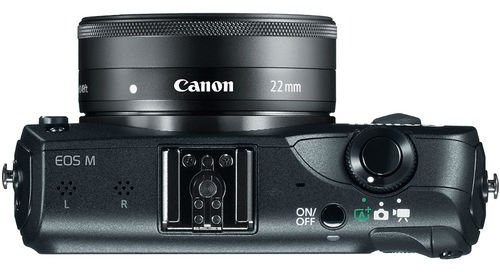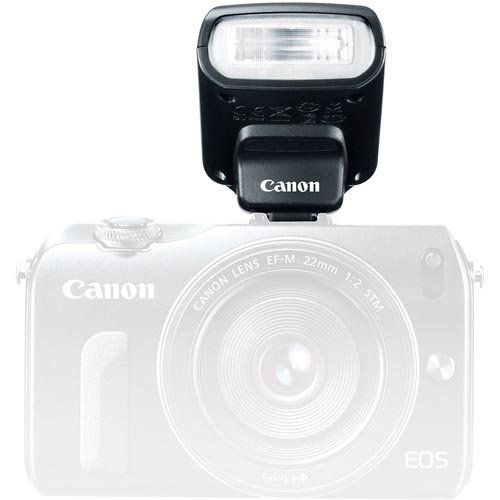 Compared To…….
I've created this top view comparison of several key cameras with the EOS-M. As you can see it is incredibly small when compared even to the G1X point and shoot camera. The Rebel T4i which shares a lot of the specifications , dwarfs the EOS-M as well.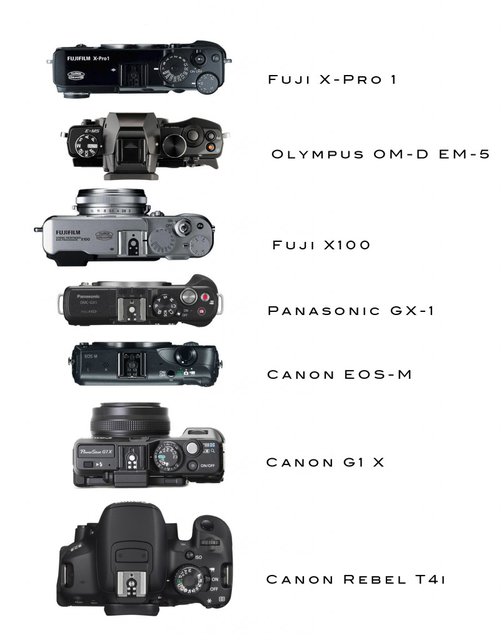 What Now For The Rebel……? Canon's Grand Plan.
When Nikon launched their mirrorless 1-System they made a clear decision not to interfere with their DSLR sales by going with a smaller sensor even than M4/3 , approaching point and shoot size. Canon have decided to put a variant of their latest 18MP APS-C sensor in the EOS-M lineup though and you have to wander what this will do for the Rebel lineup. For your average consumer when they see both of these cameras alongside each other in Best Buy , both with a 3″ touchscreen and both with the same size 18MP sensor, but one is half the size and cheaper, it will clearly impact sales of the larger Rebel brother.
I put to you a crazy idea….
Canon is rumored to be introducing a lower priced full frame camera in the not too distant future. They also introduced a huge firmware update for the 7D recently. My initial reaction was that they were extending the life cycle of the 7D for some reason. There would seem to be no good reason to add those features to a camera which by Canon's usual timelines would be due for replacement within the next few months. Maybe Canon sees the future of APS-C sensors in the EOS-M lineup only ? Perhaps we will see a gradual move to full frame cameras in all their DSLRs ? The 1.3x crop sensor has already been phased out and from a consumer point of view it would be far simpler to have crop sensors in physically smaller cameras. It is something that the consumer can easily understand and relate to. Small camera, small sensor. Big camera, big sensor. Keep it simple.
We used to have an XXD camera , the 7D , the 5D and the 1D. But the 5D Mark III did blur the lines more than some people may have realized when it added the AF system from the typically sports oriented 1D series. I used to recommend the 7D to people who wanted to use a smaller camera for sports, but now I recommend the 5D Mark III instead. It has superior AF, decent FPS and a much better sensor. A lower priced full frame camera could be a combination of the XXD and 7D line giving us a complete DSLR lineup of full frame cameras.
But what will XXD customers buy you say ?? Well it is clear to me that the EOS-M lineup will also feature a 'Pro' model with a viewfinder in the not too distant future. If this first EOS-M will replace the Rebel , what camera would be replaced by a more fully featured 'Rebel' that still has an APS-C sensor ? Yep, you got it, the XXD line. There is no way that Canon can introduce two new cameras with APS-C sensors and interchangeable lenses without culling something from their current lineup. Something has to give because the consumer typically doesn't want to have such a broad range to choose from, especially when on paper to them several of the cameras appear to have identical features.
Remember you heard it here first……..
 
Press Release
 
London, UK, 23 July 2012 ? Canon today expands its award-winning EOS range with the launch of the new EOS M. The company?s first ever compact system camera (CSC), the EOS M is designed for those who use photography to share their everyday passions ? from food, to fashion and culture, music and art. Offering DSLR-quality imaging, creative features and Full HD movie creation in a compact and easy-to-use model, the EOS M is the perfect, take-anywhere partner for a new breed of enthusiasts who chronicle their lives through images, without necessarily considering themselves to be ?photographers?.
The EOS M is available in sleek black, glossy white, stylish silver or bold red colours, and condenses Canon?s renowned EOS imaging heritage into a stylish, compact design. The model launches alongside two new lenses, the EF-M 22mm f/2 STM pancake and the EF-M 18-55mm f/3.5-5.6 IS STM standard zoom, as well as a new compact EX Speedlite ? the Speedlite 90EX ? providing everything you need to capture stunning images every day. For those who want to push their images even further, the EOS M can also utilise Canon?s extensive range of EF lenses with the new Mount Adapter EF-EOS M, for even more creative freedom.
The quality of a Canon DSLR
Print your favourite moments in poster-size or crop your image for maximum impact ? whether shooting the atmosphere of your favourite club or the intricate stitching of the latest must-have handbag ? thanks to the EOS M?s high-resolution, 18 megapixel APS-C hybrid CMOS sensor. The large sensor also allows you to artistically blur the background for beautiful portraits, or for close-ups with impact.
With the inclusion of Canon?s DIGIC 5 processor, colours ?pop? and skin tones are beautifully natural, whilst a super-fast shutter allows you to capture split-second action. The atmosphere of evening shoots and challenging night-time scenes are also easily recorded in stunning detail thanks to the EOS M?s sensitive native ISO range of 100- 12,800 (extendable to 25,600).
For pin-sharp shots and professional-looking footage, this new design features a Hybrid AF System that supports super-fast, accurate AF when shooting stills and movies ? allowing you to record any moment with confidence.
Shoot what you see and easily express your creative vision
Every aspect of the EOS M has been designed to make it simple to capture beautiful, creative, high-quality images. From the very first swipe across the bright, high- resolution, 7.7cm (3.0?), Clear View LCD II Touch screen, the EOS M gives you as much or as little control over your photos as desired. Simply select different shooting modes and settings via the on-screen icons, or let Scene Intelligent Auto adjust the camera settings according to the subject and shooting conditions, leaving you free to focus on composition and selecting the perfect moment to hit the shutter release button.
EOS M users can shoot with the confidence that comes from having the world's most comprehensive photographic system behind them. Whether you want to capture every detail of a close-up or zoom in to frame a subject in the far distance, any one of Canon?s extensive range of EF lenses can be connected via the new
Mount Adapter EF-EOS M for photographic flexibility.
With one of Canon?s Speedlite flash units, you can also explore creative lighting techniques to add an extra level of interest to your shots. Alternatively, create unique images with a range of Creative Filters like Toy Camera effect, Grainy B&W or even a filter that mimics the distortion of a fish-eye lens. The filters can be applied before the shot is captured, with the result previewed in Live View, allowing you to experiment with different effects before selecting the perfect treatment for your final image.
Turn film-maker with EOS Movie and Video Snapshot
When a moment calls for more than a still image, the EOS M lets you switch easily to Full HD video with stereo sound for superb results. Video Snapshot mode also helps family and friends avoid long home movie viewing sessions, guiding you to create exciting movies in-camera, with a professionally edited feel.
Extending the EOS System with dedicated accessories
In addition to compatibility with Canon?s existing EF lenses1, accessories and Speedlites, the EOS M launches with its own bespoke range of compact accessories. Two new EF-M lenses offer portability and high performance when using the new model ? the EF-M 18-55mm f/3.5-5.6 IS STM standard zoom and the
EF-M 22mm f/2 STM pancake lens. Both feature new Stepper Motor technology for exceptionally smooth AF performance, as well as precision Canon optics, while their compact designs offer the perfect form-factor to complement the camera?s pocket-sized body.
Additionally, the EOS M will ship with the new Speedlite 90EX flash unit as standard. Lightweight and highly-compact, it offers a maximum guide number of nine and supports wide-angle lenses, making it an ideal general-purpose flash for everyday use. A wireless master function also allows the control of multiple flash guns wirelessly, allowing more advanced users to experiment with a range of creative lighting effects.
EOS M ? key features
The quality of a digital SLR in a compact body
Scene Intelligent Auto
Be versatile with interchangeable lenses
Create out-of-focus backgrounds for high impact
Easy-to-use touch-screen
Atmospheric photos in low light
Full-HD video with Video Snapshot Mode

Support the site
If you enjoyed reading this post and found it helpful, please consider supporting the site by making your next photography purchase by clicking through one of the links below.
B&H Photo
Amazon.com

Adorama
Zacuto
Outdoor Photo Gear
ebay

Think Tank Photo -As a friend of this site, clicking through to the Think Tank site and spending more than $50 will earn you a FREE bag when you reach the checkout. Choose from several different accessory or modular bags for FREE!
Borrowlenses.com
DROBO Enter coupon code DANCARRPHOTO for up to $150 off on certain models.
Clicking through these links doesn't cost you a penny more but helps me to bring you new, fresh content.Thanks for your support !