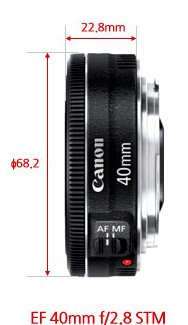 Canon's first pancake lens was unveiled today alongside the launch of the Rebel T4i DLSR. Since the introduction of mirrorless cameras, pancake lenses have become popular on those models from Sony, Olympus and Panasonic as a way to decrease the size of the photography kit you carry. Canon's introduction of their first pancake lens is an interesting move, and one that I think will be quite popular. It's generally accepted that Canon will release their own mirrorless camera, possible even this month (June 2012) but whilst this lens would probably work on that, I don't believe it's specifically targeted it it due to the 40mm focal length. In the world of mirrorless, a 40mm is quite long. In fact it's a bit of a weird focal length on any crop of camera. Neither wide nor standard. Equivalent to a 64mm on an APS-C camera, I think I would much prefer it on a full frame camera. Then again, many many people with APS-C cameras buy the ubiquitous 50mm f1.8, and those people would likely love a 40mm , giving them a slightly wider, and closer to standard view. One thing I am sure of though is that I will be buying one of these ! At that size you might as well use it instead of the body cap!
 
 
Critical Specs
Focal length / Aperture: 40mm / 1:2.8
Lens Construction: 4 group 6 pieces
Closest focusing distance: 0.3m
The maximum magnification ratio: 0.18
Filter diameter: 52mm
The maximum diameter: 68.2mm
Length: 22.8mm
Weight: About 130g
Lens Hood: ES-52 (Not Included)
Pre Orders
Pre-order the new 40mm Pancake lens from B&H Photo for $199!
Press Release
 
London, UK, 8 June 2012 ? Canon today unveils two new compact, lightweight lenses – the EF-S 18-135mm f/3.5-5.6 IS STM and EF 40mm f/2.8 STM. Showcasing a number of new features, including continuous autofocus in Movie mode, both models offer superior image quality and enhanced flexibility to enable photographers of all skill levels to capture both stills and movies of practically any subject.
Fast, accurate autofocus for film-makers and photographers
As well as offering full-time manual focus controls when shooting stills, the EF-S 18-135mm f/3.5-5.6 IS STM and EF 40mm f/2.8 STM are both also ideal for aspiring movie makers, allowing them to focus more accurately during shooting. The perfect companion lenses to the new EOS 650D, both models feature new stepper motor technology (STM), enabling fast, continuous focus when recording moving subjects – ensuring movies will be smoother and clearer than ever before.
Offering enhanced AF performance with high-speed, high-precision focusing, the two new lenses make it easy for photographers to capture more spontaneous shots, with exceptional detail and clarity. This is particularly useful for documentary, action or travel photography. With a minimum focusing distance of 0.39m and 0.3m respectively, the EF-S 18-135mm f/3.5-5.6 IS STM and EF 40mm f/2.8 STM allow you to get even closer to the action whilst keeping the subject in perfect focus.
EF-S 18-135mm f/3.5-5.6 IS STM ? versatile, high-performance zoom
Offering a focal range of 18?135mm, the EF-S 18-135mm f/3.5-5.6 IS STM has been created to offer photographers a compact, versatile zoom lens which can be used to capture a variety of subjects, from portraits to landscapes and action shots. Ensuring high-quality stills at slow shutter speeds, the EF-S 18-135mm f/3.5-5.6 IS STM features an intelligent optical Image Stabilizer which offers a 4-stop advantage over non-IS models. The lens will also sense whether the photographer is shooting normally or panning, engaging the most appropriate IS mode to capture the best possible image. When shooting movies, Dynamic IS automatically engages, countering any shake caused by the videographer's movement to produce smooth, stable footage.
For subtle background blur when exploring shallow depths of field in stills and movies, the EF-S 18-135mm f/3.5-5.6 IS STM features a circular aperture with an Electro Magnetic Diaphragm (EMD) which permits highly-accurate control over aperture settings. High image quality is also assured throughout the zoom range thanks to four groups of lens elements including one Ultra-low Dispersion (UD) and one Precision Molded Optics (PMo) element to counter chromatic aberration. Canon's optimised Super spectra coatings on each lens element also reduce ghosting and flare, ensuring images require minimal post-processing.
EF 40mm f/2.8 STM ? super-slim, high image quality
The EF 40mm f/2.8 STM is Canon's first EF pancake lens with a fixed focal length of 40mm and wide f/2.8 aperture, making it ideal for photographers who want a versatile, compact and lightweight lens for portrait, reportage, travel or landscape situations. Precision control over the circular, seven-blade aperture is enabled by the EMD, producing a beautiful bokeh effect and an aspheric lens with Super spectra coatings ensures optimal image quality from the centre of the lens to the periphery for stunning shots of practically any subject.
EF-S 18-135mm f/3.5-5.6 IS STM ? key features
Versatile 18-135mm zoom range ? perfect for travel
Smooth, quiet STM focusing when shooting movies on compatible cameras
Dynamic Image Stabilizer for smooth movie footage
Fast autofocus with full-time manual override
Minimum focusing distance of 0.39m
EF 40mm f/2.8 STM ? key features
Portable pancake design
Smooth, quiet STM focusing when shooting movies on compatible cameras
Fast f/2.8 maximum aperture for low-light shooting
Close focus to 0.3m
Fast, quiet AF for pin-sharp results
Great image quality right across the frame

Support the site
If you enjoyed reading this post and found it helpful, please consider supporting the site by making your next photography purchase by clicking through one of the links below.
B&H Photo
Amazon.com

Adorama
Zacuto
Outdoor Photo Gear
ebay

Think Tank Photo -As a friend of this site, clicking through to the Think Tank site and spending more than $50 will earn you a FREE bag when you reach the checkout. Choose from several different accessory or modular bags for FREE!
Borrowlenses.com
DROBO Enter coupon code DANCARRPHOTO for up to $150 off on certain models.
Clicking through these links doesn't cost you a penny more but helps me to bring you new, fresh content.Thanks for your support !