You've seen this camera's predecessors, the Canon EOS 5D Mark II and 7D and Nikon's D90, everywhere or, least you've seen their product on TV or at the movies.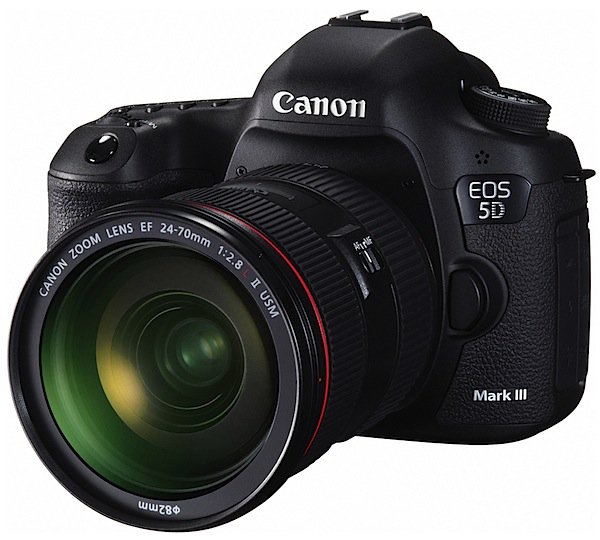 What made many industry players sit up and look closely was the use of the Canon EOS 5D Mark II to shoot the finale of the series House, produced entirely on this camera.
In TV and feature movie production, cameras like these have been snapped up eagerly by producers, camera operators and Directors of Photography who know what top quality should look like and then read the low sticker price!
Until recently, the big boys like Sony, Panavision, Arri, JVC and others were responsible for the top camera gear in this field and the prices were astronomical ? and then RED entered the field with a different approach to professional digital video capture.
Side-by-side with this situation still cameras also became smarter and able to capture Full HD 1920×1080 pixel video capture. So we now have the Canon EOS 5D Mark III, ready and waiting for the TV and movie industry to take up the technology.
Of course, there are issues with the use of a digital still camera to capture a high end moving image. Among them are the awkward viewfinder arrangement, lack of a power zoom, the use of a rolling shutter which can cause havoc with cross-frame action, audio capture is an issue, the file format is another ? and there are others, not least of which is how to cope with the odd shape of a DSLR compared to a pro video camera.
There are some attractive pluses in this situation, amongst which is the large image size, enabling operators to use lenses which are closer in focal length to the optics used in 35mm motion picture film photography, the gold standard of the industry. As a film industry friend once said to me: "Everyone in this industry wants the film look but no-one wants the video look!"
But hey! It also shoot stills!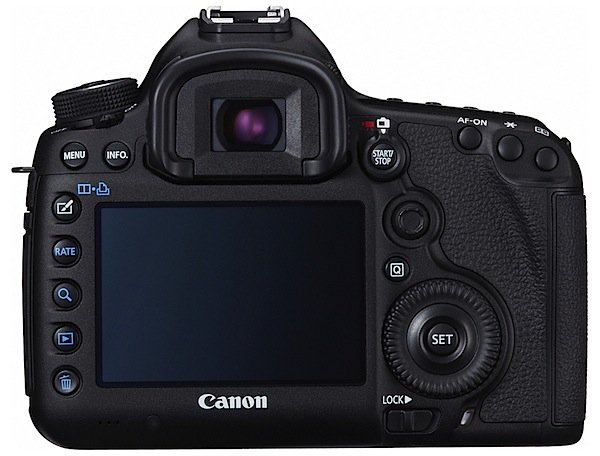 Canon EOS 5D Mark III Features
Supplied with the f4/24-105mm EF lens the review camera bundle was surely a big beast, weighing in at 1.5kg.
The body is constructed from magnesium-alloy, while dust and water resistance have been improved with the addition of water-resistant seals around buttons, dials and strap hooks.
As arguably the top DSLR model, around this camera is now the equivalent of the one time medium format 6×6/6×9 cameras that sat near the top of the pile. It is also one of the reasons for the popularity of Micro Four Thirds, Four Thirds and similar smaller sized sensors: these little babies can shoot images all the way up to as large as most people want.
The EOS 5D Mark III has a full frame 36x24mm sensor holding 22.3 million pixels, with a maximum image size of 5750×3840 pixels, or an enormous 49x33cm as a print. Of course, with a high quality lens and the right shooting conditions you can expect a much larger output with the use of a lower dpi. It accepts Compact Flash and SD/SDHC/SDXC cards.
It's worth making a comparison between a camera such as Samsung's NX200 which has a pixel population of 20.3 million, packed into a sensor that is just 40 per cent the size of the Canon's. With the latter's larger pixels you enjoy the benefits of a higher signal to noise ratio and an expanded dynamic range.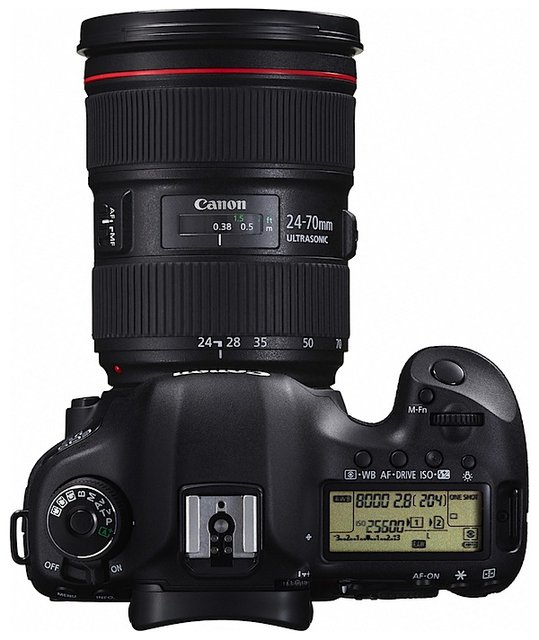 Of course, there is no such thing as a free lunch in this game so a larger sensor means you need longer focal length lenses to capture an image equivalent in perspective to the smaller sensor cameras. Longer focal length lenses = reduced depth of field.
In the AF area there has been a distinct improvement with the use of a new 61-point reticular AF system; this includes up to 41 cross-type focus points while extra points have been positioned to left and right of centre frame. The result is greater precision. A big improvement over the Mark II.
You also can now enjoy 6fps continuous shooting with a release time of app 0.59ms.
High Dynamic Range is now included in the new camera: three images of a single scene are captured at different exposures varying by an f stop each; these are then merged into a single HDR image.
Oddly, in such a high level camera there are four picture effects available (Art Standard, Art Vivid, Art Bold and Art Embossed), surely an admission by Canon that even pros will occasionally resort to a quick and dirty picture fix to get that special effect wanted by clients!
There are two multi exposure modes: function/control priority for composed multi-exposure images and then theres's a continuous shooting priority mode to snare multiple exposures of a moving subject. This means you can combine two and nine images in a single image in continuous shooting mode or four in function/control priority mode.
I liked the extensive array of external controls, which meant there is less dipping and diving into the viewfinder menu, excellent as it is.
One comment: there is no onboard flash gun; Canon says this exclusion is due to body integrity requirements ? adding a flash would jeopardise dust and moisture exclusion. But it's a pity that there's no vari-angle finder.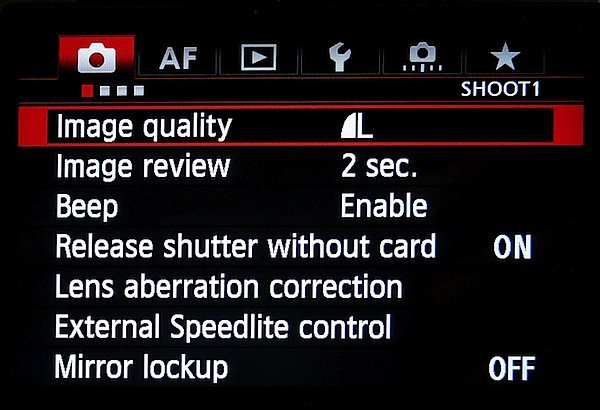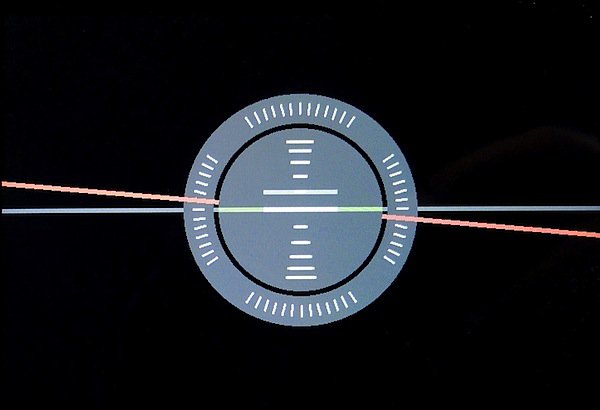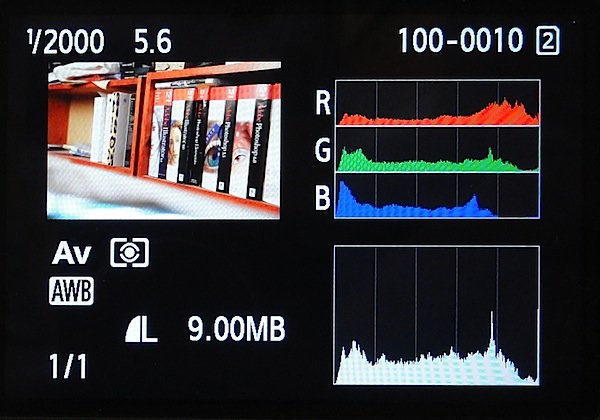 Video
The EOS 5D Mark III captures video in Full HD 1920×1080 in the MPEG-4 AVC/H.264 format.
Some notes: unlike a camcorder or some other digital cameras the autofocus does not operate while shooting; if you zoom during a shot there may be some changes in exposure; you can 'pull focus' during video shooting by hitting the AF-ON button (not the shutter button!); fast lateral pans may show vertical distortion; the camera's onboard microphone is mono but an external stereo mic can be plugged in; total shoot time is between 1hr 20 and 1hr 30 minutes or limited by your memory card's capacity.
You can, surprisingly, shoot a still while mid-movie recording and command the camera to record each to the same card. This of course interrupts the movie recording.
Post-shooting you can edit the start or end of the movie clip and save the edited clip as a new file. This worked surprisingly well and could be useful to an operator in the field.
I found extended handheld use of the camera a bit of a strain; a shoulder harness or similar would be useful.
Canon EOS 5D Mark III ISO Results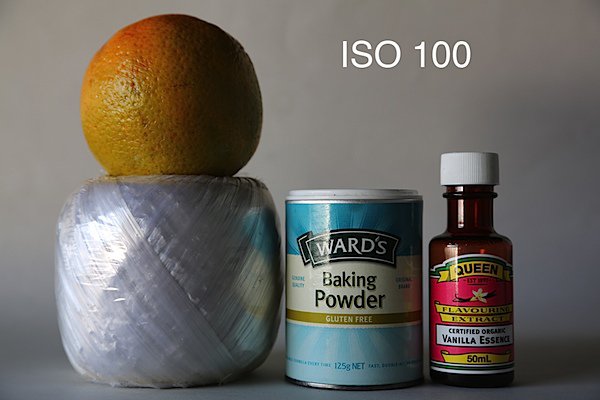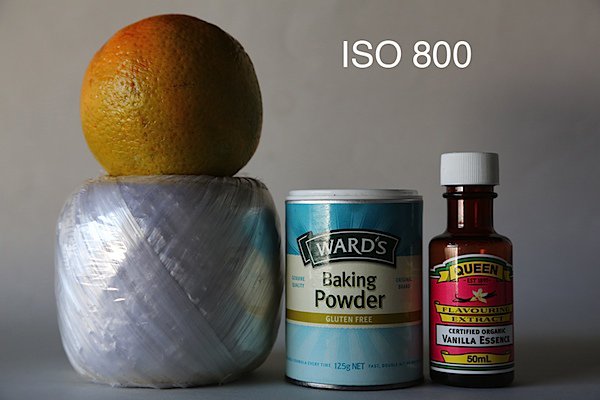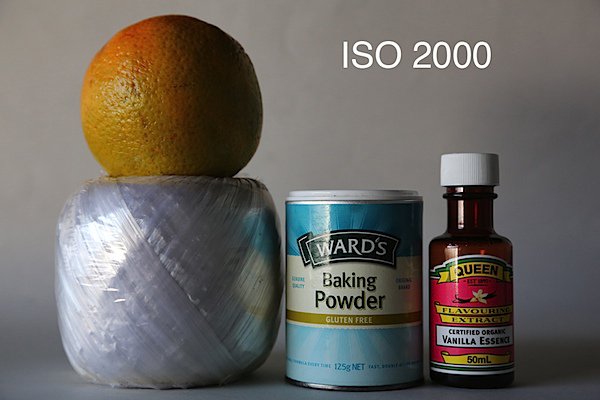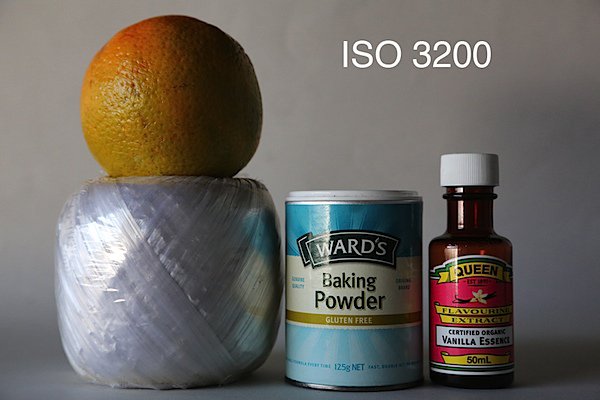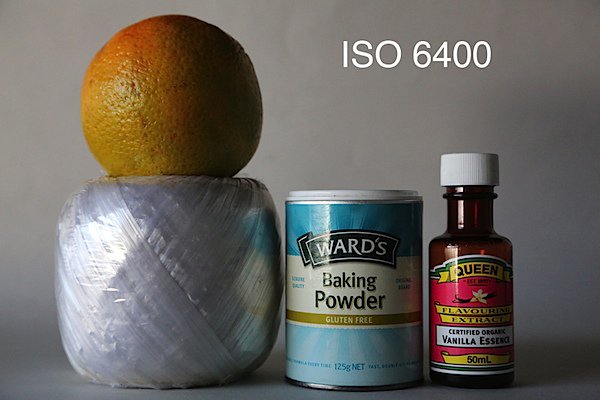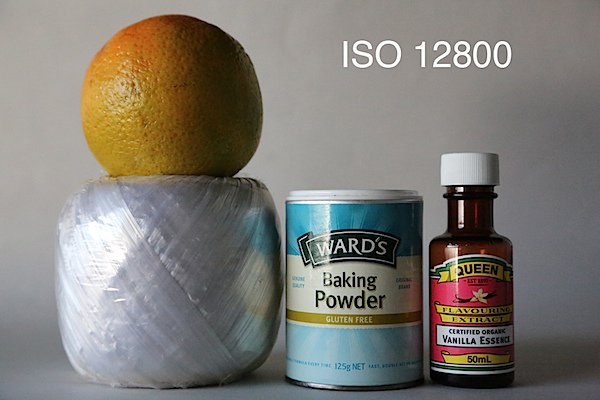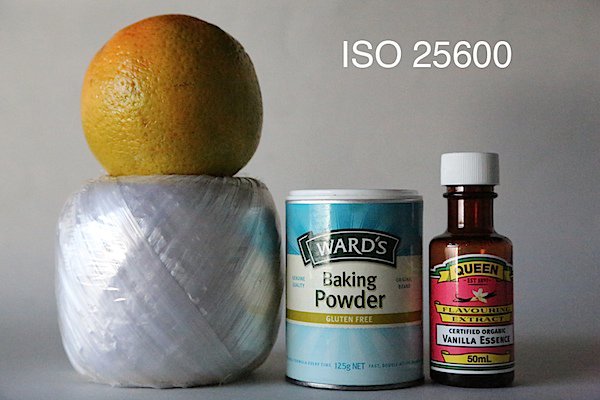 The ISO range extends to ISO 25,600 but there is an extension to 51,200 and 102,400.
My tests were set to go only as far as ISO 25,600, at which point, as you can see, definition is acceptable but noise is identifiable.
Extra Gear for the Canon EOS 5D Mark III
The BG-E11 Battery Grip can house 2 x LP-E6 and 6 x AA batteries. It also has a multi-controller and M-Fn button for easy and quick operation.
The new Speedlite 600EX-RT is the first Canon Speedlite to offer wireless radio transmission (and not IR), along with a shorter recycle time.Guide number: 60m at ISO 100, lens at 200mm. Coverage? A wide 20mm.
The WFT-E7 Wireless File Transmitter supports high- speed communication over 802.11a/b/g/n networks and can be connected to high-speed wired Ethernet networks.
There is also a compact GPS receiver, the GP-E2, enabling photographers to record shooting location and orientation.
Canon EOS 5D Mark III Quality
This baby will shoot top TV and stills industry gold standards. Nuff said.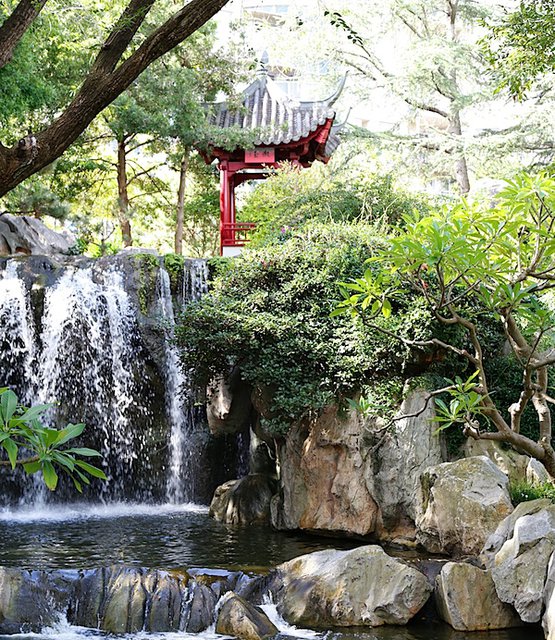 Why you'd buy it: you want a silent shooting mode; industry standard video capture.
Why you wouldn't: weight is against your style.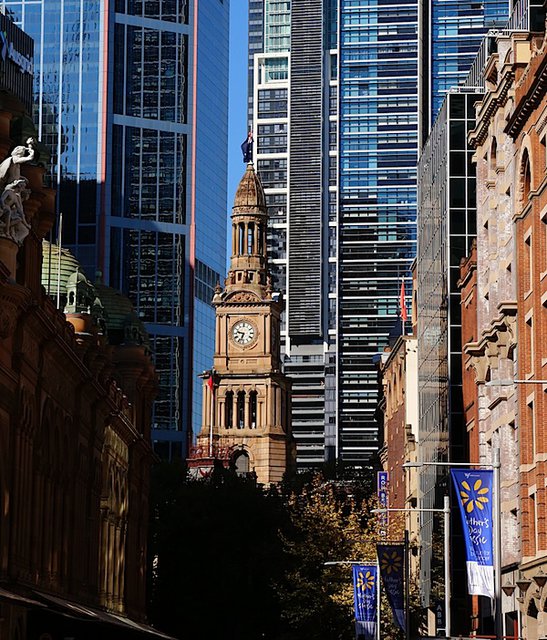 This is obviously the one to beat in the top shelf.
Canon EOS 5D Mark III Specifications
Image Sensor: 22.3 million effective pixels.
Metering: 63 zone full aperture, partial, centre-weighted; spot.
Effective Sensor Size: 36x24mm.
35 SLR Lens Factor: 1x.
Shutter Speed: 30 to 1/8000 second, Bulb. Flash X-sync at 1/200 second.
Memory: CompactFlash (Type I, UDMA mode 7-compatible), SD/SDHC/SDXC.
Image Sizes (pixels): 5750×3840 to 720×480.
Movies: 1920×1080 at 24/30/50 fps, 1280×720, 640×480.
A/D Resolution Power: 14-bit.
Viewfinders: Optical pentaprism, 8.1cm LCD (1.04 million pixels).
File Formats: RAW, JPEG, RAW+JPEG, MPEG4 (MOV).
Continuous Shooting: 6fps.
ISO Sensitivity: Auto, 100 to 25,600xxx.
Interface: USB2.0, AV, HDMI mini, mic, headphone, PC, remote control.
Power: Rechargeable lithium ion battery, AC adaptor.
Dimensions: 152×116.4×76.4 WHDmm.
Weight: Approx. 860 g (body only).
Price: Get a price on the Canon EOS 5D Mark III (body only)at Amazon.
Post originally from: Digital Photography Tips.
Check out our more Photography Tips at Photography Tips for Beginners, Portrait Photography Tips and Wedding Photography Tips.
Canon EOS 5D Mark III Review