After months of rumors and speculation following his reported departure from Rossignol and appearing on a set of unknown skis at the Candide Inviational, the cat is finally out of the bag. The legendary Candide Thovex has signed with CoreUPT, a new upstart ski company out of Europe. With the one and only Thovex on board as the first athlete and more big names rumored to be signing on soon, CoreUPT will undoubtedly be one of the most talked about new ski brands of the 08/09 season. For more details check out the press release, video and shots of the skis below...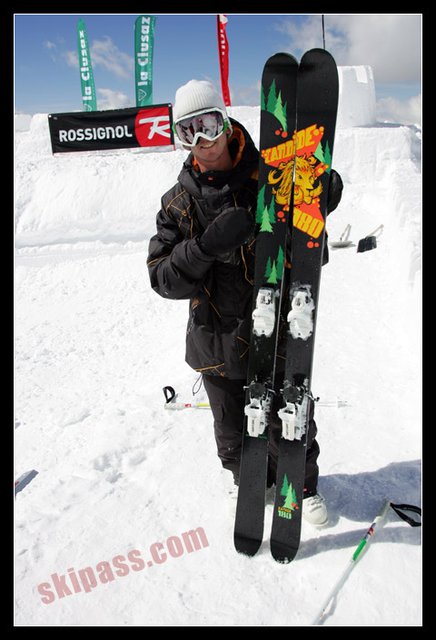 photo: (http://www.skipass.com)
Fans were wondering, and lots of theories appeared about Candide's new skis, here is the statement: Candide Thovex joins CoreUPT.
Enthusiastic for the values and projects of the new online ski brand, he wants to put his experience and skills to help CoreUPT and his new teammates.
After a season off Candide wants to ski stronger than ever. After breaking his back, he spent a year waiting for recovery. He wants to ski…big.
the Candide Yard
For this year, CoreUPT launched two pro models designed by Candide and our team: the Candide Yard (park) and the Candide Pow (backcountry). These skis will only be available on http://www.coreupt.com.

the Candide Pow
A private space on http://www.coreupt.com/candide will also allow Candide to post exclusive info along with his fresh photos and video. It will be a place for self expression, aimed to his fans.
CoreUPT wants to be the organization that will help Candide to get back to the top, in both comps and deep in the powder. CoreUPT.com will also be a meeting place for the team's fans and the club members of CoreUPT clan. To follow Candide, check out http://www.coreupt.com/candide
-The skis of Candide Thovex will only be available on http://www.coreupt.com beginning in July.
-Update: the Yard will be available in 155, 165, 175 and 182cm, and the Pow in 166, 176, 186cm.
-CoreUPT.com is an organization based on the riders, from beginner to superstar.
-2009- 2010 season shapes are already at work, you'll be surprised.
-CoreUPT ski range is only made of pro models, wait for more big news…
 
Guerlain Chicherit joins CoreUPT!
The buzz was around from this early winter, Guerlain Chicherit has joined CoreUPT.
After 15 years on Dynastar, Guerlain looks ahead a new challenge. This outgoing from his historical sponsor has been really smooth, as CoreUPT skis are manufactured in Dynastar – Rossignol craft house.
The line up of the team was seducing, Goon is a gambler, and skiing along with freestyle stars and young guns is a good challenge. A varied team is also the guarentee to ski differently and live it as a game.
Guerlain's last season, a bit deceptive, didn't cut the wings of the 'flying frenchman,' and he is already getting prepared for 2008-2009 season, alongside with Rally Raid. Back on the Freeride World Tour or video shootings? Time will tell, but the frenchman is back to the gym...
As with Candide, Guerlain spent time with CoreUPT's designers to create his personal topsheet. These skis will only be available on http://www.coreupt.com and in selected ski shops. He didn't work only on design as well...Guerlain worked on CoreUPT since its birth, and is still part of the game. His goal: make every CoreUPT customer a real memeber of the CoreUPT family!

Guerlain's XXX Ray. topsheet (above) & base (below)

When you'll buy a pair of CoreUPT, you become part of a family, a clan of people focused on fun. CoreUPT.com will also be a meeting place for team's fans, club members of CoreUPT clan.
To follow Guerlain, check out http://www.coreupt.com/blog
-Guerlain Chicherit's skis wil only be available on http://www.coreupt.com starting in July and in a few selected shops in November.
-Guerlain's XXX Ray will be availble in 176, 184 and 190cm.
-CoreUPT.com is a rider driven brand, and we eagerly await your feedback.