The Canadian Shield Ski and Snowboard Slopestyle Tour is set to embark on its first season, awarding $80,000 to top Canadian athletes along the way. The first tour of it's kind in Canada, The Canadian Shield offers skiers and snowboarders alike an avenue to showcase their slopestyle skills while earning valuable AFP and TTR tour points. Additionally, a huge cash purse and a ton of prizing are up for grabs at each stop, along with the opportunity to compete for the highly coveted overall tour titles and prizing.
The 2012 tour includes four stops across Canada:
Mont Tremblant, Quebec – February 3rd - 5th             
Mt Seymour, BC – February 17th - 19th
Winsport's COP, Alberta –  February 24th - 26th         
Blue Mountain, Ontario – March 22nd - 24th
All four tour stops consist of a full-day competition dedicated exclusively to each of the two distinct disciplines (ski/snowboard). Both the ski and snowboard competitions are divided into four categories, based on age and ability, including Disney XD X-Elerator 12 & under, Disney XD X-Elerator+ 13-15, snowboard Amateur Open and K2 Ski Amateur Open, and the Pro Open.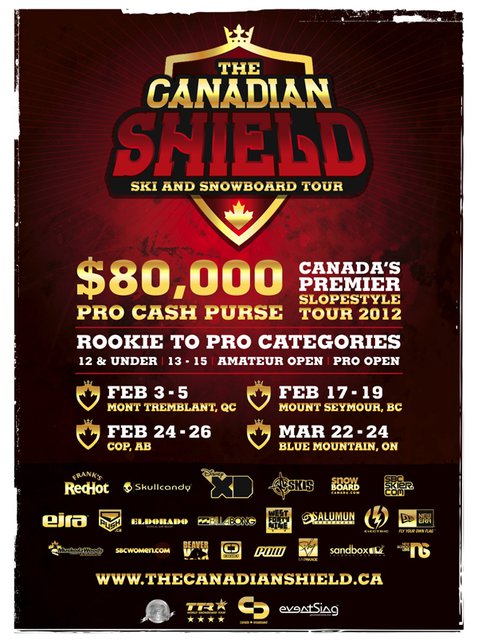 With the addition of slopestyle to the 2014 Olympic Games, the Canadian Shield is excited to announce its official designation from Canada's governing snowboard body, Canada-Snowboard, as a key part of their competition and athlete pathway towards the Olympic Games and other major events. The Canadian Shield is officially recognized as Canada-Snowboard's Long Term Athlete Development Plan (LTAD) Stage 5 Competition Series. 
"The Canadian Shield will be a platform for today's top Canadian athletes to showcase their skills as well as a launching ground for Canada's future top athletes. We couldn't be more pleased with the wealth of industry and sponsor support along with the commitments and compliments from athletes in both sports since we launched in December," says Andrew Singleton, creator of The Canadian Shield Ski and Snowboard Slopestyle Tour and founder of eventSing promotions inc. 
Online registration is currently open to all competitors at each of the four stops. For a detailed daily event schedule and stop specific information, including online rider registration, visit http://www.thecanadianshield.ca. Please note, each stop allows for a maximum of 100 competitors per discipline, so online registration is therefore highly recommended.
PRIZING
Each of The Canadian Shield's four stops will be awarding $20,000 to the ski/ snowboard male and female, Pro Open division winners for a total of $80,000 throughout the tour. In addition to the cash prizing, Snowboard Canada Magazine, sbcwomen.com and SBC Skier Magazine will be awarding a bonus of $100 and 100 tour points to the standout trick performed at each stop by both a male and female skier and snowboarder. 
K2 Skis has teamed up with The Canadian Shield to present the K2 Ski Amateur Open category. Each tour stop will see prizing awarded from series sponsors including: K2 skis, Eira outerwear, Skullcandy paraphernalia, Ogio bags, Electric goggles and New Era gear. Additionally, K2 will be awarding athlete contracts to the overall male and female ski amateur tour winners, who will be determined based on the highest number of tour points accumulated.
The snowboard Amateur Open category will feature prizing from tour sponsor at each stop including: Salomon snowboards and bindings, Ogio bags, Pow gloves, Electric goggles and New Era swag.
To top off the alluring financial prizing throughout the tour, competitors will have the opportunity to earn valuable tour points based on their finishes at each contest.  The pro male and female skier and snowboarder who earn the highest number of points by tours end will be awarded the overall tour titles and prize, a seven-day surf trip to Eldorado Surf Resort in El Salvador. For a detailed break down of the cash purse and overall prizing for the Pro Open division, visit http://www.thecanadiansheild.ca.
Winners in both categories will be awarded prizing from tour sponsors including: West 49-Billabong gift cards, Skullcandy apparel, Ogio bags and Pow gloves. You can visit the Disney XD ultimate lounge at all the events where they will be showcasing the channels content, 'Disney XD Drops In' episodes and awarding prizes throughout the day to spectators. Muskoka Woods Action Sports Camp will be awarding an overall series prize to the top ranking male and female, skier and snowboarder from either of the Disney XD rookie categories. Winners will be selected based on accumulated tour points from all four stops and the overall winners will receive a week at Muskoka Woods Camp.