Progressing What A Summer Camp Can Be
One
of the missions of The Camp of Champions is to progress what a summer
camp can be. Another is sharing the magic of COC and Whistler with the
world. Skiing is also more fun with family and friends, so to make all
of those things a reality, we built the COC Android App so our iPhone
App would have a brother to ski with and more people could find out how
much fun we have every summer at The Camp of Champions. Now you can
check news feeds, photos, videos and contact us all from your Android
phone and or tablet, as well as from your iPhone or iPad.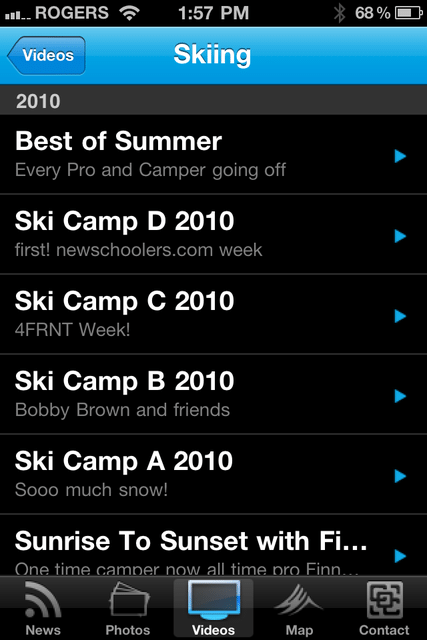 ALL OUR VIDEOS IN THE PALM OF YOUR HAND
The "Video" section has all The Camp of Champions videos loaded, so instead of
carving AC/DC into the back of the bus seat while you go to school, you
can watch COC coaches and campers rip it up in the park. You can access
our interactive tour of the Whistler Bike Park through this section as
well. Instead of clicking on the map, you can scroll through the trails,
sorted alphabetically and by ability level required. Check out all the
Weekend Warrior videos and more. Just click play. The app also updates
the videos automatically when new videos are added. Never be bored
again.
ALL YOUR FAVORITE NEWS FEEDS
You can use the COC app to keep up with news feeds from Newschoolers.com, SBC Skier, 4FRNT, Pinkbike,
Transworld SNOWboarding, Whistler Blackcomb, GoPro,
Push.ca, Burton, Powder Mountain Heliskiing and Catskiing, Billabong,
Snowboard Canada, Dakine, Siberian Sandbox (the
workout program a ton of Whistler pros use to stay ahead of the game) as well as the Camp of
Champions of course. The COC app pulls each of their feeds into the app
so you can check all your favorite sites without hitting a browser.
YOU CAN DROWN IN THE PHOTO SECTION
The "Photo" section has every shot from camp loaded so you can check out
or re-live every day of camp through every single photo that our
photographers shot this summer. There are over 30,000 shots on the app.
There are enough photos for 104 hours of stoke if you check out every
photo for 5 seconds. I don't know if anyone has actually done that yet,
but feel free to try.
WHISTLER MAP
A cool feature of the COC App is that it uses the GPS feature of your
phone in the "Map" function. The "Map" has everywhere you need to know
about at COC and in Whistler already highlighted. When you come to camp
and want to know where to meet us at "The Dorm", where to go to eat, where to score the best skis deals in town,
etc, you can just click on the "Map" feature, and click on the preloaded
location pins. The entire Whistler Bike Park has been mapped for the COC app so
you can see where the best jumps are, where your favorite lines are and
of course where the GLC patio is so you can meet us for lunch. Your
location also shows up on the map so if you are in the park or in town
you can keep from getting lost, or see how far you are from another run
on A-Line. You can also see where "The Compound" is so you can meet us
to session the Big Air Bag, the mini ramp, play Halo, BBall, pool, ping
pong, hit the mulch pit and dirt jumps.
The best feature of the "Map" section is the interactive video tour of
the Whistler Bike Park. The Camp of Champions, with help from GoPro,
spent a couple weeks last summer filming every trail in The Whistler
Bike Park in HD from two angles. The footage was then synced and tagged
with a GPS point. Set up in a split screen format, you can ride with /
follow COC coaches Alan Hepburn, Xavier Raventos, Brett Tippie, Jarrett
Moore and friends Andrew Baker and Kyle McDonald through the Whistler
Bike Park. If you are riding the park you can use it to pre-ride a trail
to be safer by knowing what to expect. See the lines the pros take. Use
it to get rid of your intimidation of a certain trail or to show your
friends that are nervous about hitting the park that the Whistler Bike
Park isn't just what you see in magazines. It's also great for those
days you can't ride and wish you were in Whistler. Once you download the
app you can watch the videos and all our other content on your phone
from anywhere. Check out your next run - From the chair, from the GLC
patio or from the other side of the earth and get stoked for your next
day in the Whistler Bike Park.
DOWNLOAD THE APP AND WRITE A REVIEW
Download the COC Android and Tablet App from the Android Market or the iPhone/iPad/iTouch version from the Apple App Store on your
phone. Type "Camp of Champions" in to the search field and click
download. If you like it, and we hope you do, please take the time to
write a review.
WANT AN APP OF YOUR OWN?
If you want an app for your company hit Jomar Sorftcorp and they can build you the Android App of your dreams.
If you want an iPhone/iPad/iTouch app hit Gnarshmallow on Newschoolers and he can build you one, as well as tell you about the advances in Gnarhmallow world.
ABOUT THE CAMP OF CHAMPIONS
The Camp of Champions was started in 1989 by Hall of Fame Snowboarder Ken Achenbach as a place where snowboarders, skiers and mountain bikers could learn from the top pros on earth using the best facilities to help everyone slay it when they get home. It doesn't matter where home is, your local hill or on the podium you learn and get better at skiing at The Camp of Champions. . Ski with Bobby Brown, Banks Gilberti, Tom Wallisch, Sean Pettit, Matt Sterbenz, Eric Hjorleifson, Matt Margetts, Callum Pettit, Bene Mayr, Paddy Graham, Sven Kueenle, Keltie Hansen, Mack Jones, WIll Berman, Finn Anderson,
Andy Partridge, Luke Van Valin, Dana Flahr, Ian Cosco, Dylan Natale, Chris Benchetler, Tim Durtschi, Matt Walker, Gus Kenworthy, LJ Strenio and more than a few others. With a snowpark that is 2x the size of any other camps park and more time on snow, more time learning, more time coaching as well as best price of any summer ski camp, The Camp of Champions is where you want to be having fun with the pros this summer.