Words & photos by Jeff Schmuck
Momentum and Camp of Champions just concluded in beautiful Whistler, BC this past weekend, but before we unleash the final update on everything that went down just prior to the bitter end of summer camp, here's a big ol' recap of the good times that were had the week before during Session 3 of COC and Session 4 of Momentum...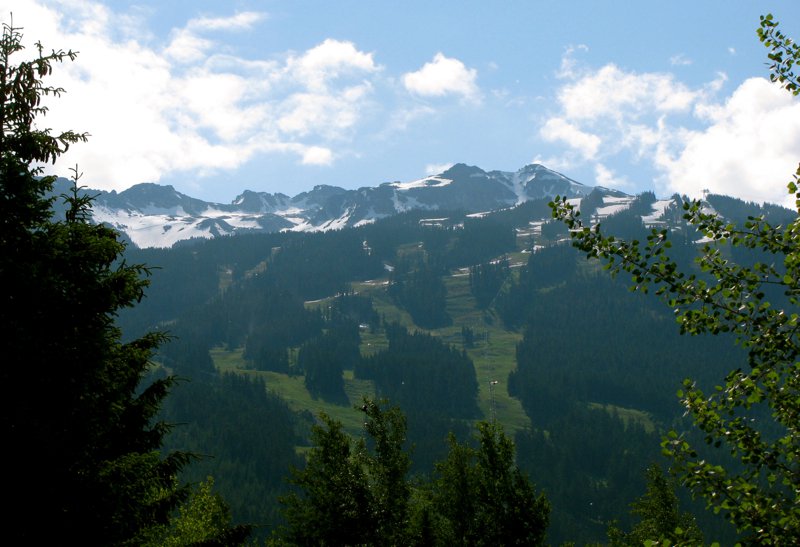 Blackcomb Mountain in Whistler, BC.
Let's begin with Camp of Champions, where dueling banjos of signature sessions took place with the two most popular webisode series on Newschoolers, Line Traveling Circus and Chug Life, who hosted Line Traveling Circus Week and Chug Life Week concurrently. And while some wondered if any turf wars would ensue between the two entities or Andy Parry and Will Wesson would run around naked while Ian 'Chug' Cosco ate Mr. Noodles three meals a day, it was sadly not to be.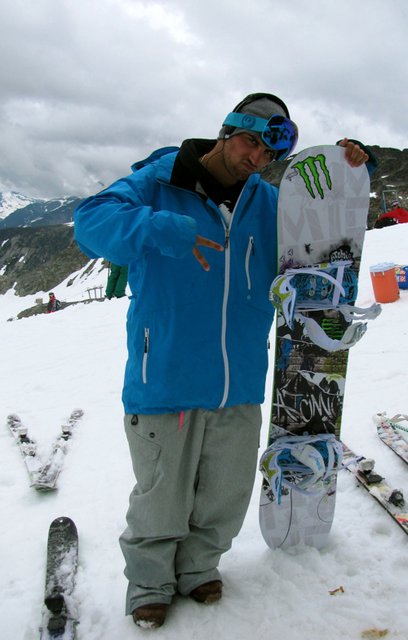 Ian 'Chug' Cosco was on hand at Camp of Champions for Chug Life Week, but due to a nasty cut on his foot couldn't squeeze into his ski boots, so he decided to prepare to take down Shaun White at the 2014 Olympics by snowboarding instead...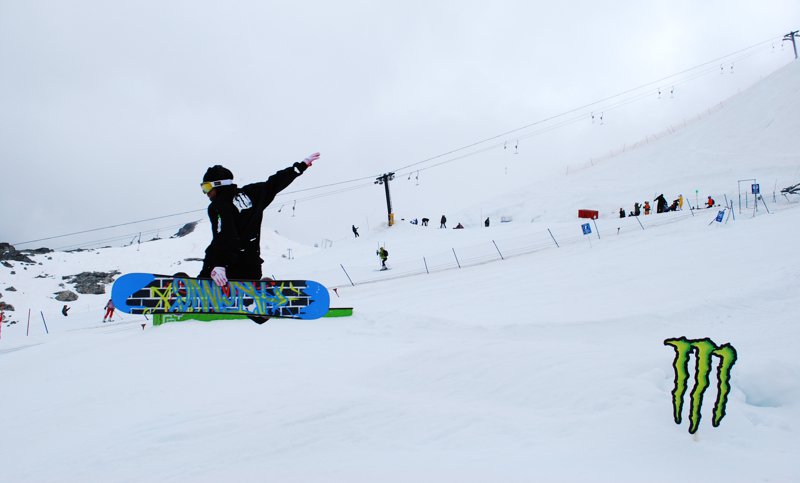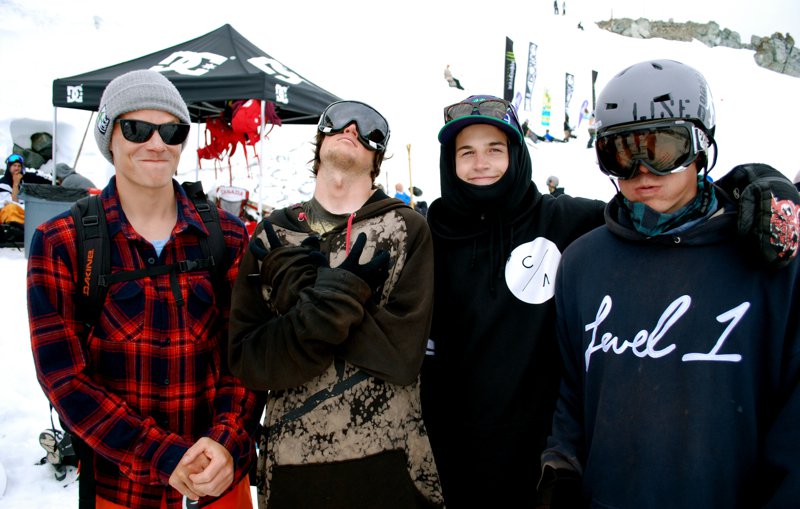 Also taking place at COC was Line Traveling Circus Week, where in attendance (along with an injured LJ Strenio, who due to a nasty cut on his foot (which must have been some sort of theme) was unfortunately unable to ski as well) were...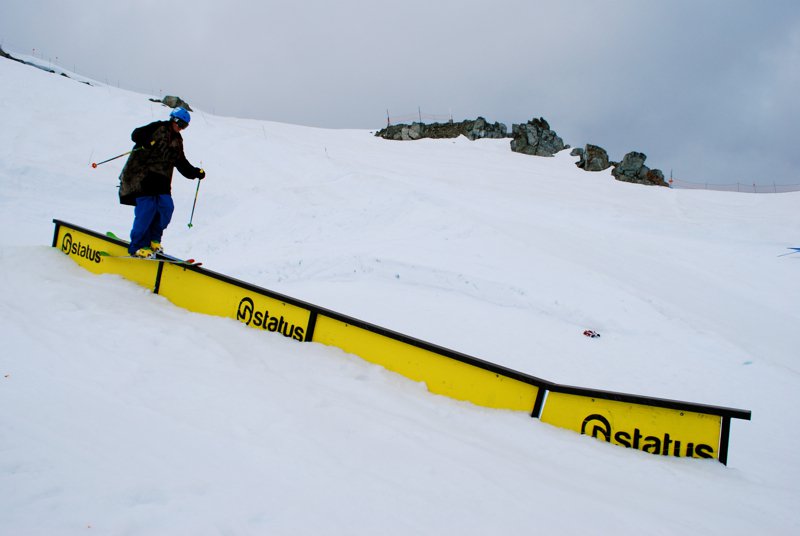 Andy Parry
Will Wesson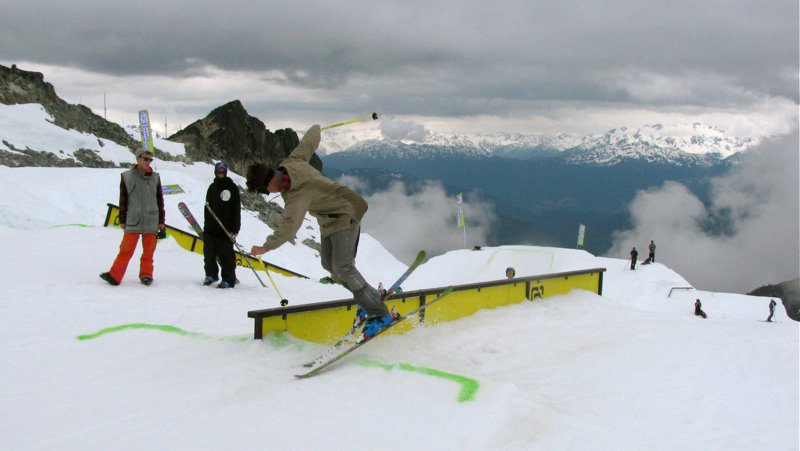 Max Hill
Cole Drexler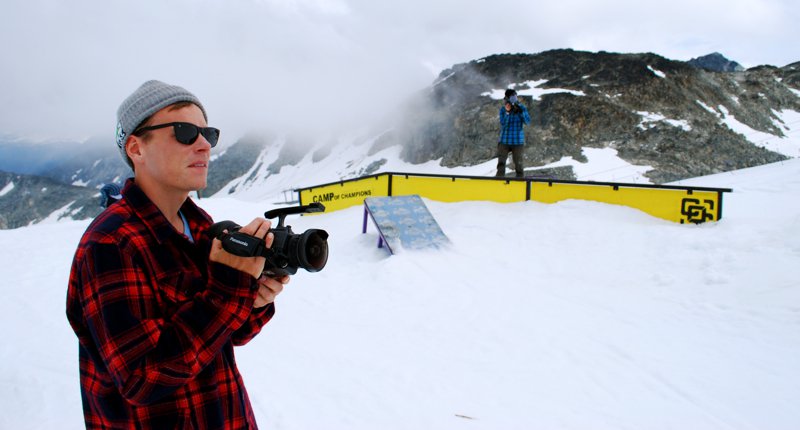 Shane McFalls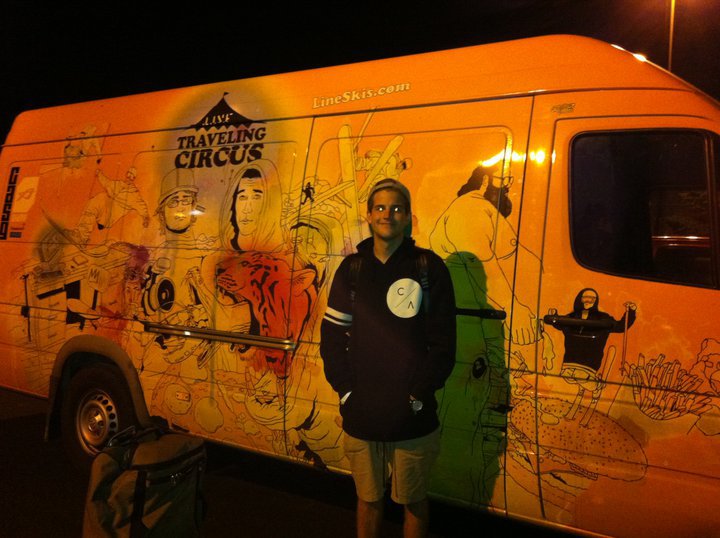 ...and of course, Van Bear Pig!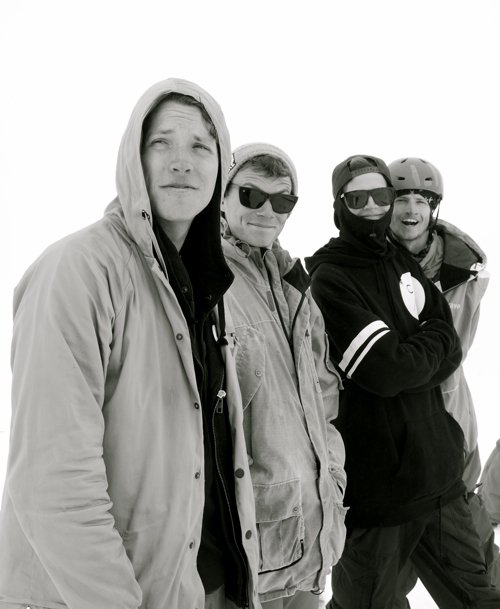 That's a fine looking group of handsome and esteemed gentlemen right there, well...except for Andy.
The Line Traveling Circus crew spent each and every day hosting the always enjoyable Send It With Sessions, where one feature of Camp of Champions' many is selected for the campers to session with the guest pros...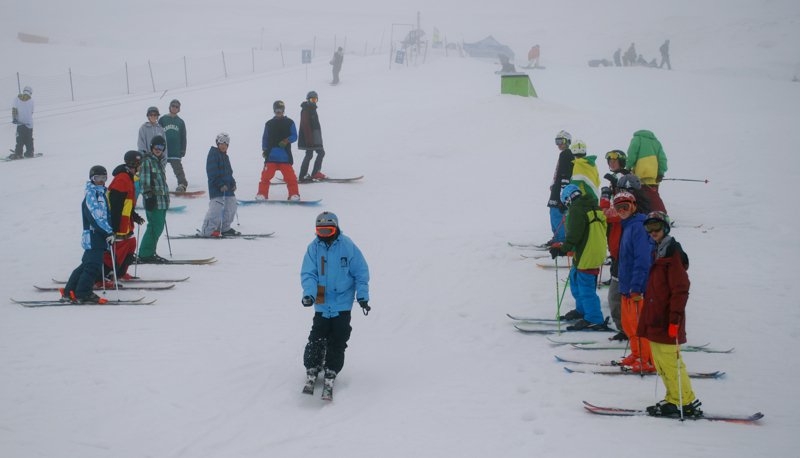 Getting ready to...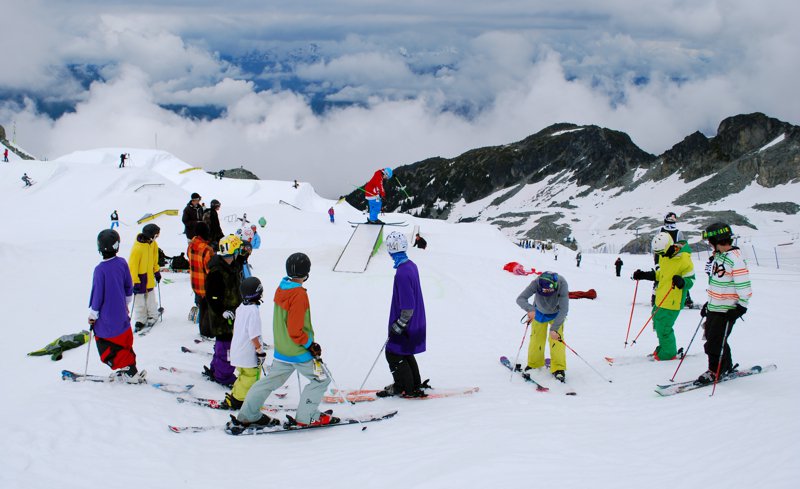 ...send it!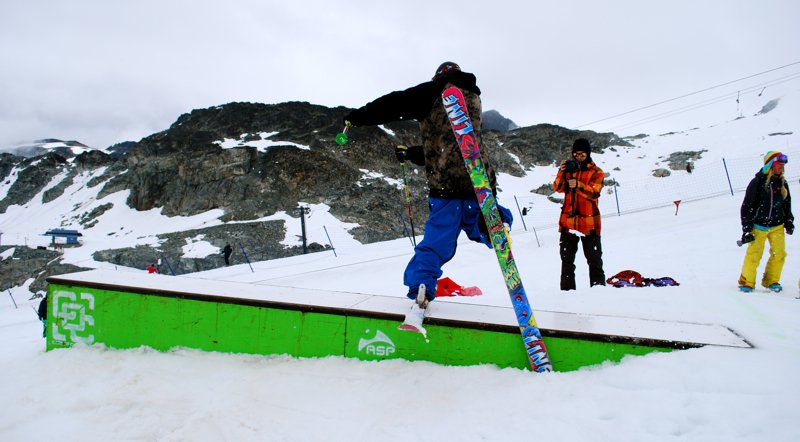 Due to the weather being a bit murky during the session, the jumps were a little less 'sendable' than usual, causing a lot of traffic on the overabundance of rails at COC throughout the week. But then again, what else would you want to session with the boys from Line Traveling Circus? Here Andy Parry teaches the campers how to lay down his signature trick, The Hippy Killer...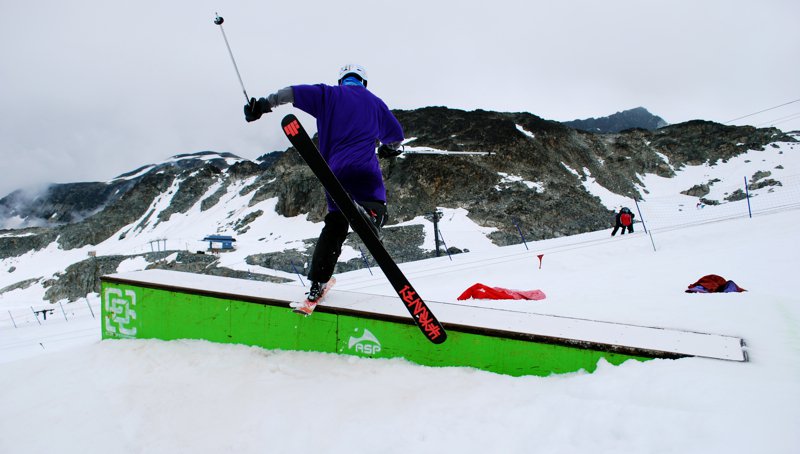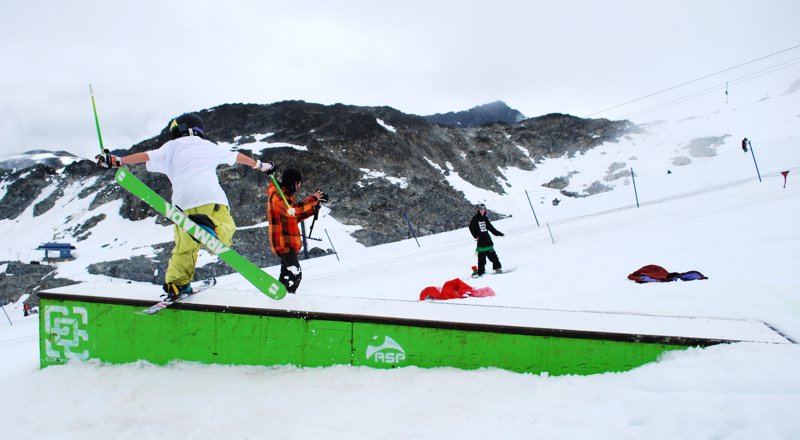 Aspen Spora. One to watch out for...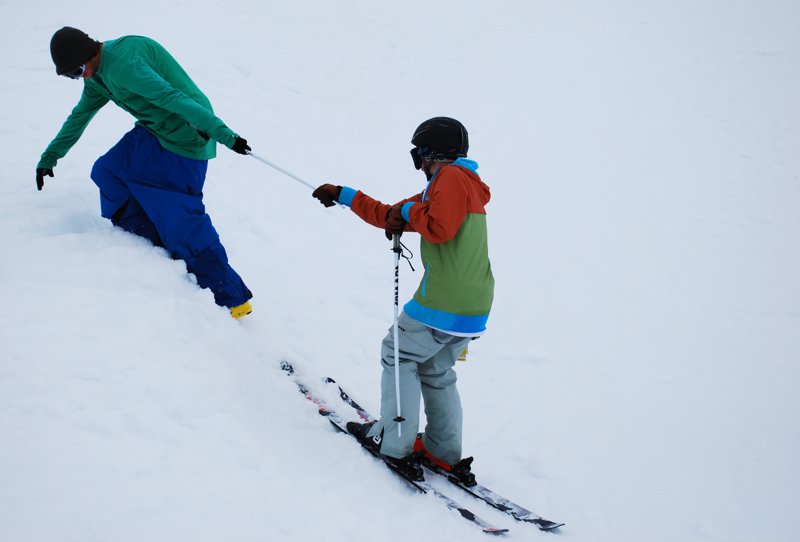 If the t-bar line is too long, never fear, Andy is here.
Also playing the slay game in Camp of Champions' most impressive lane to date were, among others...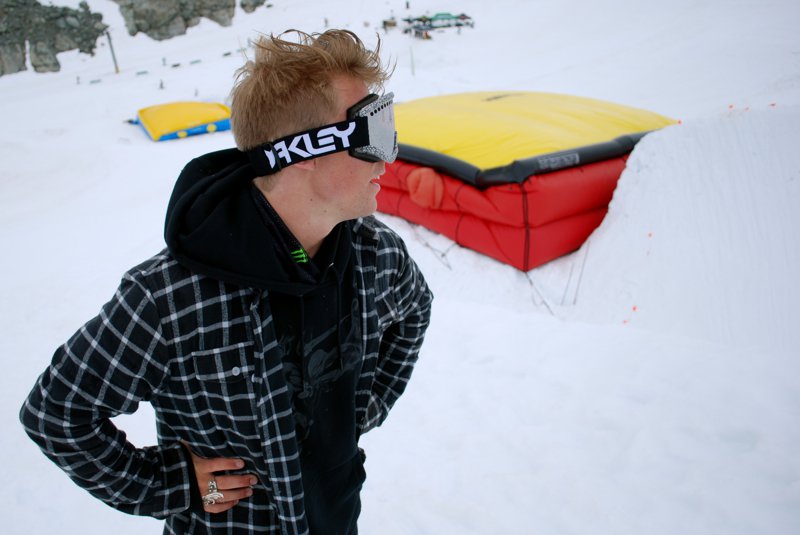 Jossi Wells...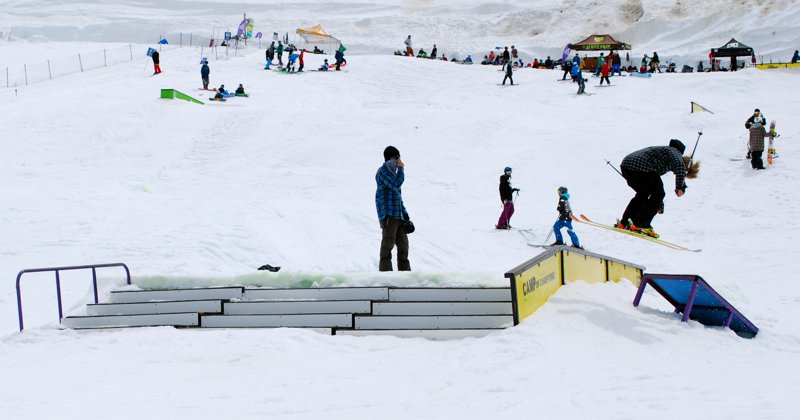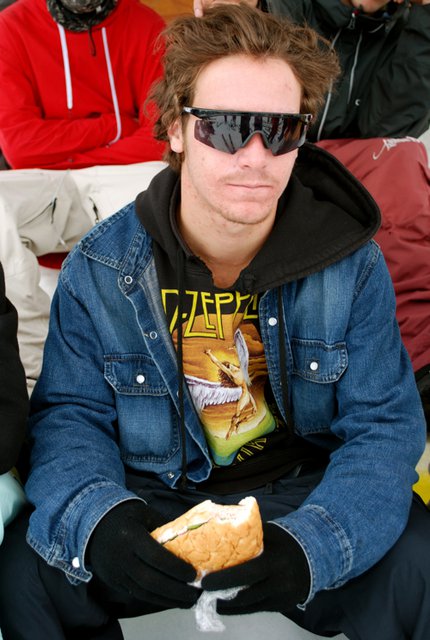 Sean Pettit...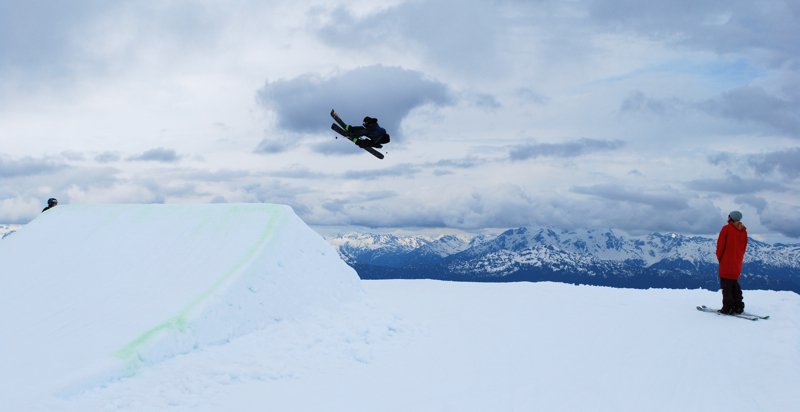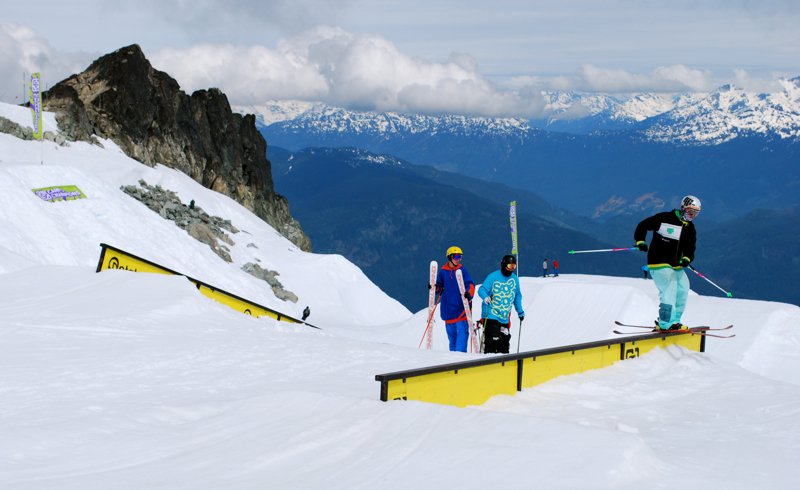 Mack Jones...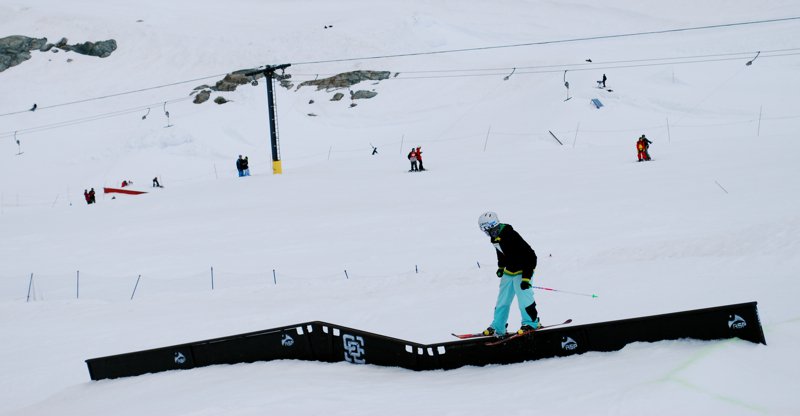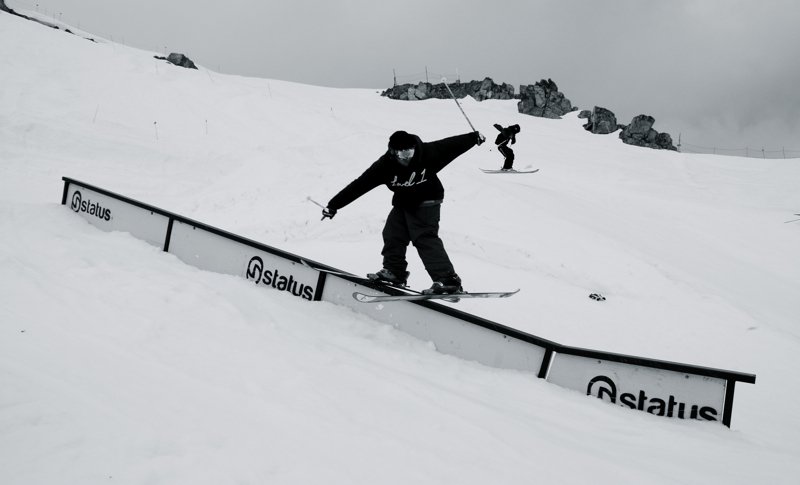 Chris 'C-Lo' Logan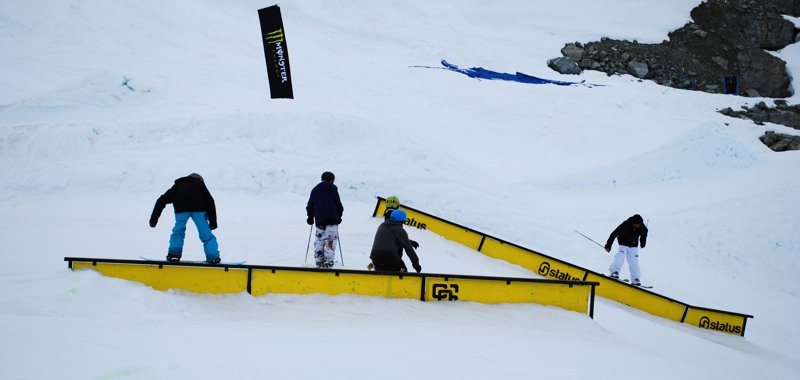 Joe Schuster
Oscar Scherlin
Emile Bergeron, aka Mini B.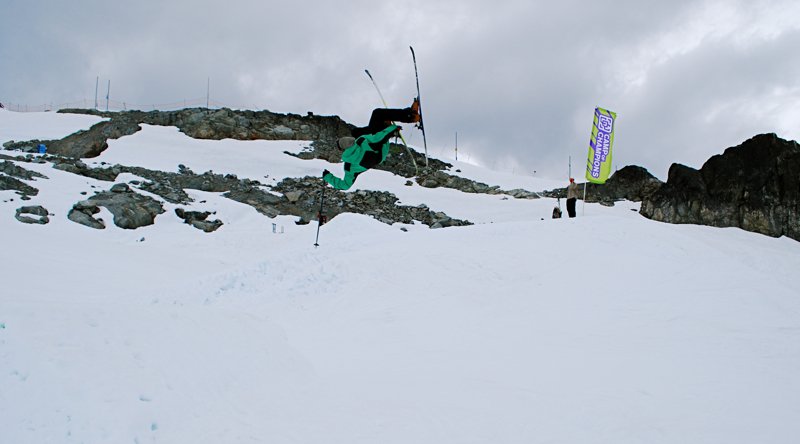 Colston VB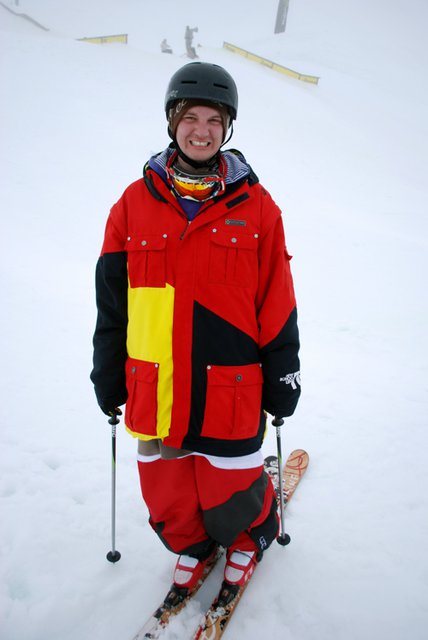 And Newschoolers' very own Malcolm 'Arcade' Arcand...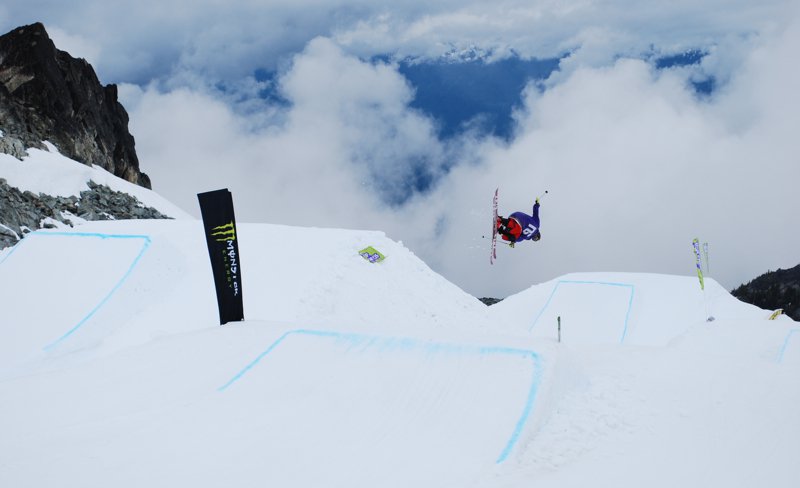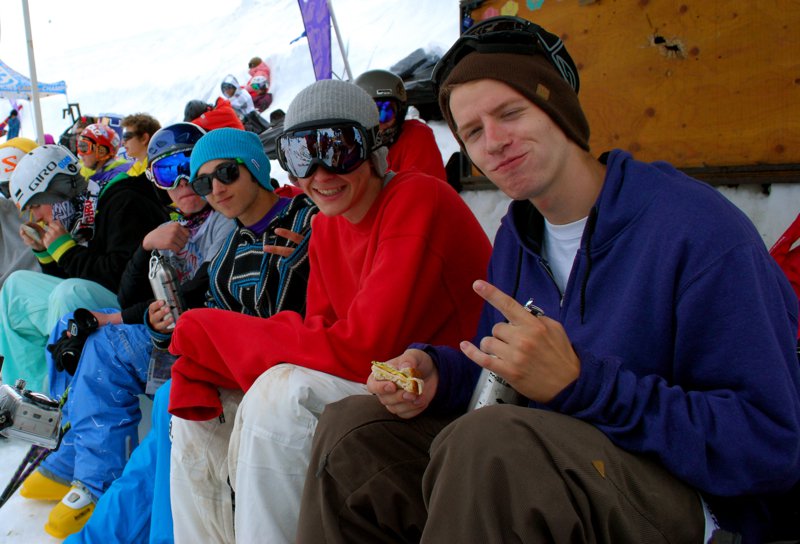 But most importantly, and as always, no one was given'er harder than the shred heads who make summer camp what it truly is: the campers...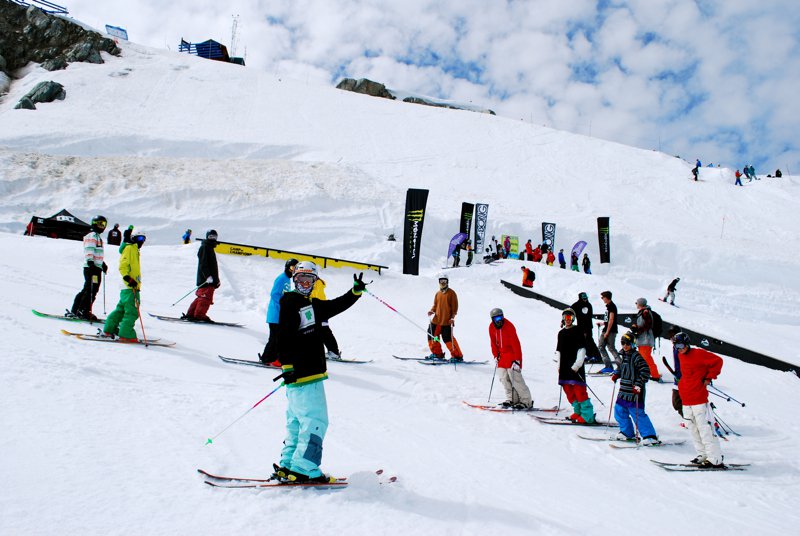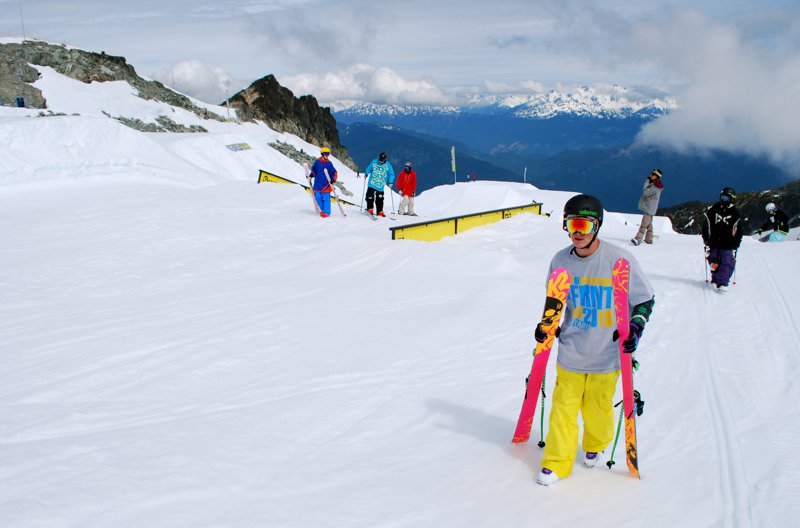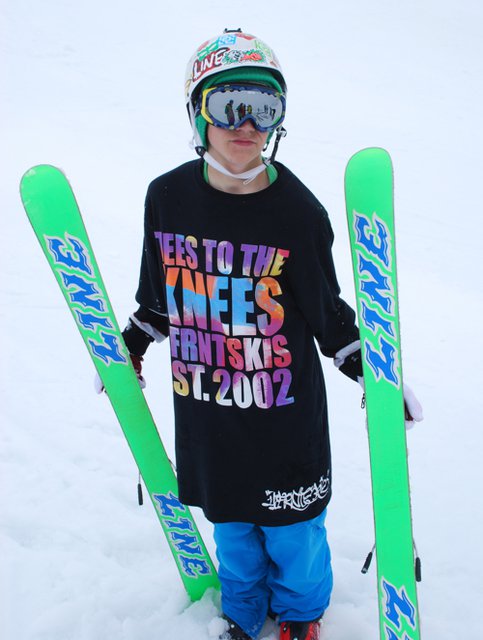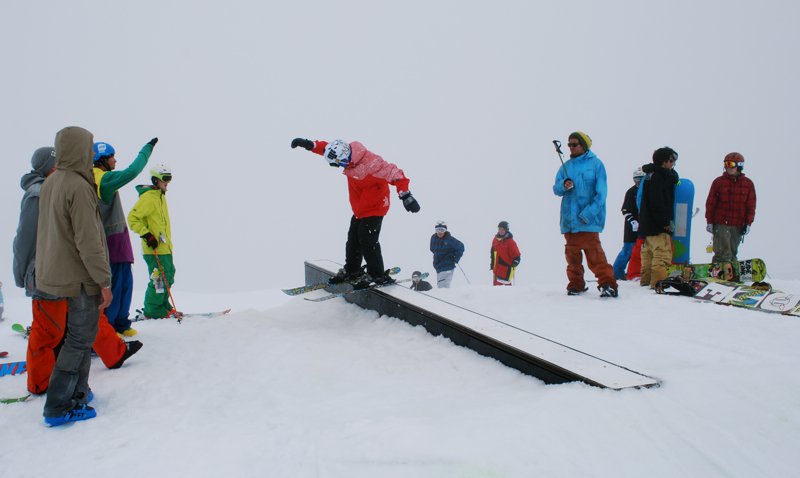 Big ups to Misheel Enkhboldsodon, aka 'Mongolia', who was killing it at Camp of Champions all summer long and is one of the coaches' favorite campers. And yes, he's actually from Mongolia.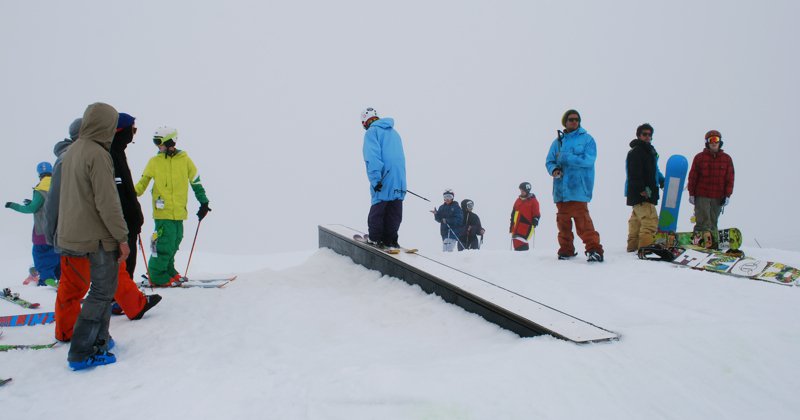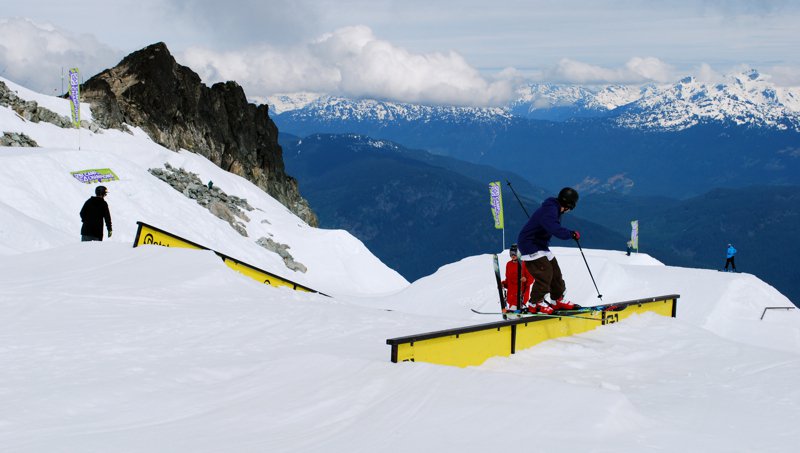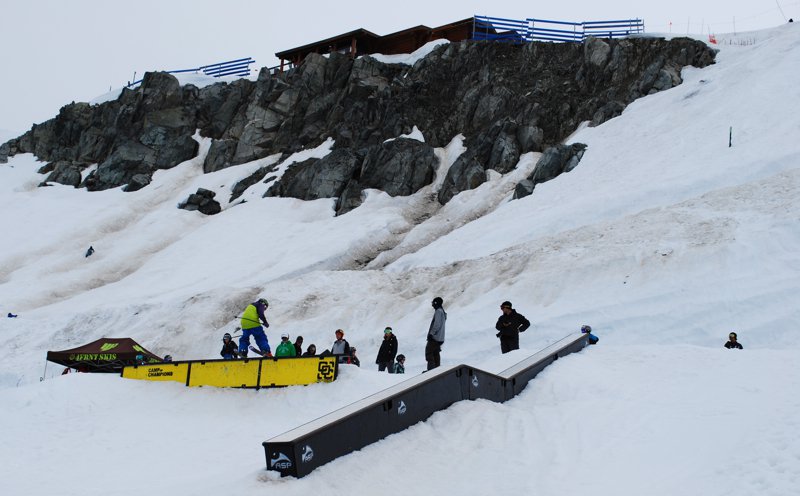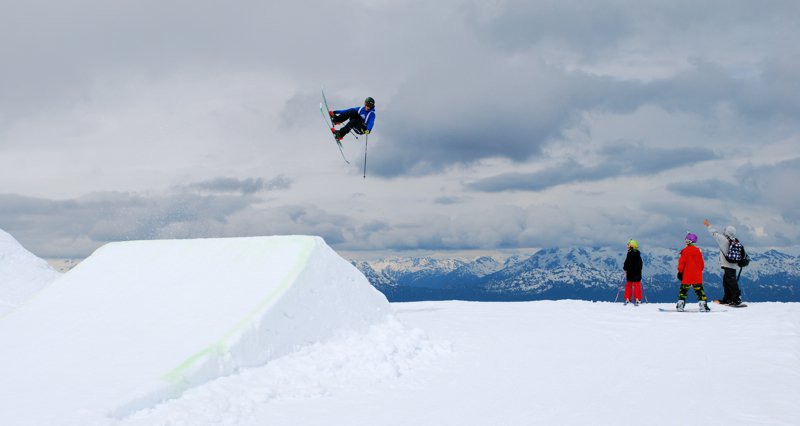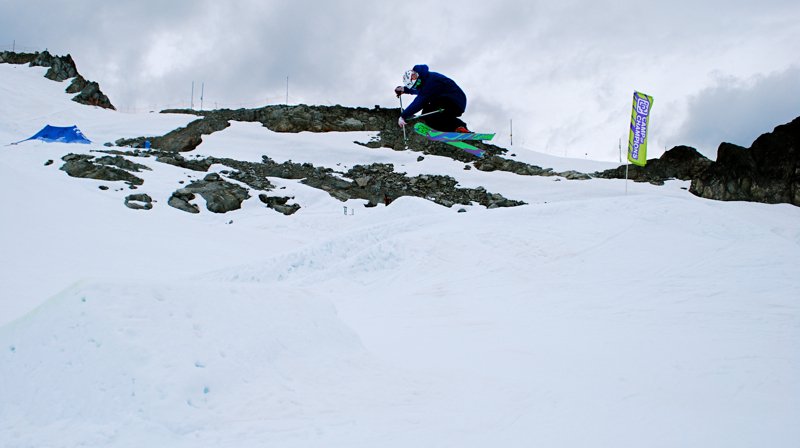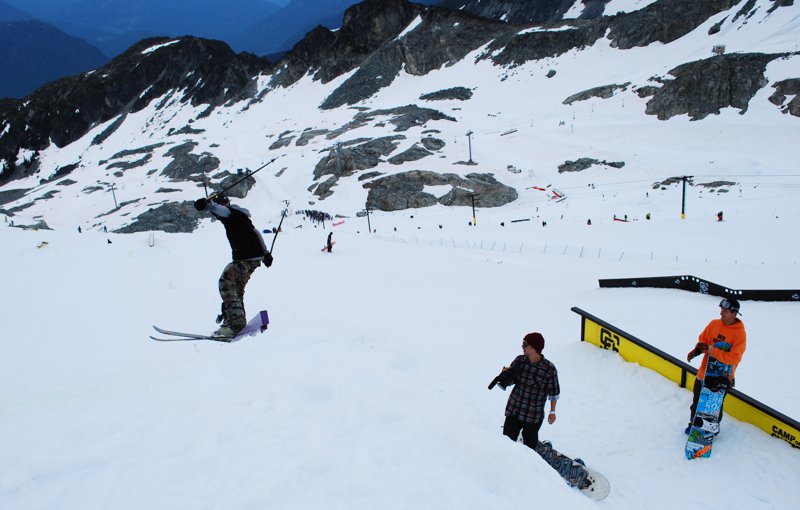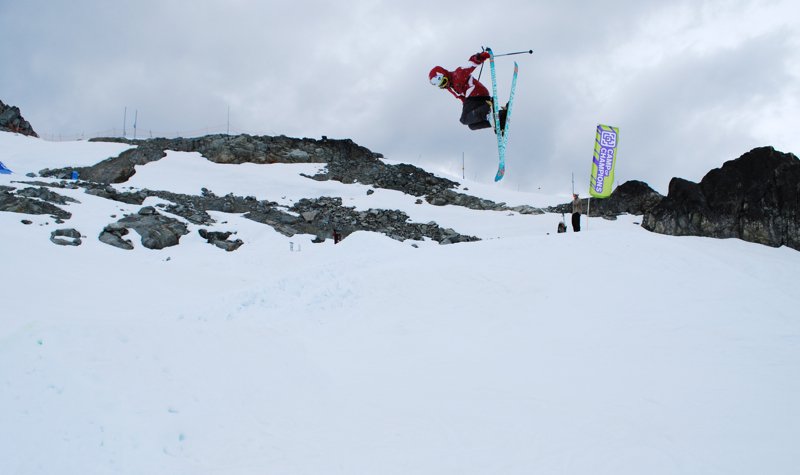 However the biggest props of the week went out to pro snowboarder and Camp of Champions legend Colin D Watt, who strapped into skis for the first time in years, dropped in (without a practice run), and busted out a big ol' backflip on the first kicker in the triple line...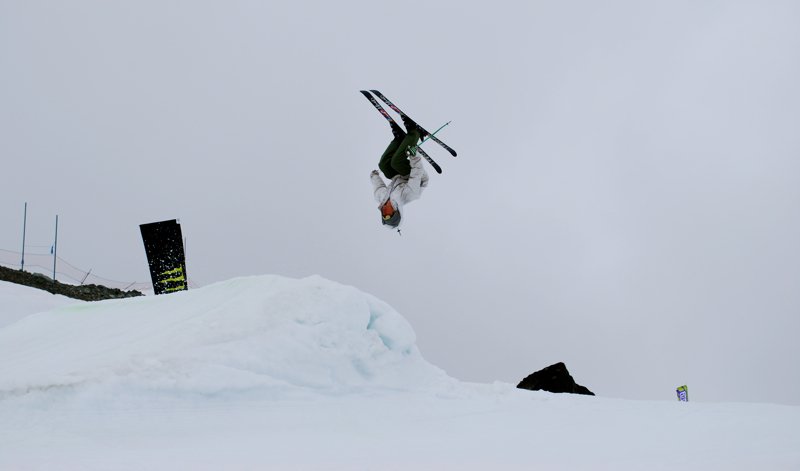 Props D-Watt!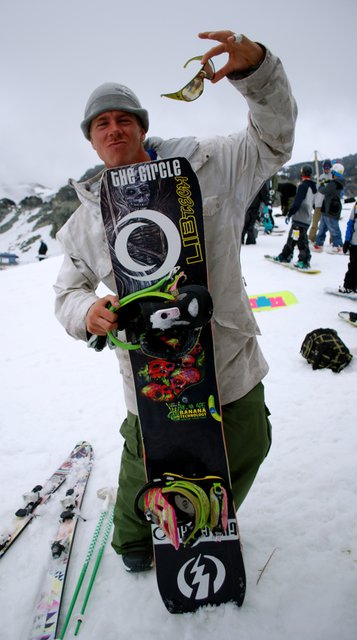 Once the session had wrapped up, it was good times as usual in The COC Compound, where the Line Traveling Circus crew capped off the week in a much less delicious way than the nearby barbeque...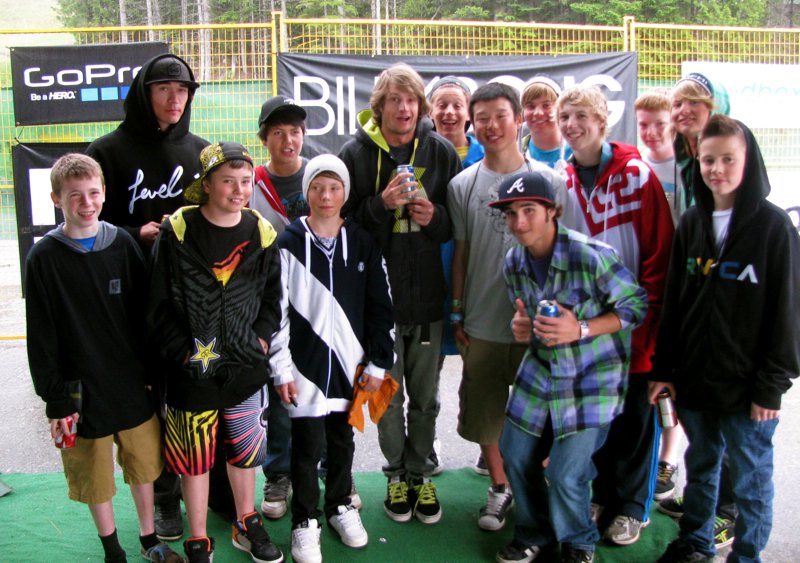 Happy Campers...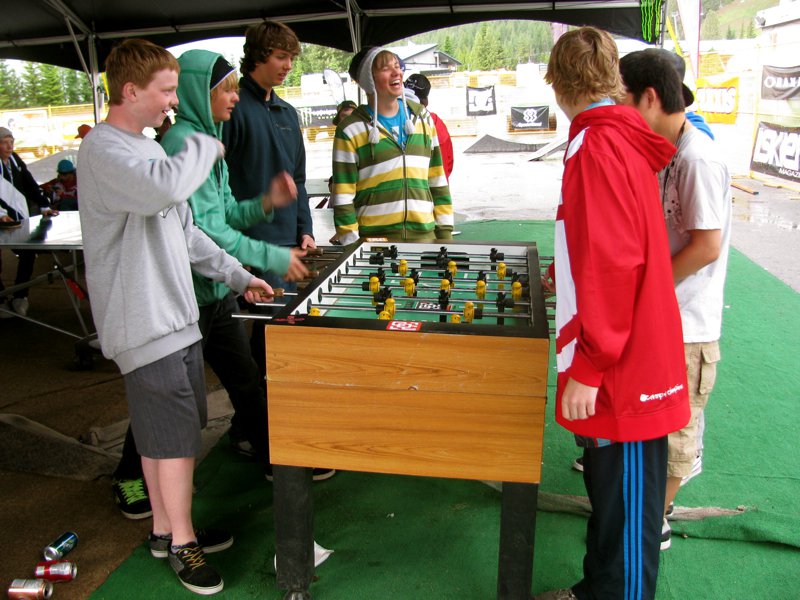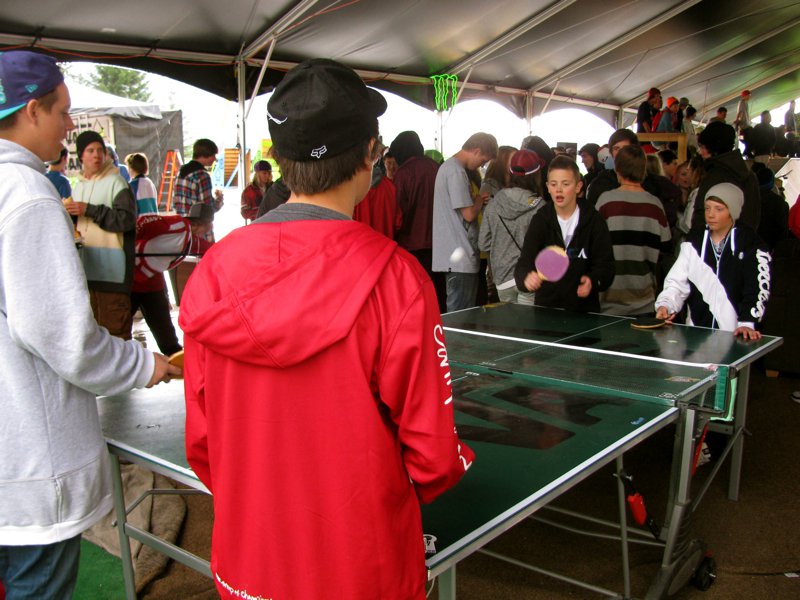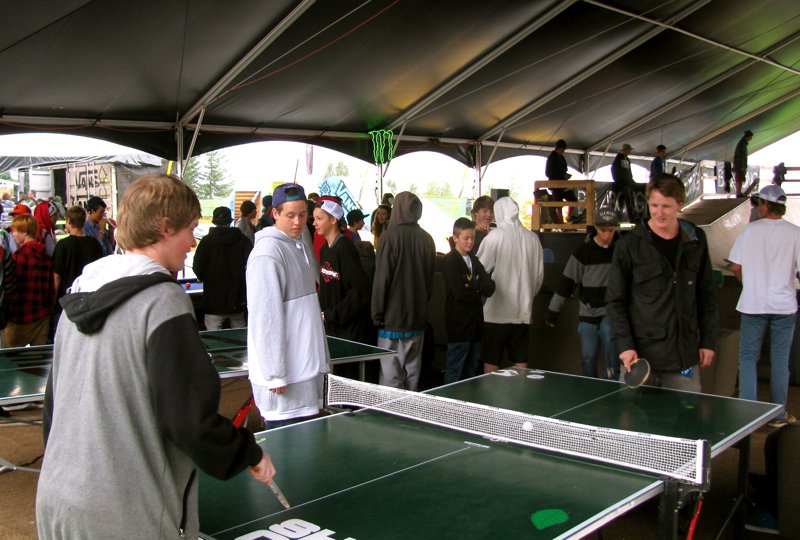 Newschoolers' Malcolm Arcand and David Peacock, Managing Editor of our sister site, Ridemonkey.com, take part in an interoffice game of ping-pong.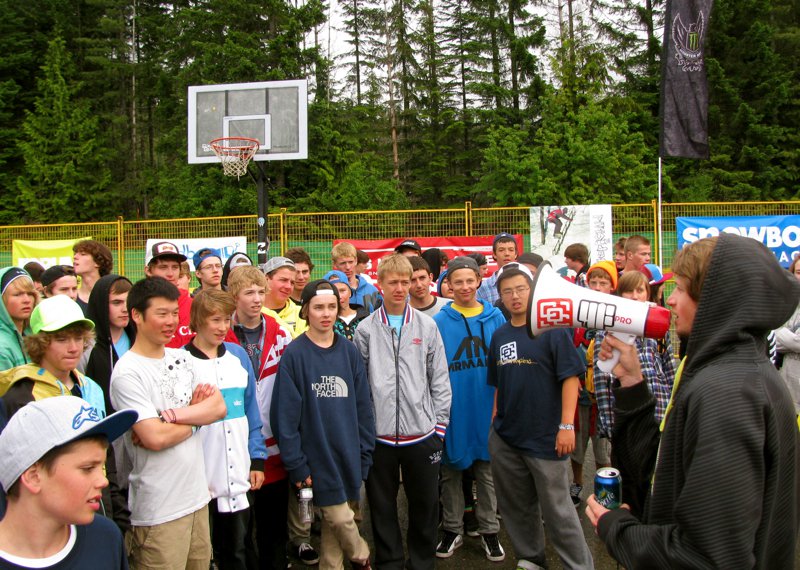 And here's where the fun began. Andy Parry mans the megaphone to explain how campers can win...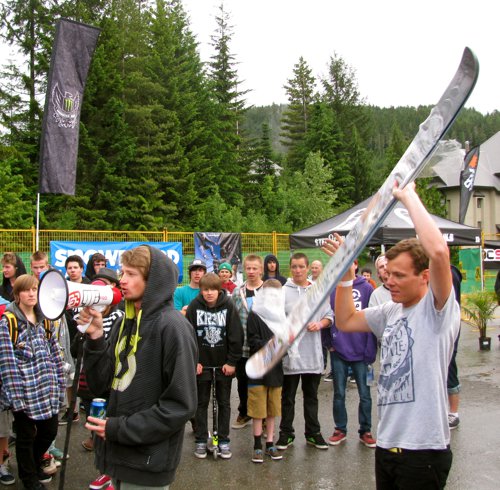 ...a pair of Line EP Pros!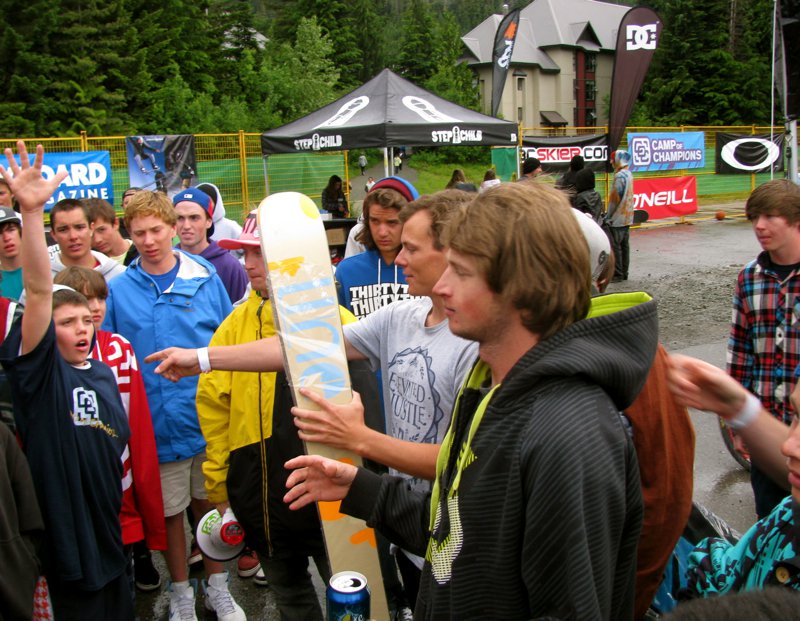 First, some Line Traveling Circus trivia to determine who will compete for the skis.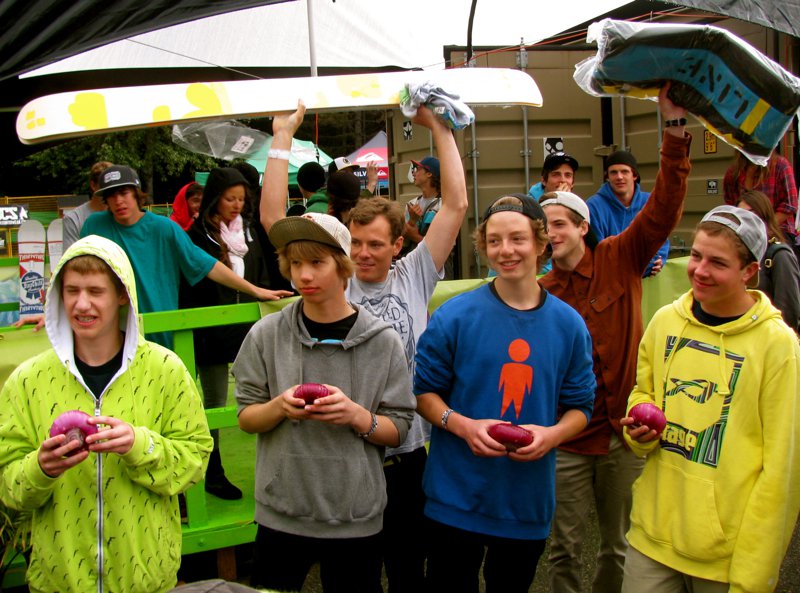 The first five to answer the trivia questions correctly moved onto the next round, where some massive onions awaited them...and it wasn't a throwing contest.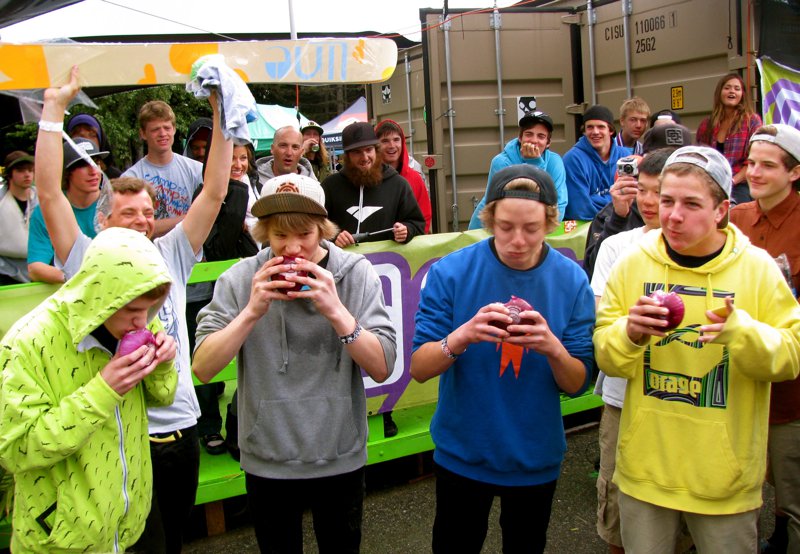 Here we go...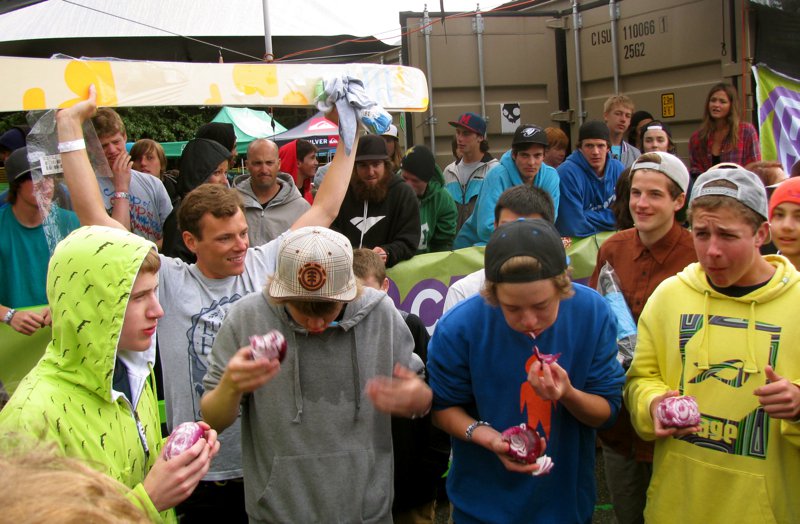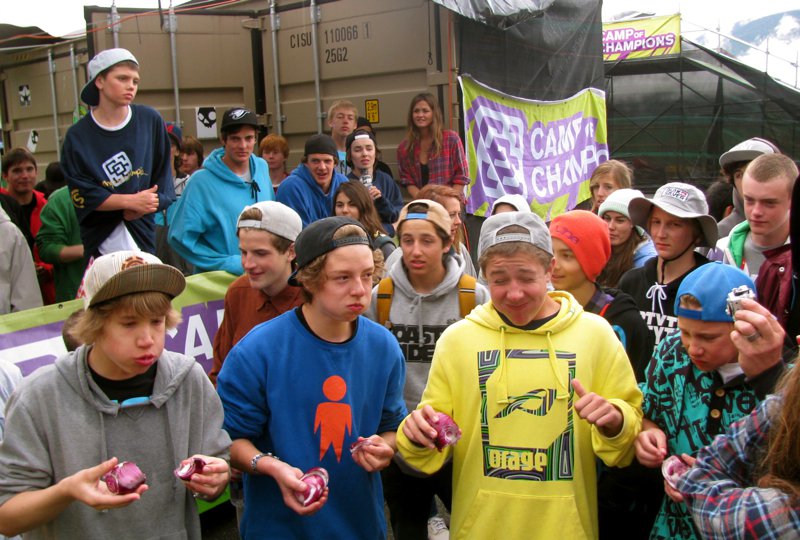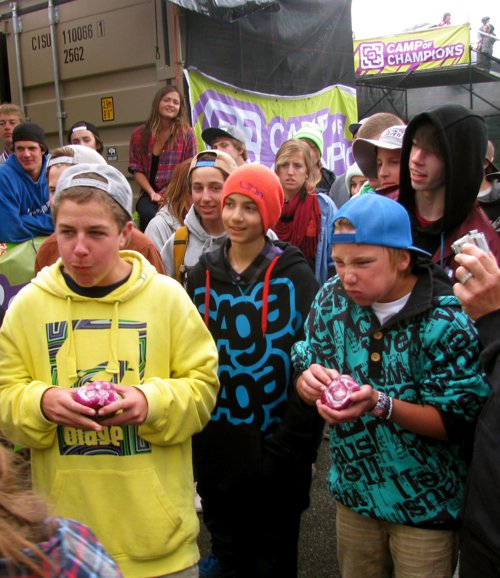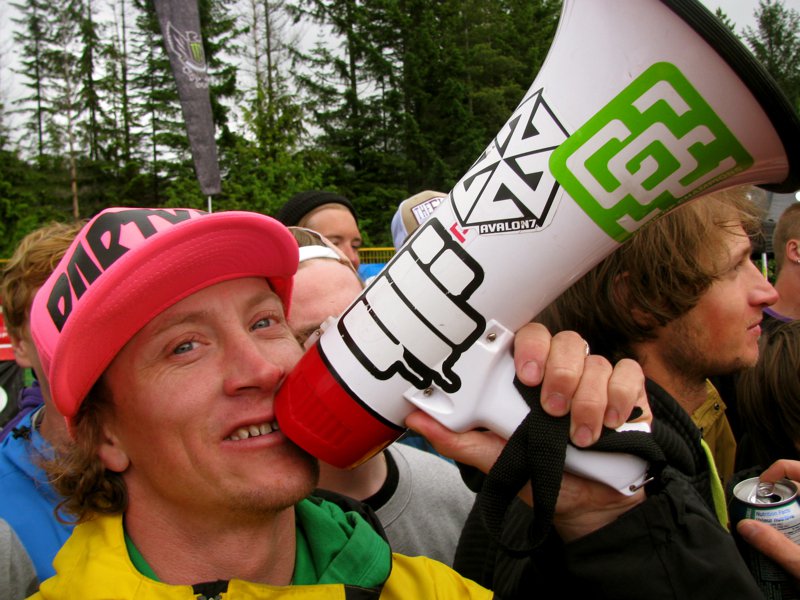 Andy Parry and Camp of Champions Head Snowboard Coach Rob 'Kinger' Kingwill offer some encouragement to the participants.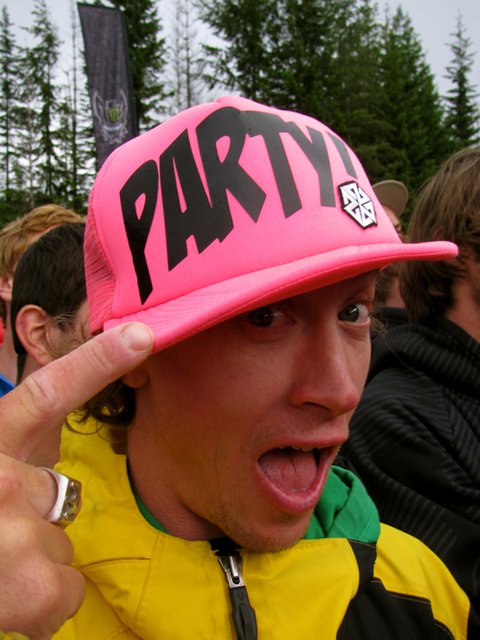 And in case you didn't know...Kinger likes to party.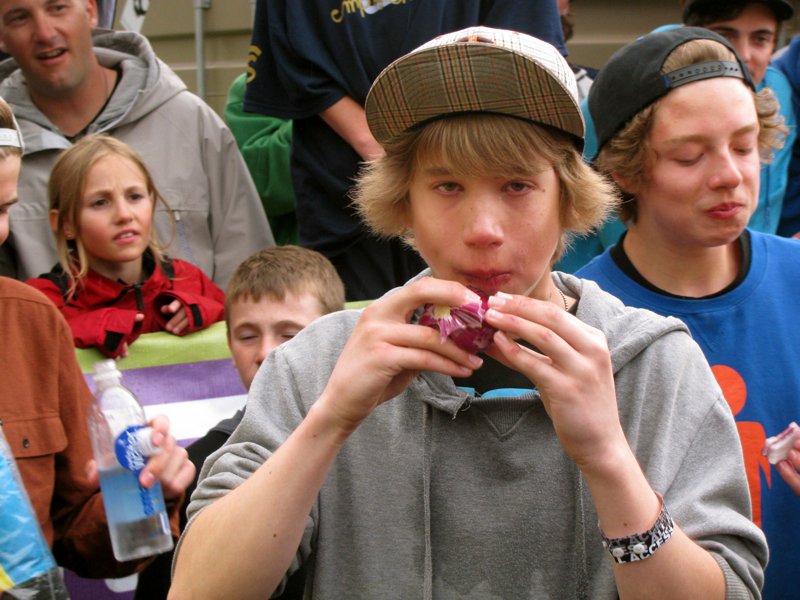 Back to the onion eating extravaganza, where some tears started being shed...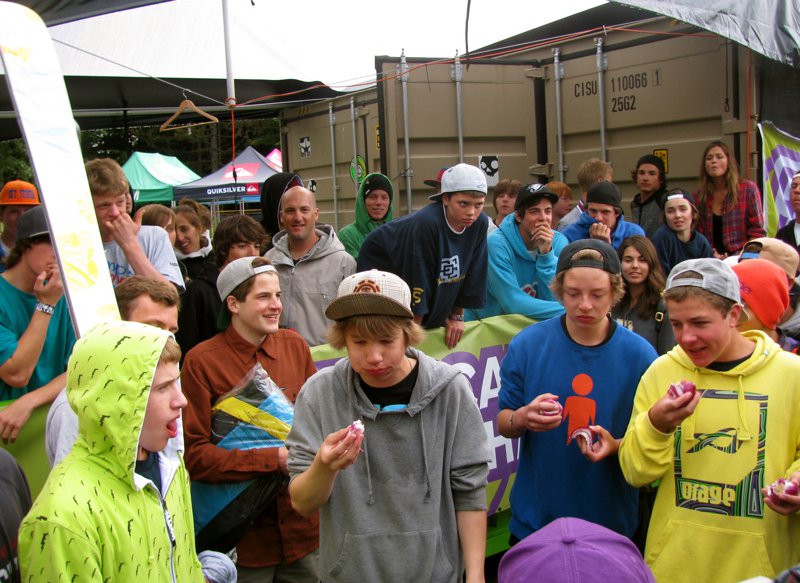 Almost there...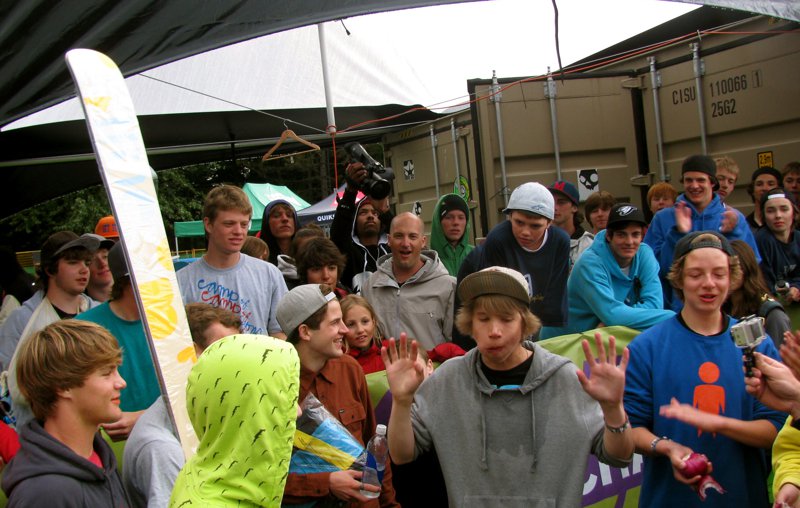 Closer...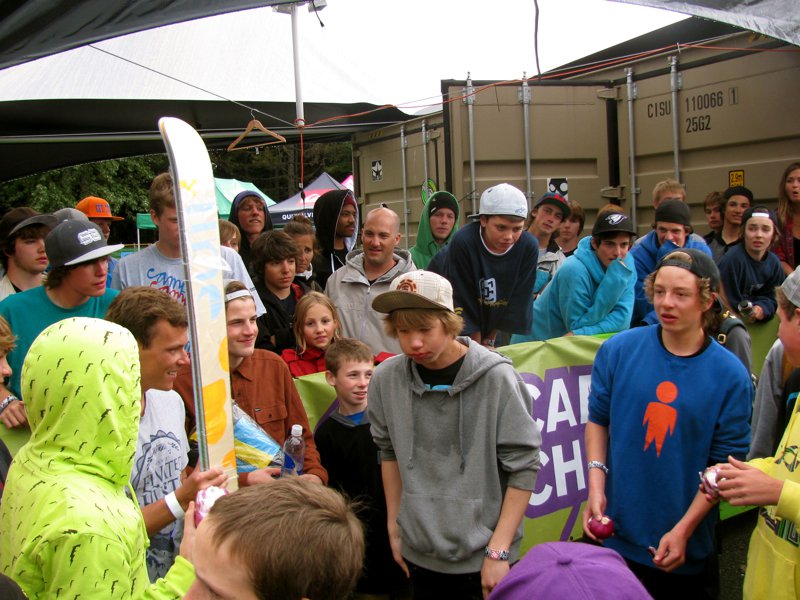 No puking...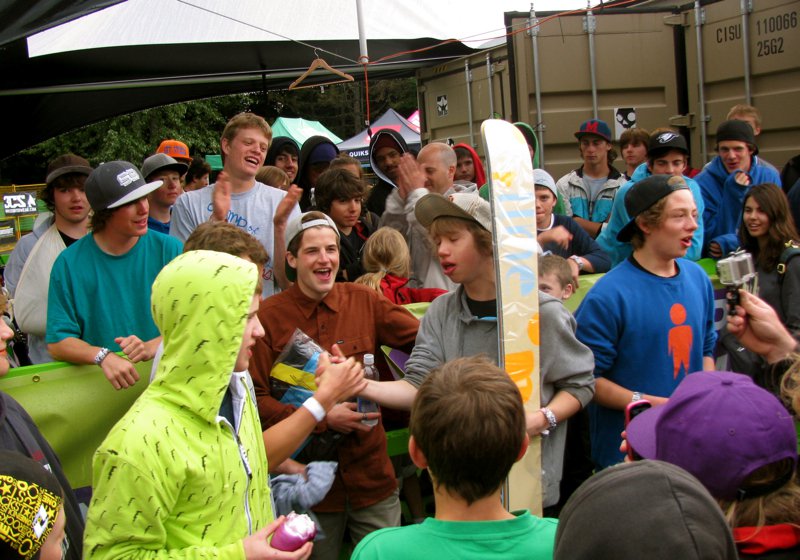 Props!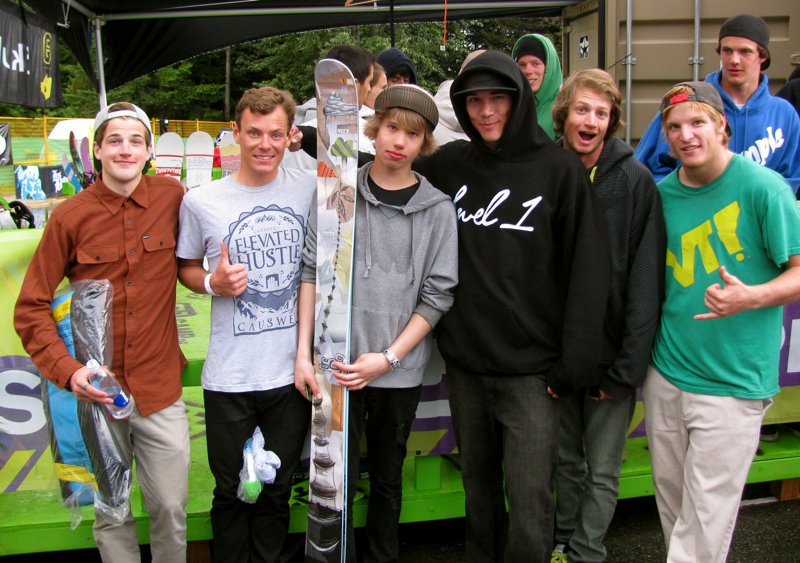 Cole Drexler, Shane McFalls, Will Wesson, Andy Parry and LJ Strenio with the winner, who will probably never eat an onion again but will forever enjoy powder skiing that much more.
Meanwhile, across the Horstman Glacier at Momentum, the lack of bluebird skies in Whistler left the big jump feeling somewhat lonely throughout the week, but the campers, coaches and guest pros were more than happy to spend the session getting their licks in on the overflow of amazing features in the lane, most notably the Skullcandy stair set...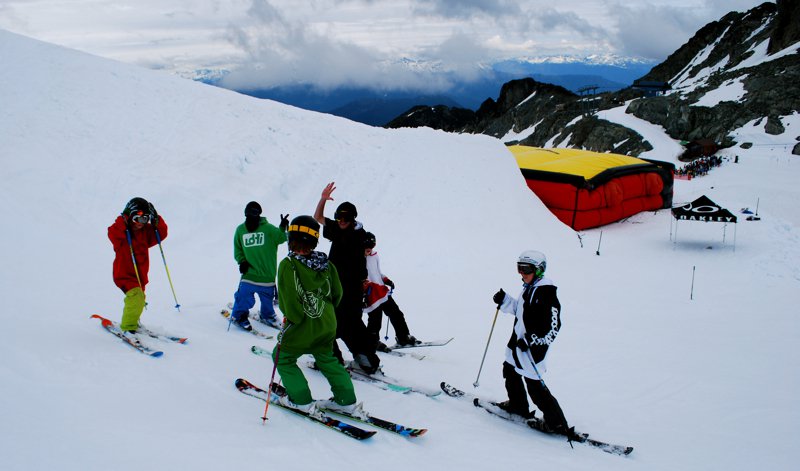 Tom 'T-Wall' Wallisch and Paul 'B-Paul' Bergeron show their campers the ropes on the Skullcandy stair set...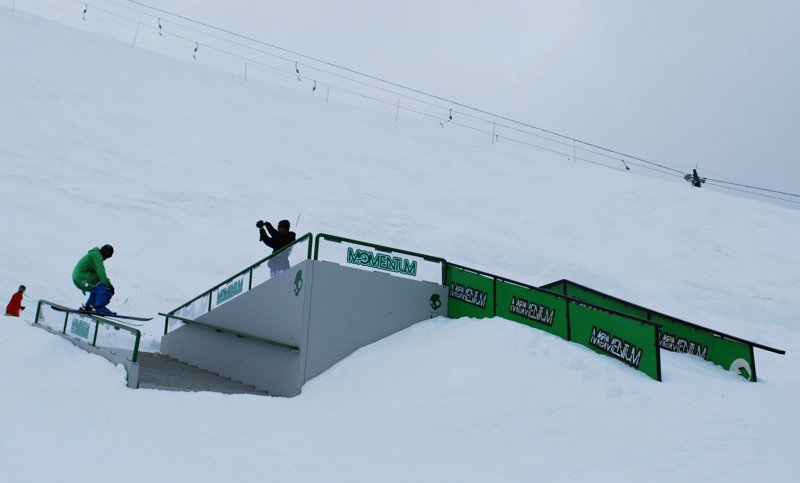 T-Wall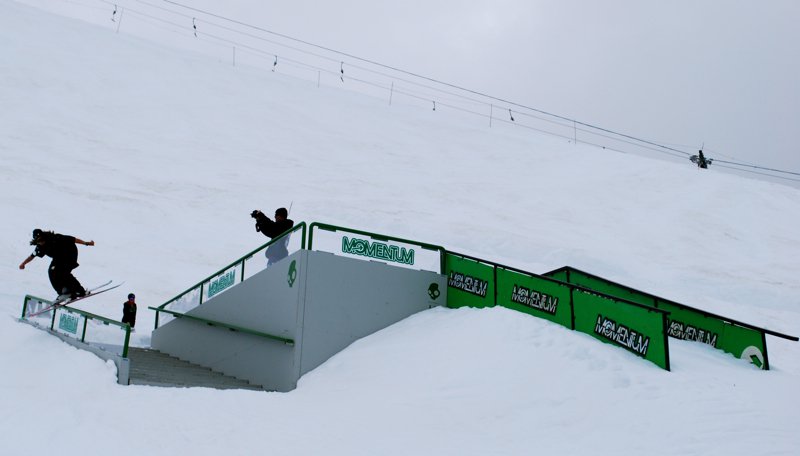 B-Paul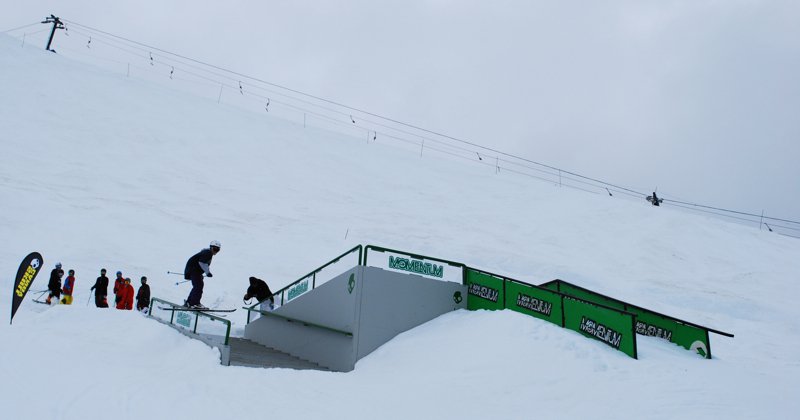 Campers...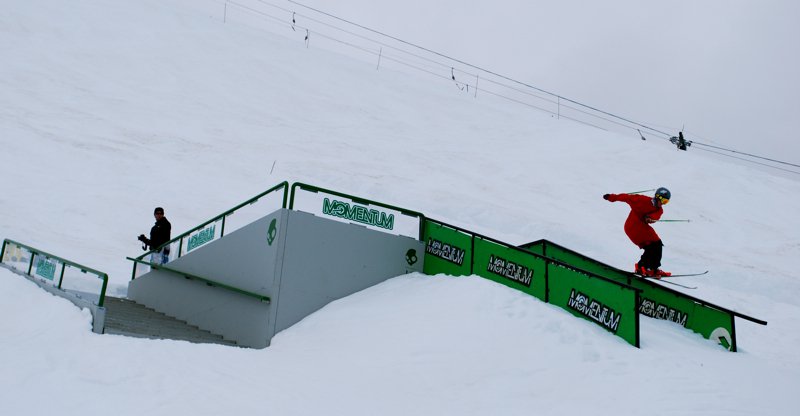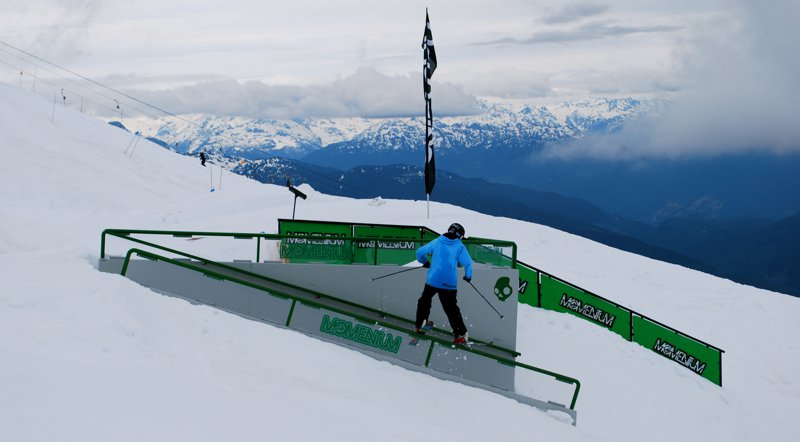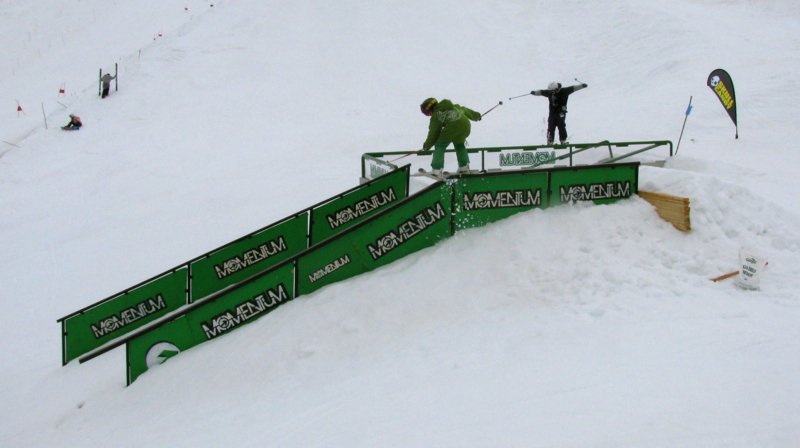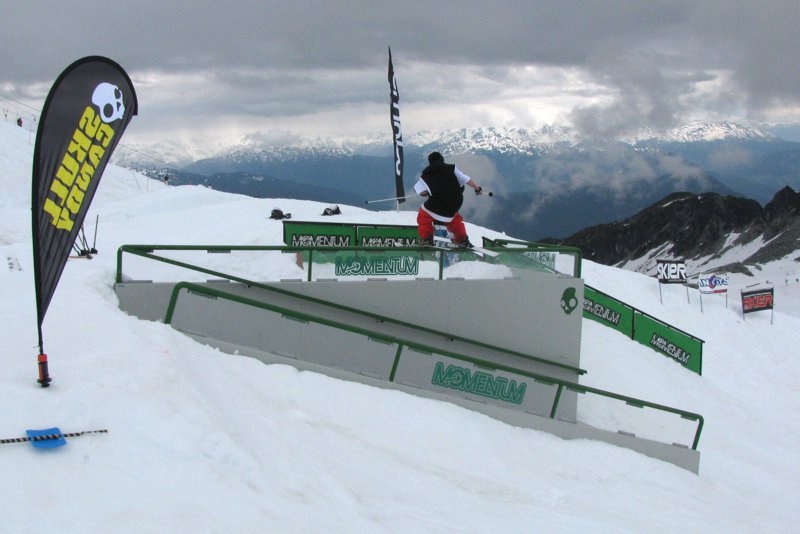 JF Houle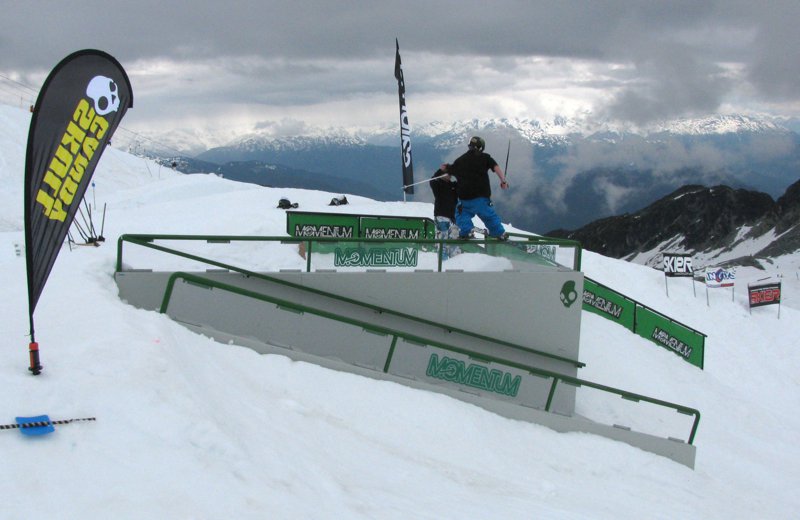 James 'Woodsy' Woods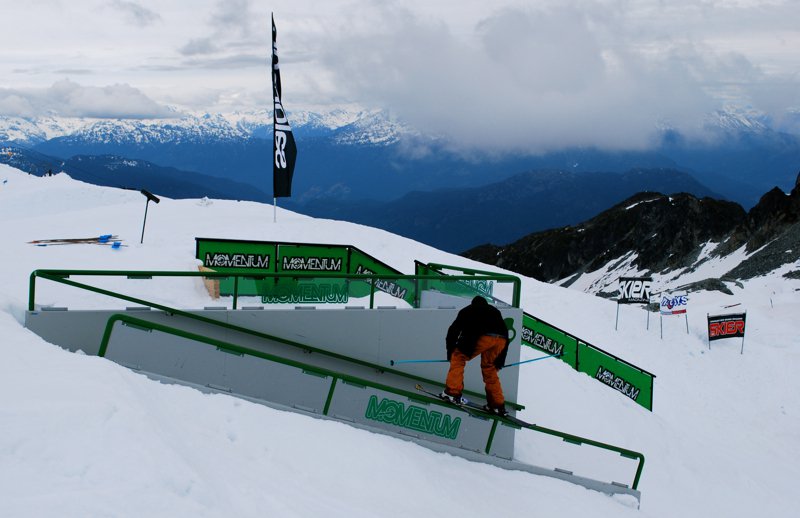 Even big mountain slayer Riley Leboe stepped up to the plate for what may just be one of the only published photos of him sliding a rail.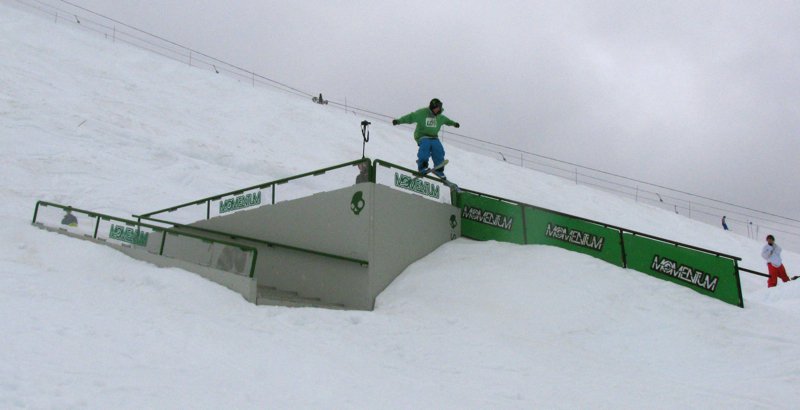 And then Wallisch decided he'd turn the whole thing into a makeshift s-rail, sliding the close-out rail to side rail to down rail.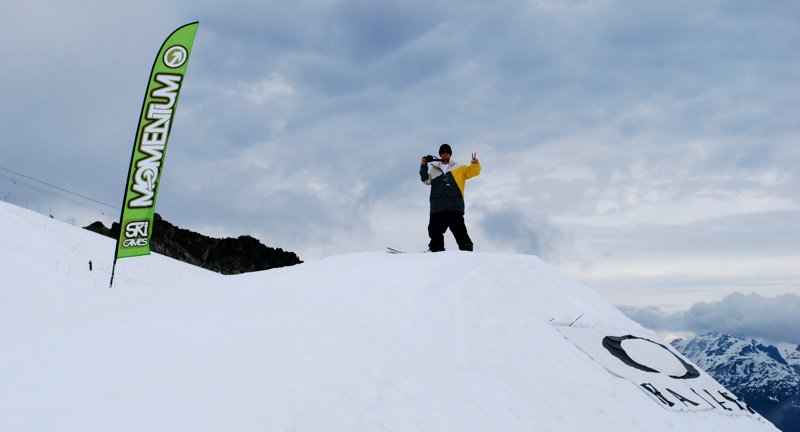 TJ Schiller was also in the house again, filming campers and coaches alike for some upcoming edits he's planning on releasing. Stay tuned to tjschiller.com for more info.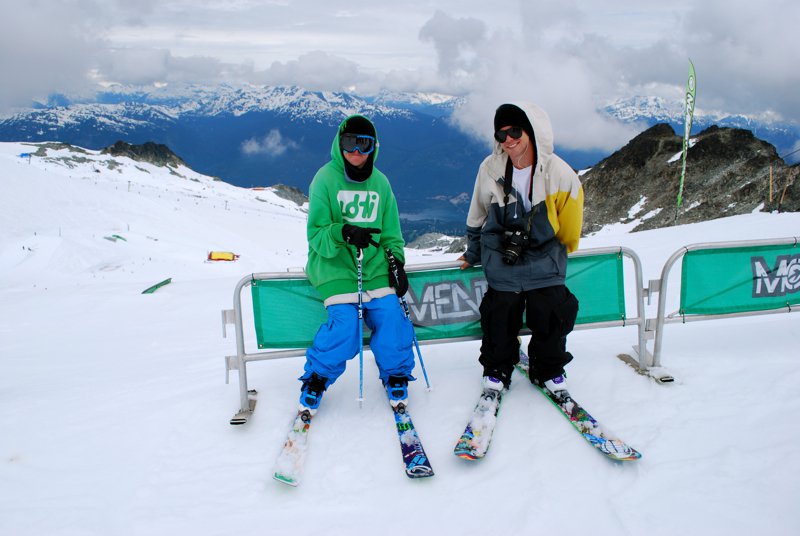 Hi Toms!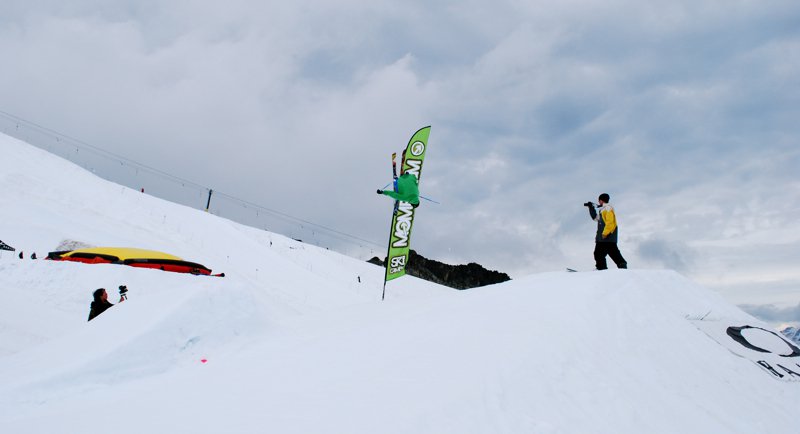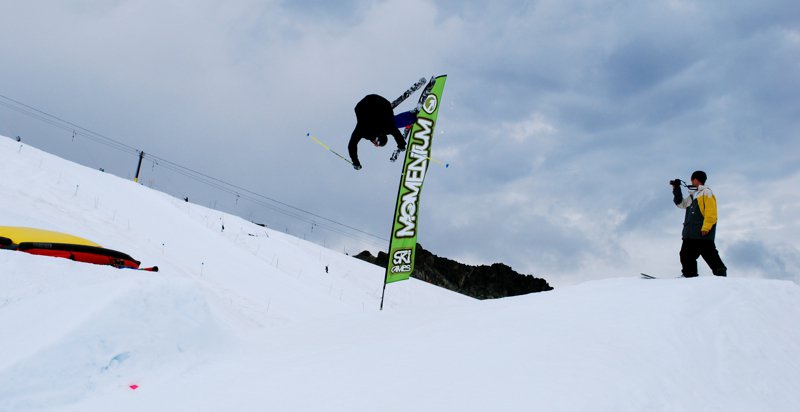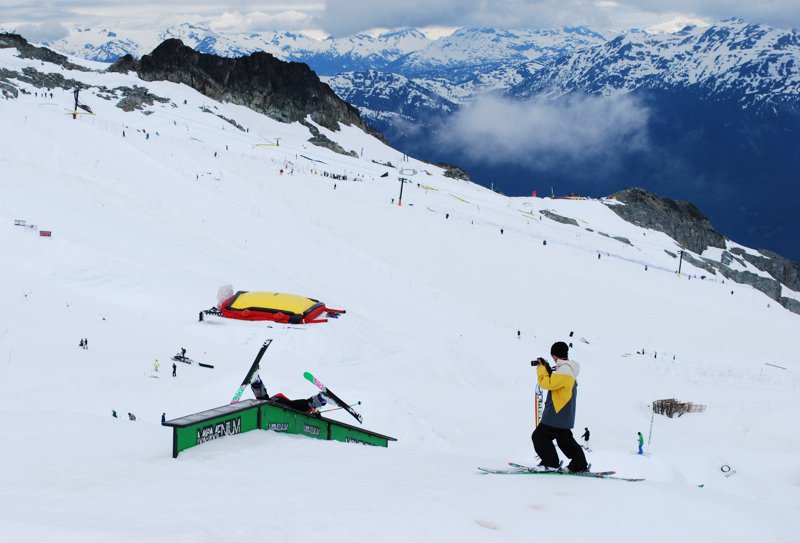 Not sure if this one will make the edit or not.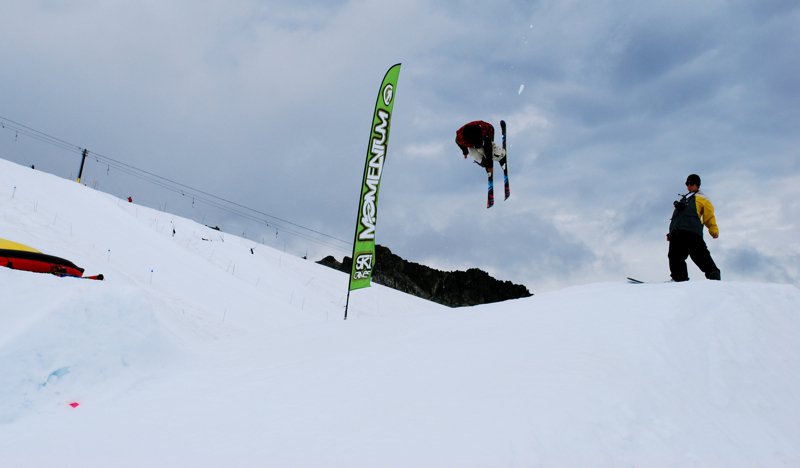 Evidently Teej was jealous of Chug's provactive poses in our last update, so he busted a few humping manuevers himself while doing his best to distract Momentum digger Sash Lazic in the process.
Momentum's 22-foot superpipe into an oversized Air Bag was also going off, as members of the Canadian, New Zealand and French ski teams took advantage of the perfect set up to hone their skills for the upcoming winter, with a little event that's taking place in Russia in three years at the back of their minds...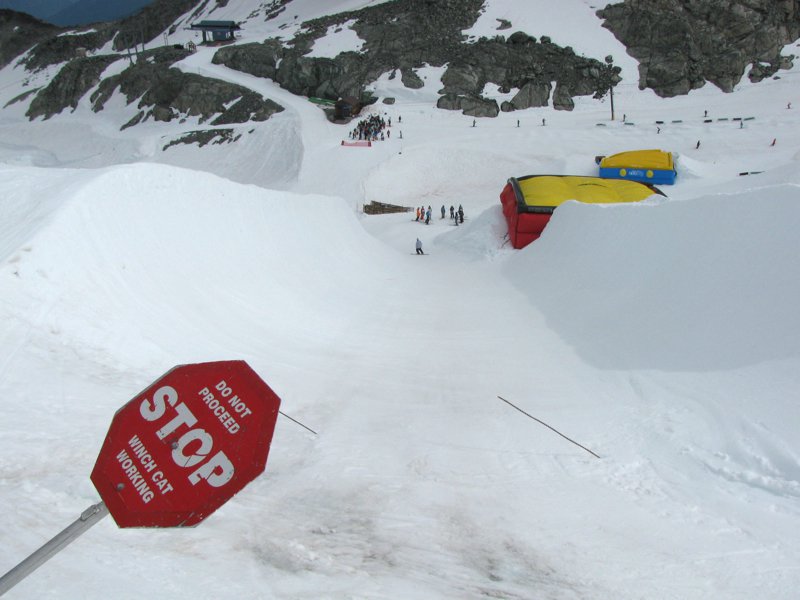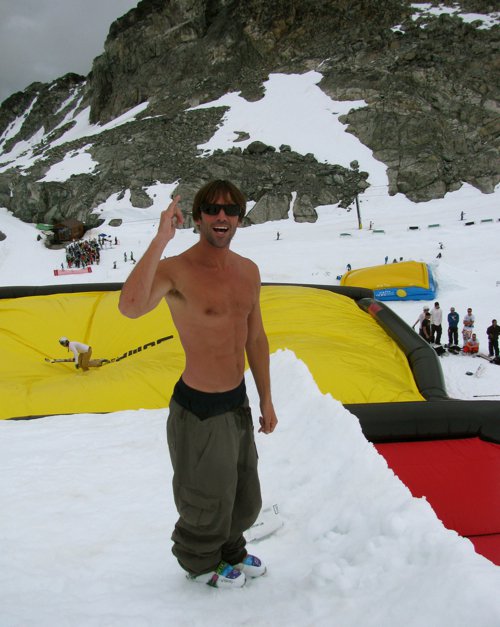 Canadian Halfpipe Ski Team Head Coach Trennon Paynter, aka T-Star, aka T-Payne.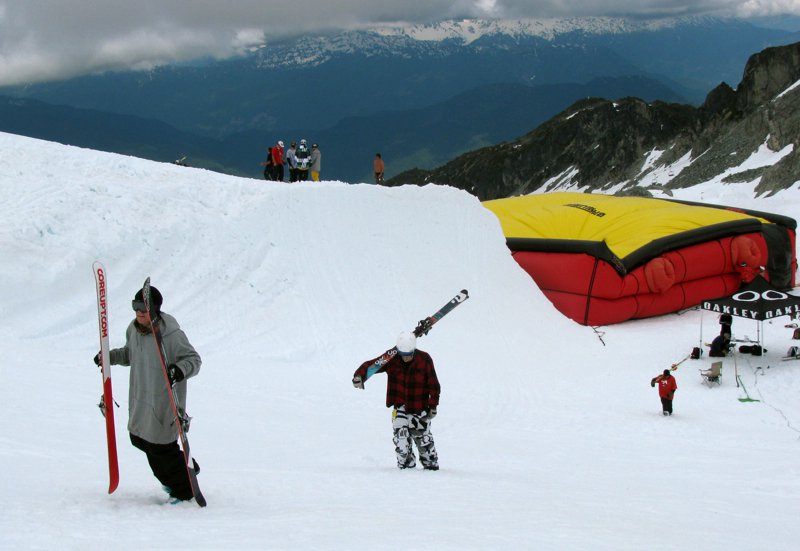 Justin Dorey & Kris Atkinson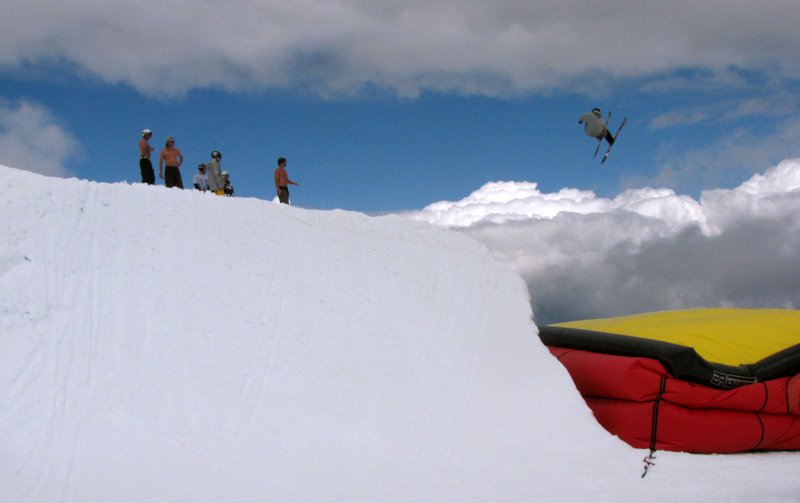 Dorey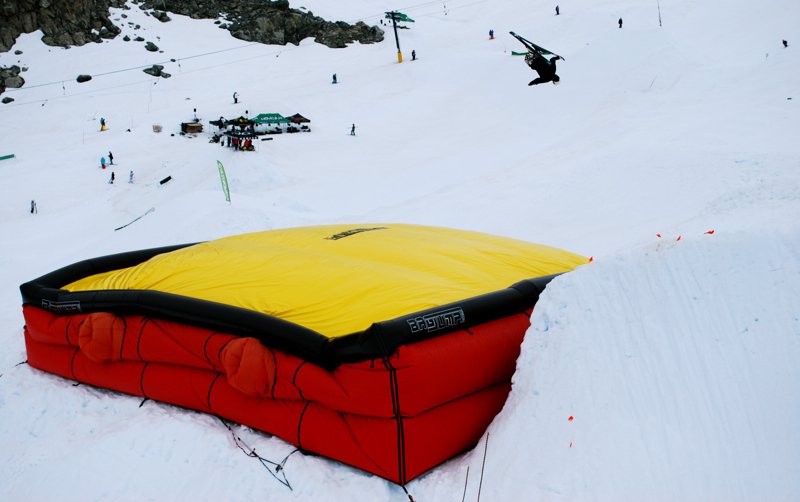 Atkinson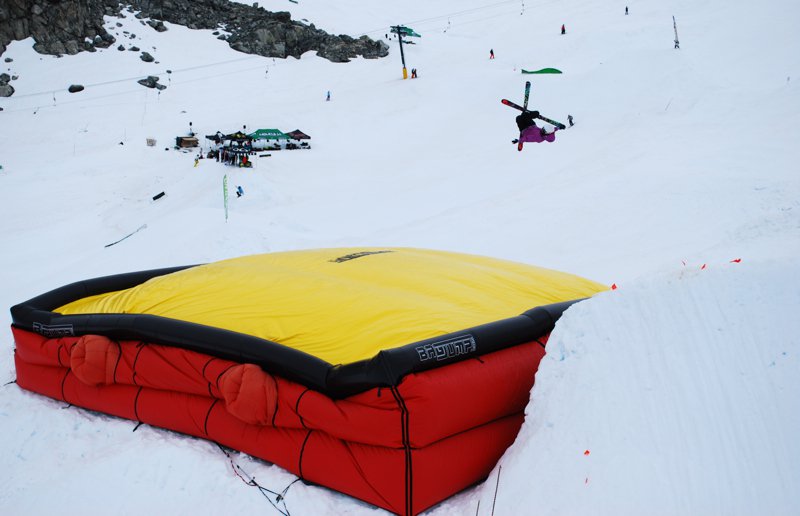 Dara Howell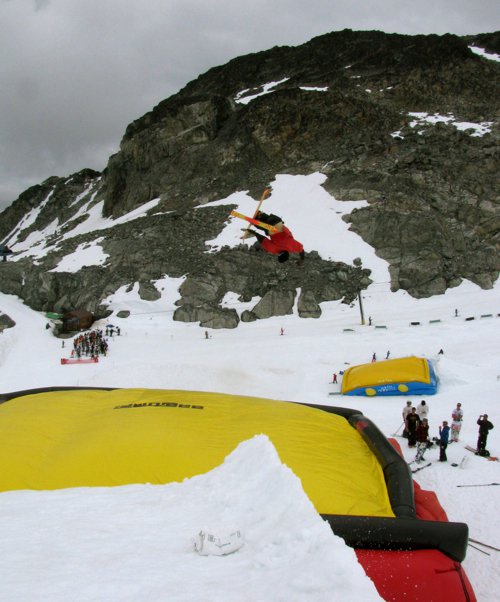 Byron Wells...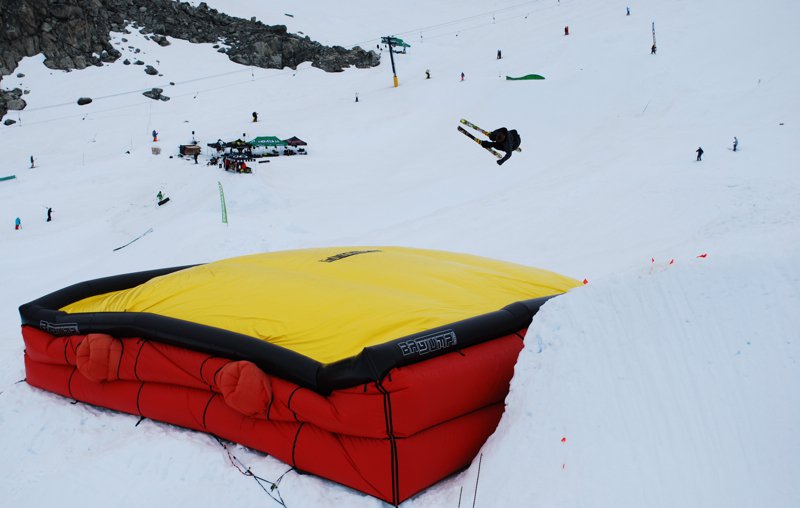 Jossi Wells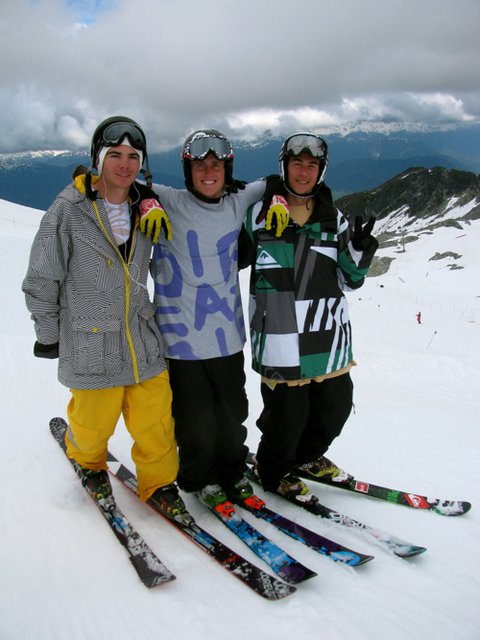 The French Connection: Benoit Cormier, Xavier Bertoni, Thomas 'Toto' Krief, and...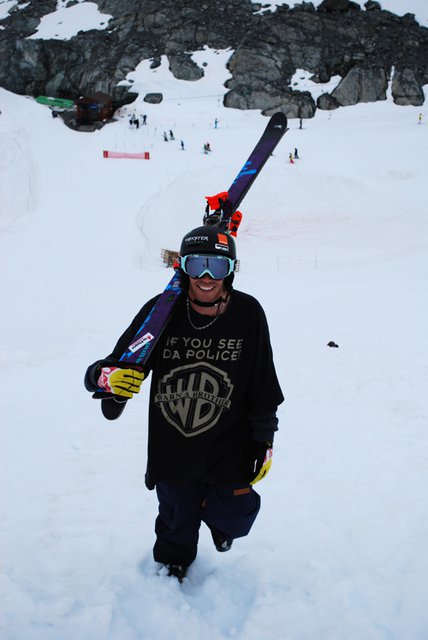 Kevin Rolland...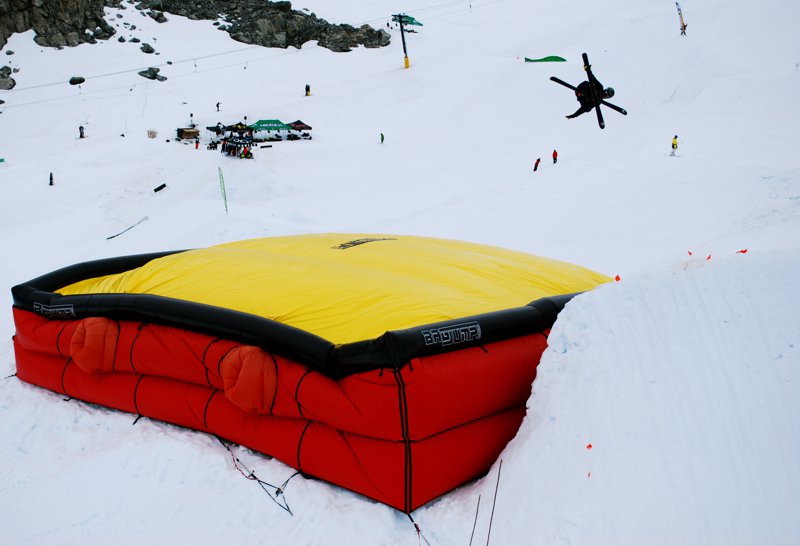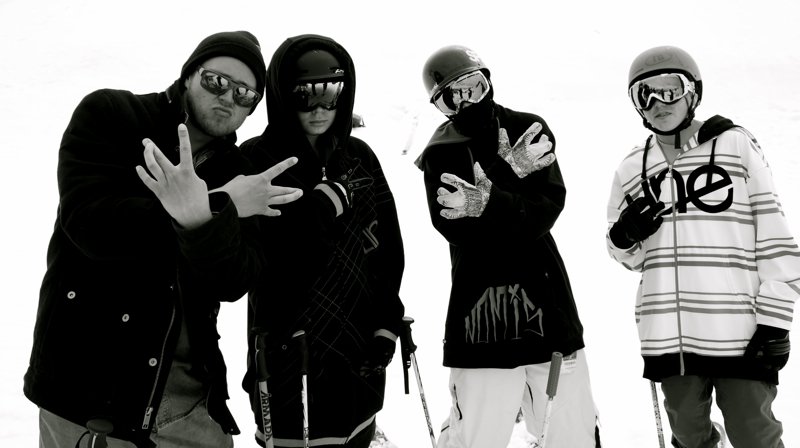 Here's Riley Leboe (one of the most un-gangsta skiers in the business) turning over a new leaf to get all gangta with his group (which might have something to do with him getting nasty on the stair set rail), and some more shots of the Momentum campers and coaches killing it...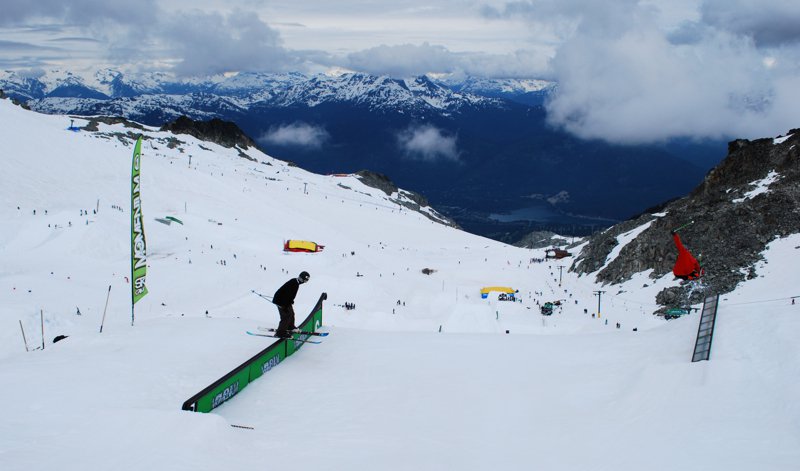 Double Trouble.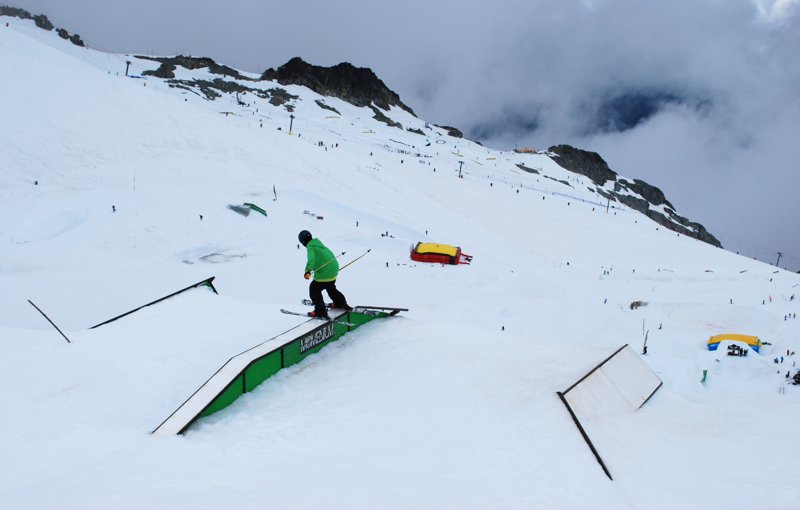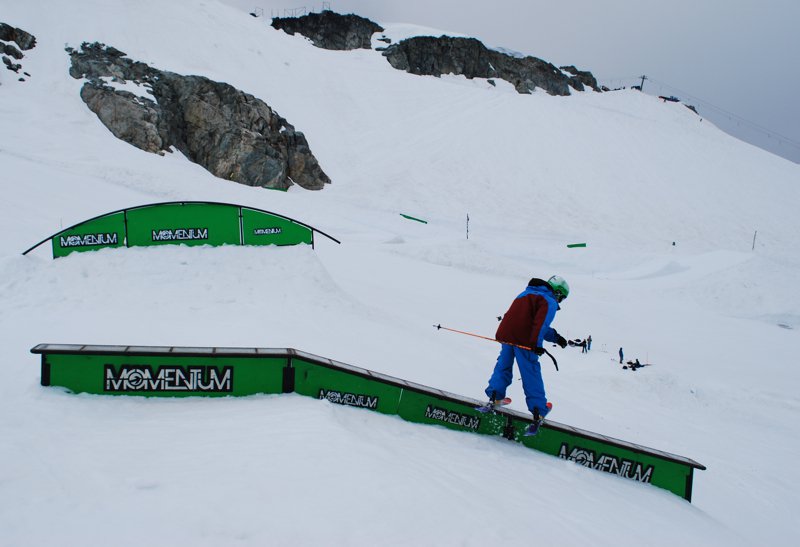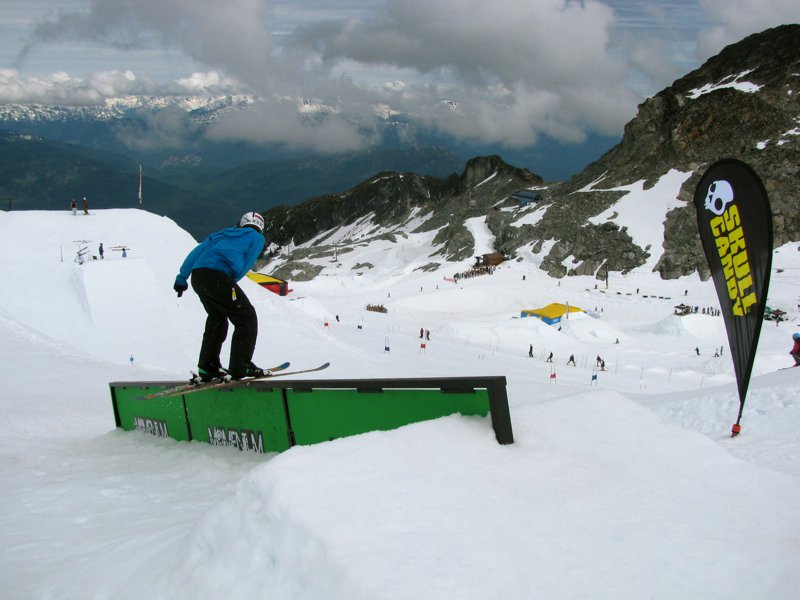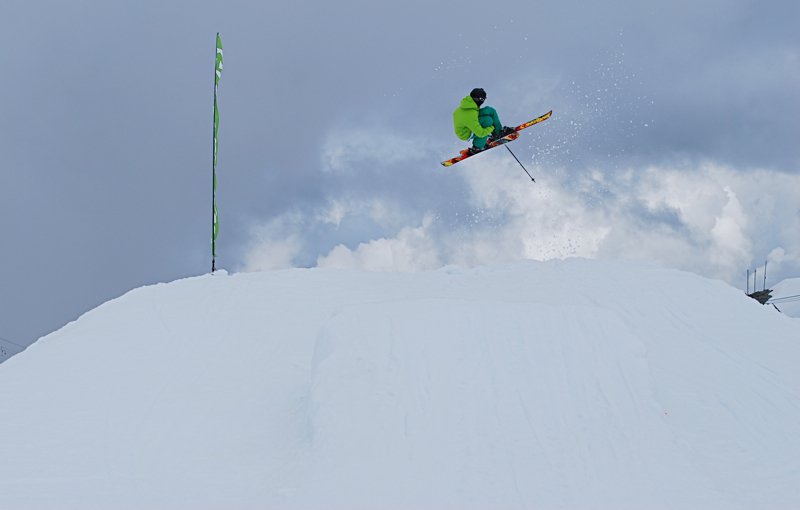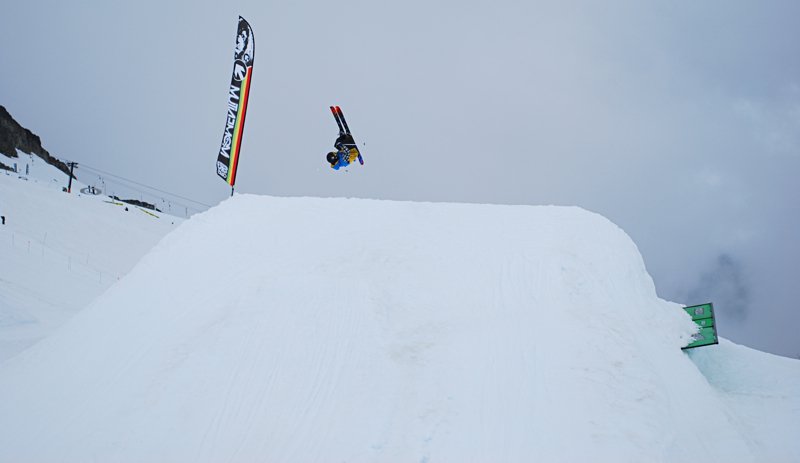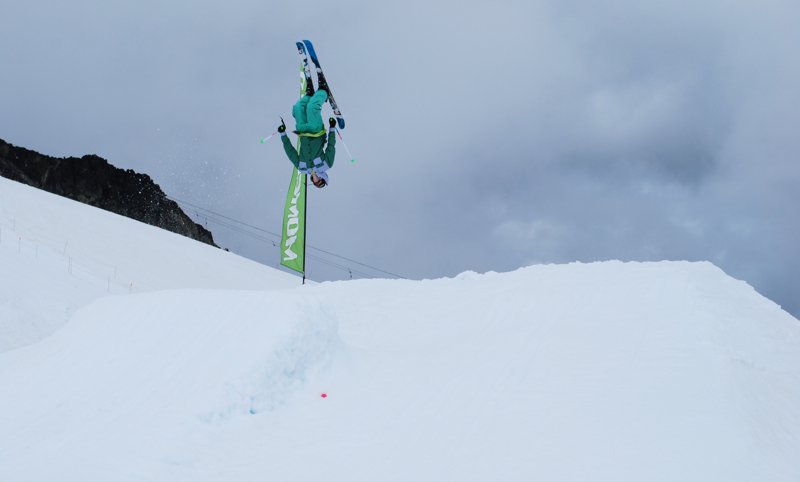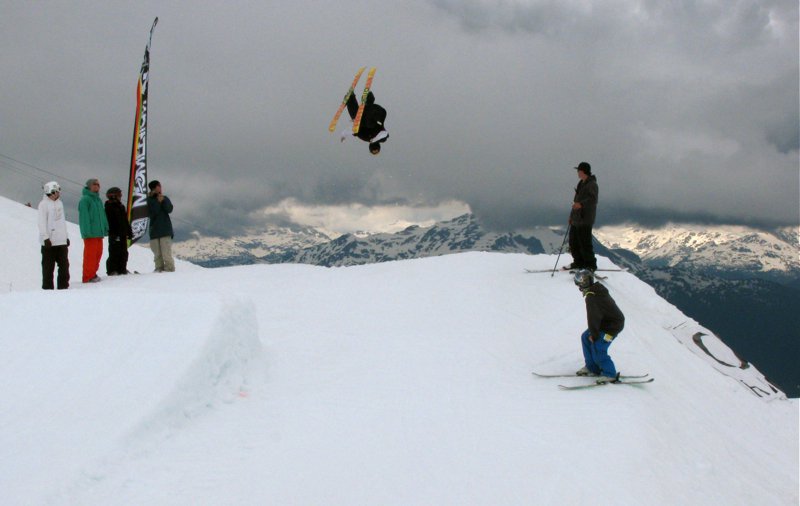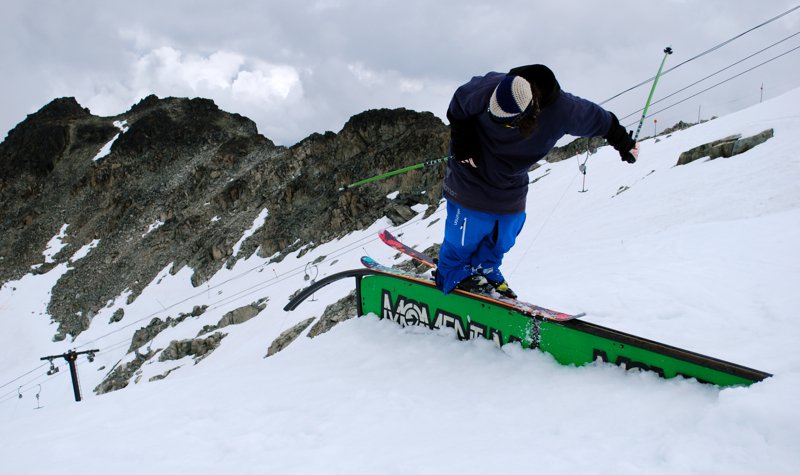 Vincent Gagnier, aka Vinnie Ca$h...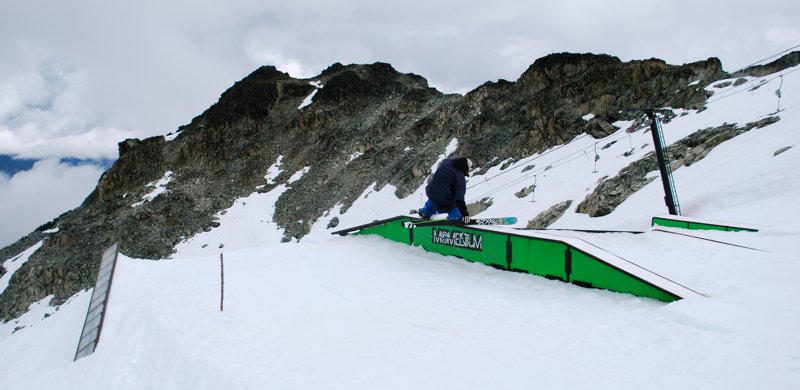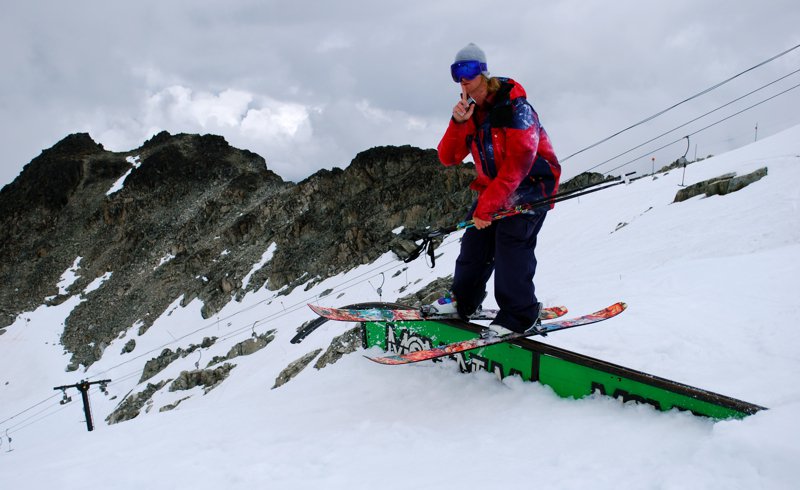 Josh Bibby. Shhh.
And at the end of the last youth session of Momentum (as the following week was Adult Week), it was time for the wrap-up party, which was highlighted by the final Skullgoakley (Skullcandy + GoPro + Oakley) Challenge of the summer, which is an always infamous race/eating contest concocted by the mischevious Rory Bushfield...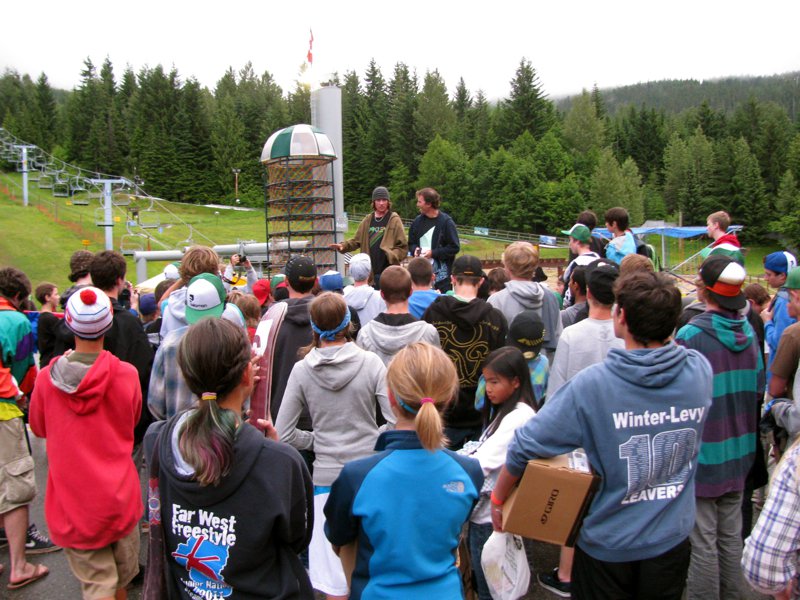 Rory Bushfield explains the rules of The Skullgoakley Challenge while Momentum founder John Smart shows off the prizes: a pair of Skullcandy headphones, Oakley goggles and a GoPro camera...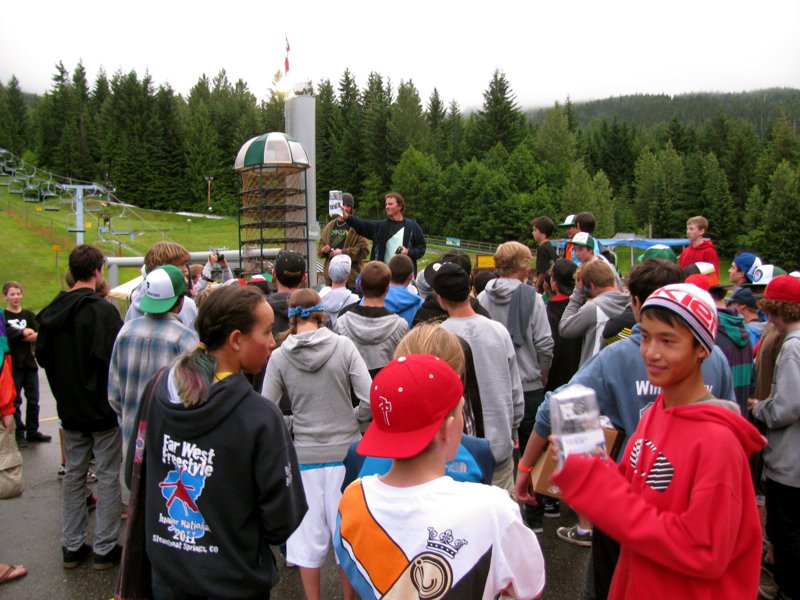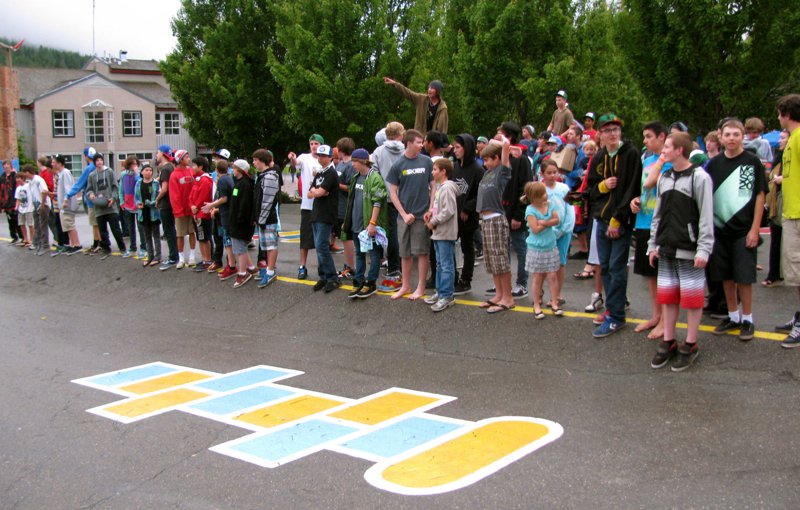 1) Run to Tower 7 of the chairlift...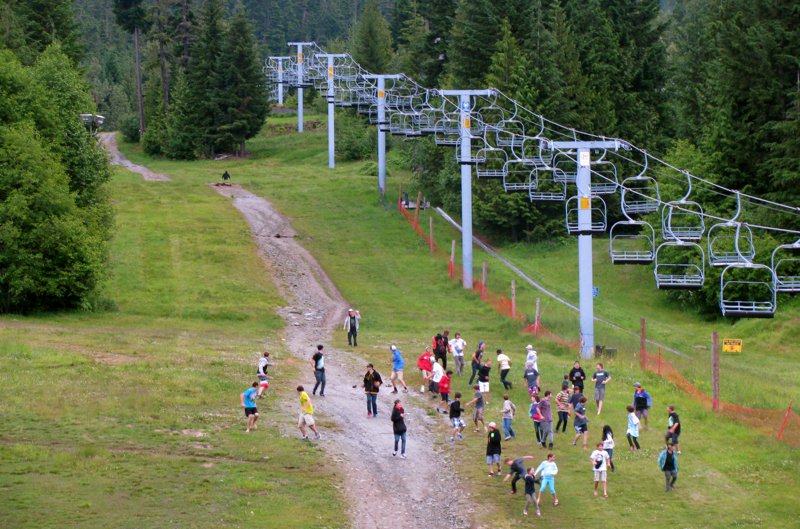 2) Turn around and run back...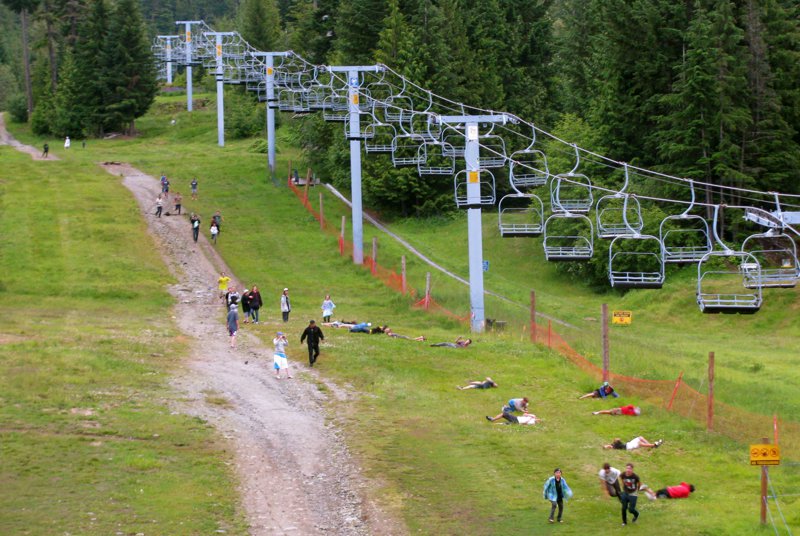 3) When you get to Tower 3 on the way down, roll the rest of the way...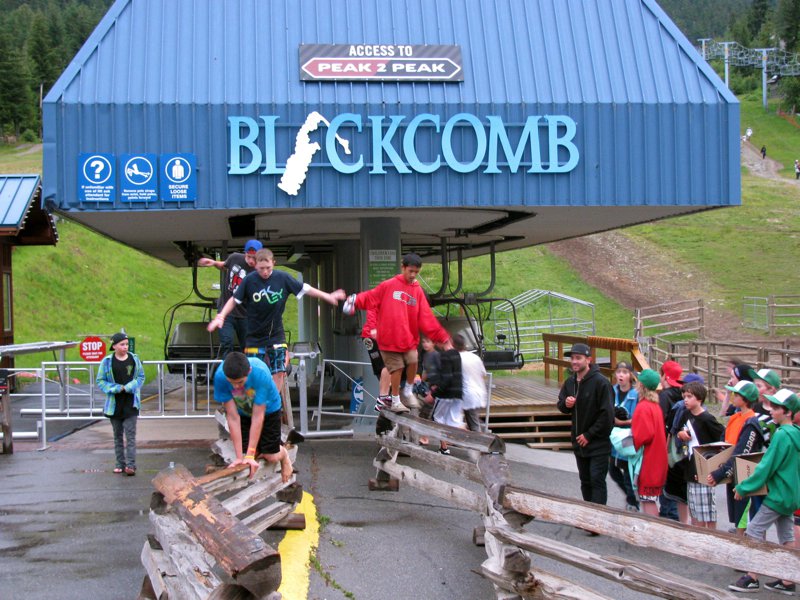 4) When you get to the bottom, fight off the dizziness and race to the end of the wooden zig-zagged chairlift barriers as quickly as you can...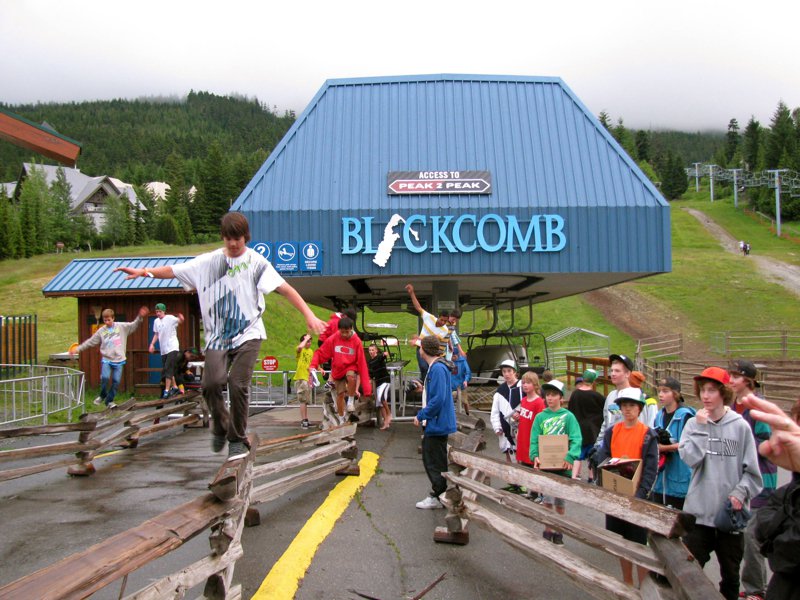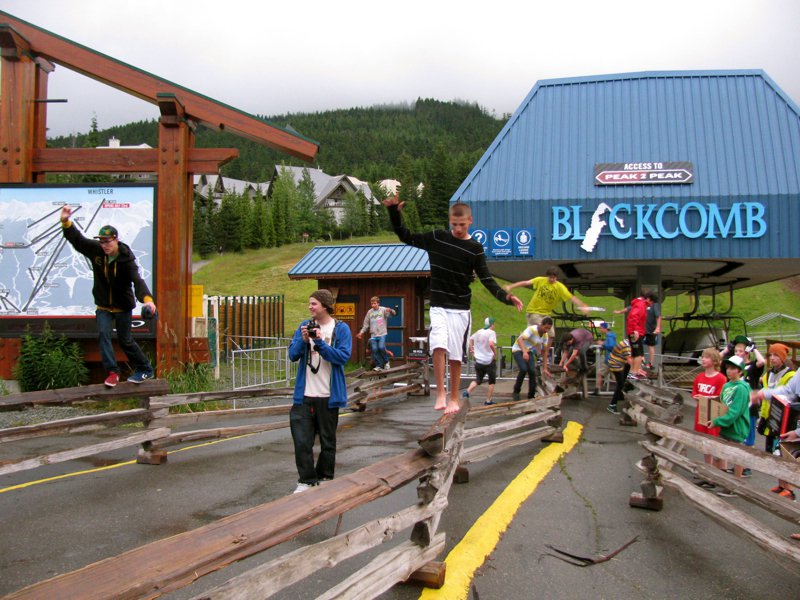 5) A questionable snack awaits the first six campers to complete the race...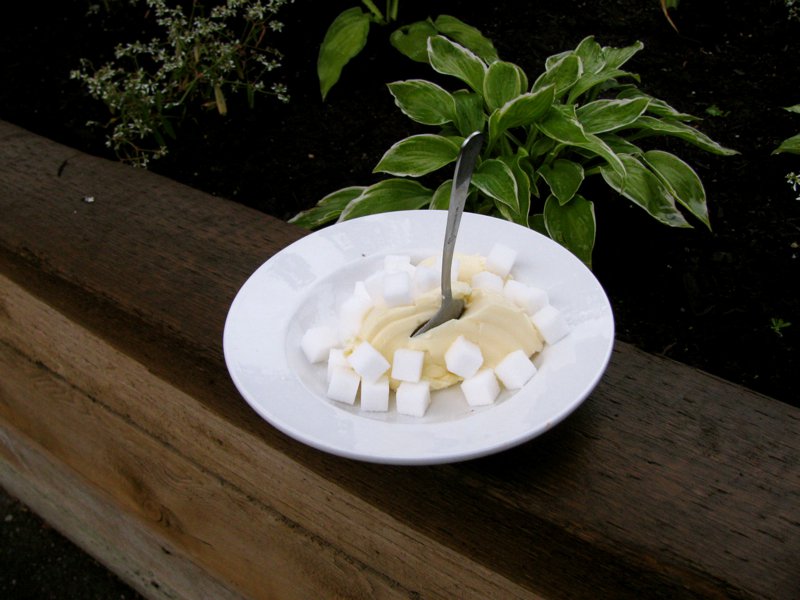 Session 4's Skullgoakley Challenge Menu: Butter & Sugar Cubes.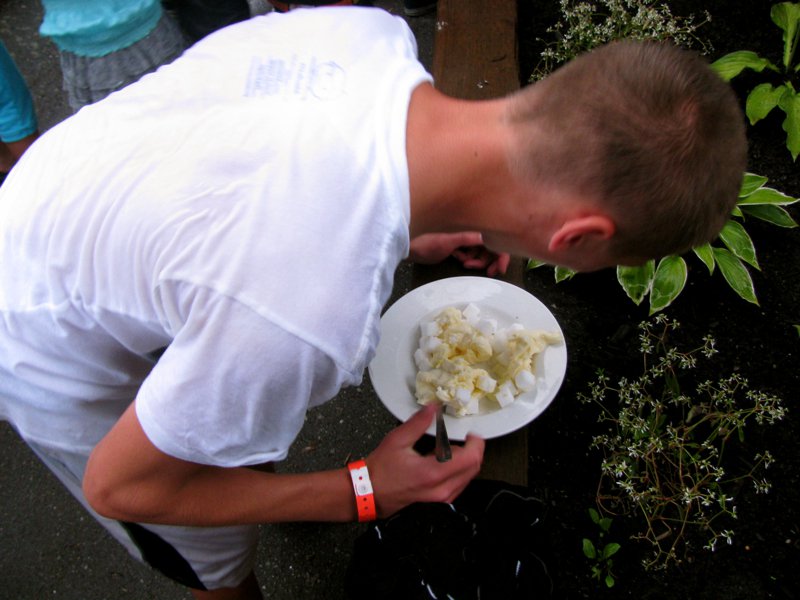 Bet that doesn't taste too good...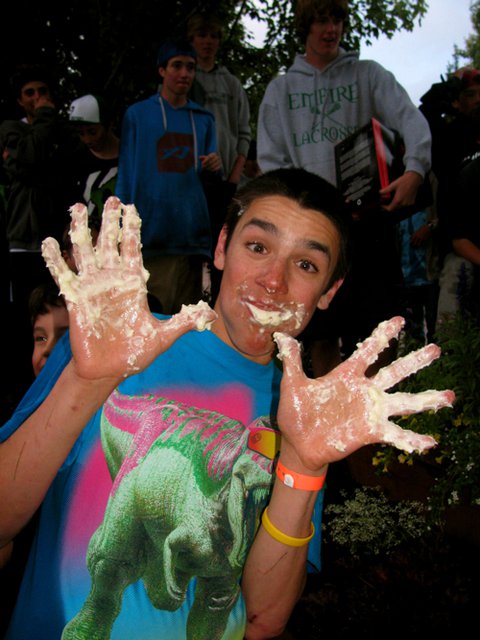 Eventually a stellar camper named Bryce took the win. Congrats!
That's all for now from Mometum and Camp of Champions, but stay tuned for the final update on what went down last week during the final session of summer camp in Whistler, including Monster Week at Camp of Champions, more from the International battlefield in Momentum's superpipe and Air Bag, and the return of Max Hill vs The Voleurz Intern. Until then, enjoy the latest ski porn from Camp of Champions below, and stay tuned for Momentum's next edit!
Camp of Champions Session C