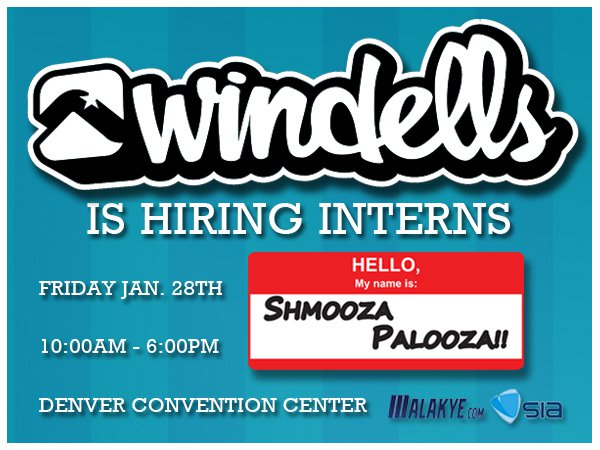 SIA weekend is right around the corner! Whether you are a newbie to the event, or a seasoned trade show veteran, SIA can be a little overwhelming! The four day long show exhibits the best of the best in the ski and snowboard industry. Unfortunately, it is closed to the public… but! Windells along with Malakye.com is giving you a taste of the action. Shmoozapalooza is a one of a kind FREE event! As Malakye puts it, "It's the only snow sports employment and networking event in the world."
All you need to do is register for the event and interview with us on Friday the 28th from 10am to 6pm. We will be hiring for Summer Interns, as well as Summer Media Interns. If you are in the Denver metro area and would like to apply for an internship with Windells then just come prepared with your resume, your best attitude, and anything else you may need for the interview. If you can't make it to the event, don't worry. We accept applications through snail mail too. Remember, be creative! The more you have to show us, the more we get to know you!
Click here to register!
Applicants Don't Forget!
- Cover letter
- Resume
- Portfolio (for Media Interns)
- Video sample (for Media Interns)
- Interns must be 18 or older
Related posts:Windells needs Video interns!
Traveling Circus Finale…check out Windells Coach Little John Strenio
Windells Shredcast