Words & photos by Jeff Schmuck
Videos by Nick Brassard & Craig Lamond
Hello again from sunshiny Whistler, where Session 2 of Camp of Champions and Momentum has just concluded on the Horstman Glacier on top of Blackcomb Mountain.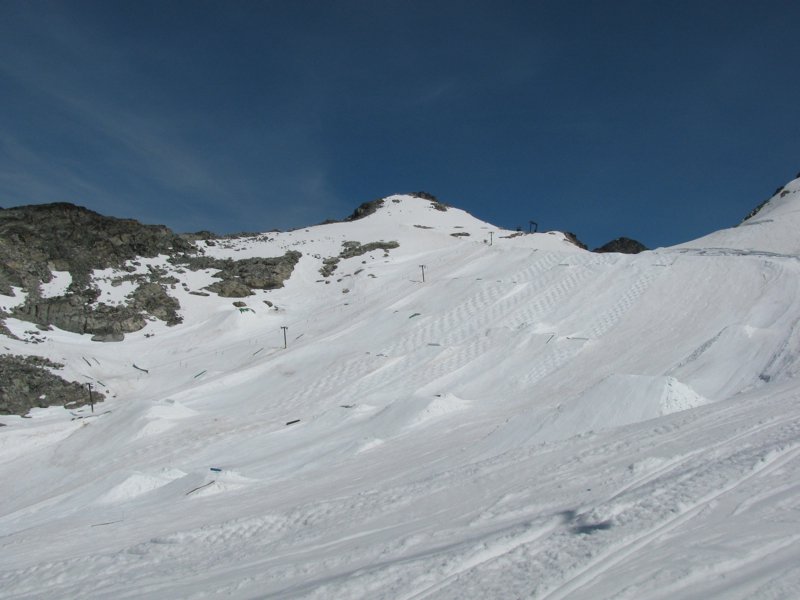 The Mighty Horstman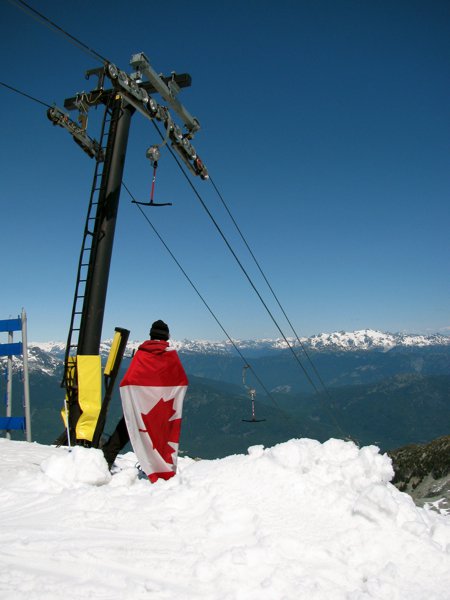 Canada Day
The second sunny session was quite the contrast to the foggy first, as Mother Nature decided to smile upon the increased number of happy campers by blessing us with a week's worth of scorching hot days. As a result, the campers, coaches, and diggers took full advantage by throwing their shirts on the ground before throwing down on the jumps.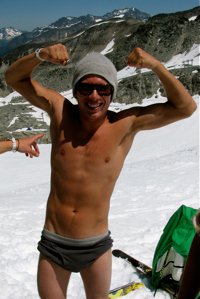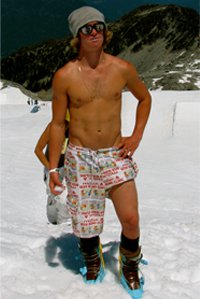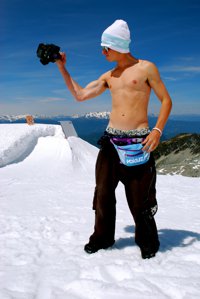 Jacked & Tanned: TJ Schiller, Joe Schuster, Matt Margetts & Voleurz' Darren Rayner
Where as last week was all about the jibbing due to the lack of visibility, boosting off the grinning mouthful of booters was the name of the game this week.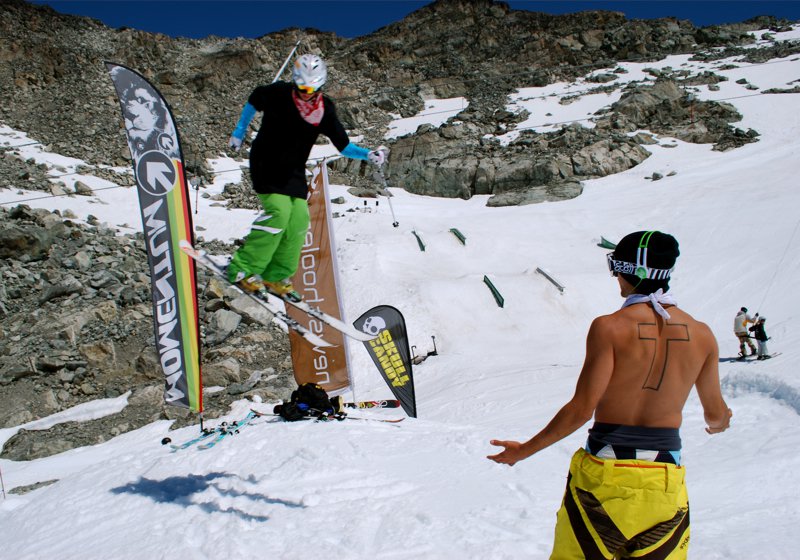 Ian Cosco takes his turn as Knoll Master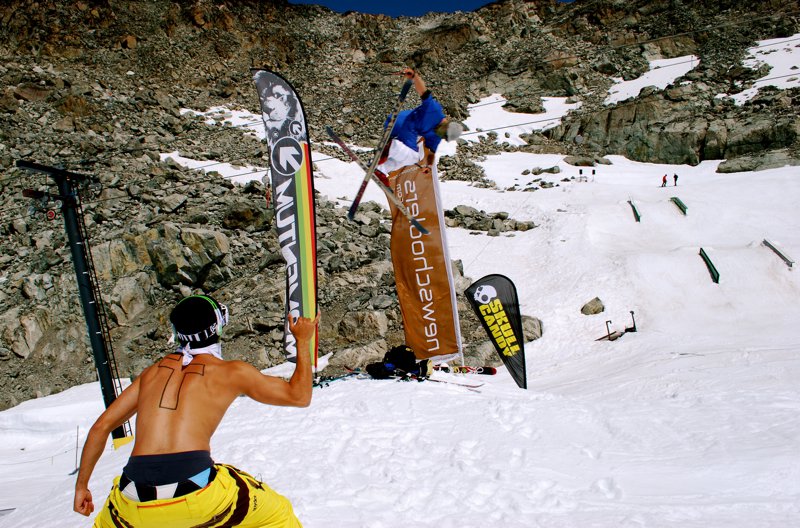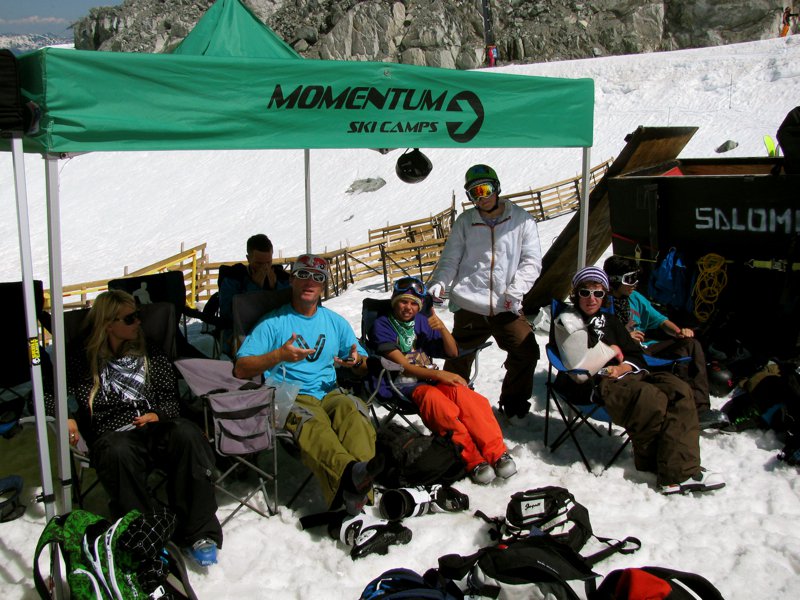 Momentum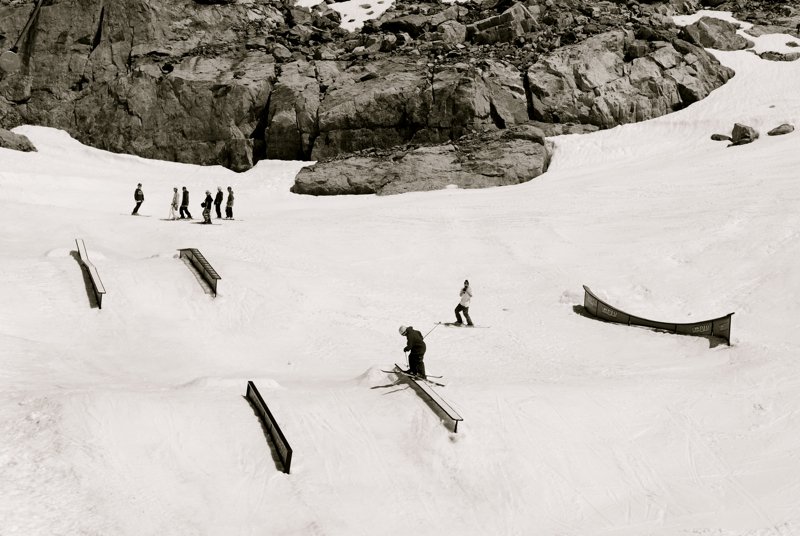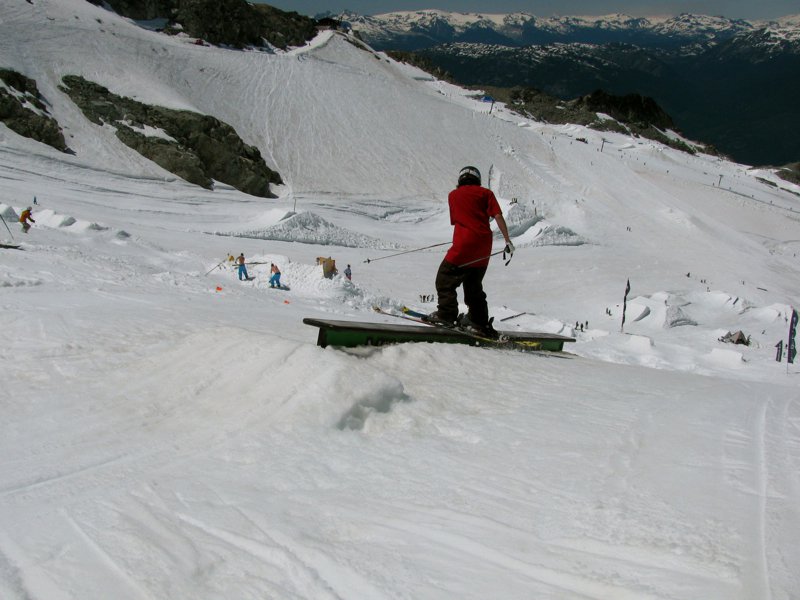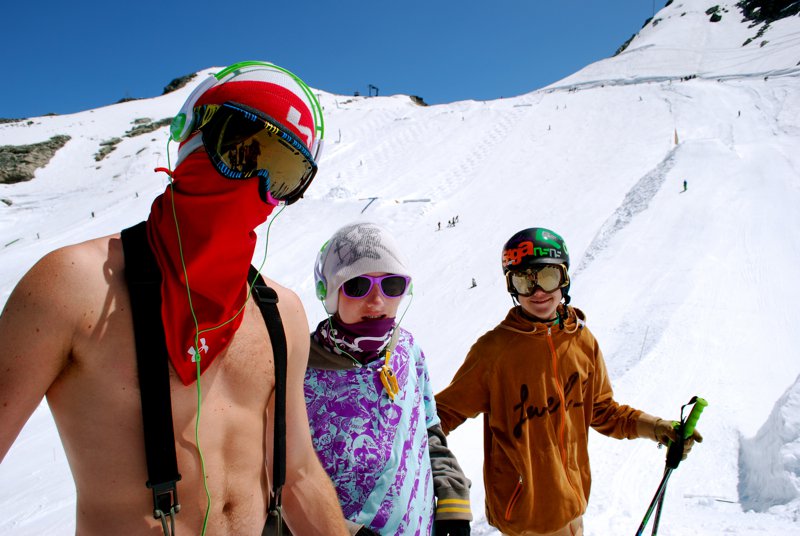 Mike Riddle & his campers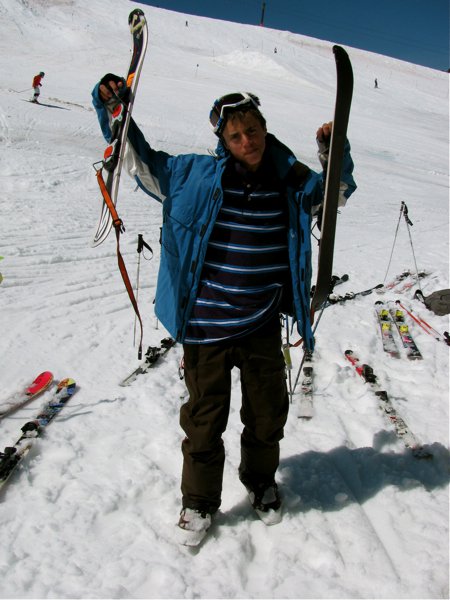 Just Blade It.
But amongst all the other endlessly good times that were going down in Momentum's kick-ass lane, it was on Dr. Chris Turpin's Frankenstein monster of a jump in the old High North lane where session two got off to a roaring start.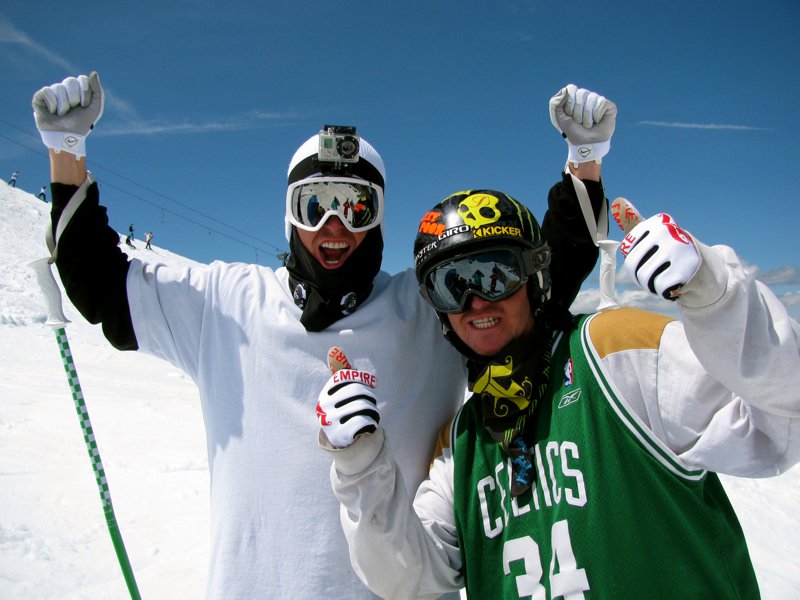 TJ Schiller & Peter Olenick
The 80-foot stepover was built, groomed, fine-tuned and salted to perfection courtesy of Charles Bedard and his hard working crew of diggers, and coaches and campers alike got right to work on the beast, making for some of the most impressive skiing seen all year, let alone the summer.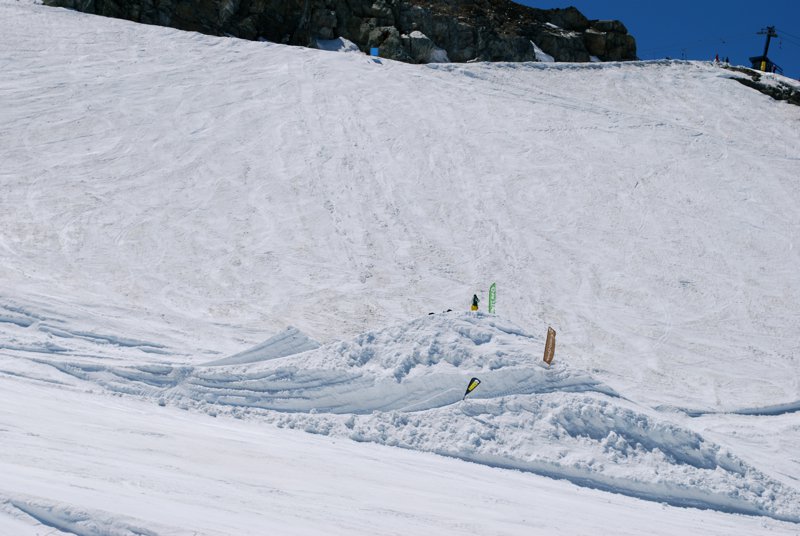 This photo gives some good perspective on how damn big the stepover is, because that's Peter Olenick on the knuckle...and he's roughly 12 feet tall.
TJ Schiller started things off with a bang on the jump by throwing Matrix-style double flatspins grabbed from take-off to landing which caused everyone else to follow suit like falling dominos...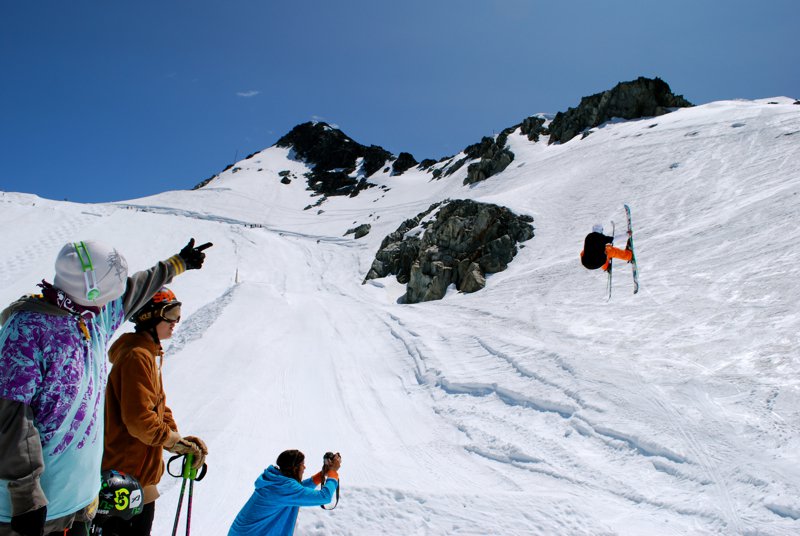 TJ Schiller
Highlights included the legend himself Chris Turpin christening his own creation with some switch double rodeo's...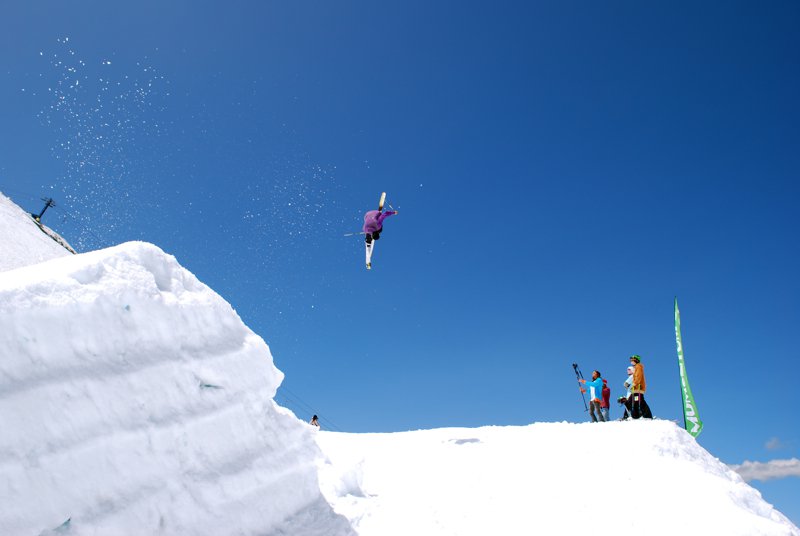 Chris Turpin
Corey Vanular bringing his comeback to fruition with a kangaroo flip or two, steezy Paul 'B-Paul' Bergeron deciding his dub-flip time had come by stomping his first ever double flatspin on his first try...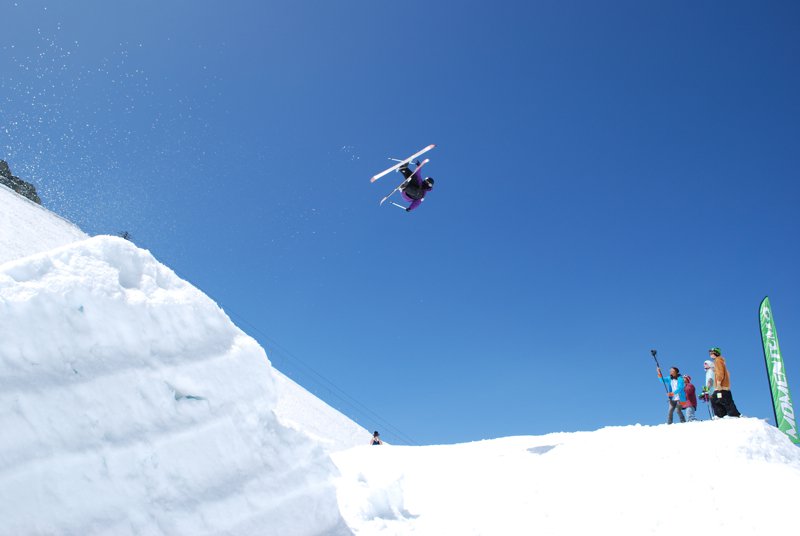 Paul Bergeron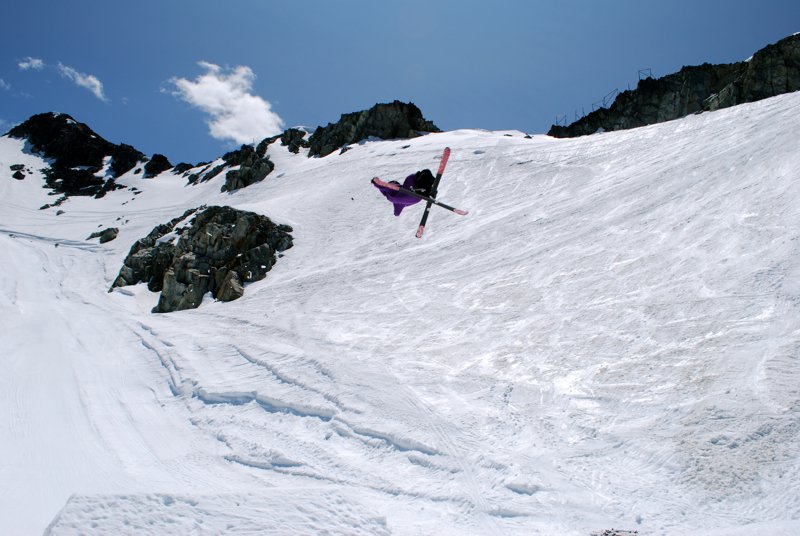 ...and COC coaches Joe Schuster and Matt Margetts destroying the jump on their day off from coaching with cork 3 to cork 5 and double cork 10's from Marg and switch double cork 10's from Schuster.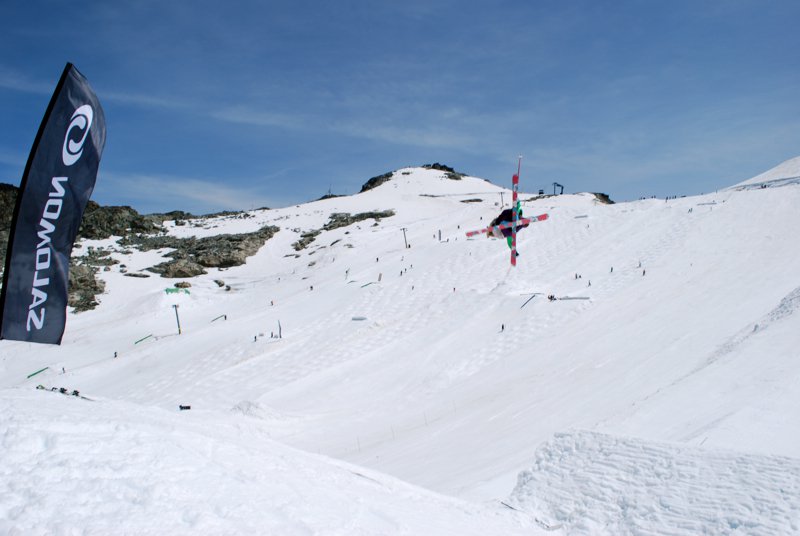 Matt Margetts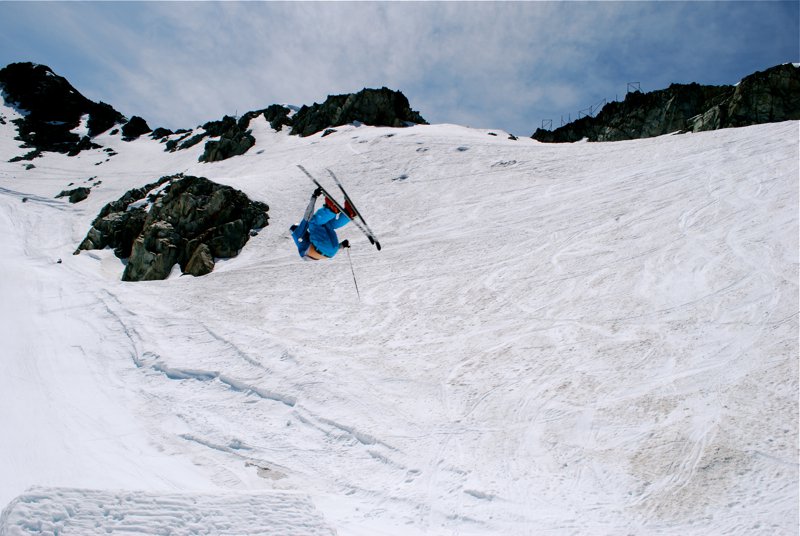 Joe Schuster
Sammy Carlson and his protégé and eventual podium-dominator Willie Borm were also killing it over the weekend with cork 7's, 9's and 10's that had more style than Kanye, and make sure you stay tuned to NS for Duncan Lake's edits of the boys that are sure to make your jaws drop right through your keyboard and all the way to the floor.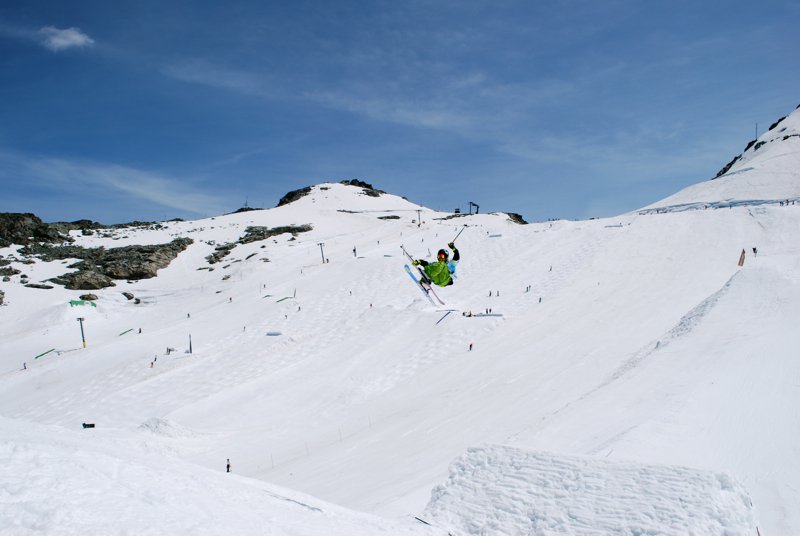 Willie Borm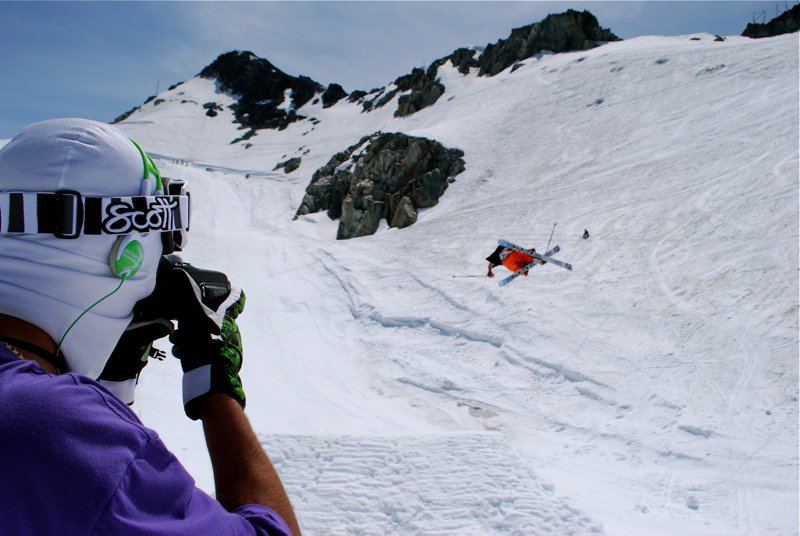 Cosco filming Sammy for Chug Life 6
But one of the biggest stories on the glacier is unquestionably Peter Olenick, who has been (gasp!) not partying, going to the gym every day, and skiing his ass off. Peter threw misty 5 to switch back on his first try on the step over, has been trying to work out a few other doubles that you'll be hearing about soon, and stomping new tricks every day at Momentum. Say all you want about Peter good or bad, but as anyone up here can attest to, at the rate he's going you can expect to see some big things from him next winter.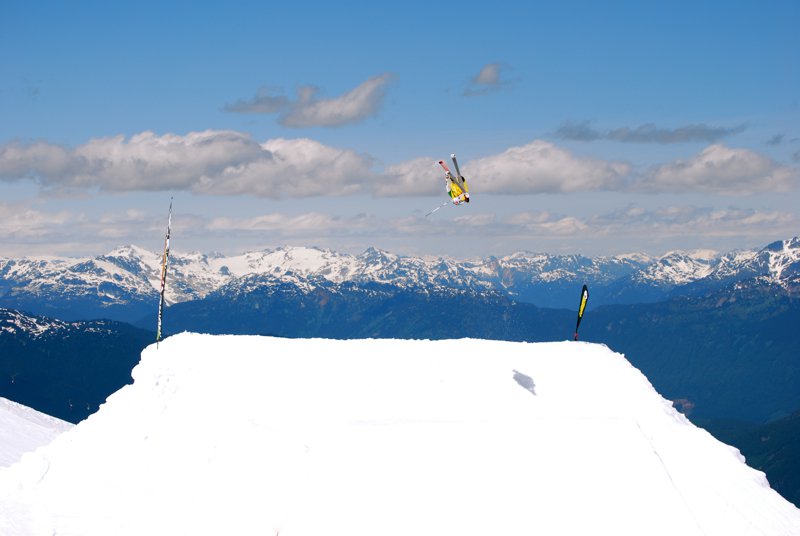 Peter Olenick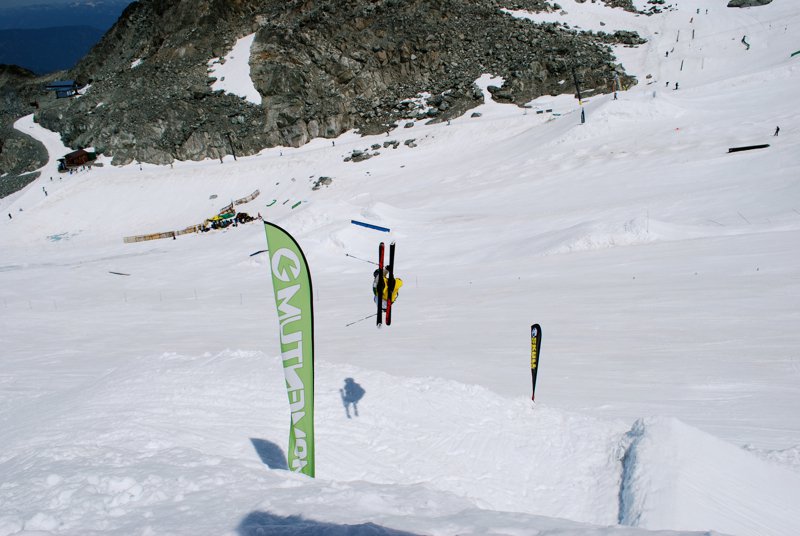 Even the diggers and campers were getting their licks in on the jump, and although some of them licked it a little too hard, such as Corey McCallum, who went bigger than any of the pros on the jump...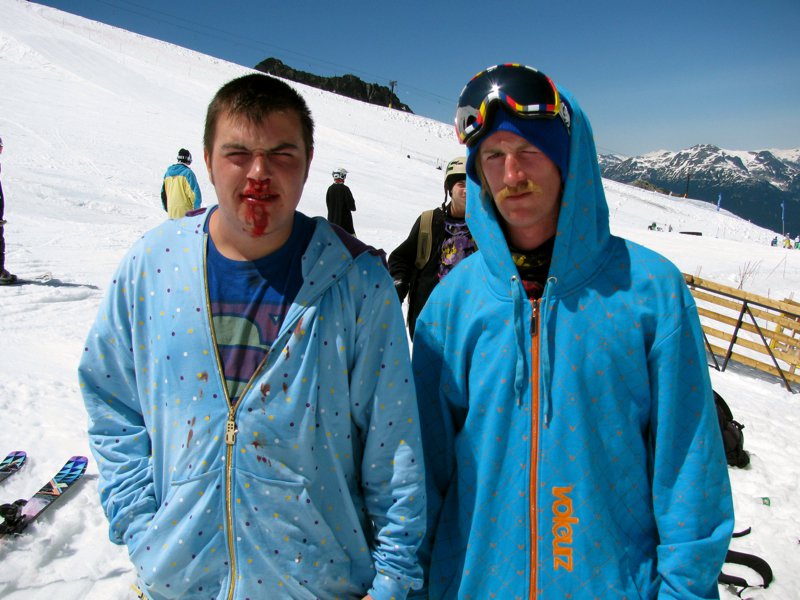 The toughest camper in Whistler, Corey McCallum, with Josh Bibby
...there were some seriously head-turning moments from campers James Woods...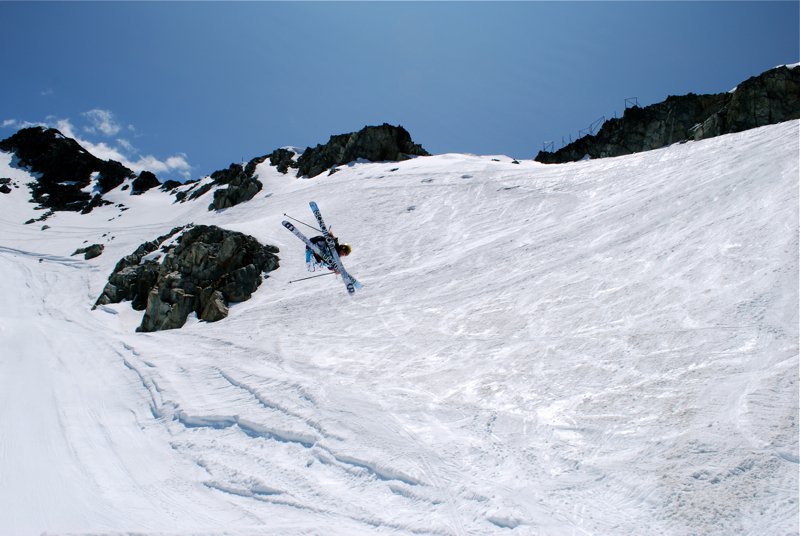 James Woods
former digger turned camper and full-time shredder Kieran Nikula...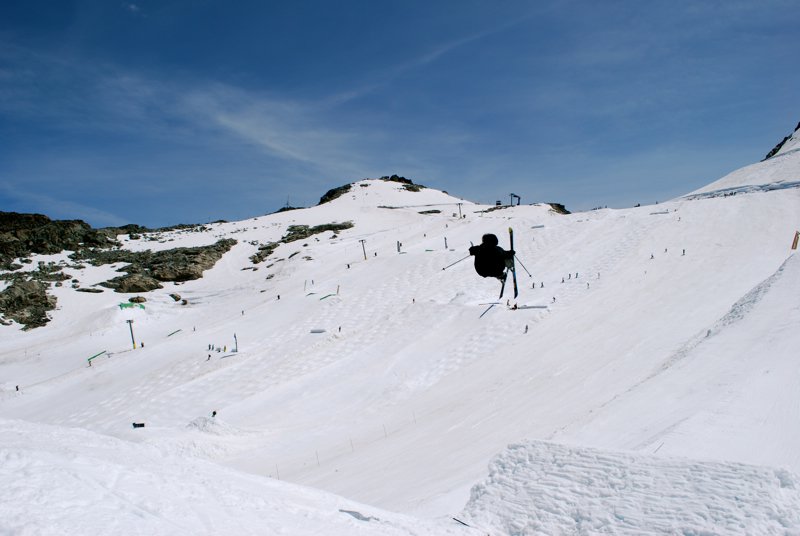 Kieran Nikula
digger Alex Mathers...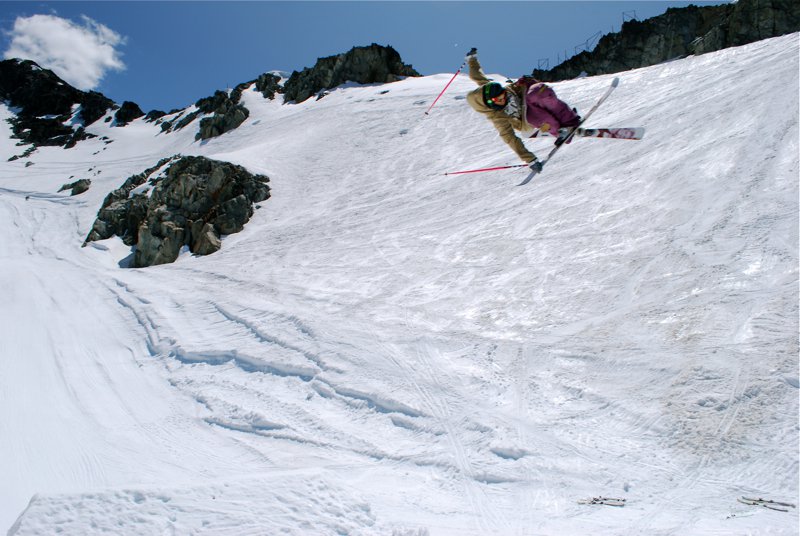 Alex Mathers
B-Paul's partner in crime Antoine Choquette...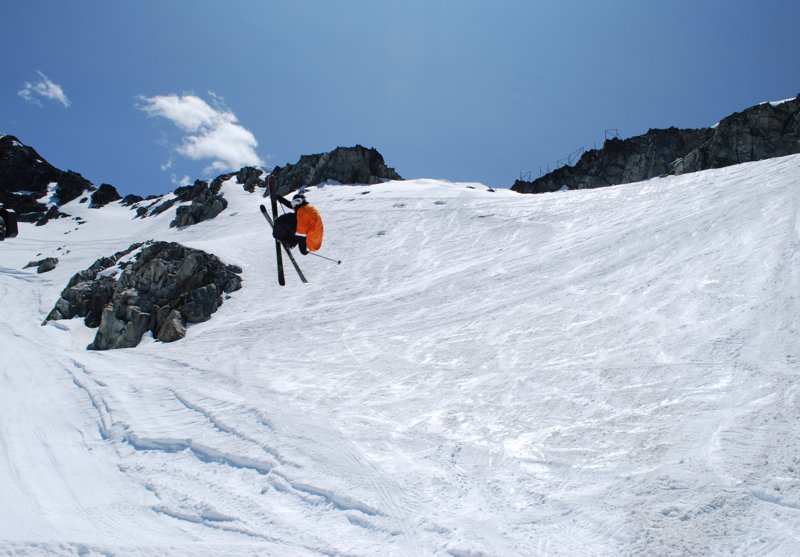 Antoine Choquette
...and the man himself, Trennon Paynter, who's been throwing 100-foot laaaid out backflips that had backflip maestro Rory Bushfield hooting and hollering in approval.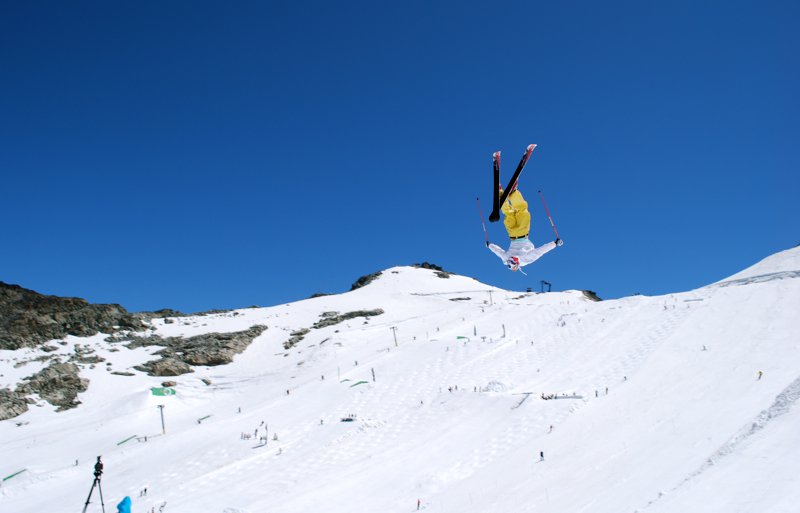 Trennon 'T-Star' Paynter
Over at Camp of Champions it was 4FRNT week, which saw some much-loved cameo appearances from one of the true originators of the sport, CR Johnson, the always enjoyable to be around Eric Hjorleifson, and young gun Will Berman.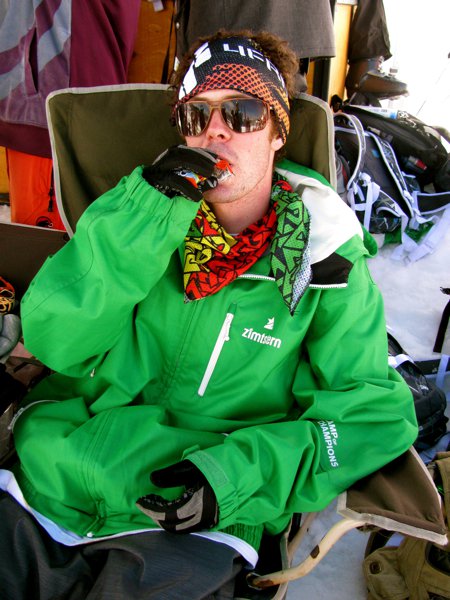 CR Johnson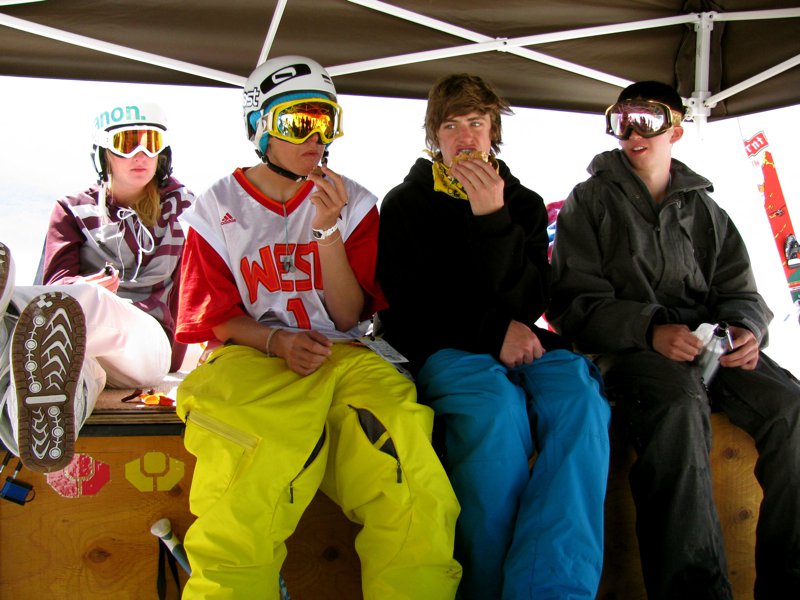 lunchtime at the 4FRNT tent
The jumps, rails and hip at COC are seemingly getting better with age (props to Bailey Mitchell, Carl Fortin and the rest of the COC for diggers for that), and as a result it was an all-out shred fest this week that was at times hard to keep up with at the biggest lane on the glacier, thanks to the continued clinic that Matt Sterbenz and his gang of wonder coaches have been putting on for the kiddies.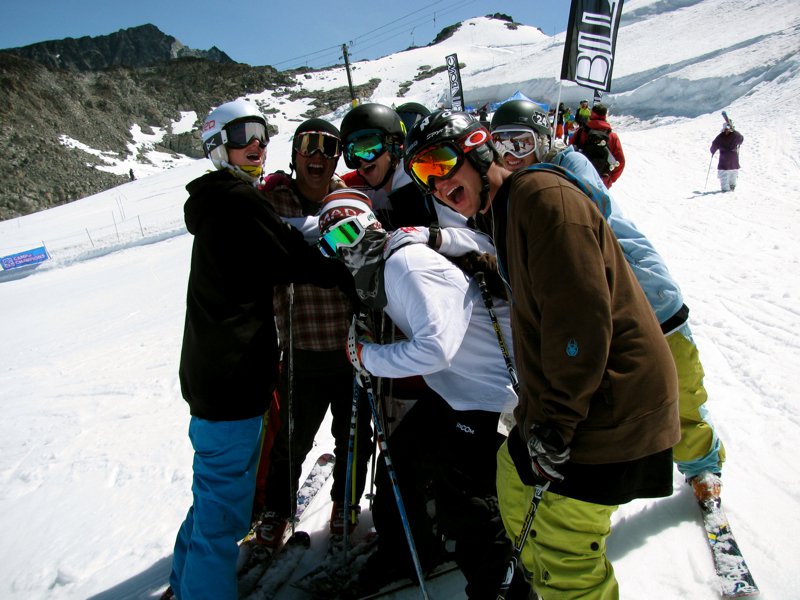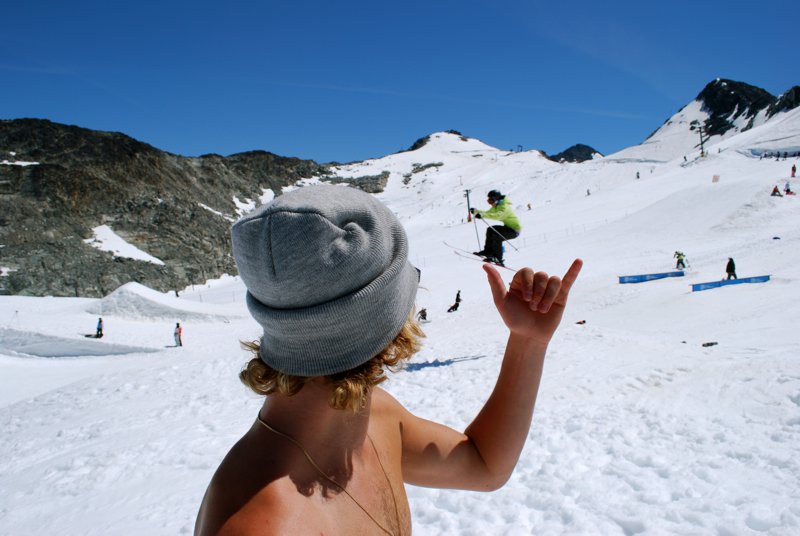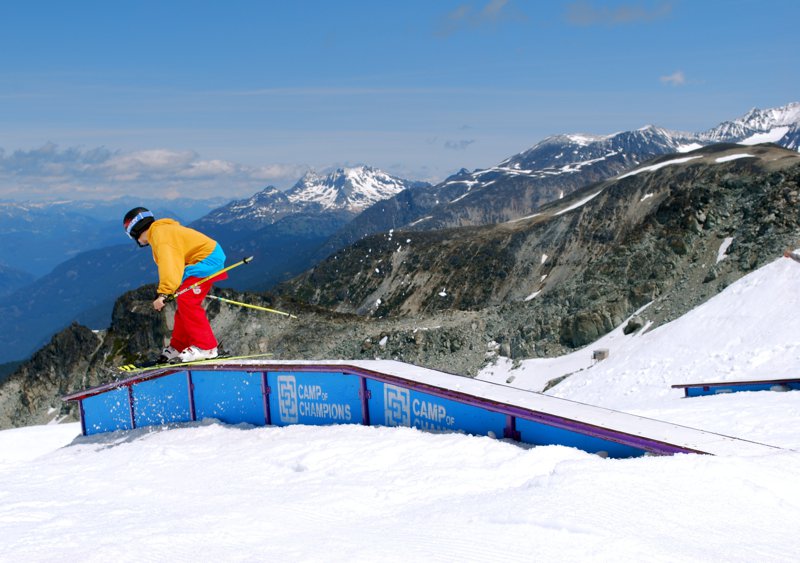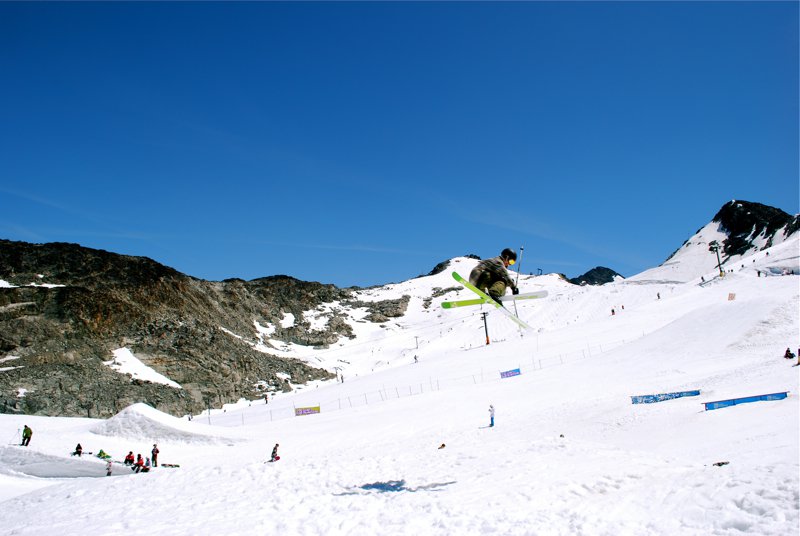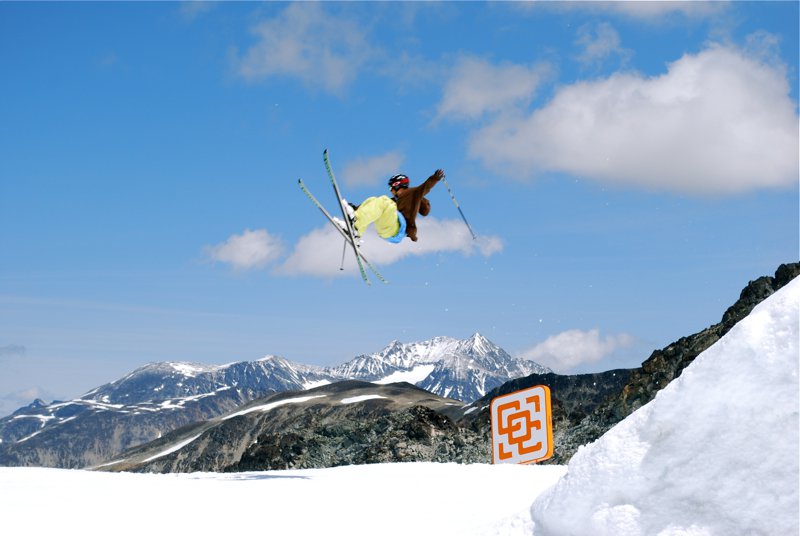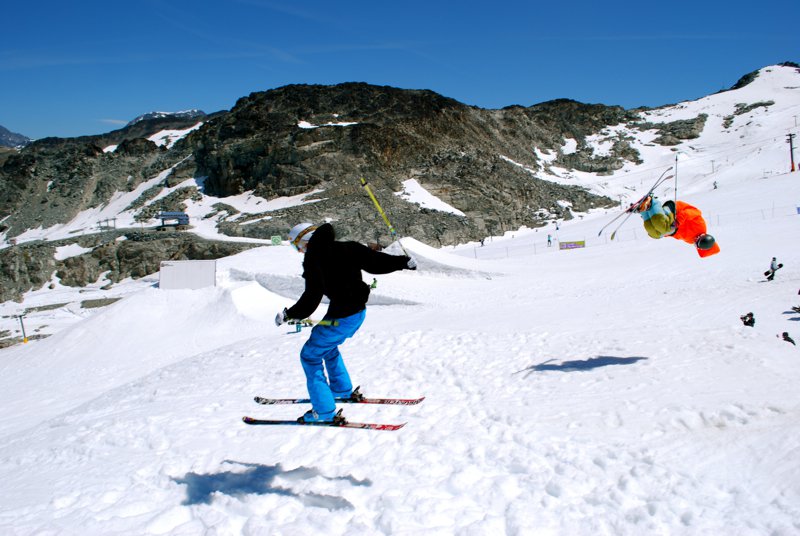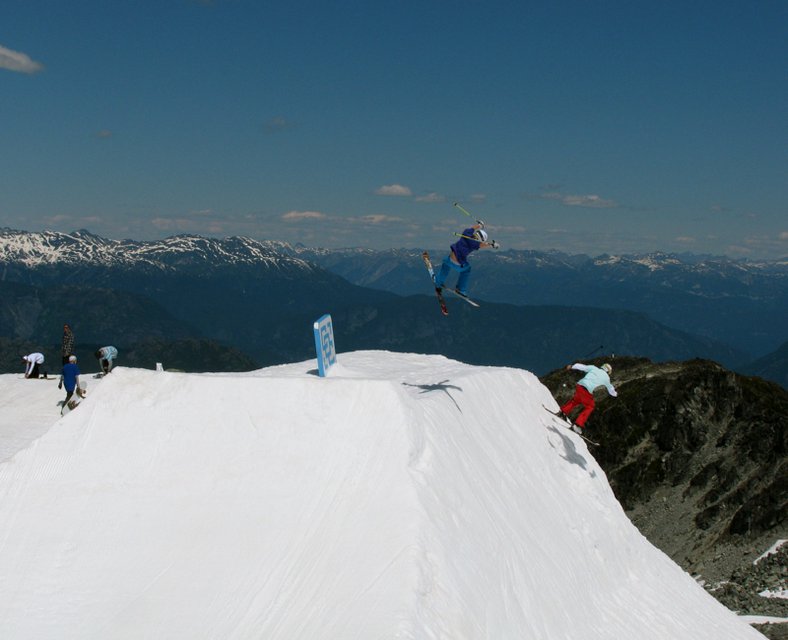 Voleurz' Darren Rayner emerged from his editing cave in nearby Squamish with his glorious and hilarious intern Mathieu Soumet in tow to score some shots for his upcoming film Outdoor Graduation (that we'll be premiering online for free right here on NS this fall), and Joe Schuster and Matt Margetts again continued to kill it like they've been doing all summer long to help round out their segments.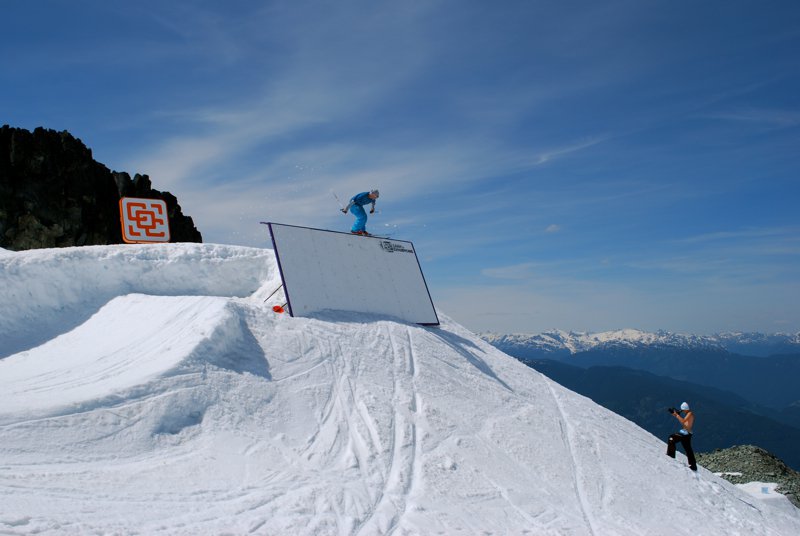 D-Rayne GTS'ing with Joe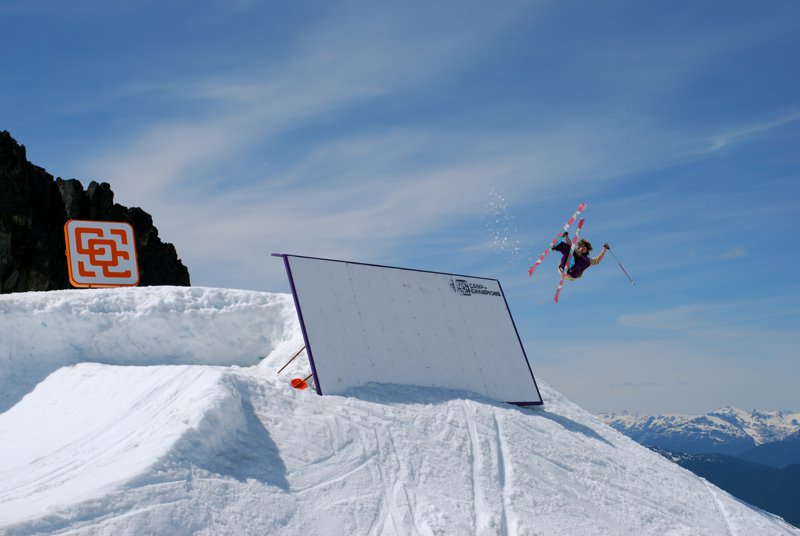 Matt Margetts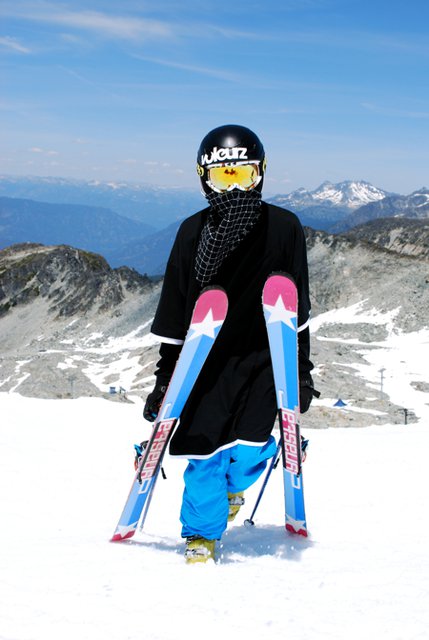 Voleurz' intern Mathieu Soumet...pretty much the most popular person in Whistler this summer.
Other shenanigans at COC included Sammy Carlson and his crew continuing their dominance of COC's lane much to the shock and awe of all...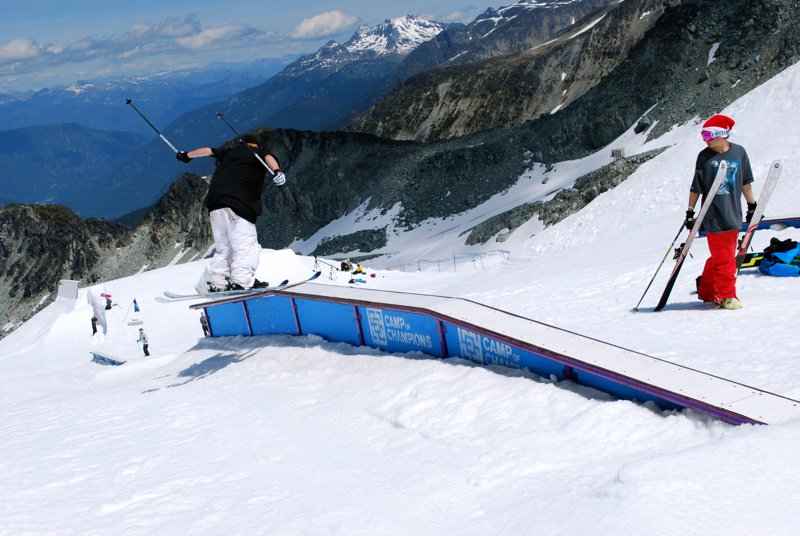 Sammy Carlson
Eight-year-old Aspen Spora killing it top-to-bottom...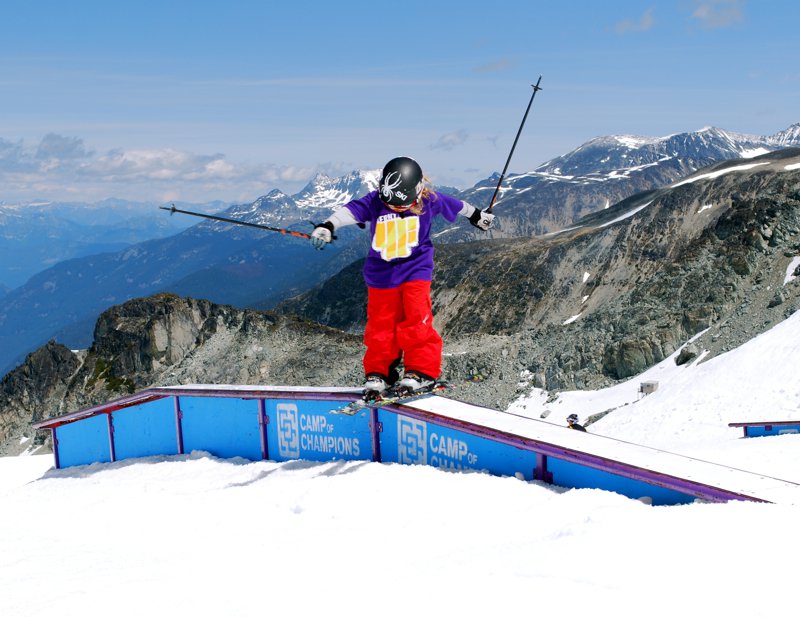 Eight-year-old Aspen Spora
...and of course, the infamous COC Jam, a very informal jam session/competition that takes place every week on the last day of camp where every camper is a winner.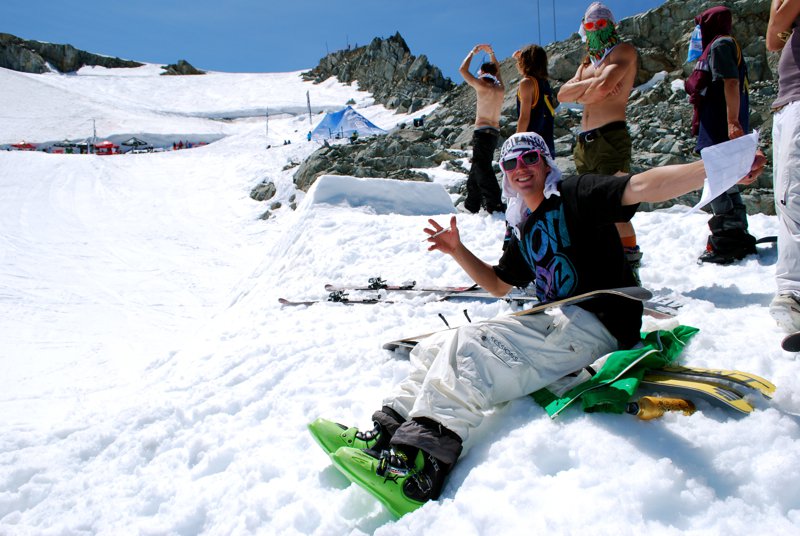 Sterbenz and the 4FRNT team judging the COC Jam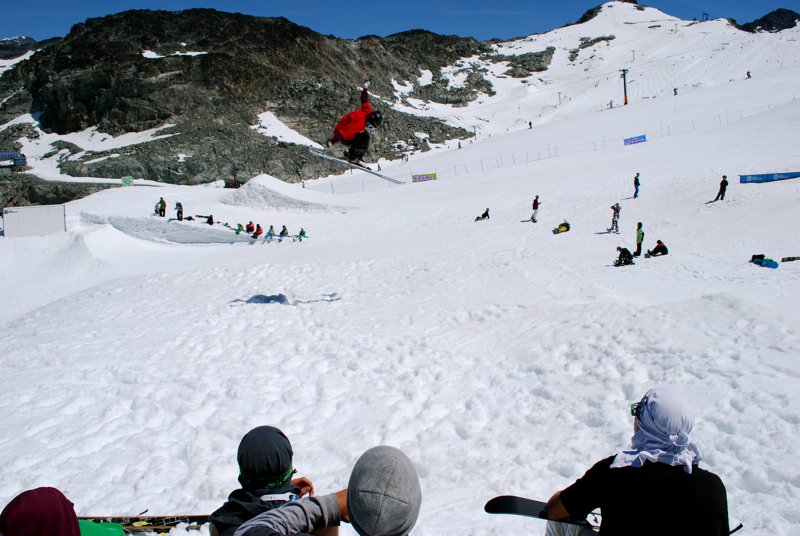 And when the skiing sadly came to an end at COC, it was time for their weekly end of session party at The Compound just outside the COC Dorm...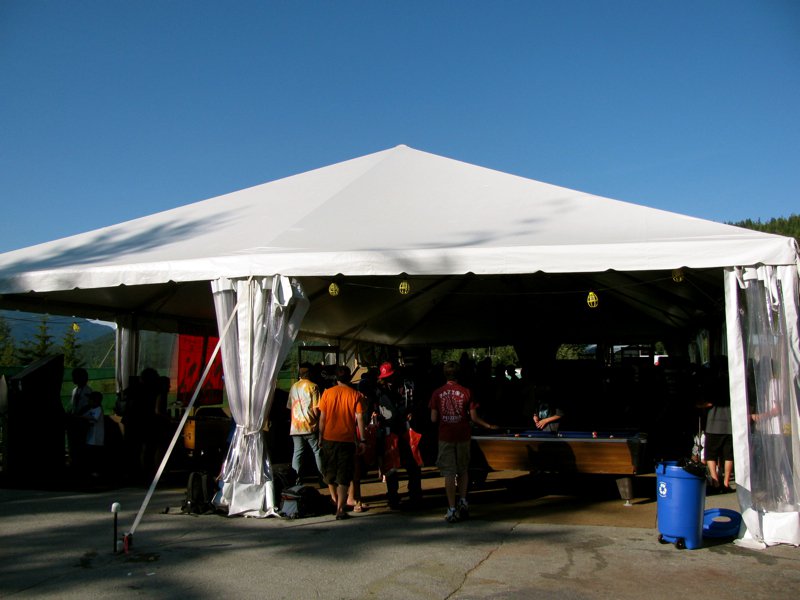 The COC Compound
...where in the midst of a megatonne of Rock Band, skateboarding, bmx'ing, ping pong, foosball, pool, basketball, and so much more, Ken Achenbach was cooking up the best damn burgers outside of In N' Out.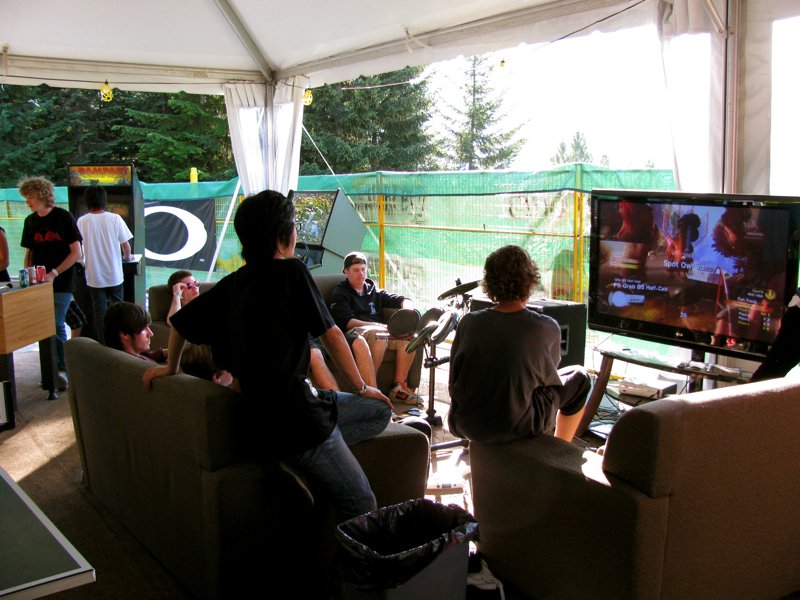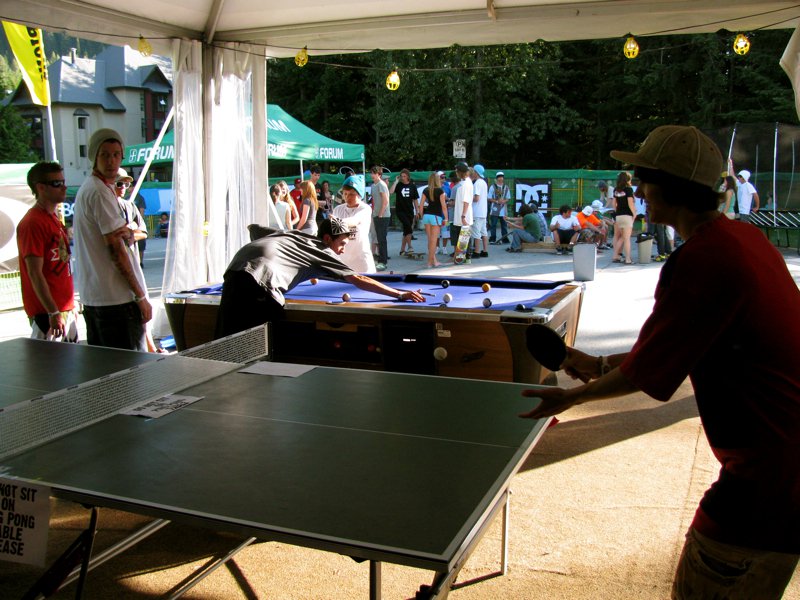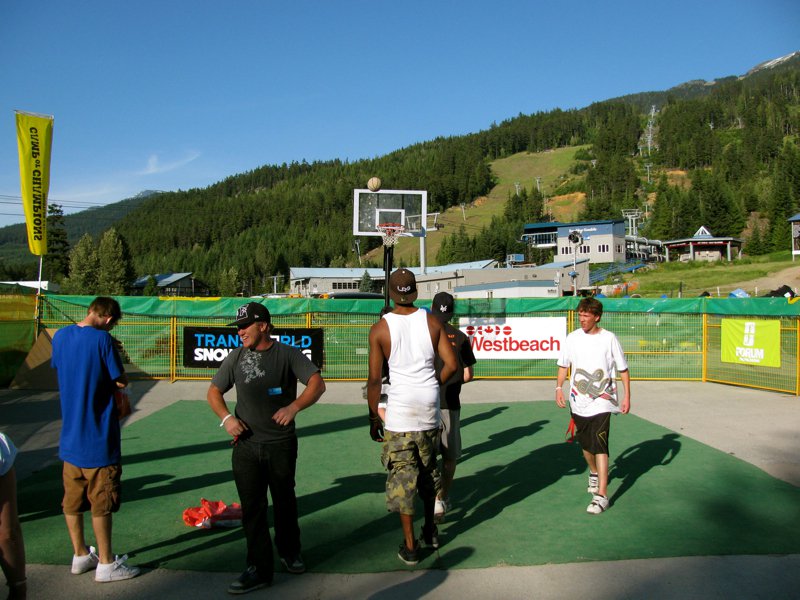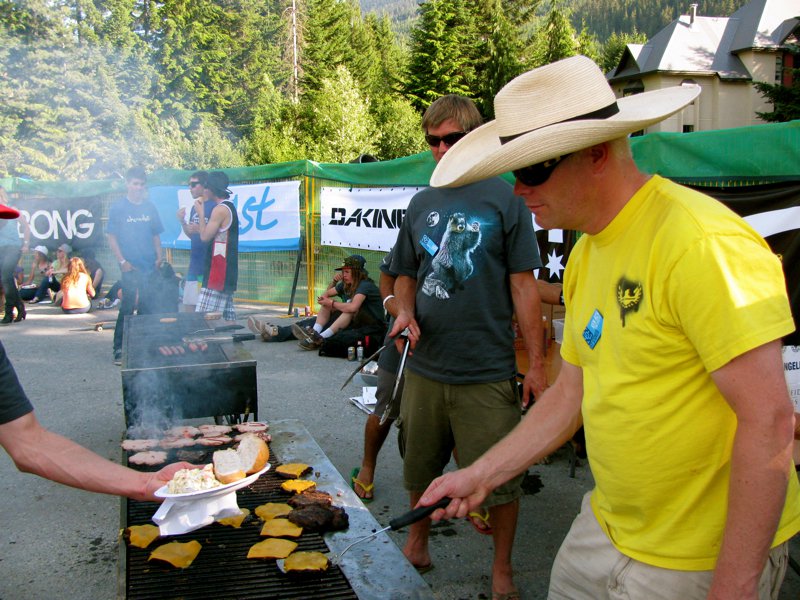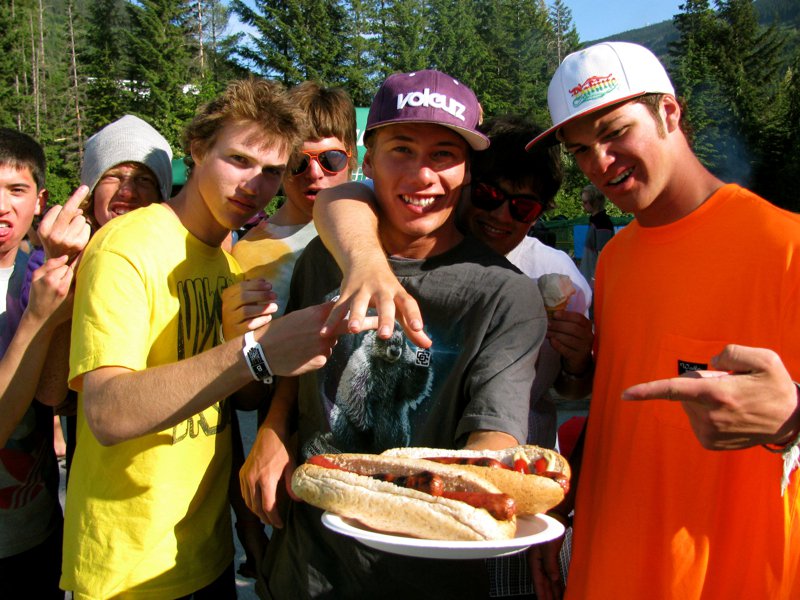 The end of session party is always bitter sweet, as it's when the campers and coaches have to say good-bye after their week of fun together, but are given so much free swag that their parents likely have to cough up an extra $50 for their overweight bags on the flight home.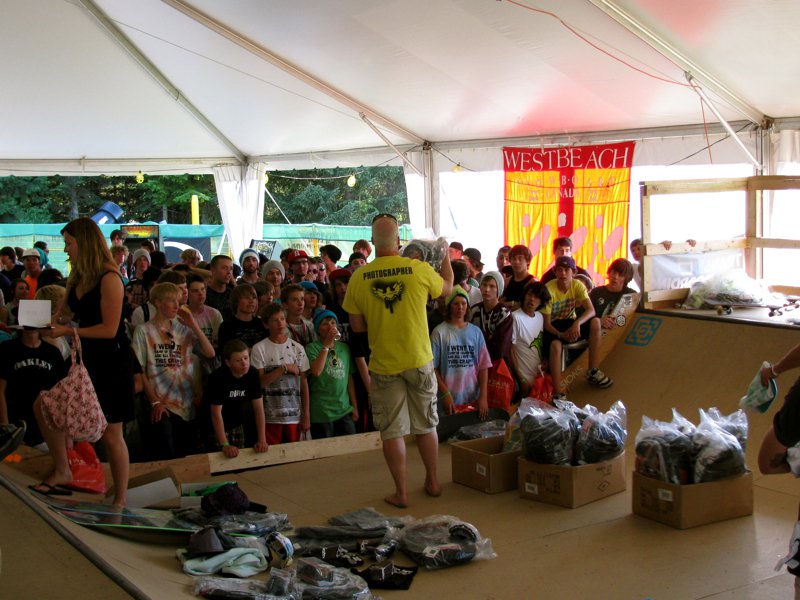 Ken Achenbach and Fabia Gruebler dishing out the goods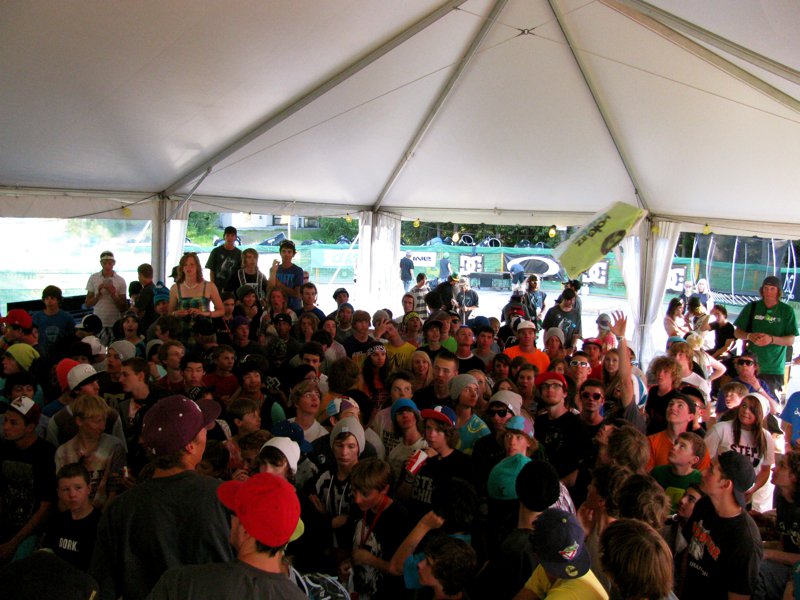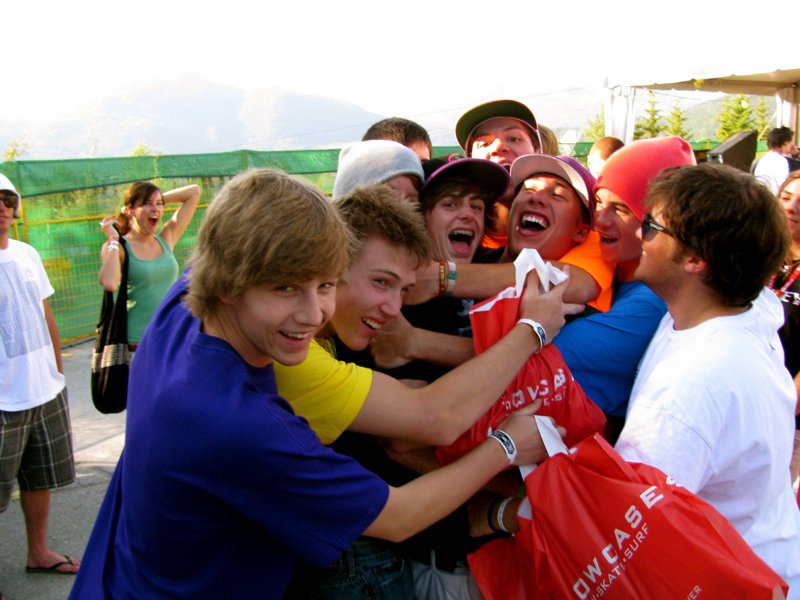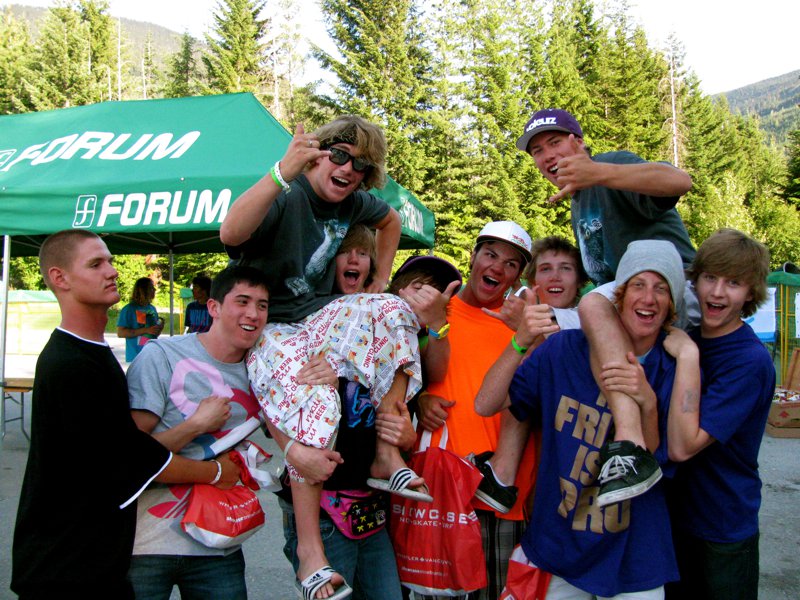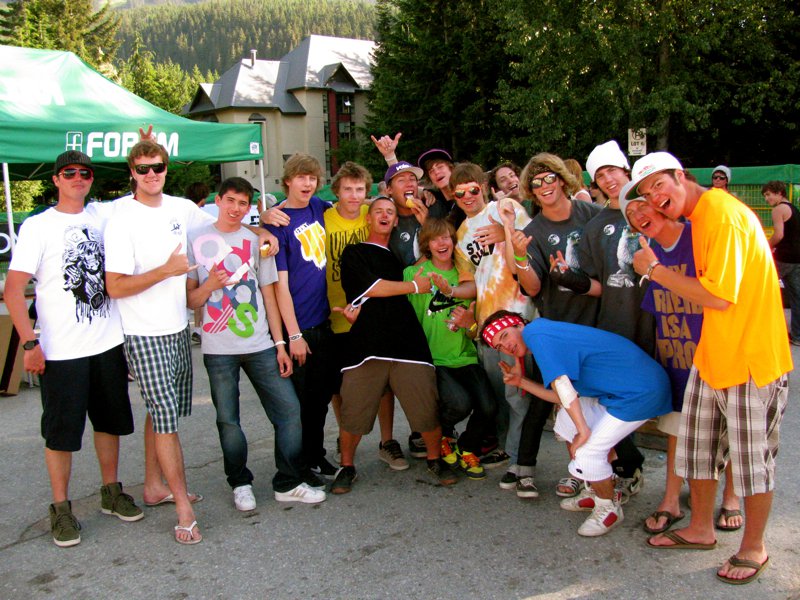 That's all for now from Whistler as session two has come to its end, but stay tuned for more from NS as we'll be doing it all over again this week at session three with more updates, interviews and videos than you can shake a bottle of sunscreen at.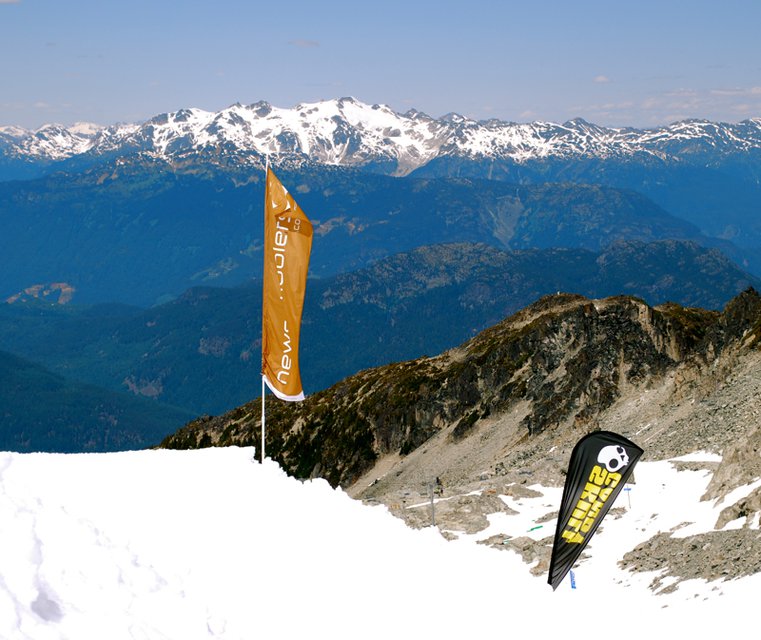 . Camp of Champions Session B. Video by Nick Brassard
Momentum Session 2. Video by Craig Lamond