Courtesy of Gnarshmallow...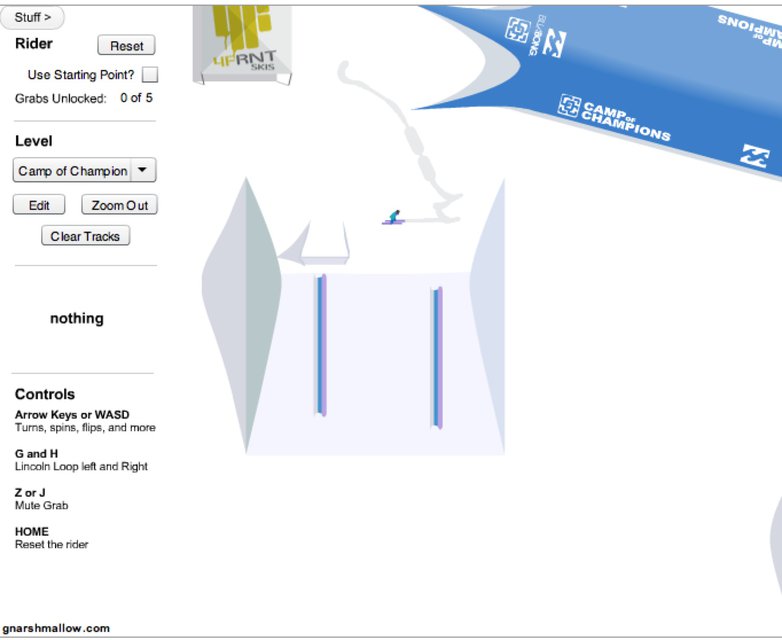 "We're super stoked at camp!" says camp owner, Ken Achenbach.  "Gnarshmallow is hands down the best ski game on the web and we're known for having the best terrain park in the summer, so now we're even more stoked to have the best park on the web as well!"    According to Ken it all started when Doug Bishop introduced him to Adam, Gnarshmallow designer, this past winter so Ken could tell him how stoked he was on the game and how much time the camp team had been spending playing it at the office.  "He asked if we'd be stoked to get our park in the game and we literally jumped, no pun intended, at the chance."
"The park in Gnarshmallow is pretty close to the real thing" states Ken, minus the one rail area known as "Quebec" and a functioining super pipe and quarter pipe, which will be added in a later version of the game.  Also stay tuned for a few more fun things to be added in later vedrsions.
So now you don't have to wait for summer to ride the Camp of Champions terrain park, you can session it now in Gnarshmallow!  Just click the "Ride it" link above to start sessioning the park.
If you haven't sign up for camp yet, you still can, but space is going fast!  If you're not sure about which camp you want to choose, ski the Camp of Champions park in Gnarshmallow and it may help you decide!  Lastly if you're too broke for camp this summer, skiing it in Gnarshmallow is the next best thing!