Camp A launched the 2009 summer camp and while the weather did not always cooperate, fun times were a plenty. Check it out...Wiating for the shuttle at The Dorm.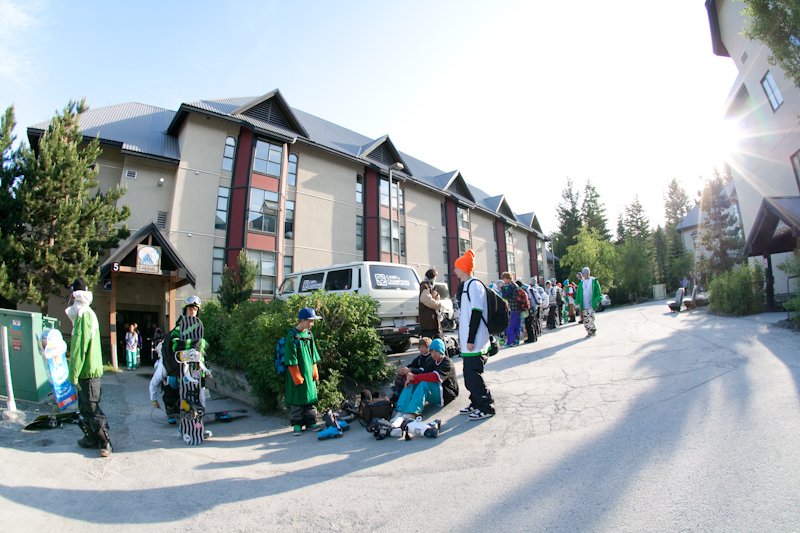 The new Camp of Champions 24 passenger bus to ferrie campers on the short 5 minute drive to the village.
Breakfast at 21 Steps in the Whistler Village
Getting the magic Lift ticket from camp owner Ken Achenbach, while Joe Stumpf from 4FRNT practices his social butterfly skills.
Stand in the "busy" t-bar line to get your lap on in the park.
Hook up with your coaches.
Then go shred...
Hit a few rails, drop in on the pipe.
Then blast off the hip with your coach and get filmed.
Then go shred some of the rails in "Quebec" with your coach.
Lunch time.
More shredding.
The new mini pipe.
Staircase Session.
Backflip sessions lead by coach Griffin Cummings.
Coach Joe Schuster coaching his crew.
Now for something totally different...
After noon activities!
Game of bump.
Rockband.
Shoot some paintballs at everyone.
Miniramp session.
Pop chugging contest for some new gear
Super stoked coaches Jess Cummings and Matt Marquettes
Head ski coach Matt Sterbenz chilling with snowboard super shreds Dan Brisse and TJ Schneider.
Chilli dog eating contest for more new gear.
Head of park security, Colin, crashes and burns.
Dodge Ball!!
Pizza party!!
Product Toss!!Stay tuned for the 2009 camp video and camp B action.WE still have some space left in camps C and D, so sign up soon if you don't want to miss out this summer!