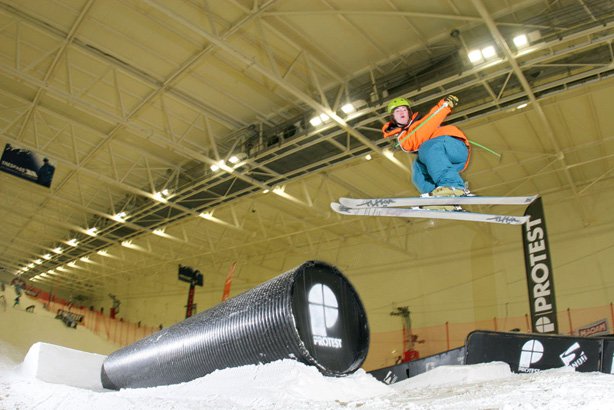 Photo: James NorthThe British Snow Tour is back for its tenth year with a new format that will consolidate this seasons action into a three event tour, kicking off with the British Indoor Championships at SNO!zone Castleford in September.The British Snow Tour will continue to be the highest level of competitive snowboarding and freeskiing in the UK with the chosen three events being the biggest on the calendar and sporting a collective prize purse of £13,500. Equally, more events will be included into the national ranking system, including the Scottish Series, Southern Series and with more independent events to be confirmed.?Despite having flown in the face of commercial pressures over the past few difficult years of a global recession which has hit all sectors ? slopes, retailers, sponsors and competitors pockets ? the decision has been taken to consolidate the British Snow Tour into a three event Tour for 2011/12, so that we may bring it back in its entirety in future years?. Spencer Claridge ? Director British Snow Tour / Soulsports.DATES FOR YOUR DIARIES: ? British Indoor Championships – 24th September 2011, Castleford SNO!zone ? British Invitational Championships – 21st October 2011, London Ski and Snowboard Show, Earls Court, London ? The BRITS ? March 2012, Laax, SwitzerlandTo complement the TTR status of the British Snowboarding Championships organisers are exploring the possibility of aligning the British Freeski Championships with the Association of Freeskiing Professionals (AFP). This will mean that all freeskiers competing on the British Snow Tour will earn World Ranking points, putting them on the same list Bobby Brown, Simon Dumont and the rest of the freeskiing elite.Last year?s indoor events saw snow-shaping expert, Damian Doyle, perfectly craft the freestyle courses so once again he has been recruited as head shaper for the Indoor Championships 2011. Armed with set-squares and scalpels, Damian and team are hell bent on improving the amazing standards set last year. As usual the competition is open to all ability levels from novice to pro with prizes and the British Indoor Championship title served up across five age categories: Kids, Youth, Junior, Senior and Masters. For more info, news, course layouts and online registration go to:
http://www.britishsnowtour.com.Related
posts:Winter X Games 2012: Dates released! ESPN release the dates for the Winter X Games 2012!...British Snow Tour Changes! The British Snow Tour, with its fresh, newly-designed website:
http://www.britishsnowtour.com...British
Snow Tour highlights With the British Snow Tour well under way, it's only...