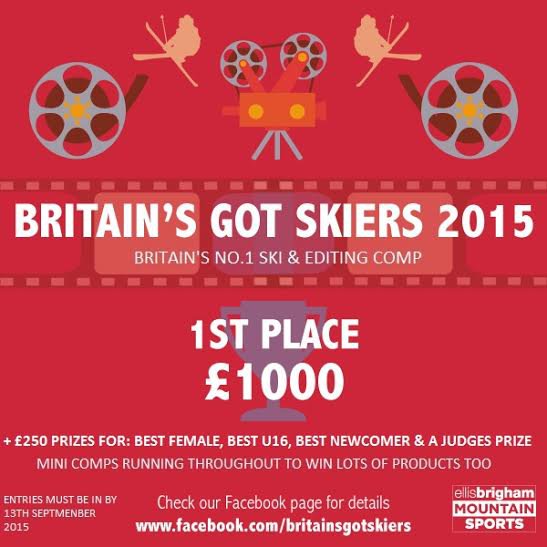 Now in it's fifth year, Britain's got Skiers is the largest skiing video competition in the UK and this season the prizes are bigger then ever. If you are not familiar with Britain's got Skiers it is a simple concept. Anyone from the UK can submit an edit containing footage from the 2014/15 ski season and the best entries are selected for the annual release of the Britain's got Skiers DVD. Along with showcasing your talents there are individual prizes for best overall, best female, best u16, best newcomer and a special Judges Choice winner.
Take a look at James Woods 2013 entry to get your edit ideas flowing
https://www.newschoolers.com/videos/watch/778037/Britains-Got-Skiers
Woodsy is OK at skiing I guess but remember this competition is open to all skiers of all ability's. Your edit is what is being judged, so just because you are not double corking the Freeway jumps does not mean you can not win.
The 2014 Overall winning entire came from Ski the Kingdom and featured skiing from all over the UK
https://www.newschoolers.com/videos/watch/725235/SkiTheKingdom--Britain-s-Got-Skiers-2014
Take a look at the full details below and get your entries in
COMPETITION OPEN! This year the comp is back, bigger and better than ever with £1,000 for first place (up from £500 previously). There is also £250 for Best Female (but that doesn't mean they can't win over all though!), Best U16, Best Newcomer (so tell your mates!!!) and the Judges Special Price. As well as that there are lots of prizes for mini comps we'll be running throughout such as the 'Best Stack Comp' and we'll also be announcing more sponsors so keep your eyes peeled.... Format is the same as usual with the closing date on 13th of September which gives you exactly 6 weeks to get your act together!
We need your help to make this the best its ever been. So please share this poster, tell your mates and feel free to post on your university pages or wherever you feel it's appropriate.
Remember:
- no longer than 3 minutes
- 2014/15 season footage only (can include 2015 summer)
- UK skiers only (footage can be from abroad)
- No sweary sweary in your sound tracks
- When you post the link (preferably vimeo) for your entry put you age and where you're from in the UK
Check out the info page (long description) for the entry ts&cs
https://www.facebook.com/BRITAINSGOTSKIERS
Alongside the main competition is the best stack contest. If most of your footage from the season was you bailing then this is the comp for you. Submit your best crash to the Britain's got Skiers Facebook page for a chance to win prizes from Forcefeild Body Armour.