At 3am this fine December morning (17,2011) when the temperature finally dropped low enough our overnight crew hit the go button on our snowmaking system....after a week of downtime and rain we were back in the snowmaking "business".I'll let my photos tell my story today,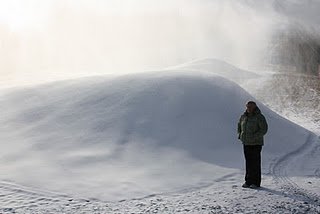 Brimacombe Snow School Manager Jayne standing beside a pile of man made snow this morning.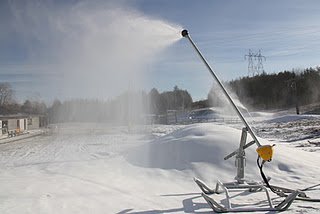 Low Temperature + Compressed Air + Water = SNOW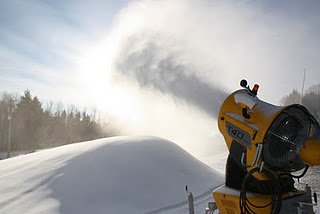 or in this case...Low Temperature + Water + BIG FAN = SNOW!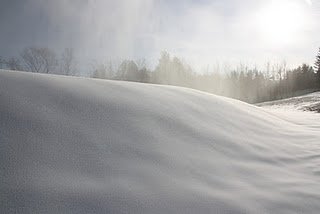 There is nothing FAKE about it...we just make it ourselves.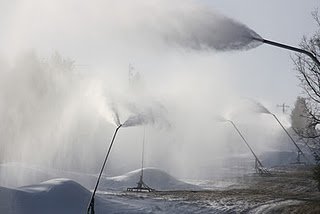 A silent storm under clear blue skies. Give us cold weather, we'll give you snow.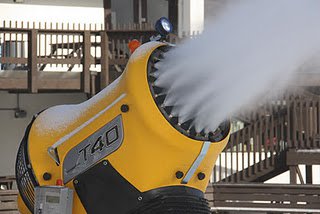 We are testing some new pieces of snowmaking equipment this season, this particular machine is a Techno Alpin T40 fan gun. Future investments into Brimacombe will include improvements to our snowmaking system, pre-testing equipment helps us understand what equipment works best for our resort. 
A view from the top.....we are currently making snow on the STANDARD, BAMBI, and BUNNY BLVD. runs and the MAIN and BEGINNER TERRAIN PARKS.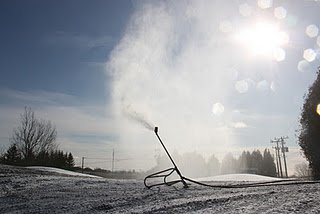 With little to no help from Mother Nature so far this season, we are taking charge and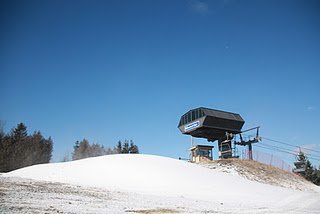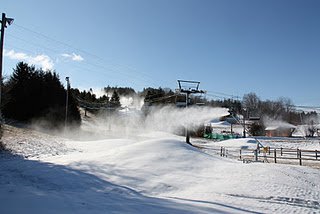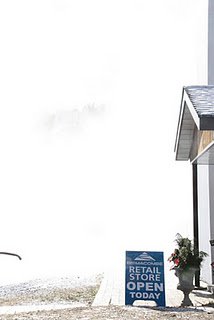 Don't forget, the SLOPESIDE RETAIL STORE at the Base of Brimacombe is open 7 days a week. We have something for everyone and Christmas is just a few short days away. Buying at Brimacombe's SLOPESIDE RETAIL store is investing in YOUR club, all dollars spent here, stay here!For the most up to date information please refer to our website http://www.brimacombe.ca/ . We are setting our sights on Wednesday December 21st 2011 as a possible ?opening day, this is a very tentative date and heavily relies on the weather and our abilities to make snow between now and then. If we meet our snow needs we will be open for day skiing from 9am to 4:30pm and for night skiing from 4:30pm to 10pm.Hang in there, WINTER is coming!Cheers,Mark