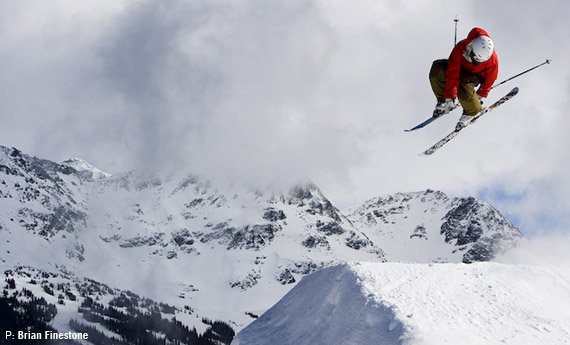 THE STOKE IS AGELESS
Surfers coined the term stoke to represent to exhilaration felt by
anyone feeling the flow of riding waves. The feeling of being stoked
has transcended beyond surfing and can be achieved by anyone who feels
the flow of sliding effortlessly on snow or through thin mountain air.
The ultimate sensation of being stoked comes from the feeling you get
when you stomp that elusive trick you have been trying and slide away
clean for the first time.  You can get stoked for someone else when
they nail a new trick too. I have seen the look in the eyes of a person
who gets stoked on riding for the first time; it is obvious regardless
of whether they are four or forty. It is this feeling that keeps us
coming back for more, it is the search for the stoke that gets us
trying new tricks each day in the park, with the knowledge that the
feeling is moments away.
Part of what makes the Park Crew stoked is the feedback we get from skiers and riders every day. We work hard designing installing
and grooming the park to keep it fresh for the regulars and to create new opportunities to try new trick variations on new set-ups.
It doesn't matter how young or old you are, there is something in the Parks that you can learn on. Trust me, it's worth it, you'll be stoked!
Saturday March 15th is the final installment of King of The Rail for the season, so don't miss this last chance to wear the crown and go home with some swag. The following day on March 16th we are holding the last Telus Park Rider Sessions Slopestyle of the year on Whistler Mountain. This course is going to be rad with one of the best set-ups to date on the Green Acres Jump Line (including the wall ride). March 22-23 will be the final Snowcross race of the season, so sign up, wax up and get training because if the turn out from the last race is any indication, this one will be packed.
See the Photos
- Brian