The last of the 3. Three times a charm.
I join my fellow Newschoolers, Sexyjulian and Catdickbojangles, in being gifted the rare opportunity to review this pair of pants. Let me tell you: I have told any and everyone that will listen that I am now an influencer and it has immediately gone to my head.
Review Details/Specs
Height: 5'8"/174cm
Weight: 165 Lbs/75 Kgs
Testing Locations: Colorado and New Mexico
Size Tested: Medium
Conditions: Bluebird to Cold Smoke Powder. Everything but heavy, coastal snow.
Initial Impressions
Upon receiving the package, I was glad to see that it was housed in a paper cardboard bag. I previously worked in a ski shop and the amount of waste to transport new products (particularly clothing) has always horrified me. Think mountains of plastic wrap. So for me, the presentation and eco-consciousness are important. Upon opening that bag, I was greeted by another bag. A plastic bag. On this plastic bag, a big disclaimer read: "This bag is made from bio-degradable plastic" but a little digging into LDPE 04 plastic online shows that this is, unfortunately, not entirely true. Sources cite anywhere from 500-1,000 years for bio-degradation. However, I must stop myself because A) I'm no plastics expert and B) Planks themselves have admitted these shortcomings with campaigns such as their "We are not Eco Friendly". Also, I realize the difficulty of making systematic changes and what the consumer expects. When I worked at shops in the past, I have had customers from around the world ask me for garments "in the plastic". So this fact is not lost on me. The fact that they are trying is commendable in itself.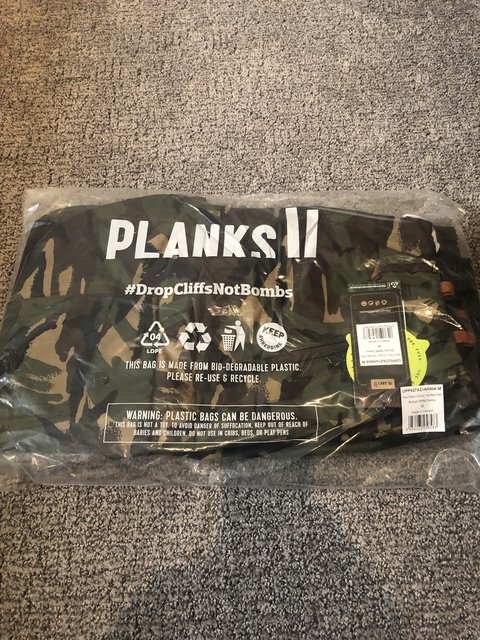 The pants themselves immediately captured my attention with their departure from conventional ski pants norms. The first thing I will mention is the "boxer briefs" type waistband. One glance on their website and it seems they refer to it as an "elasticated waist gater" that "stops snow going in naughty places". If I'm being honest, my initial impression was one of immediate skepticism and I was curious as to how this would translate to my day to day experience.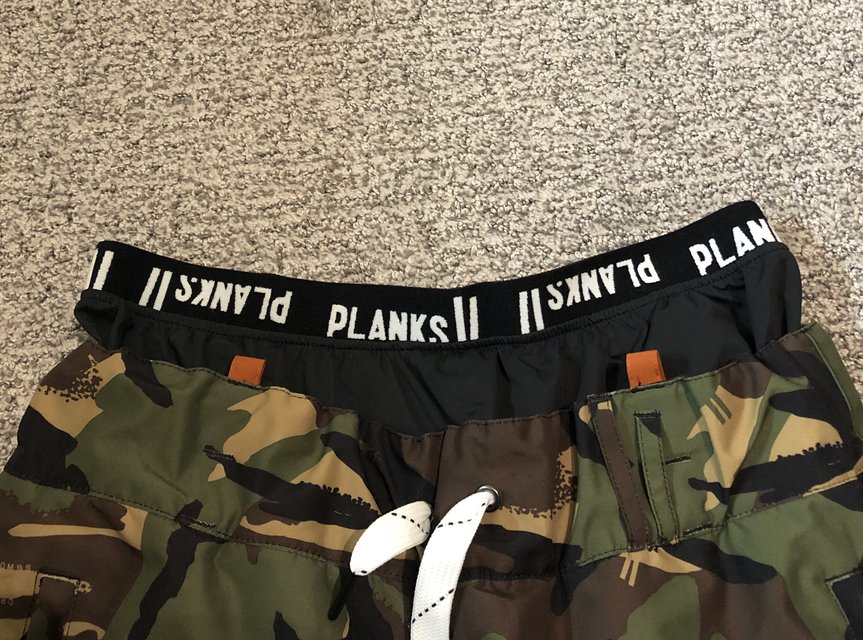 Some more oddities included a shoe string Waistband and shoe strings to use as suspenders. You can see the orange tabs above where the strings loop through. I opted not to use these suspenders so I will refrain from commenting on them. As for the shoestring waistband, I don't think I ever tied it.
Regarding initial quality impressions, the fabric is starchy and thick. You can tell it is partially made from water bottles. It reminds me of how Picture Organic jackets feel. The stitching is clean and the zippers work well but the zipper tabs feel kind of cheap. The velcro works well and so do the buttons for the pockets. So, I'd sum it up as: Good quality for the price.
Fit
The fit of these pants is quite nice. I opted for the medium because I had a feeling, just from looking online, that the pants were on the baggier end of the spectrum. I like a nice fitting pair of pants with some bagginess but not a lot. I've never been the guy whose pants are swallowing their legs, so I wasn't about to start now.
As far as cut goes, they taper in around the waist and start to blow out a tad around the knees. Near the boot, they taper back in and have an elastic cuff. I have had the misfortune of my pants getting caught under my boot while, both, walking and skiing so this was a welcomed change. However, I immediately noticed it was not reinforced so I was curious as to how that would translate durability wise.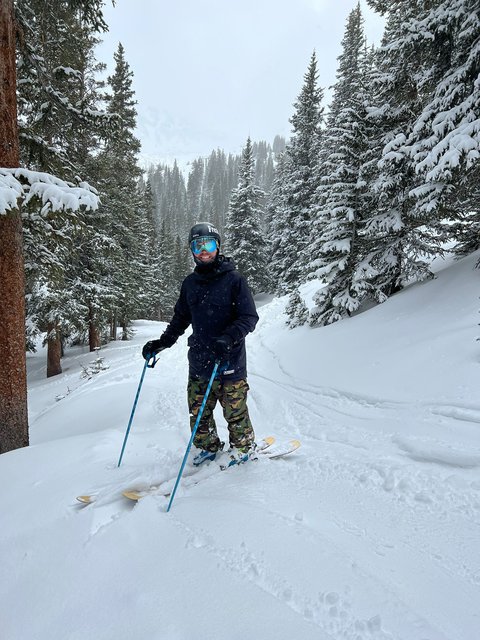 On Snow Performance
Remember how I was pontificating about the boxer brief waistband earlier? Well, I immediately changed my mind. I loved it. The elastic waistband moves the pressure of the waistband and allows the pant to flex and flow a big more easier without any pressure points. I hate an excessively thick waistband so this felt great. The zippers felt nice and gave me no issues (I can not say the same about my Volcom Gore-Tex pants). The fleece lined pockets feel wonderful to put your hands into and I thought it was neat that the cargo pockets were fleece-lined too. I can't think of a reason for this, but it is still cool nonetheless. Maybe photographers might find it handy? If you can think of a reason, let me know in the comments. I'm sure there is a reason.
One thing I really like about these pants is their versatility. They are starchy enough to keep out the cold wind but thin enough to wear on a warm spring day. They, also, have inside leg vents so I can air it out when it's getting a bit toasty. It's probably important to note that I'm a little weird about my legs and temperature. The most I'll ever feel is, maybe if it's extremely cold and windy, my knees go a little numb and they get this warm sensation. The last time I felt this was during a day skiing in Finland where it was -11f/-24c. I was only wearing a shell and long johns so maybe take my opinion regarding leg temperature with a grain of salt.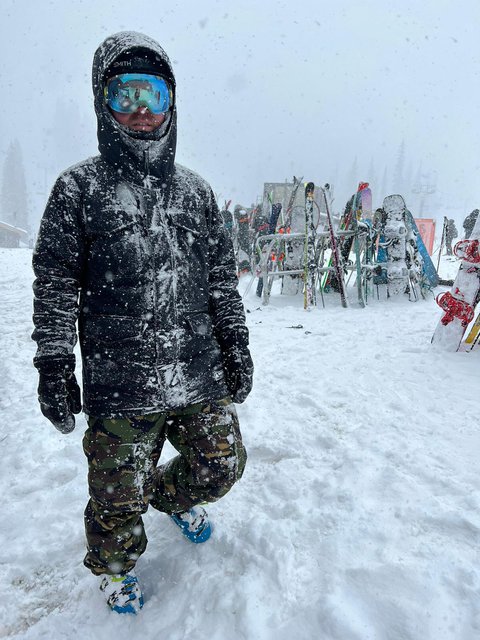 Durability
Regarding durability, I would say the Planks faired well. No notable issues and they're running strong. Except for one thing: the non-reinforced inner ankle area. As I expected, the ski edges would occasionally hit and cause tiny rips. Let me state, however, that I have often used snowboard pants in the past so this is not some egregious flaw in my mind. There were less rips than I expected to boot.
Past that, everything is doing well: No other rips, no thread unwinding, no areas of heavier wear not consistent with rest of pants.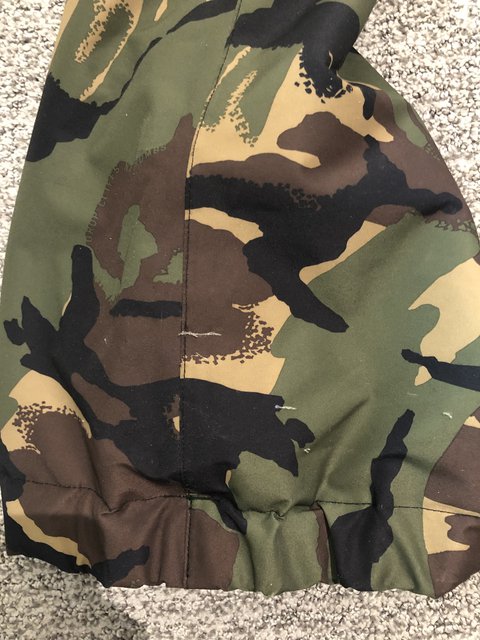 Final Takeaway
I really like these pants and I like their willingness to take some risks and buck conventional ski pant design. I would highly suggest these pants to someone who wants a quality pair of pants on a budget. Keep in mind, these aren't gore-tex (they're only 10k waterproofing) or anything super high tech, but they do what they are made to do really well: Provide a freestyle oriented pant at a decent price.
If it helps your decision, I have made these my go-to ski pants now.
If you have any questions regarding these pants, feel free to ask below or send me a message.