Words by Anders Isaacson
That's it. That's all. Time to go home folks. The park crew has built the final junkyard feature; the judges are cold and tired; the prize lockers are empty; the pizza ovens are cooling down and the competitors have nothing left to express. The 2012 Boreal Expression Sessions are officially a wrap.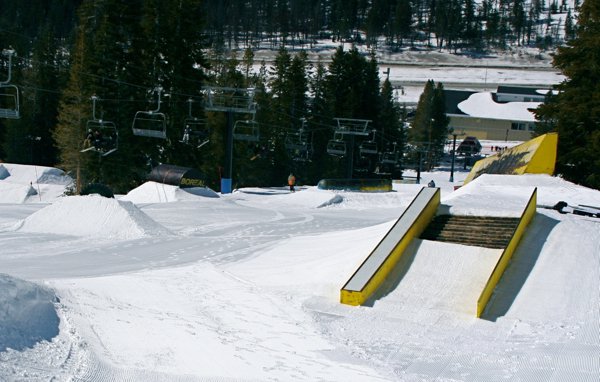 Boreal Mountain Resort
For those that still don't know, Boreal's Expression Sessions are an annual series of four events open to skiers, riders and now snow skaters of all ages and ability levels. This year's theme for the series – Junkyard Jams – means each event revolved around some sort of object that was plucked from a nearby junkyard and dropped into the middle of Boreal's world class terrain parks. For anyone that has attended too many rail jams in their life, these beautifully chaotic events are a refreshing and welcome change. Here's a recap of how the action unfolded this season.
Expression Session IV: The Junkyard 
The fourth and final installment of the 2012 Expression Sessions combined all three features into a junkyard slopestyle course. The Boreal Park Staff also threw in an up-stair set, a giant down-wall, a tire bonk, a 6" round bar and a small tabletop. The smorgasbord of features and the creative design of the course reminded me more of an actual junkyard than any slopestyle course I have ever seen. The rules were simple: only one drop at a time and best two runs out of three is the winner. By the end of the night I don't think there was a single conceivable line that hadn't been skied. Local ripper, Josh Gassin, even exited the course in the middle of his run in order to get a fresh angle on a previously un-found transition en route to a third place finish. Pete Arneson returned just in time to take home first place in Men's Ski for a third time this season and remind everyone that he's the boss. Congrats Pete. Boreal's prize locker will never be the same.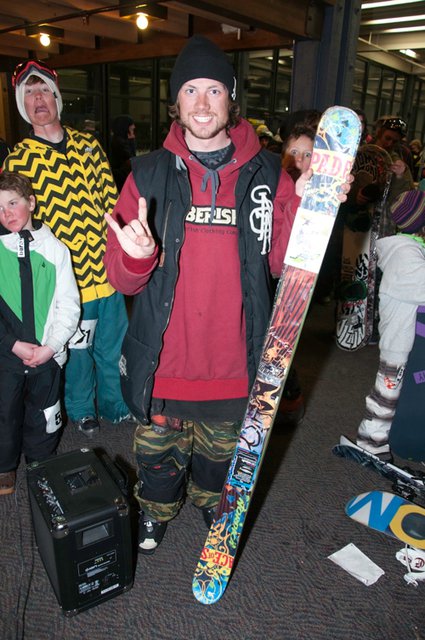 Pete Arneson
Men's Results
1) Pete Arneson
2) Mike Wakefield
3) Josh Gassin
Teen's Results
1) Tyler Curle
2) AJ Blach
3) Hunter Sherwood
Grom's Results
1) Wilder Sherwood
2) Lucas Rouchy
3) Sean Lucas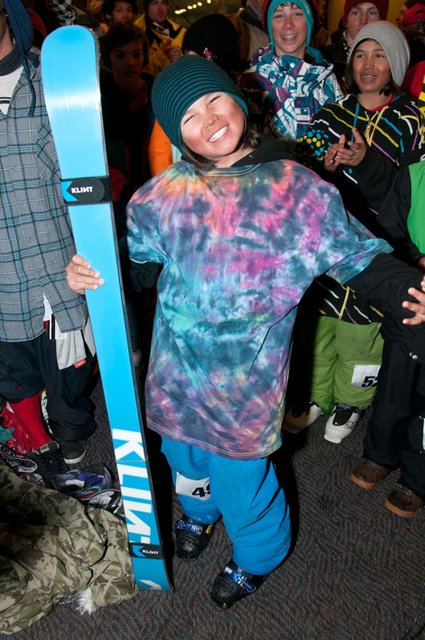 Hunter Sherwood
Expression Session III: The Rust Bucket
Expression Session III featured the "Rust Bucket," a seven-foot diameter tube measuring 10 feet in length. The 30 skiers ranging in age from seven to 26 were given the first 40-minute heat to strut their stuff in front of the largest Expression Session crowd of the year. With DJ Squarefield Massive busting beats and J*Ras, a local reggae artist, on the mic, there was electricity in the atmosphere. The competition proved extra fierce with back-to-back Men's champion, Pete Arneson, on the east coast and the podium up for grabs. Only adding fuel to the fire were two fresh pairs of Nordica Ace of Spades boots for the victors of Men's and Youth Ski.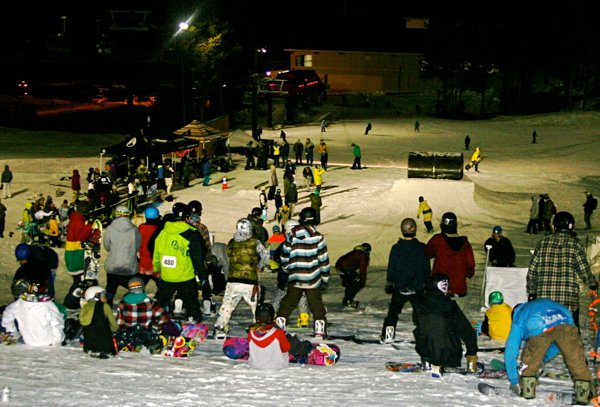 The feature proved difficult for some, including Jaime Melton, who somehow managed to break two pairs of skis before going home with the award for Best Crash and a $50 gift card to the best burger joint in Truckee – Burger Me. However that wasn't the case for young ripper, Cody Laplante (age 10), who secured 1st place in Youth Ski and a fresh pair of Nordica Dead Money boots with an impressive demonstration of tricks that this author (age 26) can't even touch. Josh Gassin, who eventually claimed first in Men's Ski, also wowed the crowd with his free clinic on how to perform various flips, wall rides, hand plants, slides and spins on a junkyard jib.
Alex Dorzinsky
Men's Results
1) Josh Gassin
2) Alex Dorzinsky
3) Jason Arens
Youth Results
1) Cody Laplante
2) Mike Jones
3) Tyler Curle
Expression Session II: Shred Bull
The second Expression Session introduced the "Shred Bull," a giant spool that at one point was used to transport the wire for one of Boreal's lifts. The snowboarders were given the first heat before the skiers had their shot at taming the "Shred Bull." Each heat started off somewhat slow as the competitors racked their brains to figure out what exactly they were going to do with the awkward feature perched eight feet up on a glorified spine. However by the time each heat ended the spectators in attendance were treated to a variety of approach angles, bonks, slides, inverts, spins and even a few epic crashes. Pete Arneson proved he was the real deal when he busted a rodeo 5 while tapping the Bull en route to repeating his first place finish.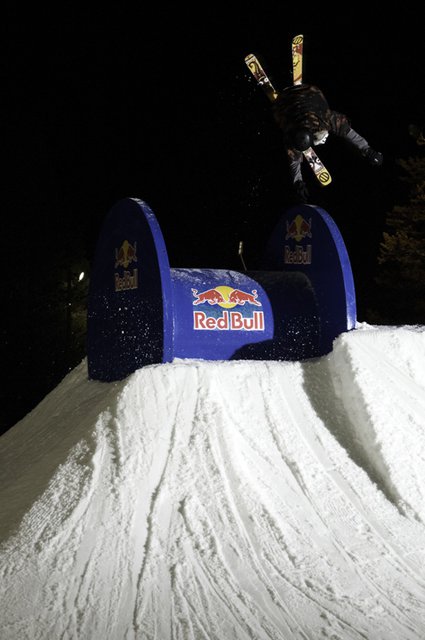 Josh Gassin
Men's Results
1) Pete Arneson
2) Alex Dorszynski
3) Tim Sargent
Youth Results
1) Aspen Spora
2) Taariq Safouri
3) Wilder Sherwood
Expression Session I: The Pill
The first Session set an all-time ES record when nearly 90 competitors showed up to try and swallow "The Pill," a 1,000-gallon propane tank with a fancy paint job. As soon as the competitors were given the go ahead complete mayhem ensued...literally. Skiers, riders and snow skaters dropped from every angle and with no particular method to their madness. The skiers came out of the gates hot with a variety of spins on and off the feature. Pete Arneson eventually sealed his first place finish in the Men's division when he used the pole jam to butter a 450 on before spinning a 270 off – a trick he had been trying for most of the night.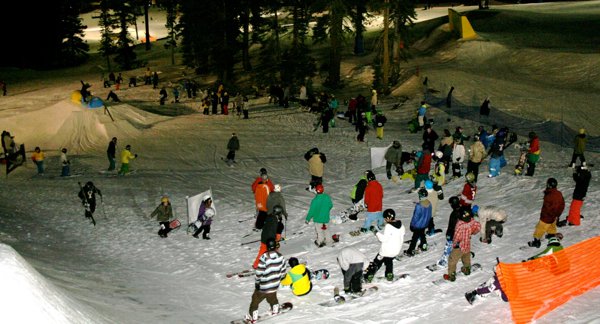 Men's Results
1) Pete Arneson
2) Chris Whatford
3) Raleigh White
Youth Results
1) Mike Jones
2) Hunter Sherwood
3) Tyler Curle
For more information about Boreal Mountain Resort, check out http://www.rideboreal.com and http://www.facebook.com/borealmtn, and to get the scoop on Woodward Tahoe, visit http://www.woodwardtahoe.com for more information.