It's no secret that Friday night is synonymous with a good time. Just ask Katy Perry if you don't believe me. Whether we are talking about a night on the town, a high school football game, some wild party, or even a TGIF marathon on ABC, when Friday night rolls around you know that fun is just around the corner. The same holds true for Boreal's popular Friday night event series – the Expression Sessions.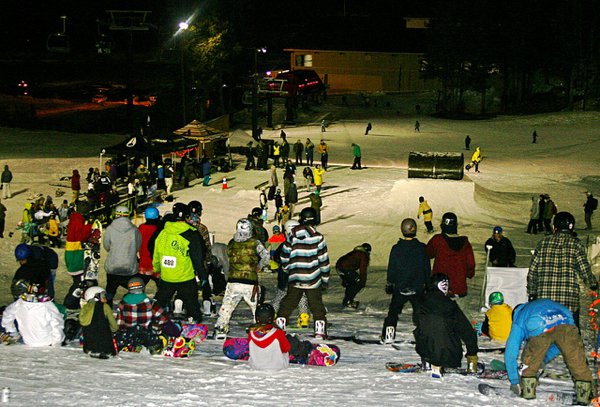 The scene of the crime - Boreal Expression Session #3
This year's theme for the series – Junkyard Jams – means each event revolves around some sort of object that was plucked from a nearby junkyard and dropped into the middle of Boreal's world class terrain parks. Staying true to theme, the third installment of Expression Sessions took place on a 7-foot diameter diesel cell that was found outside of Carson City, Nevada and given a few modifications for the competition. After being sanded down and smoothed out, "The Rust Bucket" – as it has come to be called – was turned on its side and set up with a plethora of approaches that challenged contestants to utilize every conceivable angle of the feature.
Expression Session #3 attracted the largest crowd of the 2011/12 season (so far).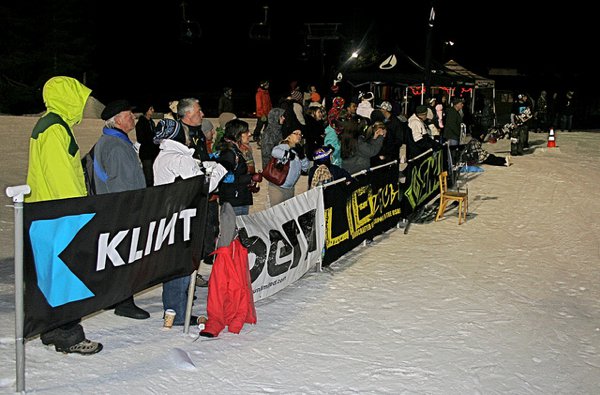 After a brief 30-minute warm up the contestants were primed and ready to explode. The skiers were given the first 40-minute heat to strut their stuff in front of the largest Expression Session crowd of the year. With back-to-back Men's Ski champ Pete Arneson over 3,000 miles away in New Hampshire and safely out of the picture, the competition proved extra fierce with the podium up for grabs. Adding even more fuel to the fire was a fresh pair of Nordica Ace of Spades boots reserved for the victor.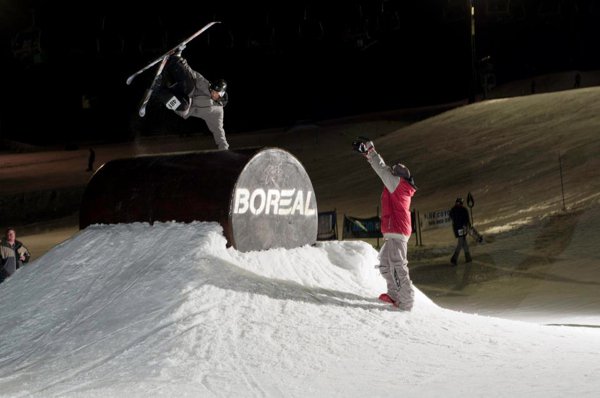 Alex Dorzinsky. Photo by Kyle Beckmann
The feature proved difficult for some, including Jaime Melton, who somehow managed to break two pairs of skis before going home with the award for Best Crash and a $50 gift card to the best burger joint in Truckee – Burger Me. That wasn't the case for young ripper, Cody Laplante (age 10), who secured 1st place in Youth Ski with an impressive demonstration of tricks that this author (age 26) can't even touch. Josh Gassin, who eventually took 1st in the Men's Ski division, also wowed the crowd with his free clinic on how to perform various flips, wall rides, hand plants, slides and spins on a junkyard jib.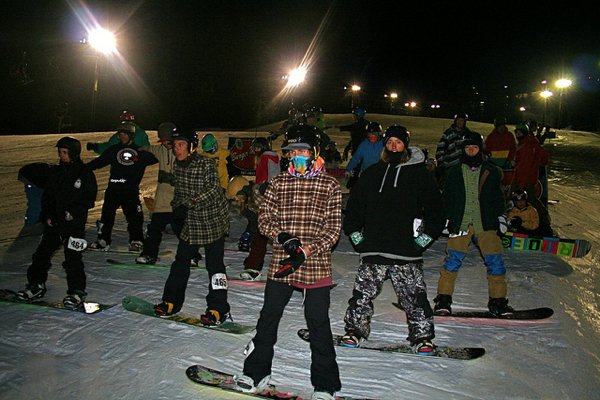 The snowboarders waited patiently for their chance to conquer "The Rust Bucket."
Once the Boreal park staff had tended to the feature, it was time for the snowboarders to show off what they are capable of. Similar to the skiers, the snowboard heat started slow as the contestants familiarized themselves with the feature and tried to figure out how they were going to conquer it. As the competition heated up everyone in attendance was witness to a dizzying array of tricks with an even more dizzying array of names, ranging from miller flips and pivots, to worm rolls and hand drags. Eventually Matt Busedu (Men's Board) and Tasha Sagucka (Women) once again emerged victorious, as they did in Expression Session #1, and both took home brand new boards for their troubles.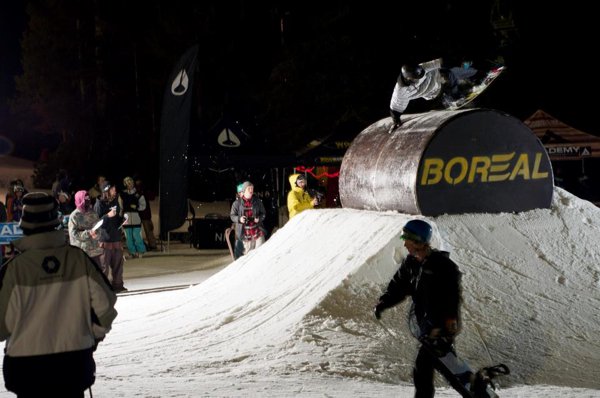 Lou Macias. Photo by Kyle Beckmann
The snow skaters, well...they tried. I think the entire group managed to land just a handful of tricks (and I'm being generous here), despite being allowed to participate in both heats. That being said, the carnage was sure fun to watch and big ups to them for sticking with it! In the end, Adam Gerloch managed to separate himself from the others when he went up and over The Rust Bucket and rode away clean.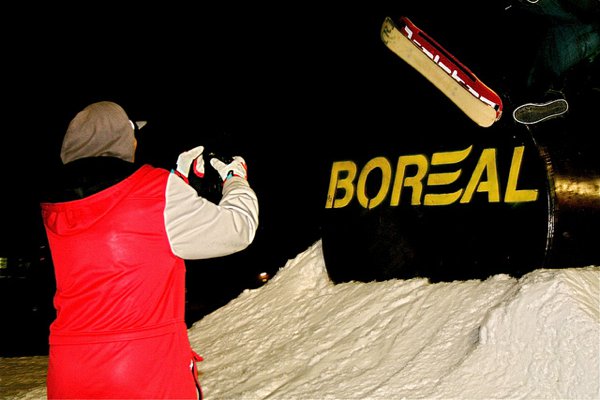 The snow skaters…well...they sure tried...
As soon as the competitors were done expressing themselves and the competition came to the close, Boreal offered up a free pizza dinner to keep everyone preoccupied while the event staff organized podium positions and prizes. An award ceremony followed shortly thereafter and the top three finishers from each division were showered with enough prizes to make even royalty jealous. As is Expression Session tradition, the night concluded with a prize toss to the sea of people in attendance. "We want everyone to have a memorable evening and leave with something – regardless of age or ability level," said Anders Isaacson, Boreal's Marketing Coordinator. "This event is all about having fun and giving back to the community that makes Boreal, Boreal."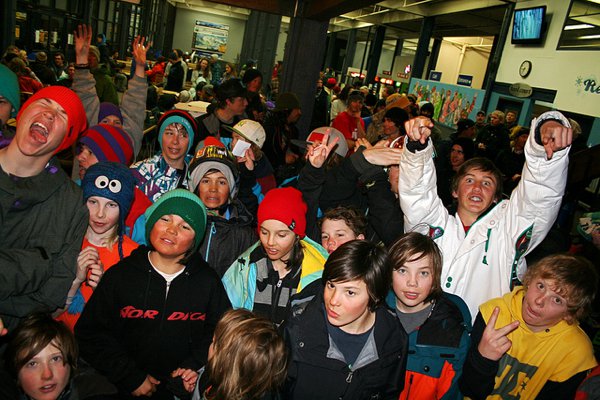 The youngsters all hyped up on pizza and eager for the prize toss.
As for the future of Expression Sessions, make sure not to miss the fourth and final Session of the 2011/12 season on Friday, April 6th. This final event will be a slopestyle competition that will utilize every junkyard feature Boreal has to offer, and then some. Prizes will include two pairs of Nordica skis and several snowboards from Academy, GNU and Lib Tech, as well as helmets, headphones, outerwear, goggles and tons of other totally awesome swag.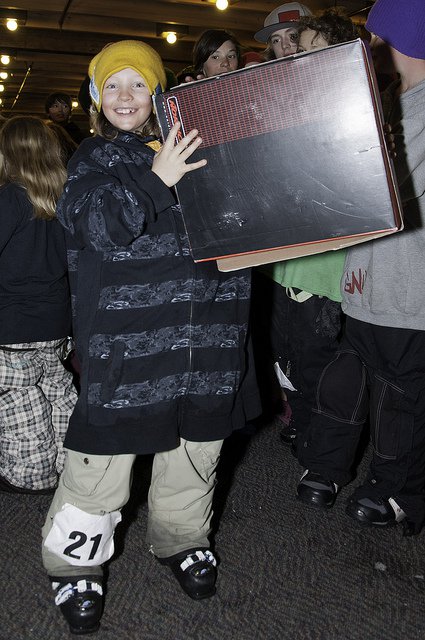 Registration for Expression Session #4 will begin at 5pm on April 6th and the competition will kickoff shortly thereafter at 6:30pm. Entry is just $5 for anyone with a Boreal Lift Ticket or Season Pass. Helmets are required for all participants. For more information about Boreal Mountain Resort, visit http://www.rideboreal.com or http://www.facebook.com/borealmtn, and for more information on Woodward Tahoe, which opens in June 2012, go to http://www.woodwardtahoe.com.