The second installment of the Boreal Expression Sessions is scheduled for this Friday, February 10th at Boreal Mountain Resort. The Expression Sessions series is made up of four jam-style events that take place once a month between January and April. The first Expression Session, which went down on January 13, attracted nearly 90 contestants, including skiers, riders and snow skaters – making it the largest and most diverse turnout in Expression Session history.  Boreal is expecting an even larger turnout for the next event.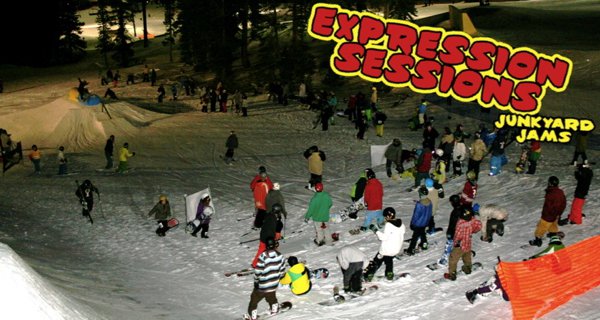 Nearly 90 competitors turned out for Expression Session #1 on January 13.
The Expression Sessions are a homegrown event series 15 years in the making as well as a refreshing change from your traditional rail jams.  This year's theme – Junkyard Jams – means each signature feature has been retired from a previous use off the snow and recycled specifically for our shredding pleasures in Boreal's world class terrain parks.  These 'new' features are unveiled and given a thorough test drive during the Expression Session events.  Expression Session #2 will introduce the 'new' Red Bull Spool – a 10ft tall wire spool with a few 'special' modifications and a shiny new paint job.
Boreal's Park Staff has been hard at work locating and modifying junkyard items for the 2012 Expression Sessions, including the 'new' Red Bull Spool (in progress above).
When the competition kicks off on Friday night, contestants will have a one-hour open jam session to bust out their most impressive and creative tricks.  The all-star panel of judges will be in charge of narrowing the field to a handful of finalists, who, in turn, will duke it out for podium positions and a boatload of awesome prizes.  An impressive stable of sponsors, including Lib-Tech, Moment, Nixon and Arnette will again fuel the competition with prizes for the top three finishers in each division, as well as overall best crash and the most creative use of the feature.  Additional prizes will be tossed out to the masses during a free pizza feed and award ceremony that will take place in the Boreal lodge following the competition.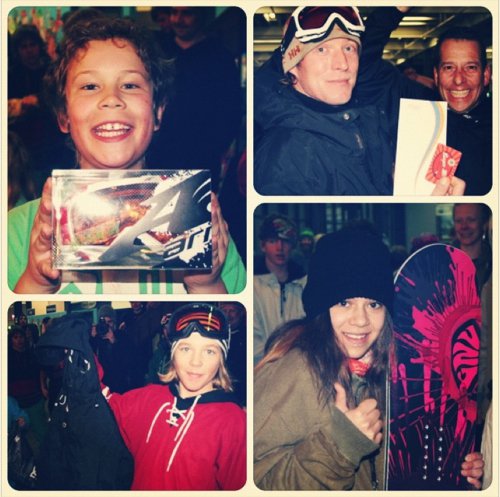 Just a handful of the prizes given out during Expression Session #1.
New for Expression Session #2 will be a live DJ and MC providing entertainment, and Boreal will be adding an additional, smaller feature for those not comfortable hitting the larger one.  According to Jon Slaughter, Boreal Marketing Director, "the goal is for people of all ages and ability levels to come out, compete and have a good time!"
Registration for Expression Session #2 will begin at 5pm on February 10th and the competition will kick off shortly thereafter at 6:30pm.  Entry is just $5 for anyone with a Boreal Lift Ticket or Season Pass. Helmets are required for all participants.
For more information about Boreal Mountain Resort visit http://www.rideboreal.com or http://www.facebook.com/borealmtn, and to read all about Woodward Tahoe (which is opening in June 2012) check out http://www.woodwardtahoe.com.