With signs of summer coming, the money white stuff melting, and Boone's Hot '09 collection fresh off the press, the guys at Pure Mint Media decided to get the team together and head off in search of more of that elusive white gold.  After all it's always snowing somewhere.
With the team split between South America and New Zealand there was only one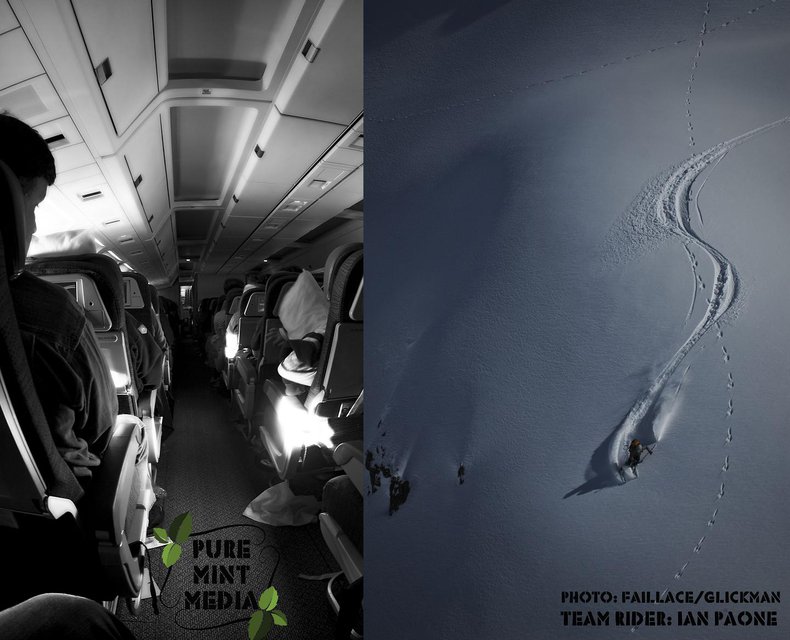 way to settle this.  A board meeting of the company (with members from Vermont, Colorado, Utah, and British Columbia) was called and after a heavy game of rock, paper, scissors (Chile on one side, New Zealand on the other), the rock had the team on a series of seemingly, never-ending flights—filled with hot stewardess and tons of in-flight drinks—headed for Chile's capital, Santiago.
From the city of Santiago we hot dogged it high up in the Andes Mountains to the village of Farellones, an old school mountain village overrun with wild dogs and some ski stores overflowing with the sweetest 80's one-piece ski suits the world has ever seen.  Sure they say when traveling halfway around the world to a foreign country you should familiarize yourself with the country's language, but frankly I think it's a little overrated.  Basically remember these key lines and you'll be set:  "More beer please"—Mas cervesa por favor; "Dude that chick is hot!"—Huevon chica bonititsma; and the essential, "Stop humping my skis mother f*%$@!"—Dejade tener sexo con mis esquis pinche huevon.  Oh, and whatever you do, don't forget to ask for a double shot of Piscola (Pisco & Coke), the unofficial liquor drink of Chile, because everyone and their mom drinks it like water down there.
While the ladies were hot (Argentinean chicks were bangin'), booze was flowing, and our awesome and crazy hosts insisted on partying every night until sunrise, we had traveled 6000 miles for a single mission; to kill some pow . . . one thing that Chile had tons of.  The Farellones area of Chile is the ideal place to host a summer session with its three sweet resorts (La Parva, Valle Nevado, and El Colorado), tons of urban terrain, and a supply of never ending backcountry mountain ranges that stand at 13 plus thousand feet.  It was heaven's testing ground for a range of 09 skis.  Of the three resorts the best hands down was La Parva, because not only are the people there chill and super accommodating, the variety of terrain and lift accessibilities are intense.
Simply put, Boone's 08/09 collection killed it—a must.  From epically steep chutes and pow lines to rails and wall rides, Boone's ski collection proved that they deserve a podium spot for killer park skis that can handle it all.  With a refreshingly nice balance of flexibility and side cut, the Magic Sticks, Super Freaks, and Twins (referring to the graphics packages) are offered in freeride version at 93mm underfoot (125mm tip/119mm tail) and in urban form at 82mm underfoot (125mm tip/119mm tail). 
So what does this all mean?  Basically if you're looking for a sick ski this season that kills the mountain (all terrain) and looks blingin', then Boone Twins (freeride version) is a great pick.  Not to mention, with these skis in South America, being concerned with theft was not the issue.  My main concern was worrying about keeping Chilean dudes off of my skis as they tried to impregnate them.  Hence the key Spanish phrase: "Dejade tener sexo con mis esquis pinche huevon" (stop humping my skis mother f*$@%#). Seriously though, all this turmoil could be avoided if they simply took the Twins out for a nice steak dinner.
I'll toast to that.
Francis Faillace
Pure Mint Media president
To find out more about Pure Mint Media, our ass kickin' team, and the '08 South American shred sesh—keep an eye peeled for our awesome upcoming website PureMintMedia.com and more dropping later this fall.