About two weeks ago, it got cold enough at Donner Pass to snow a few inches, and for Boreal, with its much expanded snowmaking system, to make a good couple of piles of snow to build some fun little features upon. For 5 dolla bills, they allowed you to hike the features as much as you want in the late afternoon...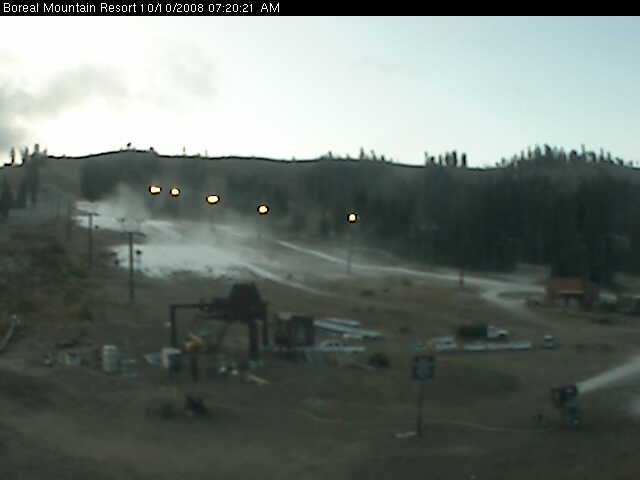 Two weeks prior, Boreal was spraying snow all over the place... Whats amazing is that they were only running at 30%, as the power company did not allow them the energy to go full blast. Remarkably, they were able to bust out a couple piles of snow...
The remaining snow after 2 weeks of weather... just enough to have some fun with...
The flatbox was extremely popular.
The Up box was a very fun feature.
The C-Box at the bottom was set up nearly perfect.
After the public Jib Session, everyone headed down to the tents at the bottom, where a bunch of companies had set up shop, and were displaying product and handing out goodies. Boone was not to dissapoint, and was along for the ride with its own tent -- repping all the locals home turf, as a Northern California, and Lake Tahoe based company.
hoards of spectators showed up for the evenings events
Boone holds it down with the tent, showing everyone the shapes, sizes and graphics of this seasons limited edition lineup.
After a few hours of showing off the new sticks,  the Boone crew joined the rest of the riders, who had come from near as nearby hometown; Truckee, California, and from as far as Pennsylvania and New York on the Ice Coast.
All the riders showed up in the yellow bus, after going dummy hyphy in Oakland (well... not really... but how G would it be to see the 4bi9 guys ghostriding in a real, Bay Area sideshow? Talk aobut a hyphy edit...)
The staircase setup for the railjam.Lots of options here...
All the riders assembled at the top of the setup as night fell, and the Boone ski team was as ready as they were anxious, as this was, for most of the riders, their first competition of the season. Sean Crosby brought all of his amazing camera skills to the event, and set out to get the blurriest photos that he could... he did not dissapoint - that is, if you actually like really blurry, and out of focus pictures...
The event started, and the skiers set out to destroy everything in sight, as this technical battle was officially under way.
BLURRVISIONN: Scott Pollman, and Sugar Dorzynski get ready to drop in
Alex "Sugar" Dorzynski - competing through a very uncomofortable shoulder injury, was able to tough it out, and throws some very technical sw 270s onto the down-flat-down, and plenty of switchups to delight the onlookers.
Scott Pollman got a little crazy in his first comp of the year, throwing some sick stuff on the down rail, and threw a few switch backflips off the platform.
Hometown rider, Dylan Curry was solid all evening, throwing tons of technical stuff, 270's all over the place, switchups, and pretzels everywhere.
Zach Steele, coming off an ACL and miniscus injury over the summer, kept it easy, and still threw some sick 270s and switchups on the DFD.
Rich Marleau, from South Lake Tahoe came all the way up to rep Boone Skis in JPI4. LJ Strenio drops in behind him - he threw down all evening and came up with 2nd place.
Sugar loves skiing under the lights.
Rich Marleau - Brand new rider for Boone Skis, climbed to the top of the railing to gain extra velocity on the last hit of the evening.
Rich attemps to gap the down rail, as he is much more of a gap, and transfer specialist, in this, a very technical event.
New Boone Pro Team Rider - Dylan Curry spins so fast, that he bends his pole - He did spin fast enough to throw disgusting stuff all evening, and won 3rd prize over the likes of Hornbeck, and Dadali with a ridiculous 360 switchup. Look for him to bust out this season for sure.
Tom Wallisch enjoys his 2000 dolla billz, as he stands ontop the podium with LJ Strenio, and localboy, Dylan Curry. Wallisch, as expected, was making more laps on the feature than anyone else, and was throwing some stuff that was just ridiculous. Homie is a talent for sure.
Overall, it was a ton of fun, all evening, and nobody went home unsatisfied, or tired, because just about everyone was buzzin off Red Bulls, and awesome skiing. Here's a video from http://www.borealterrainpark.com from the competition
http://www.youtube.com/watch?v=xs0-7zPm0EU
Boone is getting ready for its season in the Bay Area at the San Francisco Ski, Snowboard, and BOOZE festival. More railjams, beer/wine tasting, and all the ski companies showing off their stuff at Ft. Mason in San Francisco. If you do decide to come by, drop by the Boone Tent for some stuff we are raffling off, as well as chill times with some sick ski movies that we are showing.
For all information on Boone Skis, go to http://www.Booneskis.com, or email us at booneskis@booneskis.com
(or just PM Dingosean... that always works too)
PRAY FOR SNOW!