Words & photos: Pippin Lee
The ugly truth: it's the end of the season in Ontario. As the second week of March roles by, it is evident that winter has taken an early retirement and spring has skipped the cue. The snow is continually losing its albino-like whiteness, while slowly gaining a dark mud-looking tone, with grassy patches scattering the sides of the runs like balls at a driving range. To be optimistic, as last Thursday rolled around Ontario seemed to have had nothing but bluebird skies for the past two weeks. Thursday was of course the start of Blue Mountain's Triple Challenge.
The annual event marks both the closing of a season, and an unnecessary reason to crush a few and party like it's your last après ski ever. The three day event started with slopestyle on Thursday. The Am and Pro categories alike were treated to sunshine and a specially made slopestyle lane in the middle of the mountain. After two quick qualifying rounds it was off to the finals where both the Am and Pro skiers stepped it up to a whole new level.
The women skiers were first up and didn't hold back. Switch 5's and solid 270's out resulted in a great showing and set the bar for the men. Coming out of Huntsville Ontario, Dara Howell showed the upcoming talent of women's skiing in Ontario and it earned her 3rd place. Just ahead of her was Stephanie Bourque, who emptied her full bag of tricks and picked up a very respectable 2nd place. In first place however; was Kylie Sivell, whose consistency impressed the judges all day and earned $500 for the piggy bank.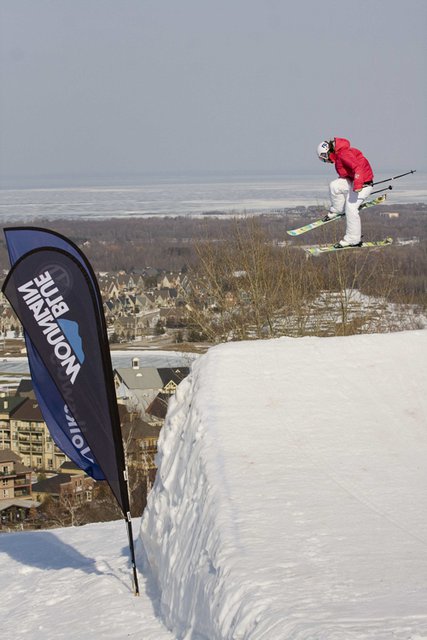 Dara Howell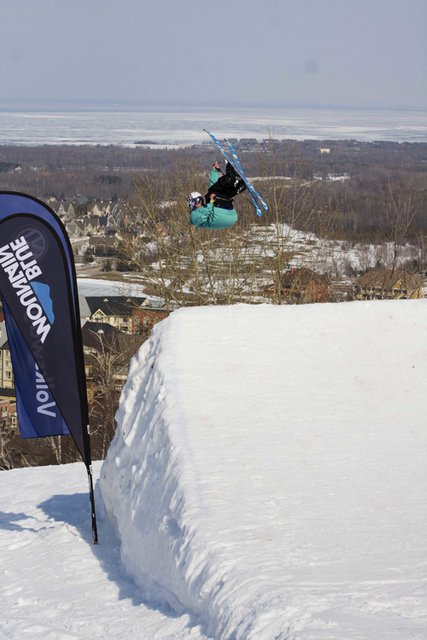 Jess Warll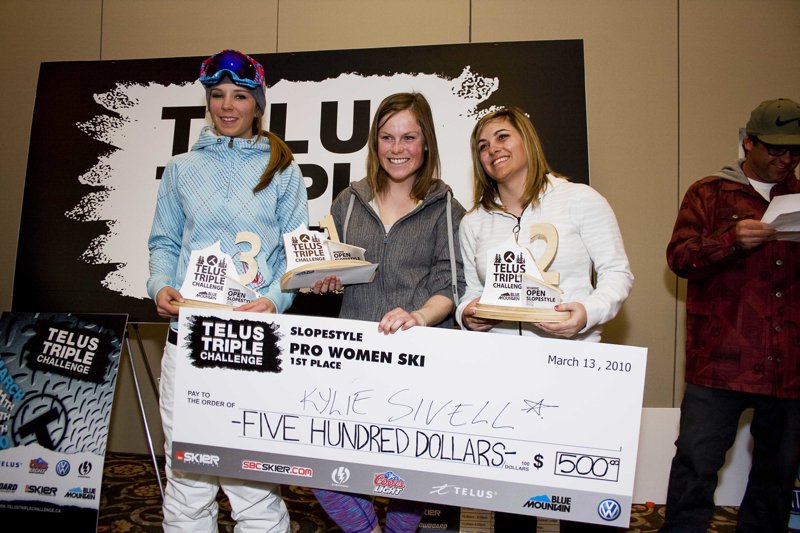 Dara Howell (3rd), Kylie Sivell (1st), Stephanie Bourque (2nd)
In the Am category it was Alexander Mathers who grabbed the 3rd spot on the podium. Issac Vickers, out of Barrie, Ontario, showed up and gave the judges a stomped double front flip which gave him 2nd place on the podium. Showing up just ahead was Block 9 Media's Jordan Innes who took home first place, with flawless rail trickery all day.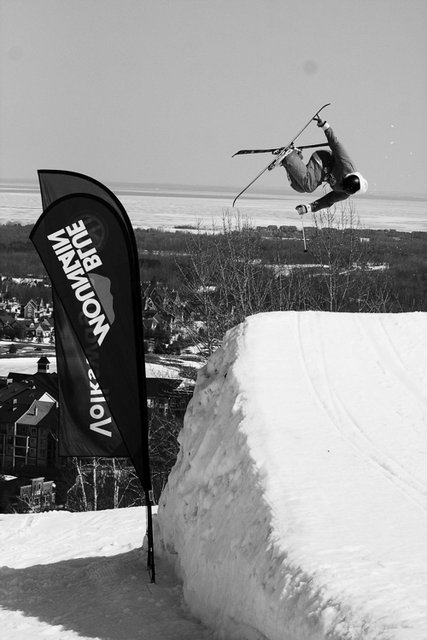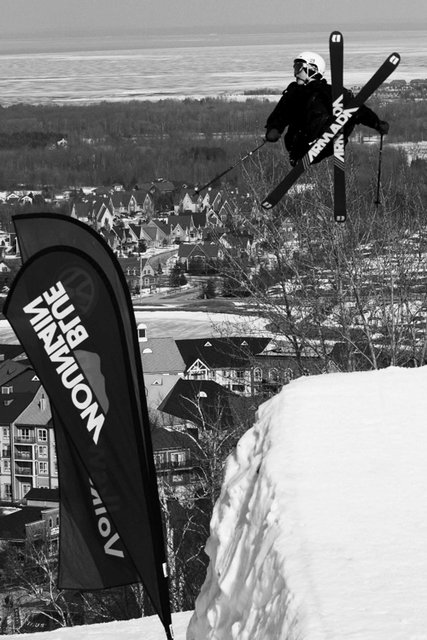 Isaac Vickers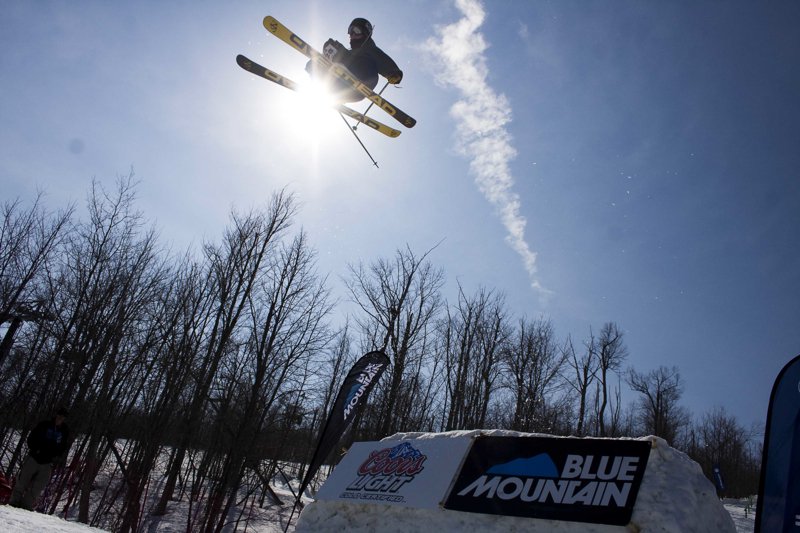 Cameron Keith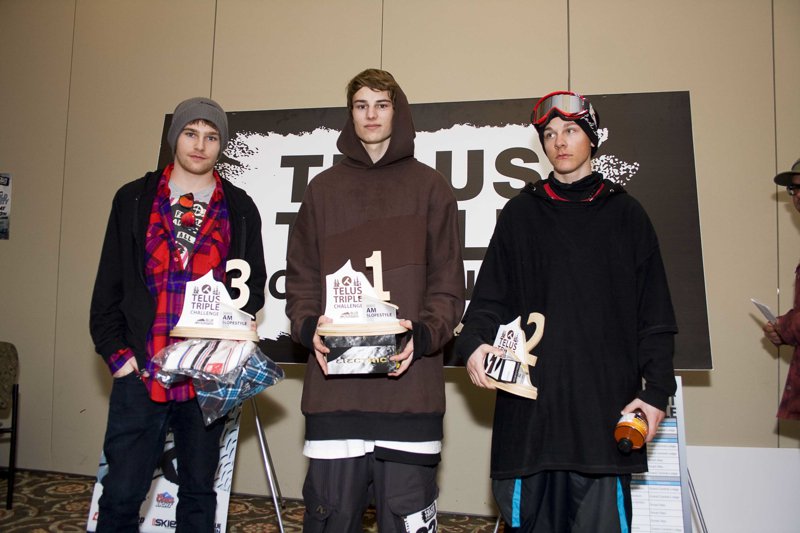 Alexander Mathers (3rd), Jordan Innes (1st), Issac Vickers (2nd)
The Pros took the game to a whole new world putting together left and right spins, and double grabs every which way. It was Mike Mertion who took 3rd place for the Pro category, with his ridiculously stylish corked spins.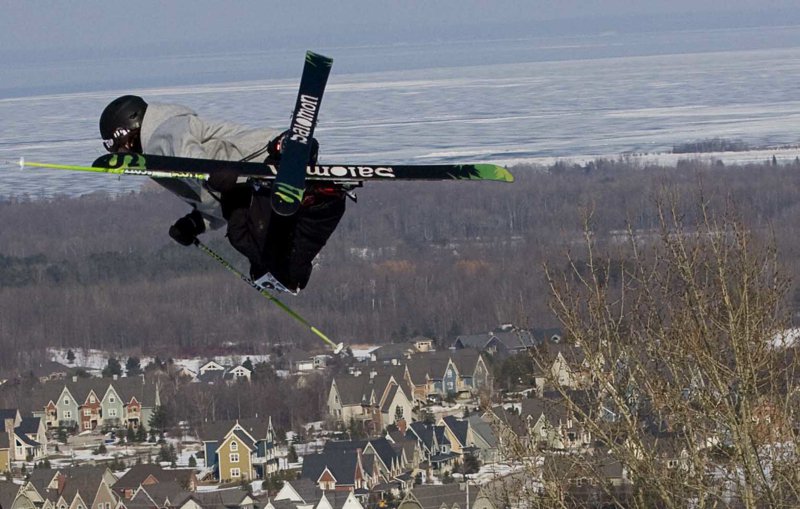 Jamieson Irvine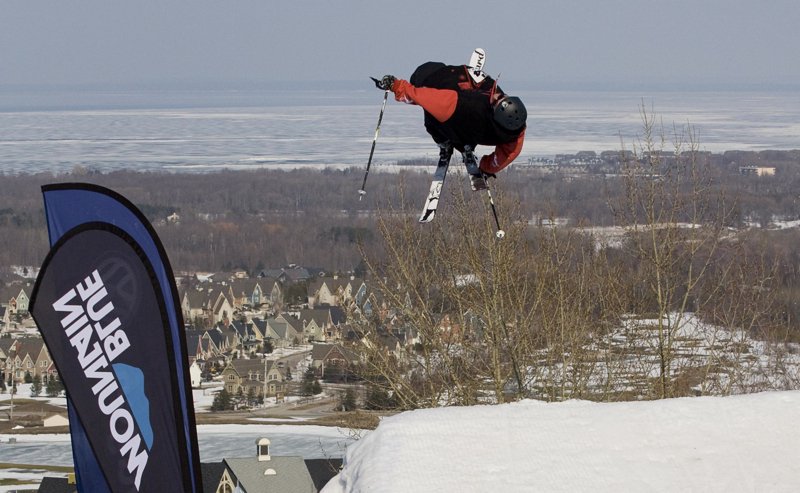 Corey Vanular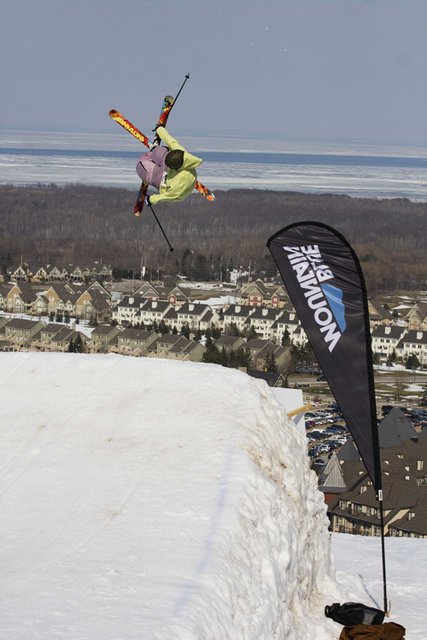 Dane Degruyter
It was all about the Quebecois invasion in slopestyle though, with Gabriel Boudreau taking 2nd spot on the podium and Alex Bellemare picking up the top place with some stomped switch 10's, and flawless disasters onto the flat-down. That was all for day one of the Triple Challenge, it had been a long day in the sun, and it was clearly time to buckle down for après ski with some excessively overpriced liquids.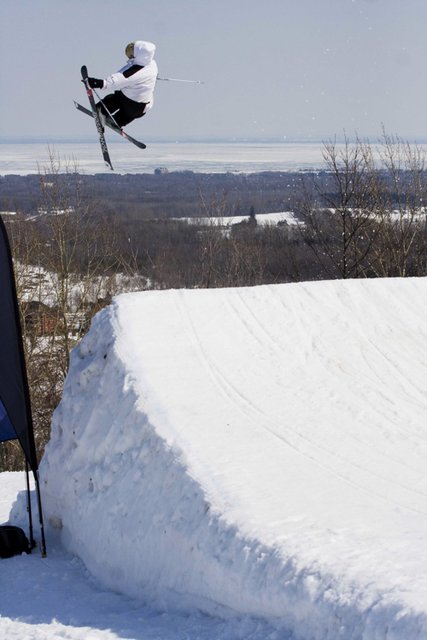 Gabriel Boudreau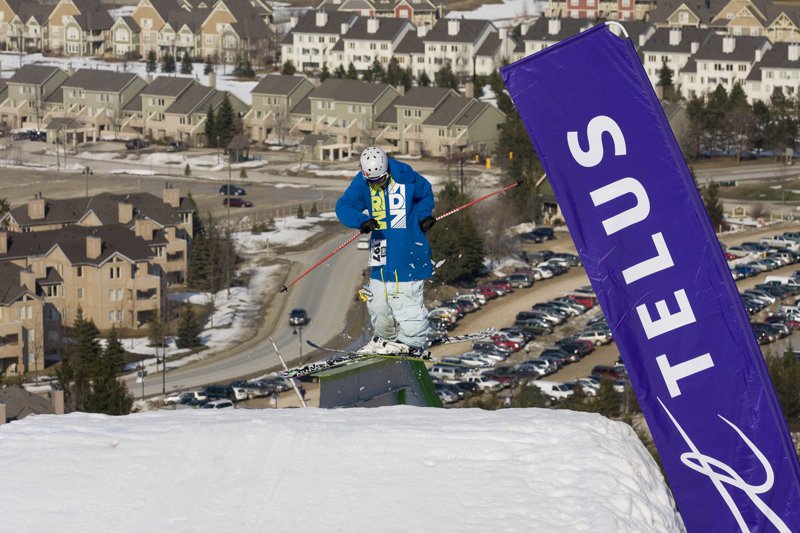 Alex Bellemare
Mike Mertion (3rd), Alex Bellemare (1st), Gabriel Boudreau (2nd)
Day 2 (Friday) came, which was the rail jam day. Unfortunately the rain also came. Although light, the rain carried on for the whole day, but there was definitely still some excitement in the air before the rail jam kicked off. In the Am division Evan McEacheran continued his solid season taking home first place ahead of Jordan Innes who grabbed up 2nd and Devyn Slocum in 3rd.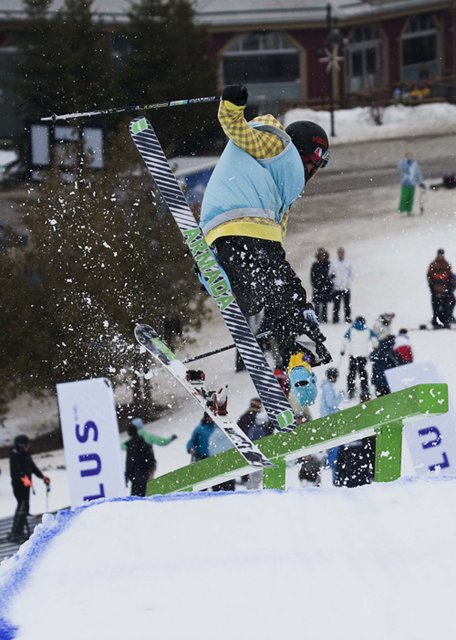 Matt Wilcox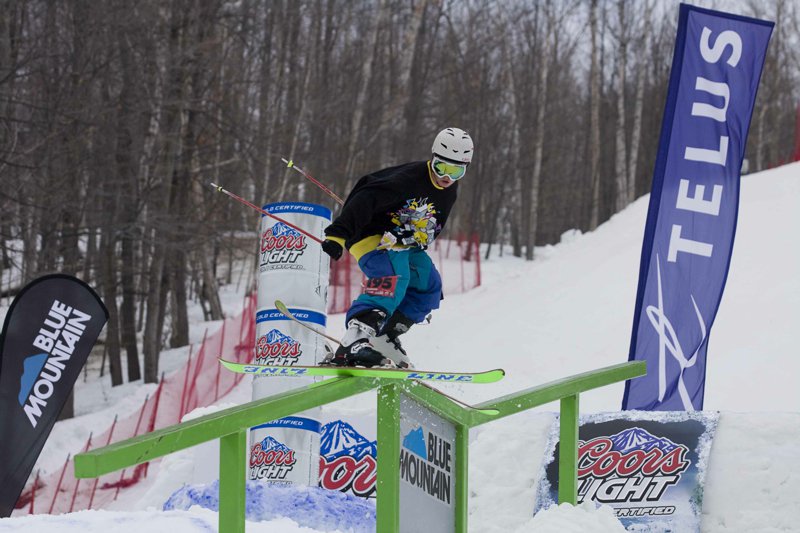 Lucas Vianna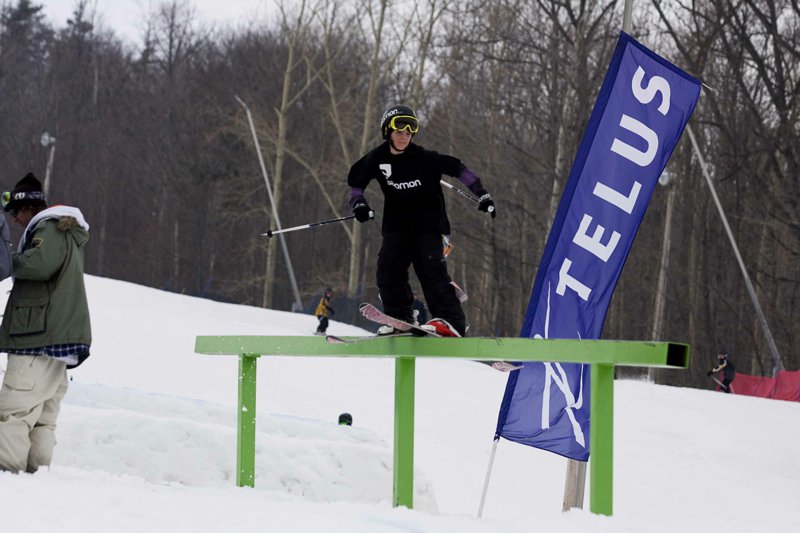 Evan McEacheran
Devyn Slocum (3rd), Evan McEacheran (1st), Jordan Innes (2nd)
When the women's turn came, they kept the high intensity of rail trickery going strong. In 3rd place it was Jillian Gordon, who was closely ousted by Dara Howell in 2nd. First place was claimed by Stephanie Bourque whose combination of taps, switch-ups, and 270's out impressed the judges.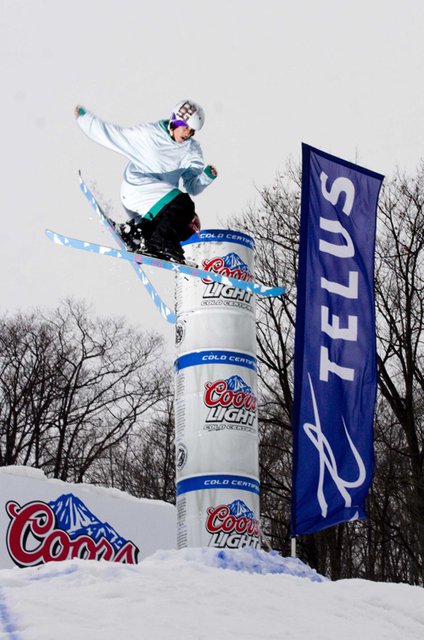 Jess Warll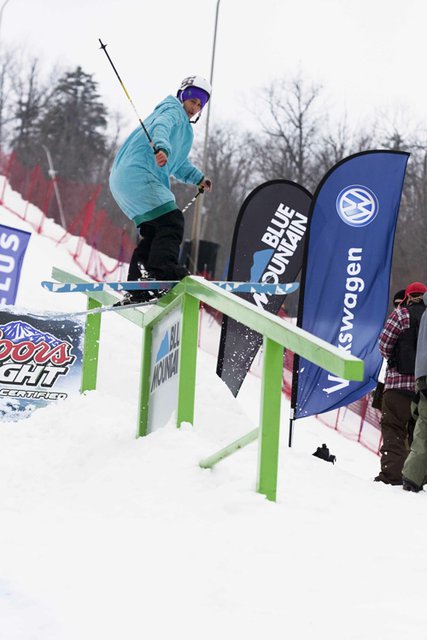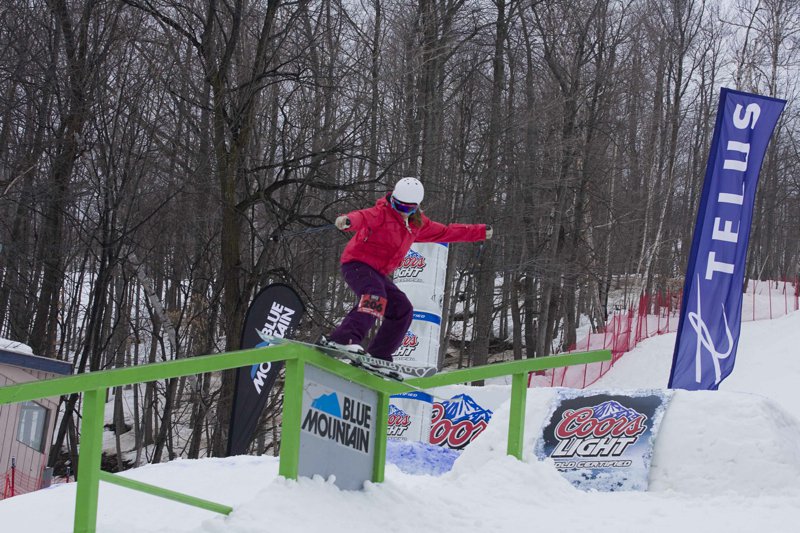 Dara Howell
Jillan Gordon (3rd), Stephanie Bourque (1st), Dara Howell (2nd)
Then it was time for the Pro category. Now let me attempt to set this up for you. You have the Quebecois coming down bringing some of the rawest rail talent the younger side of 20 years old has ever seen. Then you have the "used-to-be-east-coasters-before-they-realized-they-were-way-too-cool-for-the-east-coast" guys who came back home for Triple challenge bringing what the real mountains out west had taught them. Then you have the Ontario kids; too young to live it up as a ski bum, yet old enough to grab top place from some of the best skiers in Canada. It consisted of a 30 minute qualifying jam for each category, followed by a slightly longer jam in the finals. It's hard to say whether it was Dom Laporte trying to switch 630 disaster onto the down-flat-down while trying to get a 270 off as well, or Sandy Boville and Gab Boudreau playing Russian roulette by attempting to rodeo onto the down-flat-down, when I realized the riders could care less whether the sun was out or not.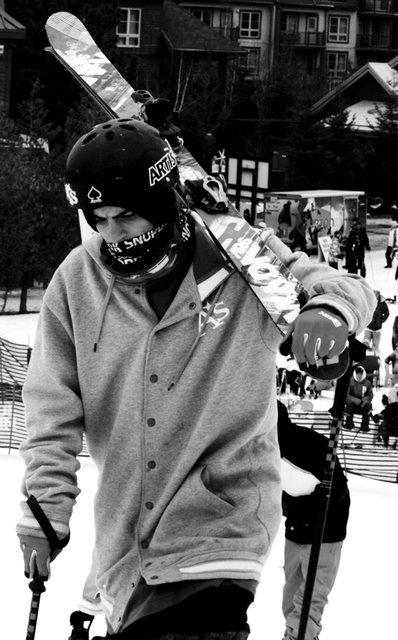 Dom Laporte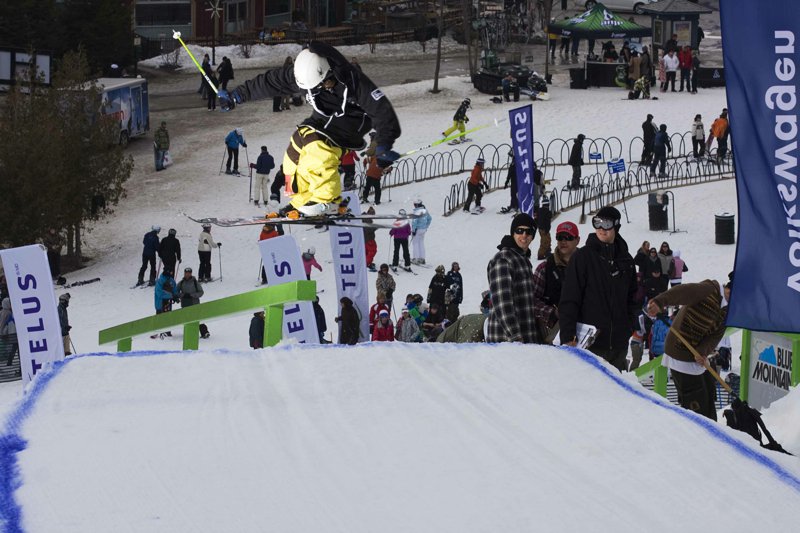 Hugo Pelletier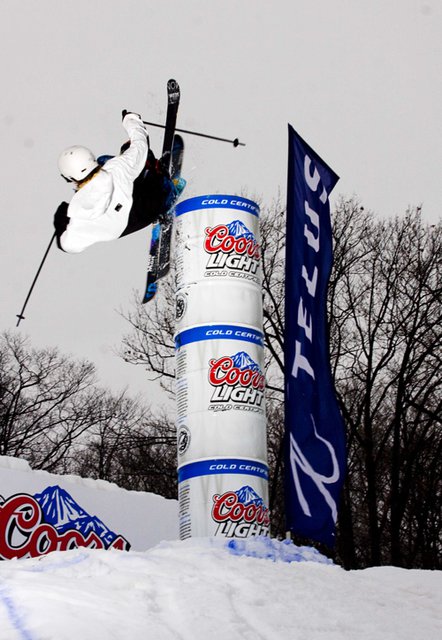 Kristaps Thompson
Hailing from the west coast of Canada was skier extraordinaire Mike Mertion, whose rodeo tail taps on the large Coors Light jib put him in 3rd place. The slopestyle winner from the previous day, Alex Bellemare, was throwing huge spins this way and that, eventually earning him 2nd place. Although there was clearly a lot of experience being shown, it was the youngest and arguably most technical skier in the Pro category, Jamieson Irvine, who took the cheque for $1000. This young show stopper claimed the title for a third year in a row with some of the smoothest butter 450's on and more than enough disaster 630's onto the down-flat-down.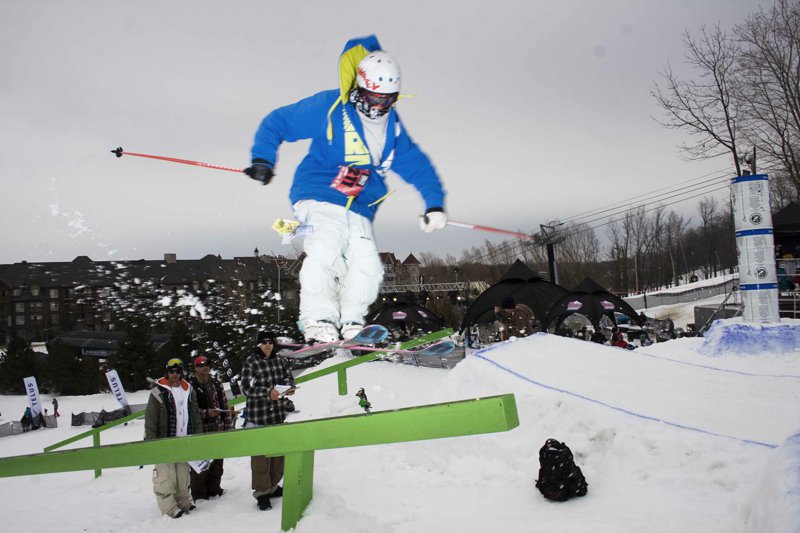 Alex Bellemare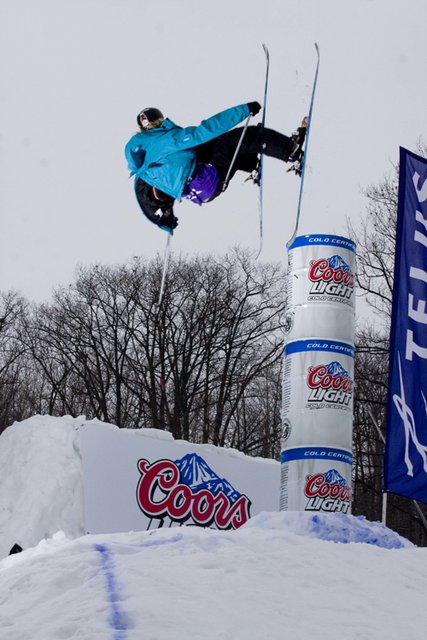 Mike Mertion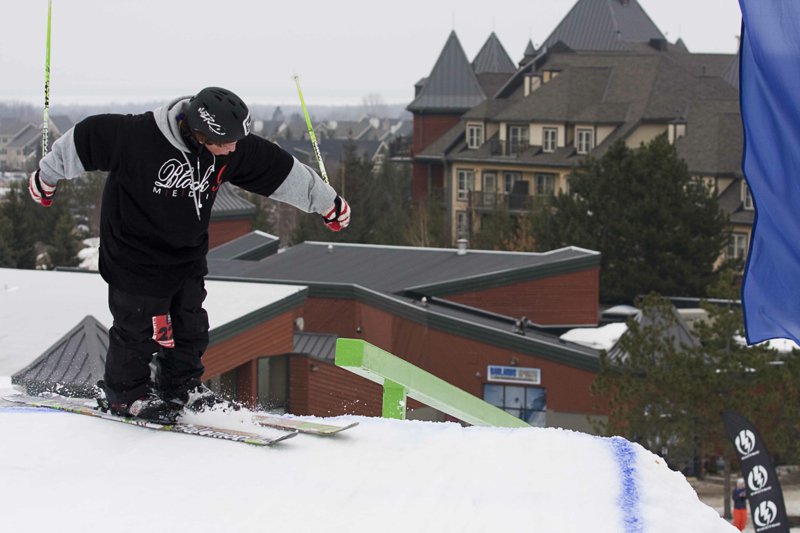 Jamieson Irivine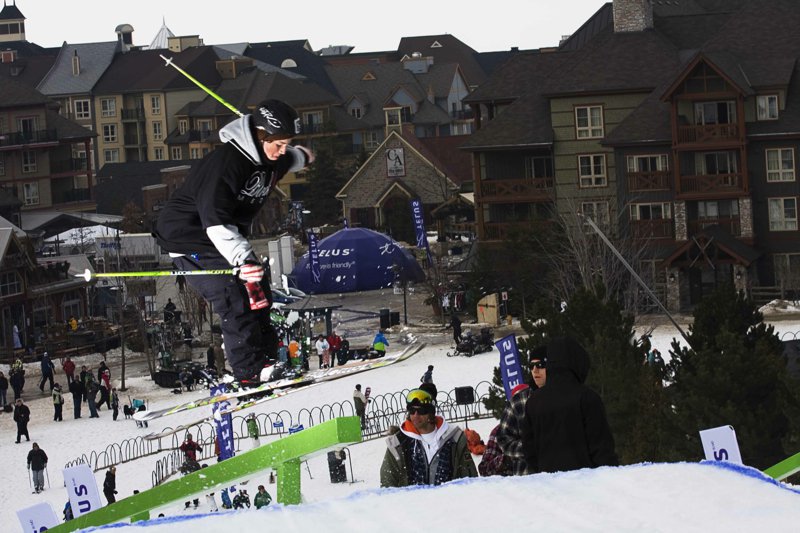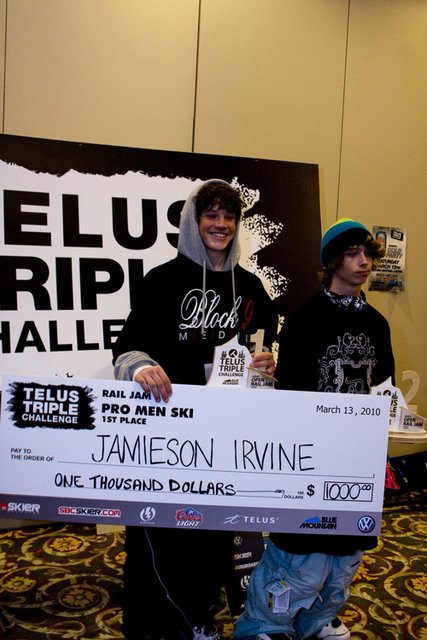 Jamieson Irvine (1st), Alex Bellemare (2nd)
Saturday brought about the grand finale of the weekend, the big air. Qualifying for the big air event took place throughout the afternoon. The rain made its presence felt, melting snow and creating an in-run that consisted of ruts and bomb holes that left some skiers precariously off balance as they hit the jump. The rain didn't really seem to darken the mood however and by the time the night finals rolled around, the park staffed had cleaned everything up. However; still the light rain continued, causing a less than optimal crowd turnout.The athletes didn't seem fazed; as the trick bags were soon emptied and super corked 10's and 12's were thrown by most. A dozen or so doubles were also thrown into the mix, showing how much skiing had progressed since last season's big air event at Blue Mountain. Even the youngest competitor Jamieson Irvine, decided that 14 is just the right age to try your first double, and completely stomped his first kang-flip. The level of competition was very high from the get go with some of Canada's best skiers coming to Ontario to take a run at the money.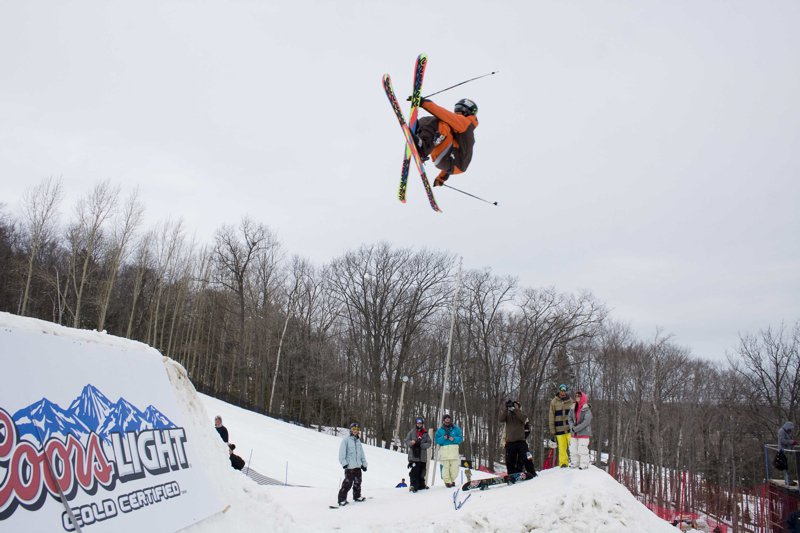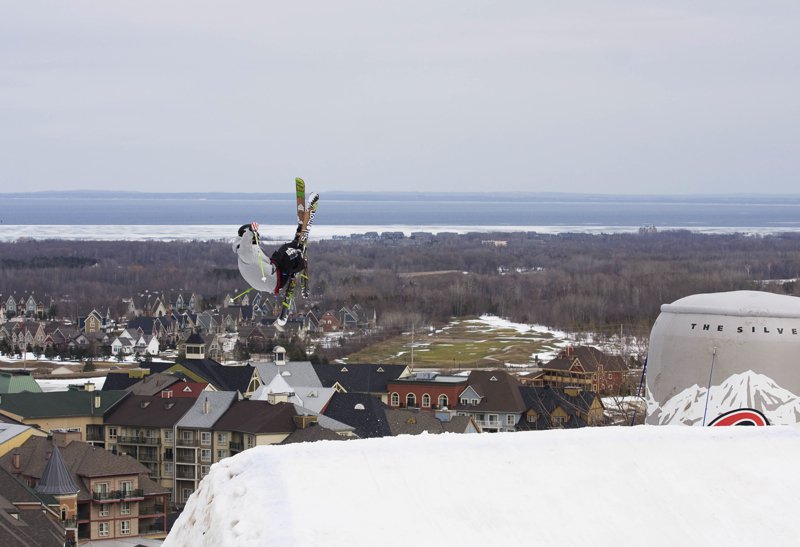 Jamieson Irvine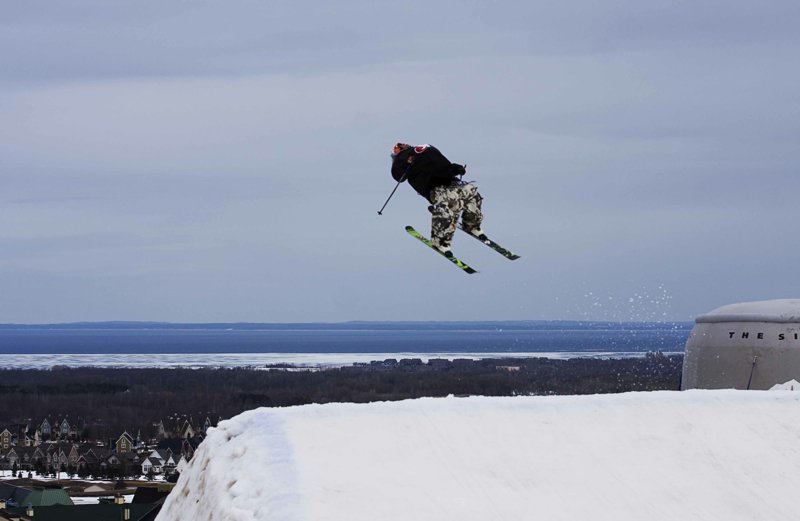 Sash Lazic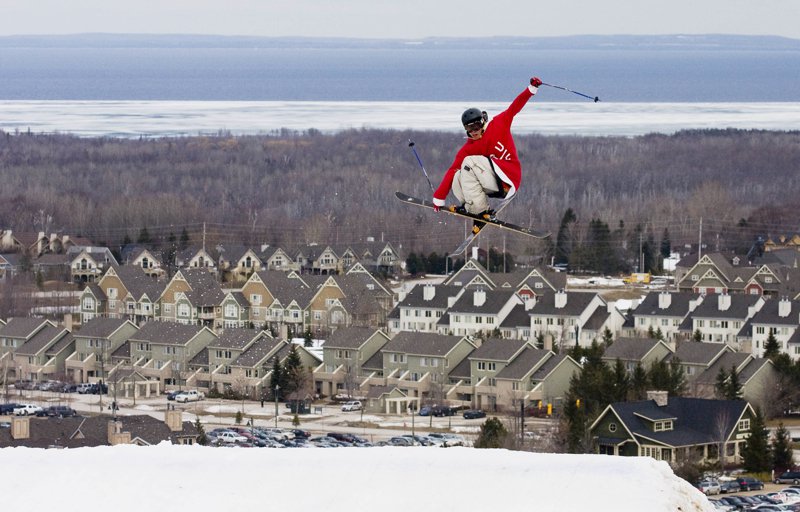 Yan Bussières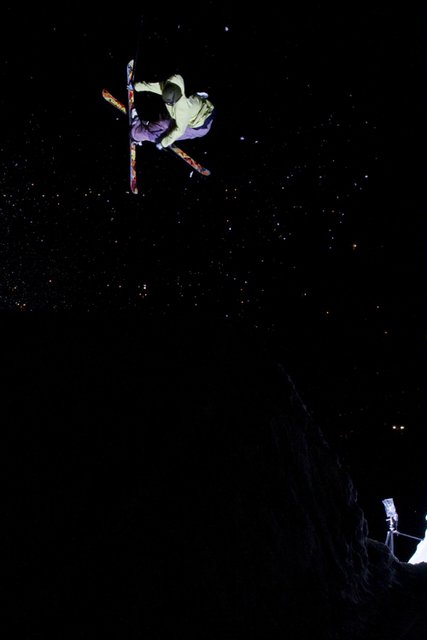 Dane Degruyter
Coming from Quebec was Sebastien Chartrand who took 3rd place with his very solid cork 10's. Sandy Boville, who came home from out west for the event, happily took home 2nd place and a nice chunk of change with his big doubles. But it was Alex Bellemare once again who showed that he is going to be a force to be reckoned with in the future of professional skiing as he stomped all his doubles with ease, earning him the big prize of the 3-day event: $3500.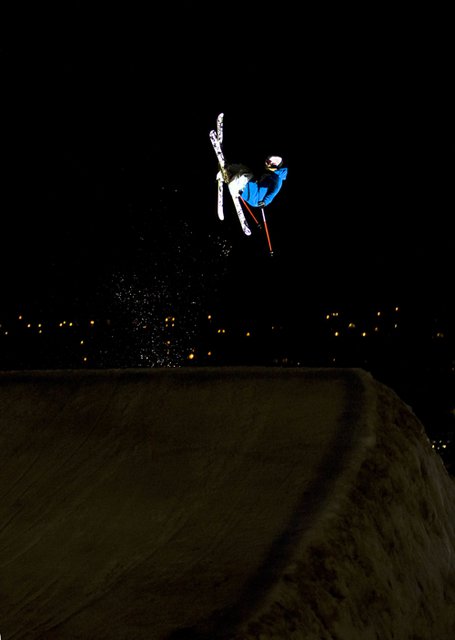 Alex Bellemare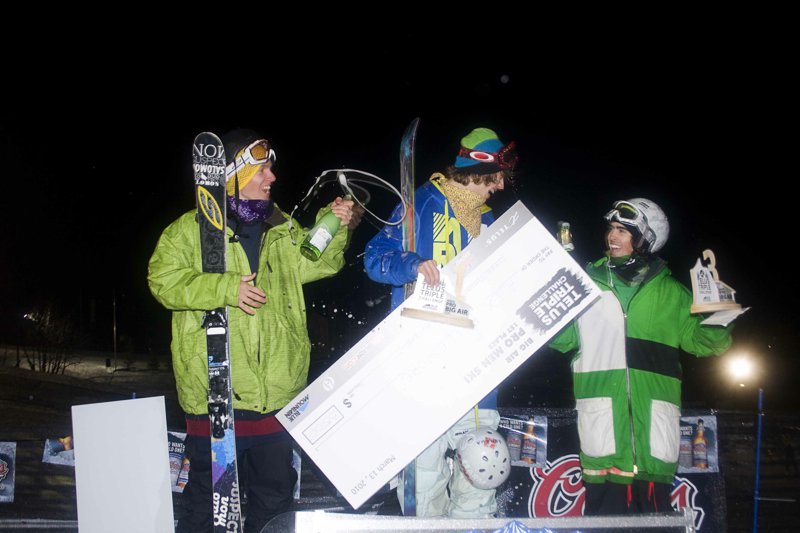 Sandy Boville (2nd), Alex Bellemare (1st), Sebastien Chartrand (3rd)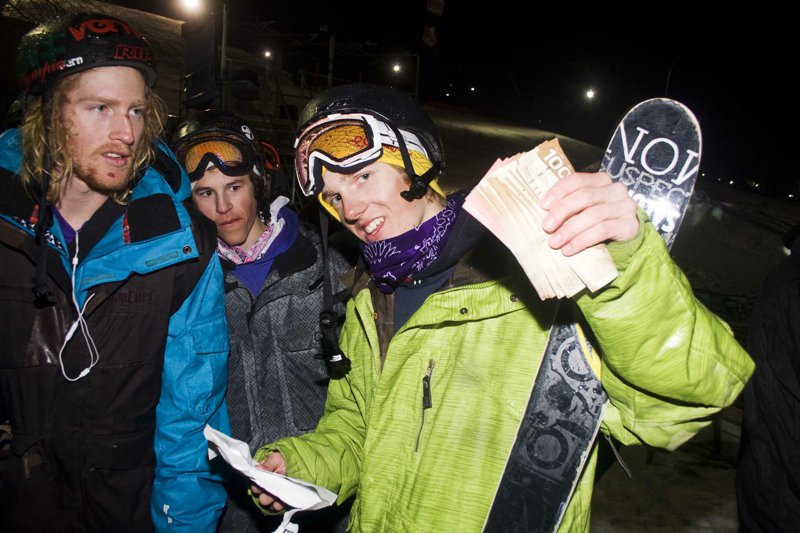 Sandy Boville
Jessica Warll was busy progressing the women's side of things, throwing unreal rodeo 7's like it was her job. The effort gave her 1st place, which was followed by Kylie Sivell in 2nd and Stephanie Bourque rounding out the podium in 3rd.
Jess Warll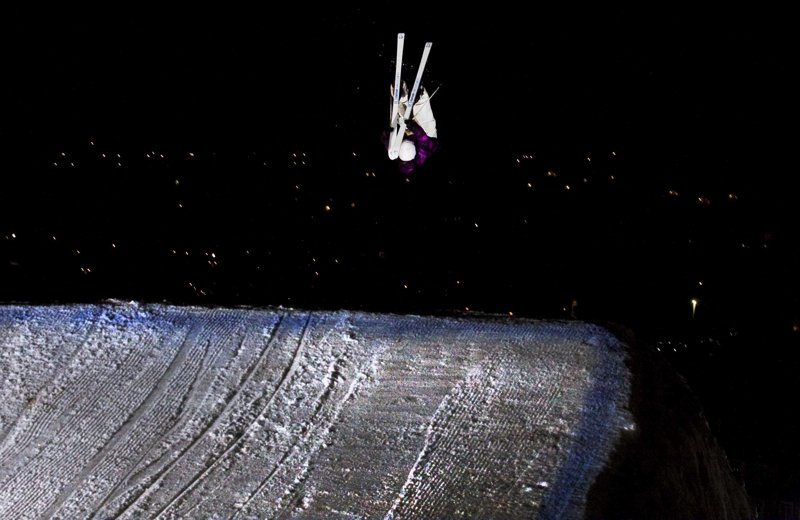 Kylie Sivell
Once again Blue Mountain has showed they can put on an event to rival the best of them. Despite the rain and more than enough grey skies, it was a fine way to bring a closing to the season in Ontario.